Wednesday, December 13, 2006
After the first dollar it seems like the money comes a lot faster. But maybe that's just me. I mean, a while ago I was like "wow a whole DOLLAR!" and now I'm like "huh. Six dollars is coming up. Okay."
Comment! (8) | Recommend!
Wednesday, December 13, 2006
Well I pretty much failed my french oral. :/ 9 out of 16.
When we were waiting to leave by the door, I just happened to look at the fire extinguisher case and there was this really funny little sticker on it.
But the thing is.... now I don't remember what it said.
Hence, the title.
Anyway.... that freshmen whose name keeps escaping me commented on my outfit today. :P
The conversation was pretty boring.
Him: You're wearing all black
Me: I have a green shirt...
Him: THAT DOESN'T COUNT!
Here's a comic.
Comment! (6) | Recommend!
Tuesday, December 12, 2006
French......
I hope that turns out okay.
Maybe we'll switch seats soon. ;)
Math-wise, I AM SO SCREWED. Math is by far one of my WORST subjects. All that line, triangle, whatever crap doesn't stick. I made like fifty flashcards, because writing stuff down usually helps me, but I probably won't do well.
Then again, do I care?
I generally don't stress about my grades. I do fairly well (in other words, I don't fail).
Who cares about math? Pas moi.
Here's some random stupidly funny picture.
Comment! (6) | Recommend!
Tuesday, December 12, 2006
Monday, December 11, 2006
Finals start tomorrow. Fun fun.
I have Lit. first. Hopefully it won't be too hard. We're just having a Socratic Seminar so it might not be that difficult knowledge-wise, but I'm terrible at speaking in front of people. :/
I think it would be fun to have a giant soft teddybear. Or maybe just a normal sized one.
The person I was back in third grade would utterly hate who I am now. :P
Yay teddybear! :D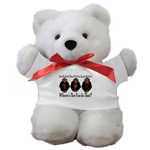 Comment! (13) | Recommend!
Monday, December 11, 2006
Sunday, December 10, 2006
Sunday, December 10, 2006
Romeo is a fatty. But a cute, loveable little fatty. At least parakeets look okay when they're fat. :P
Christmas parties are EXHAUSTING! Seriously! Man I didn't know most of those people last night and I wasn't allowed to close my door and yeah......... little kids scared the hell out of me when they were reaching for my budgies.
Angie and Lucy came over, which was cool. Angie was being all ghetto again in her South Pole jacket, but there were more gangster people around so I guess it didn't matter too much. Asian gangsta posers are just so lame.....
Hmmm.... we watched Better Off Dead.... some Mr. Bean thing.... I ate a PB&J sandwich because EVERYTHING ELSE WAS MEAT! Jeez.
I had that horrible feeling again. You know like "I bet that guy likes me". But it's just intense paranoia. I have a suspicion that it started when I found out two guys liked me in the sixth grade, but maybe I'm just naturally paranoid, who knows....
Anyway there was this super tall guy that kind of creeped me out at first (apparently he's a senior, don't know which school) when he stared at me. But then the paranoia kicked in and it was like "oooooh he
likes
you!" Stupid paranoia. He threw a card at me. :( Well actually he threw a card at everyone but he hit me in the forehead. :( It didn't actually hurt but it was surprising.
Finished Gerald's Game by Stephen King last night. Scary book. I wish I'd known how much graphic content was in there..... (Can you believe that my teacher owns this?)
This entry is pretty pointless. Here is a picture.
Comment! (5) | Recommend!