Sunday, December 24, 2006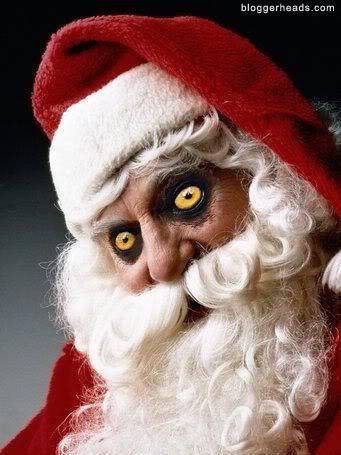 There is something wrong with you if you don't find this disturbing the first time you see it.
I think this picture can get only three responses:
a. Awwwww how cute
b. OMG is she making out with that baby
c. Woman. Baby. Whatever.
Comment! (4) | Recommend!
I think I've been e-kissed
Saturday, December 23, 2006
Saturday, December 23, 2006
I don't get chocolate Easter bunnies.
But.... my dad got a chocolate Santa from work so he gave it to me. :)
Yum.
I'm eating him from the feet up, and I realized about halfway through that that probably wasn't a good idea. Now he doesn't stand. :(
If I end up eating the whole thing I'm probably going to regret it.
Oh well.
Comment! (5) | Recommend!
Friday, December 22, 2006
But there's something about this picture that I like very much.
And... I have discovered
Sushimob
. Good band. Check 'em out.
And
Emilie Autumn
.
Oh yeah I almost forgot. I got my shirts today. :)
Comment! (1) | Recommend!
Friday, December 22, 2006
I'm SICK!
Sore throat, headaches, etc.
I woke up around noon earlier and went out to watch some TV with my brother. The phone rang, and I had to get it because my brother is an idiot and won't answer it if I'm around. Anyway, it was my mom, and I told her I felt sick. So then she immediately goes on about making CHICKEN broth for me. I was like "NO! I'm a freakin' VEGETARIAN mom!" But she's all "This is NOT the time to be a vegetarian! Chicken broth has healing properties blah blah blah!"
Ugh. Unlike some people, when I make a commitment I stick to it. My mom is a really bad example/influence sometimes.
I was going to put a different picture here, but it came up with this instead.
Comment! (3) | Recommend!
Friday, December 22, 2006
That Nutang disappearance was weird. My blog life here flashed before my eyes....
So I hung out with my friend Angie today. That was fun. We went around and looked at different stores, I got a shirt from Ross (I love Ross.... :D), we called some guy....
No news on the mystery boy, but we went into a cyber chatroom with planning to prank some pervs and instead Angie called a guy who had a really hot voice. Or so she said. I didn't really hear enough to judge. She said he sounded nice too, but the guy's name in the chat was kind of gross so I don't think he could be THAT great. She kept his phone number though. :P
I talked to another neglecter while Nutang was down... I didn't get him to come back.... He just ordered me to get on Runescape. :/ He's freakin' level 79! Jeez! And he's a member! You have to be really into the game for THAT.....
If you haven't read this book, it's about small children dying in various ways. And it's like an alphabet book. Like Anna, Bill, that kind of stuff. Only more inventive names. And a lot more morbid.
Read it
HERE
.
Comment! (8) | Recommend!
Green eggs and ham = expired January 2000
Thursday, December 21, 2006
I know it's early, but...
Wednesday, December 20, 2006
The hamster in the picture is the late Squeaky.
Comment! (6) | Recommend!