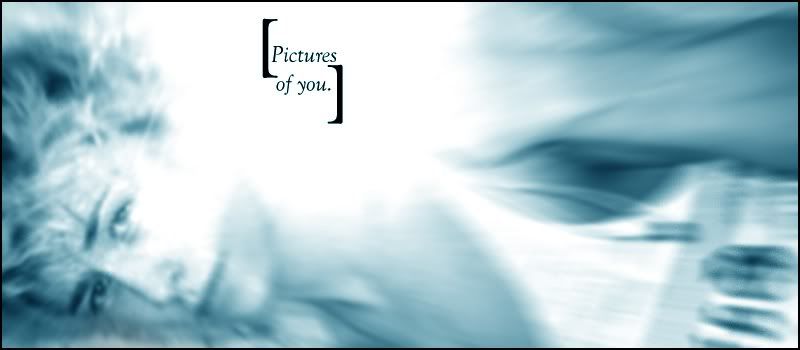 Spring Semester 2010:

* Teaching: Fundamentals of Microbiology - MW 12:00-2:40p
Medical Microbiology - TR 2:00-3:15p
Colloquium in Cell and Molecular Biology - R 3:30-4:30p
Thesis Research - Identification of T Cell Subsets and Immune Response in Colon Cancer Using Immunofluorescence - FOREVER AND EVER

Or rather, entries from the old journal, as it were...

-

An open letter to the College.

(August 27, 2006)

-

Untitled.

(July 16, 2006)

-

Haunted (Part One)

(May 29, 2006)

-

Are we growing up, or just going down?

(May 3, 2006)

-

I had a dream...

(March 19, 2006)

-

...

(March 14, 2006)

-

Enjoy it while it lasts.

(September 12, 2005)

-

Scene: 3:27 AM.

(September 3, 2005)

-

Untitled.

(July 26, 2005)

Psst... if you're looking for the academic writings I used to have here, head to my Reading Room.

Since June 2006...

- A Heartbreaking Work of Staggering Genius by Dave Eggers
- High Fidelity by Nick Hornby
- Travesties by Tom Stoppard
- The Way of the Shaman by Michael Harner
- The Tao of Pooh by Benjamin Hoff
- Nervous Conditions by Tsitsi Dangarembga
- The History Boys by Alan Bennett
- The Dark Child by Camara Laye
- Movie-Made America by Robert Sklar
- Diary by Chuck Palahniuk
- Rant: An Oral Biography of Buster Casey by Chuck Palahniuk
- Galapagos by Kurt Vonnegut
- The Dead Emcee Scrolls by Saul Williams [61.3%]
- Atonement by Ian McEwan
- Junk Science: An Overdue Indictment of Government, Industry, and Faith Groups that Twist Science for Their Own Gain by Dan Agin, Ph.D. [64.4%]
- So Yesterday by Scott Westerfield
- Lucky Wander Boy by D.B. Weiss
- The Things They Carried by Tim O'Brien
- Doctor Who: The Key to Time: A Year-by-Year Record by Peter Haining
- Why Buffy Matters: The Art of Buffy the Vampire Slayer by Rhonda Wilcox
- When You Are Engulfed in Flames by David Sedaris
- The Road by Cormac McCarthy
- 1984 by George Orwell [18.8%]
- Nick and Norah's Infinite Playlist by Rachel Cohn and David Levithan
- Intuition by Allegra Goodman
- V for Vendetta by Alan Moore and David Lloyd (Yes, I realize it's a graphic novel but it still fucking counts!)

Tuesday, December 2, 2008 @ 7:29 am

Monday, December 1, 2008 @ 10:03 pm

At Thanksgiving, my cousins--who avidly watch

Chuck

--told me that they think I'm a Fulcrum agent. Given my training in science, my array of random knowledge, my aptitude for foreign languages, my work experience at a government agency, and what they

perceived

to be a swift and sudden departure to a new locale, they think I might be a spy.

I didn't tell them that I actually perused the job requirements for becoming a scientist with the CIA, or that I considered doing an internship with the FBI's forensics division. I think that would send their imaginations into hyperdrive.

Comment! (3) | Recommend!

Mantua's law is death to any he that utters them.

Monday, December 1, 2008 @ 5:09 pm

As is the amount of work that I must complete now that I am no longer with my family.

A giant headache stands in my way, as does my desire to sleep.

Comment! (2) | Recommend!

I can't work in this house.

Sunday, November 30, 2008 @ 2:44 pm

Being around family is so not conducive to working on my projects and stuff.

Oh, well. We'll see what happens come tomorrow...

Comment! (4) | Recommend!

Mission: Double Thanksgiving was a rousing success.

Friday, November 28, 2008 @ 10:41 pm

I made it through both Thanksgivings without feeling like my stomach was going to explode. Self-control FTW!

I also bought my new iPhone and it is one giant good-fucking-riddance to the old one! (I'm probably going to end up sending it to the Philippines. I'm sure one of my relatives out there can get some good use out of it.)

Now the dumb part of the long weekend comes: working on projects and papers. It's plain cruel to assign work over break, but then again, if grad school were easy, it would be called "high school." But no, no work tonight. It can wait until tomorrow.

Comment! (2) | Recommend!

Thursday, November 27, 2008 @ 9:06 pm

Last night, on my flight home, there was the most fantastic flight attendant from North Carolina named Casey. He was incredibly cute and charming and most of all about my age, which was refreshing. I had a free drink coupon so I ordered a Jack and Coke. He looked at me and asked my age. I said, "Twenty-four," but only after a slight pause because, honestly, no one really asks my age anymore, and I was also a bit tired. He looked at me with a half smile and went, "You had to think about that one." So I told him, "No one asks me my age anymore!" And then he laughed and said, "Don't worry, I won't tell your dad." A few minutes later, he brings me a cup full of Jack, he pops open a can of Coke and adds

just

a splash, winks at me, and leaves with the can. He watches me for a minute to see how I'd react, so I took a gulp of his extremely alcoholic concoction, and flashed him a huge smile. He started laughing, and brought me the rest of the can of Coke. I told him, "This is the best drink EVER." He shot me a skeptical look and said, "I'll bet." I moved to get the coupon from my wallet and Casey just shook his head and said, "Happy Thanksgiving!" Hoo-whee, the rest of the flight seemed to go by so quickly!

Today, we had a Thanksgiving celebration here at our house. It was us, our Filipino neighbors from across the street, and my uncle's family from Brentwood. Normally, the extended family (my dad's side) has one Thanksgiving celebration together, but since that was scheduled for Friday this year, some people couldn't make it, hence the secondary Thanksgiving party.

This year, to match the plenitude of Thanksgiving celebrations, there is plenty to be thankful for. I'm thankful that my family gets along so well that we can have two Thanksgiving celebrations and not want to kill each other. I'm also thankful that I have the ability to pace myself over the course of two days: I didn't eat so much today that I felt like I was going to explode, because I know there's more to come tomorrow. I'm thankful for the fact that my parents aren't going through too much additional hardship due to the tanking economy--they both still have their jobs and are still able to comfortably make ends meet. I'm thankful that my first semester of grad school is almost over, and that I'm doing well. I'm thankful for the continued health and well-being for my family, friends, and kitties. And of course, I'm thankful for dear adorable Casey and his very generous Thanksgiving gift. (Thanks for not telling my dad, haha!)

Looking forward to the second half of the Thanksgiving festivities tomorrow afternoon! Before that, I'm braving the shitshow that is the mall on Black Friday and getting my new phone (hallefuckinglujah!). Then I'll most likely head straight home to rest up or work on projects for school. No deal in the world is worth going shopping the day after Thanksgiving, except maybe if they were giving away expensive shit for free. Even then, I'd think twice: something about fighting for every available parking space and the claustrophobia of walking through rabid

crowds of sale-hungry shoppers that might still deter me...

I

am

getting that phone, though, dammit! My day is finally come!!!

Comment! (2) | Recommend!

Wednesday, November 26, 2008 @ 4:10 pm

The next time I will write here, I will be back home.

Happy (early) Thanksgiving!


What? It's Turkey!

Comment! (5) | Recommend!

Wednesday, November 26, 2008 @ 7:48 am

So my plans for today included launching a takeover of the laundry room so I can have clean clothes to bring home for the Thanksgiving break. Now I'm having second thoughts. Do I want to kick this undergrad-style and bring home a suitcase of dirty laundry to wash when I get home?

Pros: Saves money; don't have to worry about carefully selecting clothes to pack because I can just throw all the laundry into the suitcase indiscriminately.

Cons: Kinda gross; no room in suitcase to bring back winter clothes.

Hmm, I

do

need to bring back some jackets and junk... but I

am

feeling particularly lazy.

Fuck it, monopolization of the laundry room it is...

EDIT:

Unrelated to the entry, but I just caught a comment on Facebook from my old biochem professor at Pomona that highlights why I love that guy so much:

"...those deep sea squid, since the ink won't blind anything where there's no light, they let out luminous ink that blinds their attacker - WITH SCIENCE!

This is the same guy who asked the following question on a midterm: If you were an enzyme, what would you be and why?

My response: I would be alcohol dehydrogenase so I could "interact" with ethanol all day long and no one could get mad at me because, hey--I'm just doing my job!

Then, when correcting the exams, he wrote in the margins, in response to this answer: LOL, me too J/K!

I just about shat my pants in class, not going to lie.

Comment! (3) | Recommend!