Sunday. 1.4.15 8:39 pm
Yes! Finally!
It's not about getting hitched.
It's about the cat not running away from me!!! OMG. What an achievement!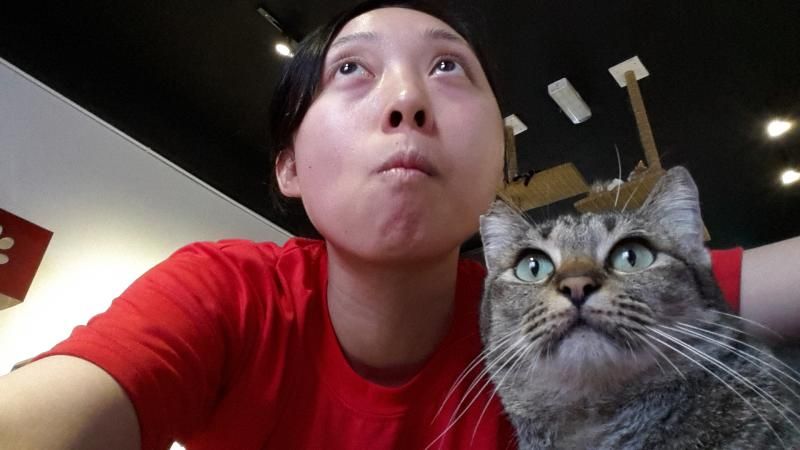 See what I meant?
Usually cats dislike my energy as opposed to dogs. They run away whenever I come near. And this just stayed and took photo with me!
Loving it!
Oh, I took this photo at a cat cafe near my office.
Comment! (1) | Recommend!
Thursday. 1.1.15 8:47 am
Happy New Year everyone!
I spent my day sleeping and playing board game with my friend and his cousins. How nice to be able to spend time with cousins. Unlike mine... I don't even know who my cousins are... I have met some and they are real snubs. How sad. All politically played by their parents.
Nevertheless, I will try my best to live everyday to the fullest!
Comment! (2) | Recommend!
Friday. 12.26.14 7:49 pm
I know there are people who learnt tarot for fun and for practice they may use the tarot to unreveal a person's future without the person's knowing and even permission. That is actually considered as non-ethical. I have been advised by my teacher not to do that even for practice. If I wanted, I should just get some guinea pigs and get their consent and feedback.
I don't know how some of my friends commented that 'who knows (renaye) reading my future with tarot' like just this morning. I seriously dislike that comment. It is not the first time I heard it but many times already. And when they asked how do I know... I really feel like shooting back 'you told me so sometime ago' or 'you posted your activities on FB'.
If you don't want people to know your activities at all then just don't post certain activities at all. It is very simple to connect the dots nowadays when uploading picture have date and time.
And don't breathe a word about it too.
I considered myself as an ethical tarot reader. I will only read a person's future, not even third person depending on the situation, when only asked. Not for fun. Why spend my energy on insignificant trivials?
Some people are so 'I want the whole world to know about me and my work but I am scared to be present to the public'. Then continue to be a closet artist.
Comment! (0) | Recommend!
Sunday. 12.21.14 8:05 pm
For my Xmas gathering with my girlfriends, I was extremely late to meet them at the restaurant. I took for granted that my place is near to the venue that I tried booking a taxi 10 minutes before the meeting time. And I could not get a taxi!
What worse is I have not wrapped one of the presents! I don't have nice wrappers, which is just magazine, but I am already very late that I don't have time to wrap!! What to do??!! I ended up grabbing a red pen on my table and started drawing flowers and birds on the gift box.
And tada! Creativity saved the day! Phew. Luckily I think fast!
Comment! (0) | Recommend!
Tuesday. 12.9.14 9:31 pm
I often read chicklit whenever I am stress or just wanting to air my mind. Yup. Chicklit genre does a good job for me because they make me laugh. Singletini is one of the most enjoyable chicklit books I have ever read.
But I won't spend money on buying them because I prefer brain-teasing stories like detective. My source for such genre is drying up because the library is not stocking up any more story books but textbooks. Sigh. Where should I get them now??
Anyways... I should write my own version too!
Comment! (0) | Recommend!
Today is a productive day for me.
I spring clean my room. Darn right. I spring clean my room for 2015. Let see how long the neatness last.
I threw away a lot of catalogue that I kept for the past 10 years that give me art inspiration but they are a little old and... I can see the internet now for reference. Bye bye papers. I took out three big bags of papers... And I am giving away some good non-fiction books that are hard to get in bookstores. Hope my campus library know how to appreciate them.
And then... when I took shower, my arms were itchy. I have used exfoliate to rub but no success. Luckily, my Chinese medicine doctor taught me how to attend to such problem.
I used sea salt to rub over my arms and ta-da the bugs were dead. Ugh.. I hate it when my arms or face get itchy from invisible bugs.
Comment! (0) | Recommend!