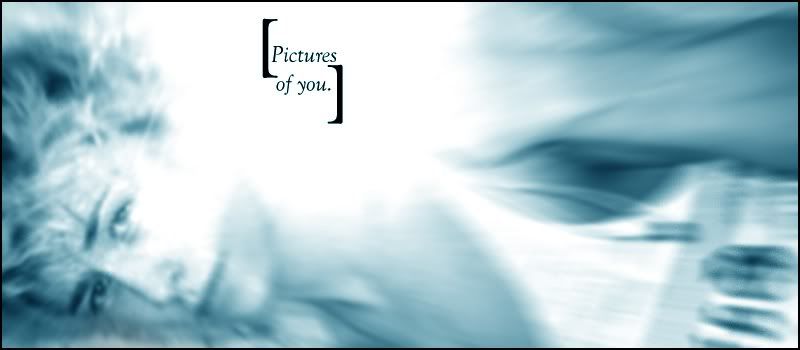 Spring Semester 2010:

* Teaching: Fundamentals of Microbiology - MW 12:00-2:40p
Medical Microbiology - TR 2:00-3:15p
Colloquium in Cell and Molecular Biology - R 3:30-4:30p
Thesis Research - Identification of T Cell Subsets and Immune Response in Colon Cancer Using Immunofluorescence - FOREVER AND EVER

Or rather, entries from the old journal, as it were...

-

An open letter to the College.

(August 27, 2006)

-

Untitled.

(July 16, 2006)

-

Haunted (Part One)

(May 29, 2006)

-

Are we growing up, or just going down?

(May 3, 2006)

-

I had a dream...

(March 19, 2006)

-

...

(March 14, 2006)

-

Enjoy it while it lasts.

(September 12, 2005)

-

Scene: 3:27 AM.

(September 3, 2005)

-

Untitled.

(July 26, 2005)

Psst... if you're looking for the academic writings I used to have here, head to my Reading Room.

Since June 2006...

- A Heartbreaking Work of Staggering Genius by Dave Eggers
- High Fidelity by Nick Hornby
- Travesties by Tom Stoppard
- The Way of the Shaman by Michael Harner
- The Tao of Pooh by Benjamin Hoff
- Nervous Conditions by Tsitsi Dangarembga
- The History Boys by Alan Bennett
- The Dark Child by Camara Laye
- Movie-Made America by Robert Sklar
- Diary by Chuck Palahniuk
- Rant: An Oral Biography of Buster Casey by Chuck Palahniuk
- Galapagos by Kurt Vonnegut
- The Dead Emcee Scrolls by Saul Williams [61.3%]
- Atonement by Ian McEwan
- Junk Science: An Overdue Indictment of Government, Industry, and Faith Groups that Twist Science for Their Own Gain by Dan Agin, Ph.D. [64.4%]
- So Yesterday by Scott Westerfield
- Lucky Wander Boy by D.B. Weiss
- The Things They Carried by Tim O'Brien
- Doctor Who: The Key to Time: A Year-by-Year Record by Peter Haining
- Why Buffy Matters: The Art of Buffy the Vampire Slayer by Rhonda Wilcox
- When You Are Engulfed in Flames by David Sedaris
- The Road by Cormac McCarthy
- 1984 by George Orwell [18.8%]
- Nick and Norah's Infinite Playlist by Rachel Cohn and David Levithan
- Intuition by Allegra Goodman
- V for Vendetta by Alan Moore and David Lloyd (Yes, I realize it's a graphic novel but it still fucking counts!)

319th day of 2010

His scent lingered on the bedsheets; the smell of his shampoo on the pillowcase, taunting me. His discarded boxers hanging over the edge of the bed, socks tangled in the comforter. I closed my eyes and all I could see, somewhere in the darkness, was him.

I couldn't sleep, his visage peering at me from the recesses of my imagination. I threw the blanket off of me and spring off of his bed. I slid the door open and locked it behind me with the key, extracted a cigarette from its box, and lit it. The moonlit smoke dispersed gently into the chilling night wind--smoke signals sent into the sky, hopefully headed northbound:

"Come back home."

I came back into the poolhouse, brushed my teeth and washed my face a second time. I settled back into his bed, pulled the covers close--hardly an adequate substitute for what was really missing--and rubbed my feet together to generate heat. I closed my eyes, and again, all I could see was him. But this time he stepped closer, leaned into my ear, and whispered something in a language that we only speak and understand in dreams... and I drifted off to sleep.

Comment! (0) | Recommend!

Friday. 11.12.10 2:27 pm

ME:

Let me know u reached Seattle in one piece!

HIM:

Just got in, thx 4 the concern no one in my family possesses

You're wrong. Because I consider you family. So yeah, your family cares.

Comment! (3) | Recommend!

Tuesday, November 9, 2010

He promised to make it up to me tonight for being a stupid fucking prick this weekend. I wonder what this entails.

I could think of a

few

things he could do that would

definitely

make up for it...

Comment! (2) | Recommend!

11/06/2010 12:55:16 AM

303th day of 2010

Before he left this morning, he leaned over me and tousled my hair.

"What was that for?"

"Just to say that I hope you feel better."

"I already do."

Comment! (0) | Recommend!

10/29/10 7:29 AM EST

he's sleep ing in my bed. i let him crash there.

im goign to drink some whiskey so i can ee and then conveintnly forget he's in my bed lol.

oopsl sorry is eem to have forgotten you were here.

let's fuck.

Comment! (0) | Recommend!

Thursday, October 28, 2010

Apologized for my behavior on Saturday.

I missed Alex a lot. I missed us cooking together. That was always my favorite thing about him: he loves learning new things in the kitchen.

Never again will I neglect to take my meds 3 days in a row.

Comment! (1) | Recommend!

No dates = too much time on my hands

He drowns in his dreams
An exquisite extreme, I know
He's as damned as he seems
And more heaven than a heart could hold
And if I try to save him
My whole world would cave in
It just ain't right
Lord, it just ain't right

Oh, and I don't know
I don't know what he's after
But he's so beautiful
He's such a beautiful disaster
And if I could hold on
Through the tears and laughter
Lord, Would it be beautiful?
Or just a beautiful disaster?

Comment! (1) | Recommend!