Thursday. 9.25.08 7:20 pm
I almost walked out on the pair of them last night. Both him and Liz.
I was given a list before work yesterday of things we needed in the household. You know, normal stuff; toilet paper, soap, trash bags, etc. Most of that stuff isn't cheap you know? I had 3 stops to make after I got out of work at 2:30. I get home around 4. All of a sudden, I get this guilt trip of "where were you? Why'd you take so long?" Uhh, dumbass, Walmart is always packed with people, and I stopped and looked at halloween costumes for Liz because I was debating the kitty. I bring the bags in the house and he starts to unload them, questioning me for everything. "This wasn't on the list.. this wasn't either? Why do you need hairspray? didn't you just buy shampoo? Why did you buy deoderent?" Every fucking thing I got questioned for! Then was the almighty "How much did you spend?" Around $40. Big deal- we were out of a lot of things. Then the yelling starts. I'm standing in the kitchen trying not to cry as he's laying into me. Suddenly I just blew up. I said you know what? Fuck it. Take the kid, I don't care. I'm done with you and with her. And I walked out. Sadly my purse was in the house, so I didn't go far. I sat on the bed and just sulked for awhile until he came over and did the classic "abusive relationship give and take". He put his arms around me and 'took' it back, saying he was sorry and he doens't know why he yells at me. ::sigh:: Why me? What did I do to deserve this.
Thank GOD I have the 2nd weekend of November to look forward to. That's the only thing pulling me through :-/
Whatever though. I'm just going to drown myself in Sex and the City and imagine a better life of being single and having
GREAT
sex.
Comment! (1) | Recommend!
Wednesday. 9.24.08 9:01 am
since I last updated. Tis been a busy week filled with hospital visits and working. *sigh* I have to work at 10 today, so I really should be doing my hair/makeup and not blogging.
Liz woke up with a minor cold the other day but thank god it resolved itself and didn't manifest into anything major. Phew!
I'm really dying to go see Nights in Rodanthe. My best friend and I are supposed to go see it, but I'd rather have a man to see it with. *sigh* The husband doesn't like to watch movies like that, besides, I don't love him anyway so why should I go see that with him? Ah well. Maybe it'll still be in theaters in November? I hope so... ::hinthint::
Hmm, what else has gone on. Oh yeah, the fighting has only gotten worse. I"ll have to update about that later. I seriously am so sick and done.
Father in Law had bypass surgery done last Saturday, but he's much better now, thank god. He looked terrible Sunday, but yesterday actually looked alive and human. I'm just glad he's okay.
Alright, I really should go. It's getting late and my hair is still a wet curly mess.
On the other hand, I'm seriously craving some apple cider. Yay fall!
Comment! (0) | Recommend!
Choke on your spit... and die
Friday. 9.19.08 10:59 am
Shit am I in a mood today. I finally fell asleep around 3am and then that STUPID dog starts barking at 7. And he wont' stop. He barks for an hour. I'm NOT exaggerating. I hate him, I really do. I wish he'd run away, but I'm not so lucky.
Last night was too fun. Work didn't need me so Britt met me up in Dickson City and we met up at Borders. I bought a really nice book and I can't wait to read it. It's hot, very hot =D Then we went over to Marc's Tattooing so I could price my tattoo and pick out my font. I'm getting "Live <3 Laugh <3 Love" on the inside of my wrist, in cursive, in black. I can't wait. Then we went to Utopia and checked out a few things for her habit. Oye. Then we were just going to hit Wendys for dinner, but we decided on Chinese instead. Big mistake. I ended up with a severe migrane that didn't want to go away. I still stayed up late anyway, because he's worth it <3
I honestly can't wait until November, just to get away from every day life for a weekend. Brittany is SO excited about watching Lizzy, it's all she talks about. I'm so glad I have a friend like her =) I was going to get my tattoo in DC, but I decided against it. I don't want certain people to think I'm a wimp, even though he assures me he won't think that =P He's just too sweet to me sometimes <333 I stil like to put on that 'badass bitch' front. I'll see. Maybe I'll do something less drastic, like a nose piercing while I"m there. I actually had a dream about getting it done last night. It was weird. The guy did it in my car, and wanted to use this HUGE stud, and I said noooo way. I took out my cartilage piercing diamond stud and gave him that to use instead. It was weird. He was hot though, lol.
Tonight at work Jenn's gonna meet me there =) Im so excited! I can't wait to snuggle her cutie pie!!! (And see her of course)
Right now my daughter is beating my arm with a piece of plastic chicken so I guess I should get off this.
Comment! (2) | Recommend!
To clean... to procrastinate...
Thursday. 9.18.08 11:09 am
Yeah, we'll go with procrastination.
I'm supposed to be doing laundry right now, but the basket remains in the hallway. I should also be cleaning the bedrooms, and vacuuming, but again, the vacuum sits motionless, as do I.
Yesterday was one hell of a day. I got up at 8am, having about 4 hours of sleep total since the night before. Why did I have to get up at 8am? Because my father in law was in the hospital having a heart catheterization done to see if they could find any blockages. And did they ever find blockages. About an hour after I got there with Liz in tow (I met the mother in law and the husband there) we found out he'd have to have either stints put in his heart, or a bypass surgery. He was okay, but for the time being only. They admitted him into a room to keep him overnight, so up we went to visit for a few hours. Fun thing was, it was on the old maternity floor, where I was exactly 2 years and 5 months prior giving birth to my little girl <3
Liz gets antsy so Jim and I decide to leave. We actually have a nice afternoon! We eat lunch, and play outside with Liz for a few hours. He even decided to be nice and brave going into our storage shed to get out the jumperoo so
ilovethehighway
's daughter can play in it. The storage shed is home to a big bunch of wasps right now, which I'm deathly afraid of. I got it all cleaned up and ready for the cutie pie to play. Lizzy wanted to try it out. It was a bit small for her, haha.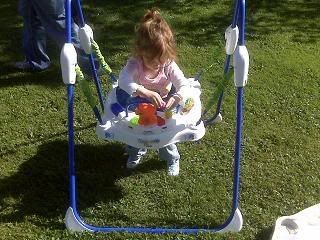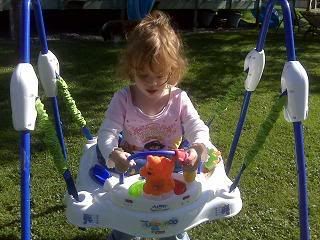 We came back inside, and I'm on my laptop as usual. Jim mentions he needs it right that second to take it to his friend's house. I rolled my eyes at him, being the sarcastic stubborn bitch that I am. He starts yelling at me, screaming at me that I don't care about anything and I'm an ungrateful bitch. He asked why. I said "Because I hate you". He threw one of Liz's wooden blocks at me and it hit me in the chest (no bruise though, DAMN!) and he slammed the door behind him.
Fast forward about 10 minutes and his mom calls me. They wanted us to come back up to the hospital to bring a few things up for father in law. She wanted to talk to Jim, so I had to go back and give him my precious phone. (This is the man who likes to throw cellphones when he's mad... and break them). After they hung up he started in on me again. Shouting resumed, and I practically lost my voice. I told him I cheated on him. Course he thought I said it out of anger. Whatever. An hour of fighting later the fucker forces me into things that should come naturally and I resent him so much for that. I hate sleeping with him as it is, please don't force me into it against my will.
So after that fun filled evening I made dinner and then we went back up to the hospital. We got there when the surgeon was talking to father in law, so we sat down and listened. Basically his best bet would be to choose the surgery (the bypass) because that's the best for long term (meaning he wouldn't have to go back to get re-stinted in the future) So he's deciding on the surgery. Anyway, the surgeon can't get him in until next week. The one doctor wants to keep him in the hospital, saying he CAN NOT leave until after the surgery and recovery. The surgeon thinks he can go home. So right now they're battling over him comming home. If he can't come home, he'll be in the hospital over 2 weeks. If he can come home, he'll only be in the hospital for recovery time of one week. I feel pretty bad for him, and I'm scared. Guess I do have some compassion for ignorant assholes after all.
Just as I was going to bed last night, one of my besties IMed me. The nice person I am talked to her for about 40 minutes before I finally said screw it and went to bed. The damn dog started barking, and wouldn't shut up, but somehow I managed to have about a half hour of sleep before my phone rings. I never sign off AIM mobile and the loving man that he is, decided to see if I was still awake. Well I was on and off sleeping, so I said screw it and got up and talked to him for 2 hours. He's lucky he's so worth it <3 One month and 2 weeks before I get to enjoy another weekend with him!
This morning I figure I can sleep late. Nah, Lizzy is up at 8:30, using the baby monitor base as a microphone and singing into it. I have no idea what she was singing about, but sure. All I know is it woke my ass up. She actually listened to me though when I asked her to pick up her toys in the living room. Score one for mom!
Alright, this got long enough. I need to get off my ass and get stuff cleaned for Jenn's arrival tomorrow! HOORAY!!!
Comment! (1) | Recommend!
Tuesday. 9.16.08 9:23 pm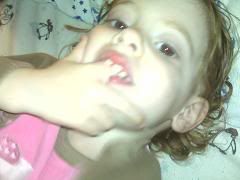 The top lip is all swollen, though it's hard to see with a cellphone pic.
I decided to try and joke around with the hubby tonight, so I ran into the living room and started smacking him with a dish towel. Lizzy went in the kitchen and grabbed a dish towel too and started to smack him. I went back in the kitchen and was standing by the stove. I heard Jim say "go smack mommy with the towel" so I just stood by the stove, waiting for her. I turned my back and suddenly I hear a thud on the kitchen floor. I turn around and see her sprawled on the floor, face down, screaming bloody murder. My heart dropped and I ran to her, scooped her up, and studied her mouth. My biggest fear is her losing a tooth or breaking another one (bathtub incident last August left her with a chipped front tooth) The blood was gushing from her mouth and I flipped out. Turns out she bit her top lip when she went down. Her teeth and gums are fine, thank god. Jim comes running out, screaming at me that I tripped her again or did something to hurt her. Umm, dude, I was at the stove. She fell by the fridge, a few feet away... Then my Mother in Law comes up screaming "WHAT THE HELL HAPPENED". Dammit, why do I get blamed when my daughter gets hurt? FUCK!!
3rd mouth injury in a little over a year. This kid's setting a record. Heart attacks just keep comming when you're a mom of a toddler.
Sad though when my lover cares more about my daughter than her own father
Anyway.. I got a nice nap today with Liz before I ran to Subway for dinner. I was up until a little after 3am and got up at 8. I got to enjoy a conversation with a legal consultant today to figure out some information on my future. I'm excited with what I've found out. Especially now that in a few months it won't be as hard to get a divorce. I'm thrilled. Highly thrilled. I'm sick of how he treats me every single day, and now I've finally taken a step in the right direction. Thank you Lord.
Anyway, I'm going to go put the poor one to bed. We've got a busy day tomorrow. My Father In Law is going for a catheterization to see if he has any blockage in his heart that would require surgery sooooo we'll be spending a good chunk of the day in a hospital. Bleh.
<3
Comment! (2) | Recommend!
Monday. 9.15.08 10:59 am
About this little girl. 2 and a half years really goes pretty quickly when you're dealing with a child.
The funny thing is I can still feel those little kicks. I still feel the hiccups. I can still hear her heartbeat. I still remember the way she smelled when I held her for the first time. She had this amazing scent- it's indescribable. Her little teary grayblue eyes stared into mine and I fell in love. She fit perfectly into my arms, her little 5lb body conformed to mine.
I guess it's a mom thing to get a little sappy every once in awhile <3
and now I'm going to bore you all with pictures because I never really posted many after I had her =) So deal with it!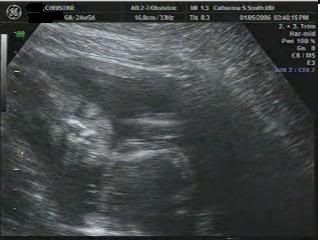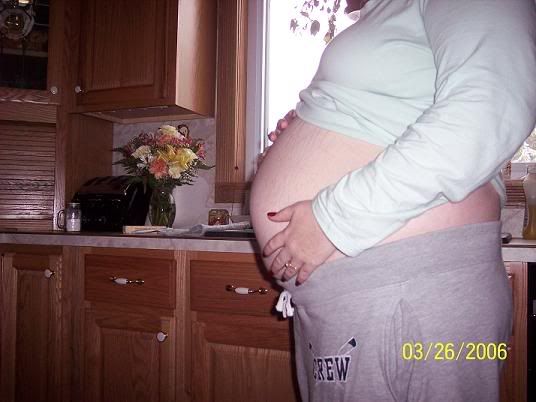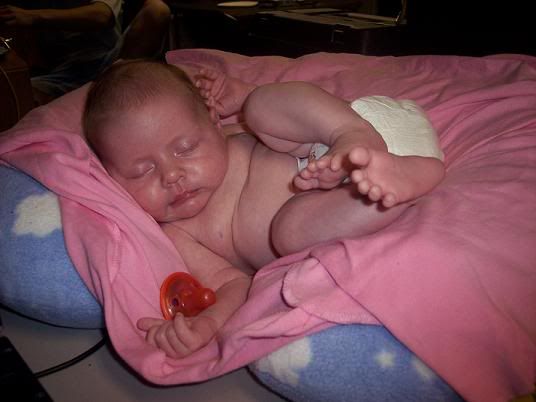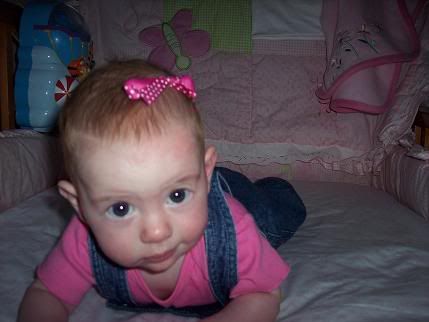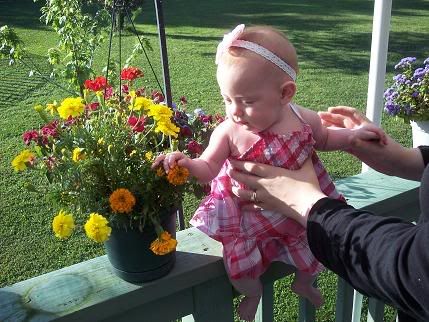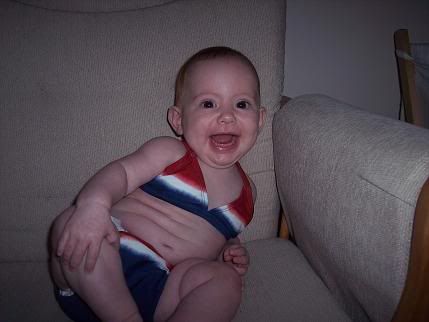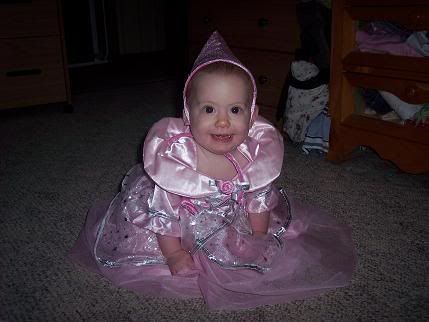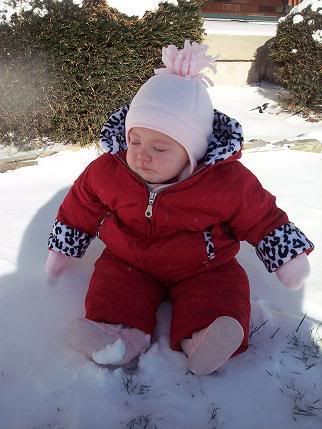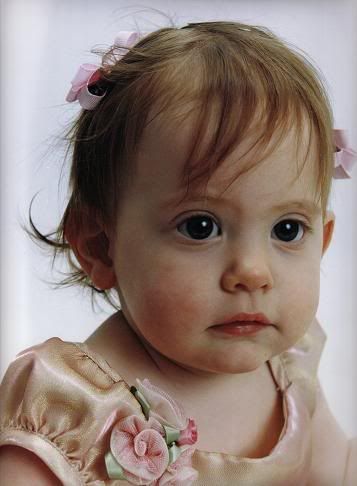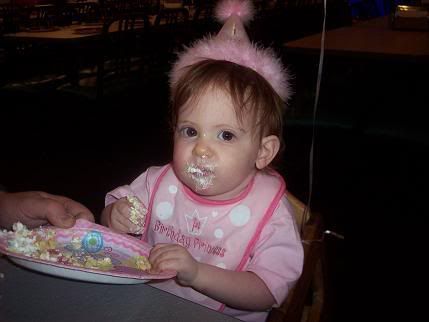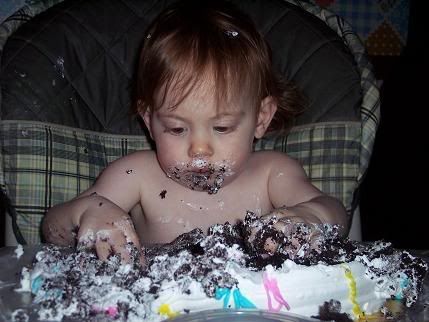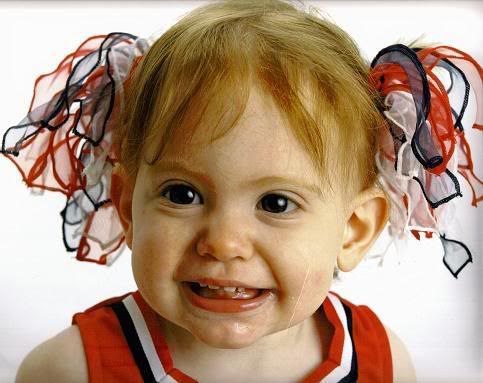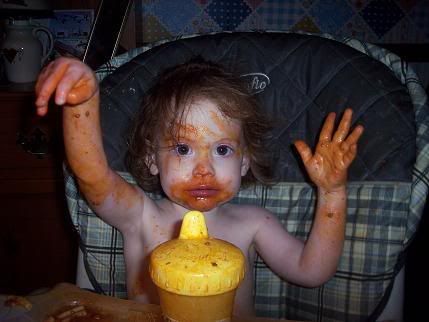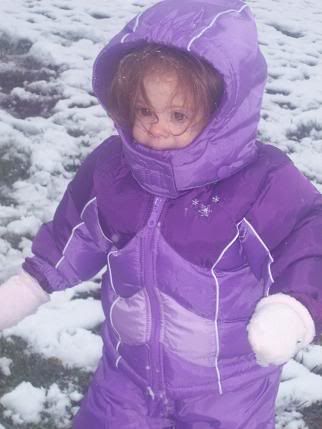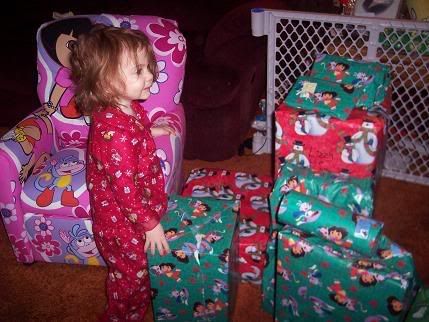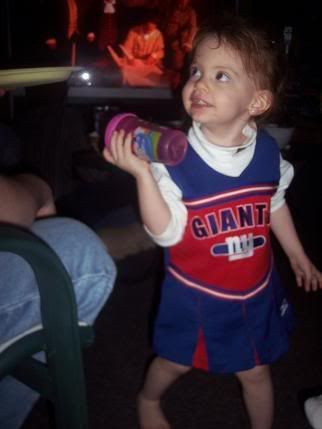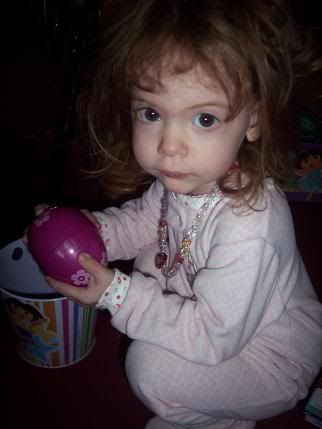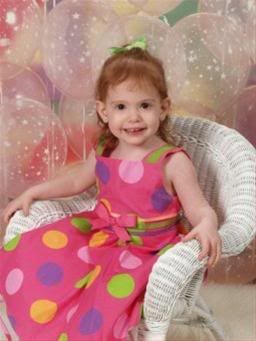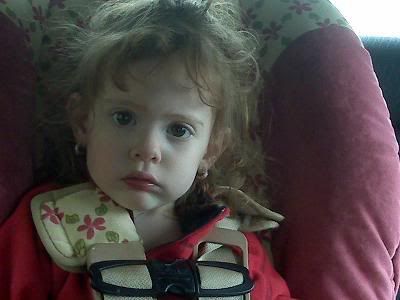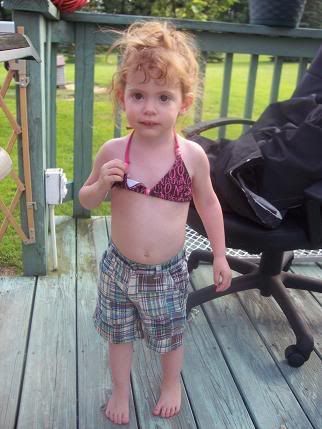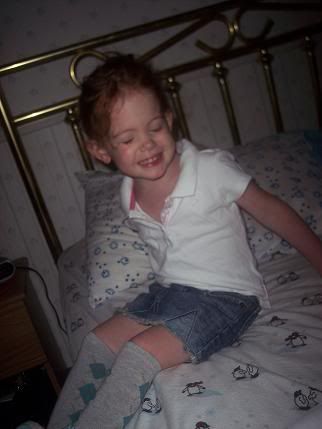 Jeeze she really is beautiful <333
Comment! (2) | Recommend!