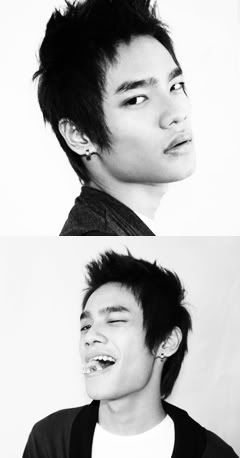 Beneath Inconsistency and Imperfections.

FOLLOW ME: http://twitter.com/Derrickweejh

people who kept complaining about why
can't they comment, which is because you
just have to type the first four code given.
hah i know its stupid but this is how it works!


Wednesday. 11.18.09 9:33 pm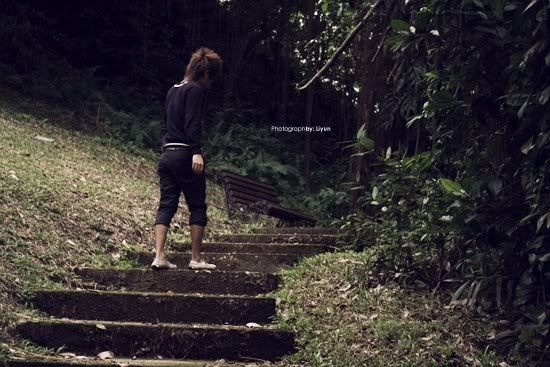 Traveling I only stop at exits. Wondering if I'll stay.
Young and restless. Living in this way I stress less.
I want to pull away when the dream dies.
The pain sets in and I don't cry.
I only feel gravity and I wonder why.

Random note : I love my Grandma and Mum so much.





Comment! (1) | Recommend!
Sunday. 11.15.09 10:11 am
Time to do alittle update, been really lazy to update.
As you can see i haven't really done much Revamp-ing my blog.
I want it a little less complicated yet simple.

Hurray that exams are offically over and back to reality.
Working days kicks in and that means i'm back to my night life.
Today its a Sunday, a quiet cold night.
Choose to stay at home and not to club. Perhaps i'm just too lazy.
But it's plain boring staying at home. No excitment. Nothing.

I've planned to start gymming and swimming if i have the time.
Need to learn how to manage to juggle my work schedule,
workout and time spent with friends and family fairly well.
Its time to get into shape. Speaking about motivation, i'm lacking that.
Soon it's Christmas, a new year begins and i'm turning 19. Time flies.

Alright my stomach is making sounds again. I think it's time for supper(:

So here's wishing one and all a great week to come!
Comment! (1) | Recommend!
Monday. 11.9.09 2:17 pm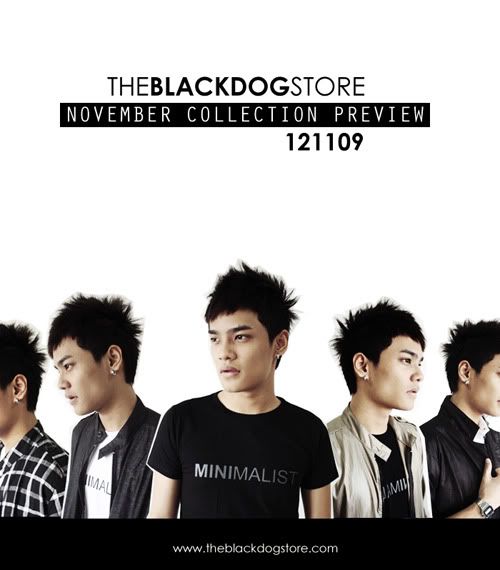 Comment! (0) | Recommend!
Tuesday. 11.3.09 4:57 am
Finally Art Paper 02 is over and paper one is one Monday. Grr
Managed to complete my final piece in 2h30mins.
Physic tmr morning and Accounting the following day. Bitch.
And yes here's my preparation work.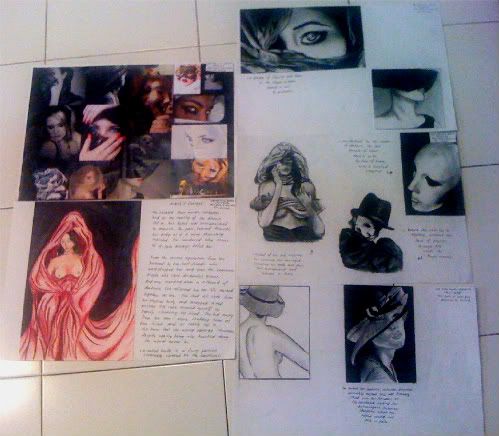 Oh and my final piece i did, was actually the one with the boobs covered with red silk robe.
And i got a friend to help me with the concept, here it goes.
You can actually skip this part if you dont have patient. ha!
She recalled those words, verbatim.
And as the reality of the divorce set in, her heart was overwhelmed in anguish.
The pain, seared through her body as if it were physically inflicted.
She wondered why issues of ill-fate always befell her.
From the recent separation from her husband,
to her best friends who backstabbed her and even the common people who cast disdainful glares.
And now, standing alone in a shroud of darkness,
she reflected how her life meshed together as one.
She shed all cloth from her physical body,
and wrapped a red, pristine silk robe around herself to signify cleansing by blood.
She hid away from her pains - alone, shedding tears as time toiled.
And as reality set in, she knew that she would emerge stronger.
Despite reality being vile, knocked down she would never be.
Anyway while i was mugging, a new creation on my lower arm. Liyun's ink.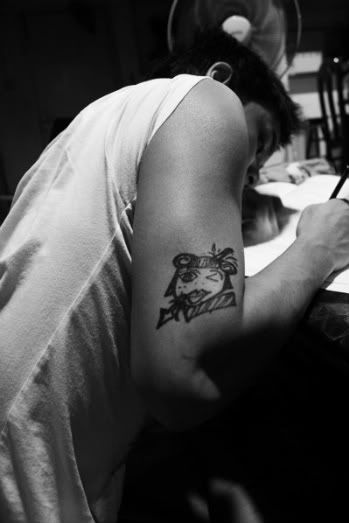 Close up.
Guess she wants to be a tattoo artist for kids.
Anyway casting was retarded, need to be over the top with big expression.
I guess KFC adv are always that cheezy.
Random, i find this picture duper cute.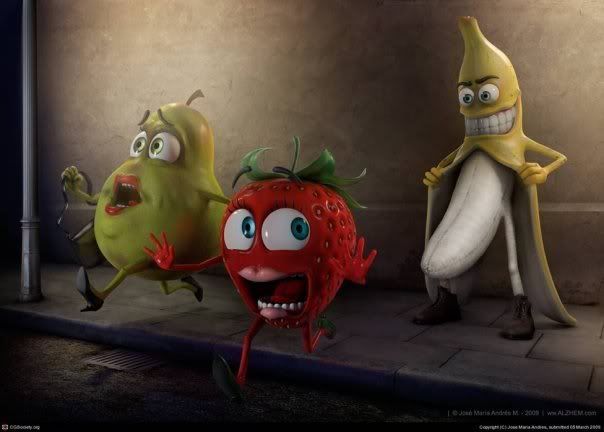 Alright i heard my cousin and aunt is leaving to Canda. Why didnt bring me along!
Envy yet jealous. Grrrr i'm off to study physics. Byeeee
Comment! (1) | Recommend!
Friday. 10.30.09 7:38 am
Thai food is simply da best. Dinner over at centrepoint with friends.
Greencurry chicken, Pineapple rice, Kangkong, Tomyam Seafood soup, Omelettes and Lemon chicken.
Yum yum :) But the kangkong is kinda spicy!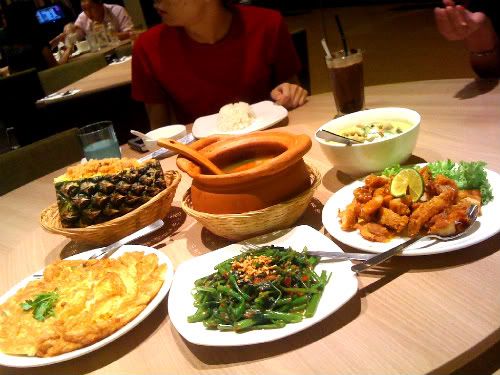 And finally my comp card is ready. Casting for Kfc adv on Sunday :)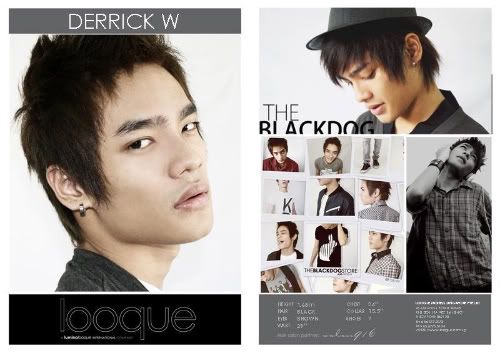 Profile Link :
http://www.looque.com.sg/model_details.phpid=166&val=1&startPage=1&page=1on
Comment! (5) | Recommend!
Sunday. 10.25.09 10:19 am
Genuine rush, Patience is needed.
and the clock is ticking ....
Comment! (1) | Recommend!