Thursday. 9.4.08 11:13 pm
I wish I had more people to bake for, I wish I had lovely reasons to bake for people.
Sure, thanking somebody for being a study buddy with you for class with cupcakes is cool.
But I'd prefer the
Where would I be without you pies .
Dear God, you make life beautiful cookies.
Just Because tarts.
Comment! (3) | Recommend!
Friday. 8.29.08 10:39 pm
I had five.
1. Katie made the best present I have ever received. A get better sick package. It had Theraflu, Tylenol cough medicine, tissue for my gross congested nose, and sugar to add to my Theraflu.
2. Sarah sucker punching Jordan in the chest on accident!
3. Auditions went good, not sure if I'm going to make it. But afterwards I went and talked to Chrismon for some feedback, and he gave prolly the best advice I could have ever gotten.
4. At the football game, the song "Low" came on, and I thought at the moment Manal was behind me, so I started to booty grind, and shake my ass on her. But when I turned around it was some guy, just standing their letting me do it. BUT HE WAS EXTREMELY GOOD LOOKING. And then I saw him a lot more that night, and I ended up telling him he was hot. And he just smiled and I actually had a nice conversation with him. (Katie, you're right, sometimes just stepping up is the right thing to do. To just be bold).
5. I SAW EMILY AT THE GAME. I ran up and tackle hugged her, for literally three minutes.
Life is good.
Comment! (1) | Recommend!
Wednesday. 8.27.08 6:50 pm
My life has just been exciting. Every single day has been a new adventure, with new people to meet, and new things that I would never even think of trying before. It's filled with car rides, random get togethers, and a lot of laughter. Affection, long conversations, and but of course, the LULZ.
I'd rather be vague, and explain the feeling within the moment than all of the stupid shit I've been doing. Maybe thats a better thing to blog about. Instead of draging my long days on. I haven't slept at all lately, and not a single sad feeling has swept over me. I am kind of stuck in happiness, and nothing can really bring me down at all.
Comment! (1) | Recommend!
Sunday. 8.24.08 12:41 am
Had to work from 10-6, but when I got off, I had a voice mail from Katie saying our group was doing something. I eagerly called her back to find out they were all on their way to Applebee's. Thirty minutes later; Gabe, Blaine, Kevin, Joey, Sarah, Meagan, Katie, and I were all sitting down having fun conversations.
We all ate, and afterwards went to the mall for some fun time. Spent about thirty minutes in Hot Topic. Then Katie, Kevin and I went to Walgreen's and bought enough candy to last a month. Raced back to Katie's. (KATIE AND I WON. EAT ME KEVIN.) And sat in her yard till about eleven just taking pictures, laughing, and getting fat and a HUGE sugar rush. Basically I had a great day (:
OHHH, by the way, did I mention what I ganked from Applebee's?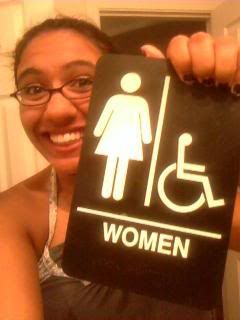 Comment! (7) | Recommend!
Thursday. 8.21.08 10:00 pm
I'm so happy I could
Comment! (3) | Recommend!
Tuesday. 8.19.08 11:54 am
What time is it? No, I don't care. I just sit and think. Happiness. Today I hope it is sunshiney. I don't understand how people can just sit in their rooms all day long and do nothing. I love being outside. When you are outside, you can drop all pretenses, and just be. You mold with your surroundings, you can be infinite. You can be the trees, leaves, grass, bushes. You can be nothing. You can be the air, the wind, the sun, the rain. You can be infinite. I love it all.
Comment! (2) | Recommend!