Hmm...what would you do with this?
Thursday. 12.14.06 11:44 pm
I think the link will explain itself...sort of (the site's in Japanese...I can't understand Japanese...but you don't need to know Japanese to see the pictures...and, well, watch the video of it).
USB Puppies!!!
Check it out...when you plug them in, they hump your computer :)
OKAY, I'm bored...
The chameleon at the bottom of the page is pretty nifty too. I'd hook that up to my machine!
Comment! (2) | Recommend!
Thursday. 12.14.06 10:31 pm
I had to work until 7:30, so I was basically gone for 13 hours. I left at 7am and didn't get home until 8pm. I wanted to fall asleep in front of the computer screen at work...and I swear, I'm going to get carpal tunnel or something when I get older because I type so much at work, at home, everywhere...I'm just fucking my hands up!
Anyway, we have our Holiday Lunch tomorrow. It's from noon to two and I know I'm already having salmon. It should be yummy...but that's 2 hours I won't be in the office tomorrow afternoon. I've got a meeting at 10:30 am about my position and what I do (I'm assuming)...I don't know. I guess I'll find out tomorrow.
But yeah...I'm done talking about work and all that. I desperately wish I had a DVD player or something so I could watch movies or whatnot on my TV. I'm tired of watching the same shitty shows over and over again. My two channels SUCK.
ugh...
Comment! (3) | Recommend!
Thursday. 12.14.06 12:46 am
not to mention uneventful.
I tried laying down and it hurt like hell. I'm calling the doctor tomorrow morning to find out if they should see me earlier than the 20th or if I should wait until the 20th to come in. This acute pelvic pain is really getting on my nerves and I am really not enjoying being pregnant now :(
BUT YEAH, does anyone remember Mr. Men? I was messing around on the Internet and stumbled across this
website
where you can make your own Mr. Men character or Little Miss character...
so, I made myself my own Little Miss :)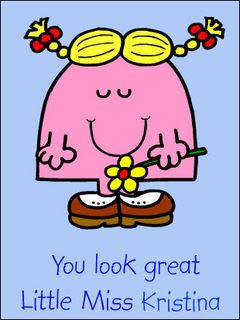 It's not spectacular or anything, but still. As you can tell, I was bored...lol
Anyway, I'm going to try and go to bed and see if I can feel comfortable. We'll see if I can get any sleep tonight...
Comment! (4) | Recommend!
Wednesday. 12.13.06 1:38 pm
I swear, it is getting harder and harder to want to wake up in the mornings now. It's bad enough I'm up all night going pee a bajillion times, but now it hurts to roll over and I have to roll over constantly because I can't get comfortable...and then it hurts to work, it hurts to sit...it hurts to do anything. I guess when I was joking with my doctor last week about how I was feeling fantastic, he would know exactly how I would feel come this time. MISERABLE!!!
I went to that breastfeeding class last night and it was very informative. It basically confirmed to me that
I WILL
be breastfeeding my baby. There are so many benefits to breastfeeding that you can't get from formula and the best benefit of all, it is absolutely free (for the most part - minus the breast pump that I will eventually have to get). I guess the average cost of a months worth of formula is $150.00! That's $150.00 that I would be saving every month from using what I already have, ya know...the instructor made us practice with little rigid fake babies and that was so embarassing.
But yeah, I won't go too much into it.
I think tonight, I'm going to go home from work...eat a little bit of food...and then pass out in bed or something. You know, I could say this 20 times and never go home and fall asleep. I have an issue with going to bed early...I can't do it.
Anyway, I've not posted a picture of anything for a little while, so I figured I'd post one. This is a picture of a piercing that I thought was really cool and I wanted to get at one point (I probably will never get it now)...it's not the whole part with the earlobe stretching thing, it's the industrial type piercing that runs through the rook and all that. I thought it'd be cool.
Me, personally, I just have my rook pierced and here's a picture of my ear:
To be honest, I think that was the least painful piercing I ever got. In fact, I don't recall it hurting one bit when they did it. It pinched for a little bit (of course, as a big chunk of my ear was stabbed through), but it was mostly just nasty sounding. It was super crunchy! Then the guy doing it was like "Oh look, your ear is filling up with blood." It was interesting to say the least. I got two piercings at that time (in strange spots on my ear)...I got my anti-helix pierced at the same time the rook was (but on the opposite ear)...OMG...bad idea! I couldn't sleep on either ear. My mom was pissed about it...lol...the shitty thing about my anti-helix piercing though is that my body decided it didn't like it and it eventually migrated out of my ear.
ANYWAY...yeah...I'm going to go enjoy the rest of my lunch.
Comment! (3) | Recommend!
Tuesday. 12.12.06 9:17 am
I woke up this morning with a hella bad sore throat :( I don't know if it's just from heartburn sitting in my throat all night or what, but eww...it's not making me a very happy camper. I wished I could have slept longer (I have a feeling that that is going to be the theme of the morning for the rest of this pregnancy). I'll go to bed early for me at about 11pm or something and wake up feeling exhausted. Then again, I've now been waking up at least 2 times a night to go pee! Why is he sitting on my bladder!?!?
Anyway, I've got a breastfeeding class tonight at the hospital. I told Brian he didn't have to go because I figured he would not be interested in going to that as it really did not apply to him all that much. It's not like he's ever going to be breastfeeding him...lol, so I'll let him stay at home for this one. I'm still debating whether or not to try and breastfeed full time or supliment bottles of breastmilk in there and whatnot. I think I may alternate between giving him a little of both so at least he's used to the bottles and won't try and reject them but at the same time, he can still breastfeed...or I may just pump all together and just feed him out of bottles. That's what's going to happen, unfortunately, when I go back to work. He's only going to get bottles while I'm away, so maybe I should just get him used to it right off the bat. Eh...so many decisions, and really no time. I still need to pack the bag to take to the hospital...I still need to wash all the baby clothes...I still need to set up his bassinet and his crib...I still need to clear a spot in the closet for all the stuff that is his. What the hell did I do with my time? I have no idea!!
Anyway, it's getting close to 7:30 here and my trainee is going to be here very soon as she has to come in when I start at least for her training portion...lol...I make everyone wake up early. I'm so mean!
Comment! (4) | Recommend!
Monday. 12.11.06 1:47 pm
I was so busy talking about this morning and the baby, I totally didn't even go into what we did yesterday (not that anyone cares, but ya know...just in case I want to remember days down the road, I can look back).
Yesterday, Brian and I went out to eat at
Hacienda Colorado
which is a freakin' sweet mexican restaurant. They've got something like 8 different sauces to choose from so you can put them on your enchiladas, smothered burritos, chimichangas, etc. It's so yummy!! I'm a weenie and I just go with the Ranchero sauce (mild tomato sauce), but that's always good on the chicken plates (which is usually what I get...my standard, chicken enchiladas). Brian, he tends to go with the hotter stuff and he got pork green chili on his stuff, but it's a shame they don't have this restaurant in other places than Colorado. They have some good food!
After that, we went and saw Casino Royale. I was sort of dreading seeing this movie as it was a new Bond and I wasn't too hot on the new Bond, but damn...that movie kicked ass. I love James Bond movies and I do think this is one of the better ones that I've seen. The new Bond was excellent at that! I hope he sticks around for the next Bond movie(s) - granted, that there are more...which there probably will be. We should have saw that movie when we went and saw The Fountain...at least seeing Bond wasn't a complete waste of money.
After that, I went and laid down for a long while as it was so uncomfortable to sit and do whatever yesterday. It hurt to even get up and down from the bed. I watched Cops for about 2 and a half hours and they must have been doing the whole grand theft auto editions because every single one was all about stolen vehicles and all that. The funny thing, a ton of them were with the Pierce County Police Department (in Washington) and they were driving around South Hill (Puyallup) and Spanaway picking up people stealing cars. Brian was like "Dang...you guys must have problems with people stealing cars." I didn't think we had that many problems with grand theft auto, but I guess they did...lol
THEN, I woke up this morning...want to sleep some more...and finally drug my butt into work. The morning went peachy and all that (I think my replacement is going to work out perfectly!) and then someone gave me a cup-o-noodle for lunch. I burned my hand with the hot water...but that's about it.
But, now it's time to eat it though...yum yum!
Comment! (4) | Recommend!
Monday. 12.11.06 10:00 am
I suppose that it is...but that's okay.
I guess my replacement for when I'm on maternity leave is going to start today, so I get to be training all day and whatnot with someone. This will be interesting. I think it will go well, but I just can't believe it is soon! It seems like just yesterday we were talking about when a good time to get a replacement would be and here it is the day that I'm getting my temp to work for me while I'm gone!
I am guessing she'll be here at 8:30 (as that's when they usually start), but we'll see. I get to work at 7:30, so she'll have to come earlier or something.
I have a feeling the baby has dropped some and he's starting to make his way on out (or at least starting to get in his position to make his way on out)...yesterday, it was getting increasingly harder to get in and out of my car. I was having trouble bending over, getting out of bed, walking, etc. I guess, this morning, I was talking about it and sure enough, someone noticed that he wasn't as high as he was last week when everyone saw me. I do seriously think he's dropped some. YIKES! This means it's soon! Now is the time to get scared!!!!
Anyway, I better get going on my stuff if I have to train someone today :)
Comment! (0) | Recommend!
Sunday. 12.10.06 2:27 pm
I woke up this morning and really had nothing planned to do today. I had logged onto WoW to go buy my mace that I wanted (with all the honor I got from doing the battle grounds for the past two days). So, I did that...and I was playing a few rounds of Alterac Valley to try it out (it works quite well) and I got a knock on my door. It was Brian!
Believe me, I was very surprised. He decided to take the day off work. His grandpa died yesterday and he decided to come and spend the day with someone he loves since his grandpa really didn't make an effort to know him and he never really knew his grandpa. It was a nice surprise to see him though. SO, we're going to spend the day together doing whatever.
Other than that, I'm not really doing all too much.
In other news, I hit my foot on my bed frame and it hurt SO BAD. Has anyone else ever done that? OUCH!!!
Comment! (5) | Recommend!