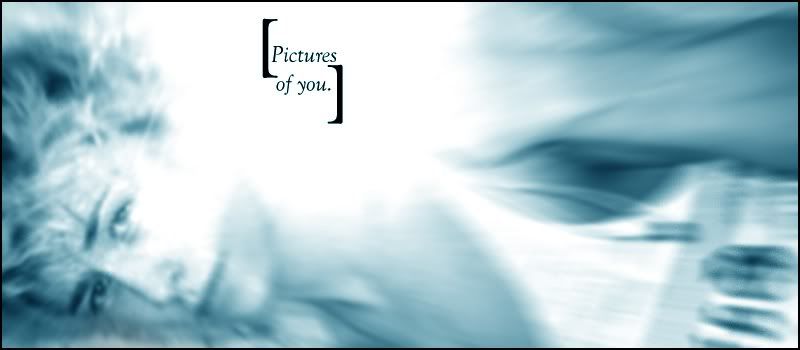 Spring Semester 2010:

* Teaching: Fundamentals of Microbiology - MW 12:00-2:40p
Medical Microbiology - TR 2:00-3:15p
Colloquium in Cell and Molecular Biology - R 3:30-4:30p
Thesis Research - Identification of T Cell Subsets and Immune Response in Colon Cancer Using Immunofluorescence - FOREVER AND EVER

Or rather, entries from the old journal, as it were...

-

An open letter to the College.

(August 27, 2006)

-

Untitled.

(July 16, 2006)

-

Haunted (Part One)

(May 29, 2006)

-

Are we growing up, or just going down?

(May 3, 2006)

-

I had a dream...

(March 19, 2006)

-

...

(March 14, 2006)

-

Enjoy it while it lasts.

(September 12, 2005)

-

Scene: 3:27 AM.

(September 3, 2005)

-

Untitled.

(July 26, 2005)

Psst... if you're looking for the academic writings I used to have here, head to my Reading Room.

Since June 2006...

- A Heartbreaking Work of Staggering Genius by Dave Eggers
- High Fidelity by Nick Hornby
- Travesties by Tom Stoppard
- The Way of the Shaman by Michael Harner
- The Tao of Pooh by Benjamin Hoff
- Nervous Conditions by Tsitsi Dangarembga
- The History Boys by Alan Bennett
- The Dark Child by Camara Laye
- Movie-Made America by Robert Sklar
- Diary by Chuck Palahniuk
- Rant: An Oral Biography of Buster Casey by Chuck Palahniuk
- Galapagos by Kurt Vonnegut
- The Dead Emcee Scrolls by Saul Williams [61.3%]
- Atonement by Ian McEwan
- Junk Science: An Overdue Indictment of Government, Industry, and Faith Groups that Twist Science for Their Own Gain by Dan Agin, Ph.D. [64.4%]
- So Yesterday by Scott Westerfield
- Lucky Wander Boy by D.B. Weiss
- The Things They Carried by Tim O'Brien
- Doctor Who: The Key to Time: A Year-by-Year Record by Peter Haining
- Why Buffy Matters: The Art of Buffy the Vampire Slayer by Rhonda Wilcox
- When You Are Engulfed in Flames by David Sedaris
- The Road by Cormac McCarthy
- 1984 by George Orwell [18.8%]
- Nick and Norah's Infinite Playlist by Rachel Cohn and David Levithan
- Intuition by Allegra Goodman
- V for Vendetta by Alan Moore and David Lloyd (Yes, I realize it's a graphic novel but it still fucking counts!)

Saturday, January 17, 2009 @ 5:24 pm

My PI didn't rip me a new one; in fact, I got more reading done over break than she did. Instead of spending hours going over what we read, we talked about what to expect for the next month. She is going back to New Mexico next Saturday until about mid-February to be with her husband who's having surgery, and to finalize their move back to San Diego. During her time away, I will be cleaning and organizing the lab, doing inventory, placing orders, writing a research-paper on the immune response to colorectal cancer, making sure the undergraduates stay on task on their own research papers, and

throwing parties afterhours in our largely-empty labspace

. When she gets back, the real work will begin.

I can't wait!

Comment! (1) | Recommend!

Wednesday, January 14, 2009 @ 9:55 pm

I am completely unprepared for my meeting with my PI tomorrow.

In other news: fuck.

That is all.

Comment! (5) | Recommend!

Sunday, January 11, 2009

I hate driving for long distances with my family. They always end up bringing too much shit and so the car is overloaded and it is fucking IMPOSSIBLE to get rest when your legs are competing for room with backpacks and plastic grocery backs full of food and whatever else.

Ow, my fucking neck.

Comment! (4) | Recommend!

THANK GOD IT'S NOT PINKEYE!

Friday, January 9, 2009 @ 9:28 am

I woke up this morning at around 5:30 because one of my cats got up and started meowing because he was hungry. Before I got his food, I went to the bathroom because I needed to take a major good morning piss. When I looked in the mirror, my left eye was completely pink. I freaked out a little bit because I thought maybe I had pinkeye. Fucking, EW.

I wasn't worried about the actual disease itself so much as the stigma attached to it within a group of my friends in my program. You see, over the last semester, we mercilessly made fun of one of J's students in micro lab because she got conjunctivitis... because her boyfriend jizzed in her eye. (True fucking story.) So throughout the semester, she became a running gag we had. No fucking way was I going to allow myself to be malady siblings with that sorority slut!

Thankfully, it's gone now. What I think happened was that since my cat slept in my bed last night, I probably pet him, and sometime during the course of the night I rubbed my eye. I'm not so allergic to cats that I violently sneeze when they are around, but I did notice that if I touched my eyes without washing my hands after petting a cat, I tended to have a little allergic reaction. Whew!

In other news, I received a disheartening e-mail back from the coordinator. It seems that the administration (in the form of the associate chair) is forcing her hand in the matter and making her withdraw my teaching offer, which is shitty but completely legal because I haven't signed a contract yet. However, the e-mail also said that it is the Fundamentals of Microbiology class that needs a teacher, not the Gen. Micro. class like I previously thought. The Fundamentals class is geared towards allied health and nursing majors, so it is at a lower level. And after the threat of having the offer rescinded, I relented and accepted their terms. It won't be so bad. The only thing is that allied health and nursing majors sometimes have a lot of trouble with what I consider to be simple concepts, and that would make me want to rip my hair out.

But what can I do? I need the money, and any teaching experience is something to put on my CV. Plus, the coordinator promised me first pick of classes in the fall if I want to switch out of microbiology, which is nice because I'm definitely eying the upper-division lab course for BCMB...

Comment! (2) | Recommend!

Flattered, but no thanks.

Friday, January 9, 2009 @ 12:30 am

I got an e-mail from the graduate coordinator this morning asking me if I'd be willing to teach a section of General Microbiology instead of Principles of CMB, although I didn't even apply for that position. Turns out that she's about to offer the position to someone with less microbiology training that I had, and she thought it would be better if I taught the course instead.

I spent the entire day torn deciding between the Gen. Micro. position and the Principles of CMB position before ultimately settling on what I had originally applied for. I just e-mailed the coordinator back--after about 14 hours of mulling it over--respectfully declining her offer to teach a class at a higher level. It's true that I got an "A" in the micro course I took, and I understand her hesitance at giving the assignment to someone who might not be qualified, but in the end, I thought about how

I

would feel as a

teacher

. If I'm not comfortable teaching the material, then I shouldn't expect my students to be comfortable learning it from me. I realize that by declining the offer to teach Gen. Micro., I may have damned those students who will end up enrolling in that particular lab section, but I have to do what I feel is right for me. It all came down to the fact that I think I would be such an amazing instructor for Principles of CMB... well, at least a competent one.

I should get to bed. I didn't make it out to Stanford like I wanted to, and my trip to NASA got postponed to

tomorrow

today after lunch. I

did

end up having brunch with my old labmate, where I heard some very interesting news. Apparently, my old thesis advisor had a theory as to why I was having trouble academically at Pomona: the woman had me pegged as a

video game addict

. Where she got that crazy notion, I have no idea! I barely have time to play more than 2 hours a week, if at all. Let's just face it: the reason I had problems was because I was tired and lazy and hence I didn't show up to my morning classes. Mystery solved.

Though, given the choice between being tired/lazy and having a full-blown diagnosable psychological problem... I think the latter sounds like a more legit reason. Does it say something about me given the fact that I would rather blame my poor academic performance on something stupid like being addicted to video games than be perceived as not hard-working? I think it might.

Good night!

Comment! (2) | Recommend!

Wednesday, January 7, 2009 @ 10:03 pm

The news I was anxiously waiting for came in... and it was

good

! Looks like I'll be teaching two lab sections of a freshman/sophomore course:

Principles of Cell and Molecular Biology

. Hello, money; hello, faculty parking space; hello,

somewhat attractive young undergrads

underappreciation!

Leaving for San Diego on Saturday morning. I feel bad about lying to a couple of my friends that I won't be able to join them on Friday night because "I'm leaving on Friday." I should have just stuck to the truth: I didn't want to go to San Francisco on a Friday night (boo, traffic!) to

not

drink and to drive home around midnight or one before embarking on a 500 mile journey southward early the next morning. Ehh... somehow, that came out less diplomatically than I envisioned it would.

Tomorrow, I might be having lunch with an ex-labmate from Pomona (she was a freshman when I was a senior, and now

she's

a senior!). I will also finally make it out to Stanford to get a few of the articles we don't have. (Most of the articles I need are in more medically-themed journals, which SDSU does NOT have access to... which is fine for pretty much everyone but those working in my lab, go figure.) After that, it's back to NASA for some pro-bono work... if my ex-PI remembers to request a visitor's badge for me. Which, knowing him and his extreme disorganization, may not actually happen.

And now for something completely different, a.k.a., an animated gif of one of my cats sitting by the back door:

Comment! (2) | Recommend!

Tuesday, January 6, 2009 @ 7:50 am

A week fraught with science.

Sunday, January 4, 2009 @ 2:34 am

So what else is new?

I have to find some time this week to get out to the Falconer Biology Library at Stanford to track down a buttload of articles for the colon cancer project. Also, I will be going back to NASA for a few hours to help my ex-PI identify and locate some samples for elemental analysis. I also need to help my sister with her science project by constructing a makeshift incubator for her nutrient agar plates on which she will streak different samples swabbed from different places in the house. (Of course, I helped her design the experiment. It's not like she knows anything about microbiology from her 7th grade science class.)

Science, science, science... a.k.a. my life.

Comment! (4) | Recommend!