Good Morning ***with new snow pictures***
Thursday. 12.21.06 10:51 am
I got a call from my boss last night at about 10pm stating that we did not have to come into work today (as it snowed all night) and well, the snow just kept coming last night. In fact, I just went outside to take some pictures, and it's still snowing as we speak. It's supposed to keep snowing until about noon or so.
Here's my new pictures from this morning:
These are cars in the town homes next to me - the snow has piled up/drifted up past the hoods on their cars. They're literally buried!
Here's the snow piled up almost to the top of that tree trunk before the branches start.
I think someone at the apartment building specifically went out and dug out the gutters, but even that, it really didn't help all that much.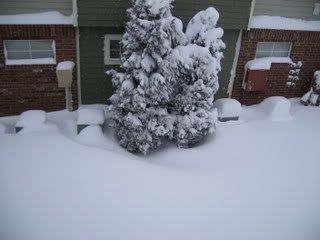 Snow piled up to the top of the A/C units.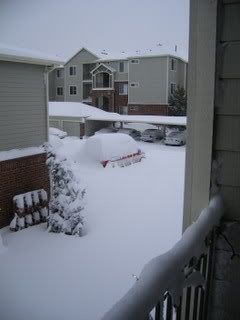 Same cars I took a picture of last night...now they're completely covered on the bottom.
Here's a picture of the lady on the news...she's up to waist deep in the snow...hehe, it's just a drift though.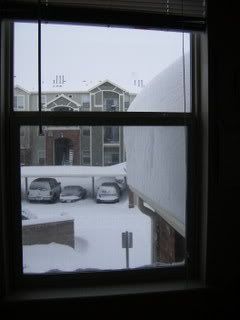 AND, here it is piled up on my roof outside my kitchen. Sorry about the window and the screen.
SO, those are my new snow pictures.
I'll be staying in today avoiding the bad driving conditions and all that. Everything is closed around here, but even if I could get it out, what would be the point? There is no point!
Anyway, enjoy your day if you're at home...and hopefully, if you're working, your day isn't treating you too bad!
Comment! (2) | Recommend!
My Snow Day... ***UPDATED WITH PHOTOS***
Wednesday. 12.20.06 2:20 pm
They sent us home from work early (I don't blame them) - we're getting some not so hot weather.
Per the weather center, this is our nice warning:
A blizzard warning remains in effect until 12 pm mst Thursday.
Snow, heavy at times, will continue through tonight. Total accumulations of 10 to 20 inches are expected in most locations by Thursday morning. As much as 2 feet of snow will fall in the southern suburbs and palmer divide area.
North winds increasing to around 25 mph with frequent gusts up to 40 mph especially east of i-25 will produce blizzard conditions.
Travel is rapidly becoming extremely hazardous and will likely become impossible this afternoon. Travel is not recommended through Thursday morning.
The roads were a complete nightmare on the way home from work. I canceled my doctor's appointment because the roads are just getting WORSE and WORSE!
I'm watching the news and they're closing down our major freeways and whatnot. I-70 (the major freeway from east to west going through Denver) just closed all the way to the Kansas border...I-25 (the major freeway that runs north and south through Denver) is closed in both directions going through Colorado Springs (which is about an hour south of Denver).
Ugh...did I mention that I really hate the snow?
I went out and tried my camera (which now appears to be working and not being retarded)...and I took a few pictures. I'm not going to be going anywhere for a few days...
It has drifted up to about waist deep by the dumpster outside (that's that brick structure thingy)
Here is piled up behind cars and whatnot
Look at that car with all the snow on it...it probably hasn't been out all day and that's a helluva lot of snow!
Comment! (8) | Recommend!
Tuesday. 12.19.06 7:55 pm
Snow tomorrow...snow Thursday...all in the morning (WHY THE MORNING?!) I am not looking forward to it, but oh well...I have no control over when the snow comes and when it does not.
I have a doctor's appointment tomorrow at lunch...I hope all of that goes well. You'd think I'd be tired of going to the doctor's office, but to be honest, I love my doctor's office and I enjoy going there (even though I've peed in the cup a bajillion times). Pretty soon here, I'll be done with going to the doctor for myself and my poor baby will be going all the time...lol...I like the role reversal there.
Someone at work had one of her friends make me a nice baby blanket. It was very sweet of her and I always appreciate blankets. Heck, I have TONS of blankets for myself, so it's only right for my baby to have them :) It'll make my friend happy as it has dump trucks and construction equipment on it. She always complains that he has too many clothes with cute animals on them and the baby needs some stuff with sports and tools on it. SO, now he has a blanket with construction vehicles on it.
Other than that, I got a bunch of Christmas cards in the mail today. My friend Melissa (who lives down the street from me) sent me a card in the mail...it's a little kitty too. I have a feeling she didn't think I had enough kitty things in my life, so now I have a Christmas card with one on it. I'm gonna put it on my fridge :) I also got another one from my Grandma Sugar (she's not really my grandma...she's my cousin's grandma...but she has always treated my brother and I like she was our grandma, so we call her Grandma Sugar). It was nice hearing from her as I've not seen her since I graduated high school I think and I was hoping to see her at my baby shower, but she wasn't able to make it. Maybe I can see her when I go home in July. I also got a Christmas card from
invisibleinkling
and
etheracide
. Very nice of them to send me something :) I love getting cards in the mail! I love penpals!!
Anyway, I think I'm gonna watch Jeopardy and lounge around...gotta try and get comfortable some how...darn baby making my hips hurt!
Comment! (4) | Recommend!
Tuesday. 12.19.06 10:11 am
For my self loathing last night. I don't know if it's just this whole baby thing or what. I'm getting all emotional for nothing. I ended up crying myself to sleep last night because I was trying to call Brian to apologize for being so moody and all that and he wouldn't answer his phone (he turned it off when we were in the theater and didn't turn it back on). I eventually got a hold of him, but I still felt like shit and all...ah well, today's a new day.
We went and saw Eragon. I thought it was an okay movie, but since Brian read the books, he had to nit-pick it apart. I knew he wasn't going to enjoy it, but he wanted to see it anyway...so we did.
Oh well...
Anyway, I'll elaborate more later.
Comment! (4) | Recommend!
Tuesday. 12.19.06 1:20 am
This day was just utterly depressing.
I went to work and that was all good, I guess...then I got off work and Brian was supposed to come over to my house. He calls me and asks if I want to go over to his house to have dinner (they were having roast beef...beef doesn't agree with me)...I decided not to eat dinner, but I went over there anyway because we were going to go to a movie or whatever.
We went to the movie and we get done at about 10:30 and we're driving back to his house and I had a gut feeling he wasn't going to come over anymore. He was like, "I'll let you decide if you want me to come over or not." Well, that's just like saying...well, you can guilt me into coming over but I don't really want to. That was depressing right there...
I eventually just told him to stay at his own house. I'm going to my house whether he's there or not. I left pretty much in a foul mood.
I just don't understand what the hell I'm doing wrong. I guess I'm just not good enough to live with while we're alone...and the only reason he's going to have to live with me now is because of the baby. It's like some big obligation...I guess this whole relationship is an obligation...I don't know. I don't think he feels that way, but come on...what the hell is wrong with me?
Comment! (4) | Recommend!
Sunday. 12.17.06 11:19 am
So, our Christmas shopping adventure didn't quite go as planned, but that's fine.
We went to Best Buy (a different one than where Brian works) and we ended up buying Brian a set of headphones and his friend Jaysun a set of headphones. WELL, we get home and find out that Jaysun bought those same headphones today, so he doesn't need them. Brian's like "I hope you like your new headphones!" Hahah...I'll figure out something to do with them, but yeah...new headphones for me...yippee...(can you sense my excitement)
After that, we went to Wally World (Walmart for you folks that don't know) and got a couple of necessities. I needed some shampoo, so I got that. Brian needed a water bottle for work (he got one that carries a half gallon of water), I got a pitcher so I can make juice at home, we bought his dad a Dremel set (he wanted one...he's paying us back for that), we got his dad a universal remote (he's paying us back for that too) and then I had to get a Secret Santa gift for someone at work. I got a fountain for their desk or whatever. It has lights...I thought it was cool. I would have wanted one of those. We looked at strollers/car seats and we were going to get it, but then we decided that it wasn't going to fit in my car with my trunk full of shit...so we're going to get it tomorrow when we can use Brian's dad's truck and put it in there. It has Winnie the Pooh on it, but I don't care. I like Winnie the Pooh, I just didn't want to go all out on Winnie the Pooh. I'm not THAT much of a fan...ya know.
Anyway, other than that...I get to go buy Brian a terrabyte of hard drive space today at Best Buy (as it's on sale for $150.00 per hard drive at 500gb a piece). He says that if he gets it now, he shouldn't need to buy anything else for his computer after the baby's here, at least for a while. I guess he has close to 800gb now and it's almost all full. Whatever he puts on his computer, I'll never know...but it certainly isn't anything porn related, so it's 800gb of games, movies, etc. that he's download...INSANE!!!
I need to find a jumbo thing of eggrolls today too. If I can't find that, I'm going to go back to Safeway and just get the little ones that I saw and cook up twice as many. We're having a potluck at work tomorrow and our theme is Asian food, so I picked eggrolls. I'm still trying to think of how I'm going to keep all that stuff warm...ugh...it will come to me, eventually!!
Comment! (4) | Recommend!
Saturday. 12.16.06 1:00 pm
Even with the power being out at my mom's house, I was able to help her buy her plane ticket to come to Denver for the baby's birth! I called her this morning and the power was still out (I think this is going on 2 days now) and the crappy thing about not having any power...you can't really take a shower (as you need electricity to light the pilot light that lights the hot water heater)...so she was going to boil some water on the gas range (at least you can manually light the burners on that) and take a bath. My poor mommy :(
Anyway, back to the plane tickets. She's going to be here on January 10th (a Wednesday) at about 7pm. I'm so excited about that! I just hope that the baby doesn't get any ideas and decides that he wants to be born more than a week early! I think with my mom here, I can do anything! There's only so much Brian can do for me and I really could use my mom for support, so I'm hoping he holds in there at least until after my mom gets here.
Brian and I are going to go Christmas shopping after he gets off work tonight. He gets off at 5pm and we've got to go shopping for his mom, his best friend Jaysun, and then his uncles. I think while we're out, we're going to go get the stroller/car seat for the car because they won't let us take the baby home from the hospital without a car seat and we still don't have that (I KNOW...Brian and I are the King and Queen of procrastination). I have an idea of what we should get his uncles since one lives in Oregon and the other one lives here...I'm going to run by Brian the idea of gift cards or something along that line. At least with a gift card, they'll send light in the mail and then they can get what they want with them.
But yeah...other than that, today has been/is going to be a lazy day. I got up this morning and listened to
VNV Nation
while I played World of Warcraft for a little bit. Brian was right...the music does go well with the game. I got bored with that quick though, so now I just want to go somewhere.
We might go see
Eragon
tonight after we're done with all the shopping. Brian read the book in about 3 days and he loves it...so the movie looks pretty good too.
Okay...now that I've randomly jumped all over the day, I think I'll leave it at that.
Comment! (6) | Recommend!
Friday. 12.15.06 8:44 pm
I don't have a good title, so you get untitled...okay
Just got home from the grocery store. Got lots of goodies like grapefruit, yogurt, apples, juice, etc. but then I splurged on chocolate covered pretzels. I figured, if I'm buying all this food that's good for me, I might as well get the one thing I like that's bad for me :)
I'm so exhausted at the moment. I called the doctor's office and told her what was going on with the pelvic pain and she calls me back and she goes "Well, I'm sorry to break this to you honey, but this is normal." I figured it was, but you never know. If it was something serious, I didn't want to dismiss it as regular pregnancy pain or anything.
My next appointment is Wednesday at lunch. I can voice my opinions then. Hopefully I'm not measuring big or anything and I'm just on time. I don't want him to be born before my mom is able to get out here.
Speaking of my mom, she was stuck in the big windstorm in the pacific northwest. They had hurricane force winds and she's one of the 1 million people in Washington that is without power (and she says that they probably won't have it back for a few days). Her work is so stupid! She was at work last night (she works in a factory) and the power went out there at about 12am or so (she works graveyards) and they made them stay and finish out the shift. The emergency lights were on for about 3 hours, however, they decided to go out at about 3am and they were in the pitch black for the remainder of the shift. They had flashlights and all that...and they would not send ANYONE home. My mom ended up going to the bathroom for the rest of her shift and sleeping because they could not go home...yet they could not work either because there was no power. HOW STUPID IS THAT!?!
Oh well...I'm gonna rest in the recliner and watch TV and maybe go lay down in my bed...go to bed early tonight...tired...
Comment! (4) | Recommend!