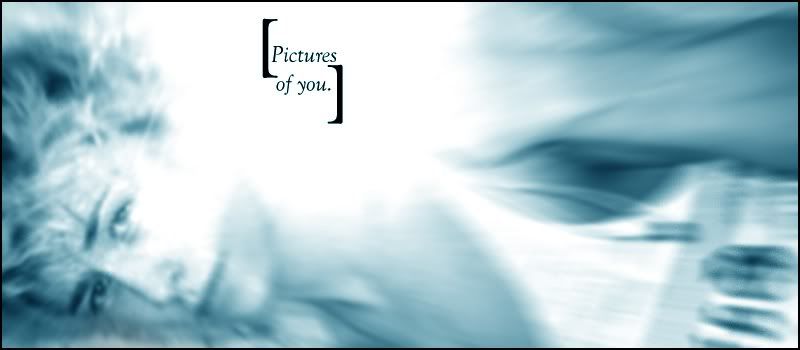 Spring Semester 2010:

* Teaching: Fundamentals of Microbiology - MW 12:00-2:40p
Medical Microbiology - TR 2:00-3:15p
Colloquium in Cell and Molecular Biology - R 3:30-4:30p
Thesis Research - Identification of T Cell Subsets and Immune Response in Colon Cancer Using Immunofluorescence - FOREVER AND EVER

Or rather, entries from the old journal, as it were...

-

An open letter to the College.

(August 27, 2006)

-

Untitled.

(July 16, 2006)

-

Haunted (Part One)

(May 29, 2006)

-

Are we growing up, or just going down?

(May 3, 2006)

-

I had a dream...

(March 19, 2006)

-

...

(March 14, 2006)

-

Enjoy it while it lasts.

(September 12, 2005)

-

Scene: 3:27 AM.

(September 3, 2005)

-

Untitled.

(July 26, 2005)

Psst... if you're looking for the academic writings I used to have here, head to my Reading Room.

Since June 2006...

- A Heartbreaking Work of Staggering Genius by Dave Eggers
- High Fidelity by Nick Hornby
- Travesties by Tom Stoppard
- The Way of the Shaman by Michael Harner
- The Tao of Pooh by Benjamin Hoff
- Nervous Conditions by Tsitsi Dangarembga
- The History Boys by Alan Bennett
- The Dark Child by Camara Laye
- Movie-Made America by Robert Sklar
- Diary by Chuck Palahniuk
- Rant: An Oral Biography of Buster Casey by Chuck Palahniuk
- Galapagos by Kurt Vonnegut
- The Dead Emcee Scrolls by Saul Williams [61.3%]
- Atonement by Ian McEwan
- Junk Science: An Overdue Indictment of Government, Industry, and Faith Groups that Twist Science for Their Own Gain by Dan Agin, Ph.D. [64.4%]
- So Yesterday by Scott Westerfield
- Lucky Wander Boy by D.B. Weiss
- The Things They Carried by Tim O'Brien
- Doctor Who: The Key to Time: A Year-by-Year Record by Peter Haining
- Why Buffy Matters: The Art of Buffy the Vampire Slayer by Rhonda Wilcox
- When You Are Engulfed in Flames by David Sedaris
- The Road by Cormac McCarthy
- 1984 by George Orwell [18.8%]
- Nick and Norah's Infinite Playlist by Rachel Cohn and David Levithan
- Intuition by Allegra Goodman
- V for Vendetta by Alan Moore and David Lloyd (Yes, I realize it's a graphic novel but it still fucking counts!)

Wednesday, January 28, 2009 @ 7:48 pm

Tuesday, January 27, 2009 @ 7:16 pm

I survived my first class! Granted, it was mostly uneventful, owing to the very boring subject material, i.e. going over the syllabus, the schedule, and lab safety. But I don't care--I survived! I didn't fuck anything up, I didn't make an ass out of myself... I was quite pleased with how everything went, so I went and got myself from frozen yogurt after I finished teaching!

The weird thing about teaching this class level is how similar in age everyone is to me. Most of the class is within 3 years of my own age; there's even an older gentleman who looks like one of those people who went back to college to switch careers. But while all of that is a bit odd for me, I feel I will become accustomed to it. What I

won't

become accustomed to, however, is when people call me "Mr." It just sounds so... wrong. I haven't yet had anyone refer to me as "Dr." or "Professor" yet, but I'm sure it will happen. Sometime. I will have to continue correcting them until they just call me by my given name.

For the select group of neutron star-dense people, that may never happen.

Oh, well.

Comment! (3) | Recommend!

Monday, January 26, 2009 @ 12:08 pm

Contrary to what it may look like from recent entries, I didn't exile myself from the world after a mental breakdown.

First, my angerfrustrationanxiety was due to the fact that one of my cats went missing for a while. He wandered off and I blamed my parents and sister for being so nonchalant about the whole thing, which wasn't nearly the case. They were just as worried, possibly more so, because they understand less about the behavior and biology of cats than I do. After cooking that one night (see last entry), I did end up calming down, and reason started to pipe up over the din of my negative emotions. The cat came back not soon afterward. I told my parents and my sister what I thought went on and tried to give them a little lesson in feline behavior. I should have done that before I even left for grad school, since they're the ones who have to take care of the cats in my absence. Everything's fine now.

Second, about midway through last week, my laptop screen burned out, which is why I wasn't around for a while. My iPhone was my only link to the online world, and entry-typing is such a bitch on that thing that I decided it wouldn't be worth the effort. Now I've got a loaner laptop for teaching and for use at lab while I send my little laptop to my dad for repair through his company's corporate contract with Dell (woohoo, cheap!), and I'm in the process of repairing both of the desktop computers I have here with me. You'd think I'd feel a sense of freedom by not being tied to the Internet for the last few days, but really, I just felt lost and disconnected. I'm happy I have some way to get online now... even if it is a crappy old laptop that takes forever to start up and that stalls every once in a while. But I want my laptop back. This thing is so fucking clunky.

That about covers my life since I stopped posting a few days ago. I teach my first class tomorrow, so I might have some stories about that... eep!

Comment! (4) | Recommend!

Wednesday, January 21, 2009 @ 8:43 pm

I wasn't going to cook but I'm upsetfrustratedworriedangry and I need to calm the fuck down but I don't know if I can.

Comment! (1) | Recommend!

Wednesday, January 21, 2009 @ 8:27 PM

Monday, January 19, 2009 @ 9:55 pm

Real fucking mature, asshole.

I fucking hate the drunk, immature undergrads that live in this building. I wish that, one morning, I would find them replaced by enticing, eloquent, erudite young men. Or, at least with decent people with maturity levels befitting someone who's not in junior high school...

Comment! (3) | Recommend!

Sunday, January 18, 2009 @ 7:20 pm

Sunday, January 18, 2009 @ 1:31 pm

So like I said before, I'm helping my sister out with her science project. I don't mind giving her guidance, but when my fucking MOM calls me and asks me how to write the fucking report, it really flusters me. Why the fuck can't my sister just follow the directions she was given? Why do I have to fucking interpret everything for her? You know, when I was a kid, I NEVER fucking asked ANYONE for help to understand DIRECTIONS. I fucking LEARNED to do that shit by MYSELF, which is why I can figure stuff out TODAY. Sometimes I think that she's being raised to be a fucking MORON who can't do anything by herself because everyone is trying to make things as easy as fucking possible for her. When she grows up and discovers she can't understand simple directions in any task she's given, don't fucking come to me for help! I'll be off doing shit by my fucking self, FOR my fucking self, just like I've ALWAYS done since I started going to school. GOD.

*deep breath*

Alright... that made me sound like I'm unwilling to give her help. Untrue. I'm just hesitant to hold her hand through everything, because I know that I am the critically intelligent person I am today because I figured things out without anyone else's help if I didn't completely understand something. I'm not going to do this project for her--I'm not going to tell her what to write, or how to lay things out on her display board, or how to word things. She needs to learn how to think about things like that herself. Otherwise she'll end up without crucial critical thinking skills she NEEDS when she enters high school and college--like many people today. That would be tragic, and I would hate myself if I allowed my little sister to turn into someone like that.

*deep breath again*

If my mom calls back and it's another stupid question like "How does she write a report?" I will fucking hang up before I have the chance to get worked up again...

Comment! (1) | Recommend!