Thursday. 12.28.06 8:29 pm
I don't!
In fact...it sucks ASS!! I went to work this morning and it was great. It hadn't started snowing yet and it was all good. About noon, we started to get a light dusting, but the ground was wet, so it wasn't really sticking. THEN, about 2:30 or so, it started snow big, heavy, WET snow and it started sticking. Looks like shit outside now...they told us to go home at about 5:30 and they might close the office tomorrow which completely blows for the accounting department. It is extremely critical that we get everything done by the end of the month EVERY month and this snow is just screwing us over.
Ugh...
We're supposed to get about 12" to 24" of snow tonight and then we're supposed to get wave two of the snow tomorrow night which is supposed to dump another 12" on top of that which is going to add to the feet of snow that we still have all over the place. This is just so not cool...AND, get this...it's supposed to snow again next Friday! WHAT THE HELL?!
But yeah, I'm gonna quit dwelling on that...
Brian and I went out and bought a dresser yesterday for the baby. It took about an hour to put together, but it's great. I can finally wash the baby's clothes and put them away (it's about damn time). My only problem, all his clothes are not fitting in the dresser. I got a 4 drawer dresser and it won't all fit! AND, my mom is bringing even more clothes when she comes out here in 2 weeks! What am I going to do with all these clothes?!
I also set up the bassinet last night, so he's got a place to sleep. It's a nice bassinet and I am hoping that he sleeps well in it. I would hate it if he didn't.
But yeah...I'm about done for now...maybe I'll think of more to say later.
Comment! (5) | Recommend!
Wednesday. 12.27.06 12:28 pm
What's up with all the people just wanting to join NuTang to download Inuyasha? I mean, I didn't think you had to be a member to go and download stuff off that one guy's blog, but maybe you do. Shouldn't he be giving out invite codes since everyone seems to be seeing his blog with all the Inuyasha episodes on them? I don't feel like wasting my codes on that shit...but that's just me.
The "zero" button on my keyboard is sticking and it's pissing me off. As far as I know, I did not spill anything into my keyboard and if I did, it sure as hell wasn't sticky...so why it is sticking, I do not know. None of the other keys around it stuck, just the damn "zero" key...grr...
I'm at home today not working, but ya know, I guess that's good. I can get stuff done before the huge blizzard comes tonight (AGAIN)...Regardless of what the weather looks like tomorrow, I have to try and get to work because it's end of the month. If we're not there, it's not going to be good. I hope that the city, knowing this blizzard is coming, will make the roads all prepared and whatnot so it's not a nightmare. Ugh...I don't think I've hated snow more!
Is anyone going to do the
Avatar Making Contest
posted up in the forums? I submitted some crappily made ones that I did (I don't know how to animate anything and I just put up stuff that I would have liked...lol)...I think it would be fun for lots of people to join (even those that are not artistic like myself)...
But anyway...
I don't remember if I posted this picture before, I was out looking at note cards and all that and I came across these: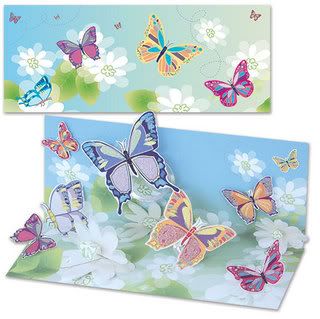 These cards are so cool! I just wish they weren't so expensive :(
Comment! (6) | Recommend!
Tuesday. 12.26.06 9:18 pm
Today was so long...or so it felt that way.
I got to work this morning and went right to work on the same thing I was working on on Sunday. It just seemed like it would never end...
Then it was like 11am rolled around and I had to leave to make it to my doctor's appointment. I guess I am now past the premature marker, so if I start having contractions that are 5 minutes apart or my water breaks, the baby is going to be born (and the doctor's not going to stop it). I guess that's somewhat scary since I still am not ready yet, but I guess it's about time I get ready or else I'm going to be sorry. I suppose since I have tomorrow off work that I should probably attempt to get a bag packed so I'm ready to go to the hospital. I really need to get Brian over here with the bassinet so we can set it up! The poor baby has no where to sleep at the moment...hell, he doesn't even have a name (is that bad?)...
But yeah...back to work I went after that...stayed 2 hours late to help the department catch up.
NOW, I'm at home...and I get to relax...and I have a day off tomorrow. YAY!
Wow...I am watching a Tom Brokaw special on illegal immigrants from Mexico (and they're in Colorado)...I am just amazed at the things they are doing her and there's nothing they can do to stop it...it's nuts!
Going to finish up this McDonald's that I got for dinner and then get my clothes together...ugh...laundry! I hate laundry!!
Comment! (4) | Recommend!
Merry Christmas (I'm late)...
Tuesday. 12.26.06 12:17 am
SO, the day's probably over for most of you and here I am wishing my Merry Christmas to ya'll. AW WELL...
Today, woke up about 9am because I was uncomfortable as hell. I had already opened my Christmas presents from my family when I went over and opened my boxes the day before Christmas Eve. Brian's parents got us gifts that we opened on Christmas Eve (because they were going down to the Springs). Brian was very surprised when he opened one of the packages and out popped a Nintendo Wii. He had wanted one, but had compromised knowing that he didn't NEED one, but was going to get one later (sacrifices for the baby and all). SO, we've been bowling each other for the past few days. I almost got a game over 200 today, so I was very impressed. Brian's not very good at it...lol...but at least I can beat him at something.
Anyway, back to today...eventually got Brian to wake up at about 1pm (this is normal sleeping times for Brian) and we went and dug my car out at my apartment. A nice guy was using a back-ho in the parking lot and scooped up a big chunk of the snow behind my car, so we didn't have to do much work. After all that was said and done, we drove down to Littleton to visit with my mom's aunt (so my great-aunt) and ate Christmas dinner. It was nice to see her since I've not seen her for a few years at least.
Then, we went back to Brian's house after that and ate some more dinner. Then I came home...
Now, I'm going to tackle the closet again since it's pissing me off. If I can at least clear the closet out, I won't feel so bad. I know it needs to get done, so I'm going to do it. Going to buy a dresser at some point this week (when all the money goes into the bank account) and get all those baby clothes washed and put away. The dresser goes into the closet...need room in the closet for the dresser...thus the cleaning out of the closet. But yeah, it's getting late...and I at least want to get some of it done.
Have a great week everyone!!
Comment! (8) | Recommend!
Good Morning (it's Christmas Eve)
Sunday. 12.24.06 8:08 am
I'm sitting at work (no biggie...I said I was going to)...I'm here really early though. It's 6am on Christmas Eve and I'm at work. It's only because Brian had to drop me off before he went to work, SO...hehe, that would explain why I am here.
We were going to take the truck to work this morning, but low and behold, it got stuck in the driveway again, so we had to take the Explorer. The only reason we were taking the truck was because Brian's dad was against driving the truck down to the Springs, but what do you do when you have to be to work and you can't get out of the driveway? Take the car that can get out of the driveway...that's what I say.
Anyway, my mom sent all my Christmas presents yesterday, so I went over to my house and opened them. YAY! She sent me stuff from IKEA. I love IKEA, but we don't have one in Denver, so it really sucks...She sent me a catalog too so I could look through it. She also sent me one of the most awesome things EVER. I opened a present which I knew was a book and I noticed it was Pillars of the Earth and it was a hardcover version and I was like "oh cool...I've got about 3 versions of this book, so I have another one, but this one's hardcover." Well, I was talking to my mom last night and she was telling me that the book she sent was a first edition (so, it came from the first printing of the book) AND it's autographed by the author. HELL YEAH! You know, just having a first edition book is fantastic but to have it autographed by Ken Follett himself is just MORE THAN FANTASTIC!
Anyway, I better get working...I've got lots of stuff to do today.
Comment! (5) | Recommend!
The day before Christmas Eve...
Saturday. 12.23.06 10:57 am
and I was supposed to be working, but it didn't really happen that way.
We woke up and Brian was going to drop me off at my work and then go to his work. Well, his mom was bound and determined to go and pull the truck out of the driveway. Let me describe the truck - Ford Ranger, rear wheel drive = not so good driving in the snow. Brian had dug it out yesterday and was able to back it out of the driveway because he knows what he's doing in the snow. His mom, went out there and backed it out of the driveway and got it stuck in the driveway. We're sitting inside getting shoes and whatnot and you can just hear her out in the driveway spinning the tires on it creating ice like you wouldn't believe. SO, Brian goes out there and tries to back it out of the driveway and it's thoroughly stuck. He eventually got it to the point that I thought he was going to get it out of the driveway, but he backed up and it stalled (it's a stick) and got stuck even worse back behind the first place it got stuck. We're sitting there trying to figure out how we're going to get to work and all that and I can just see Brian was all frustrated. THEN, a super nice man in a nice big rig truck drove up Pecos street and stopped to help Brian. He hooked up a chain and pulled Brian right out on Pecos and off to work he went.
I called my work and told them I'd work tomorrow on the W-9 project we're doing and get that all squared away. I'm not doing anything for Christmas Eve. My entire family lives in Washington State (minus two of my mom's aunts who I never see, but probably should) and then everyone else is driving down to Colorado Springs. I really have no desire to sit in a car for an hour driving down to the Springs. It's not that I don't want to go spend Christmas with Brian's grandma and the rest of his family, I just don't want to be an hour away from my hospital just in case something DOES happen. My friend Melissa invited me to go to Cheyenne, Wyoming to spend Christmas with her family, but to be honest, I do not want to spend an hour in the car going the other direction to get to Wyoming. SO, I'm going to work and stay home and just enjoy the quiet time. Brian is going to stay here rather than go to Colorado Springs so I am not alone and that is it.
But anyway, I think this entry is long enough. I'm going to help Brian's mom make cookies and then probably relax the rest of the day until Brian gets off work. OH HOW EVENTFUL...
OH, and in a side note...if ya'll didn't read my shoutbox thing,
Princess_00
had her baby on December 19th! I had noticed an absence from posting and the first thing I thought of was "BABY!!!" Ya'll should drop her a line and wish her congratulations
Comment! (5) | Recommend!
Friday. 12.22.06 10:32 am
Well, if you read my entry from yesterday afternoon, you saw that my car was buried hella in the snow.
Brian tried to come dig me out, but by the time he was able to get there, it was getting dark and it was pointless to sit there and try to dig the beast out. I ended up going to his house and he was going to drive me to work in the morning since they dug his car out.
SO, this morning...we're backing out of the driveway to make it to work and the snow had frozen up behind the car on the driveway - well...on the way out, we must have bottomed out on the back of the driveway on the way out on all the ice stuff and we definitely ripped something off the bottom of his car. We know for sure that we ripped the emergency break off as you can now basically push it down and nothing happens. The car doesn't stay in one spot anymore or nothing. We also think something else is ripped off underneath there as we attempted to drive up the street and all you could hear was a flapping noise like something was hitting the ground with every rotation of something. It almost sounded like a rubber hose or something. Brian's dad thinks that he ripped off the oil pan or something like that...EITHER WAY, we figured it'd be safer if we were not out on the road just in case his car decided to take a shit and we were stuck somewhere. There'd be no one to come and get us and it'd be stupid.
I called into work and explained my situation. I stated I could get into work this morning if someone could come and pick me up. We'll see if that happens. I have talked to one of the ladies at work already and she said she would come and get me if they told me I needed to come in, but I e-mailed my manager as well as called her on the phone and let her know that I would be more than willing to work tomorrow and Sunday to make up the time for not working yesterday and today and then I could complete the project she gave me in complete silences (with no interuptions). We'll see if she goes for that idea instead of me coming in today and probably being interupted a bajillion times. I only got 3 completed on Wednesday because I was interupted so many times within an hour. I have 2 packets of information to go through of probably 30 forms, so the fact that I got 3 done in an hour is not an impressive number at all.
SO, now i'm just waiting for the phone call from work...*crosses fingers*
Comment! (3) | Recommend!
Thursday. 12.21.06 6:15 pm
Did it really deserve to be buried this soon? I know it's near death and all that, but seriously...it could have made it a little longer!
Here's the sidewalk...knee deep snow (and of course, all the cars covered in snow, one being mine).
Brian is going to come over and help me dig my car out of the snow so I can get to work tomorrow morning. As far as I know, we're still open tomorrow, so I need to dig the car out to get out.
Phew...I think this is the most snow I've seen in my whole entire life. It hardly ever snows in Washington, so this was the snow we never got in Washington...lol
I don't think I like it.
Comment! (5) | Recommend!