Friday. 5.11.07 2:35 pm
BFRP is done! YAY!!! Added bonus-- my prof cancelled class because everyone was too occupied with their BFRPs to do any of the reading! Now, PLEASE go read it! I signed up for the first presentation day, so I really need a lot of feedback. You know I'd do it for you ;).
Last night I had two bratty high school juniors sleeping in my room (even though I didn't say I could host them), so I'm running on like no sleep right now.
But hey, this weekend I get to go on a nice relaxing camping trip with my floormates+ Matt and his g/f. They're actually not going with the same group I am, but we're going to be at the same place, co-incidentally. Anyway, I promise to be a very good girl, and completely dish upon my return.
What are you waiting for? GO READ BFRP!!
Comment! (1) | Recommend! | Categories: Life [t]
Wednesday. 5.9.07 6:32 pm
Yesterday was the flakey BFF's Birthday. I love her dearly, no matter what I say. Since it's the middle of the week, we couldn't actually hang out, but I did call her in the evening (in lieu of working on my big, fat research paper, mind). We talked for a little over an hour, which is pretty much typical, so I had her on the land-line to avoid using too many minutes.
Well, in the middle of our chat, Matt called me on my cell phone. So I picked up, and held the phone to my other ear so I could see what he wanted, and still talk to BFF. He just wanted let me know he was coming up from Oregon this weekend (which I already knew, of course) and see if I wanted to go to a movie on Thursday. The whole conversation lasted maybe four minutes.
As soon as I hang up, BFF laughs and we discuss what a home wrecking little whore I am setting myself up to become. Anyway, there's no way we can get together tomorrow unless I
completely
finish big, fat research paper tonight (which just isn't going to happen, believe me), but we are all going camping at the same place this weekend (funny story, more on that afterward).
Speaking of big, fat research paper, I will be posting whatever I accomplish tonight in the "Writings" section. PLEEEASE look it over! I would like to know if it's clear, or if I appear to be missing big, huge relevant points... or even if I'm just writing awkwardly (as I am wont to do). Plus... I feel like everyone should be more informed about American foreign policy toward the IRI, don't you?
Check back later-- please and thank you!
Comment! (0) | Recommend! | Categories: Life [t]
Tuesday. 5.8.07 1:05 pm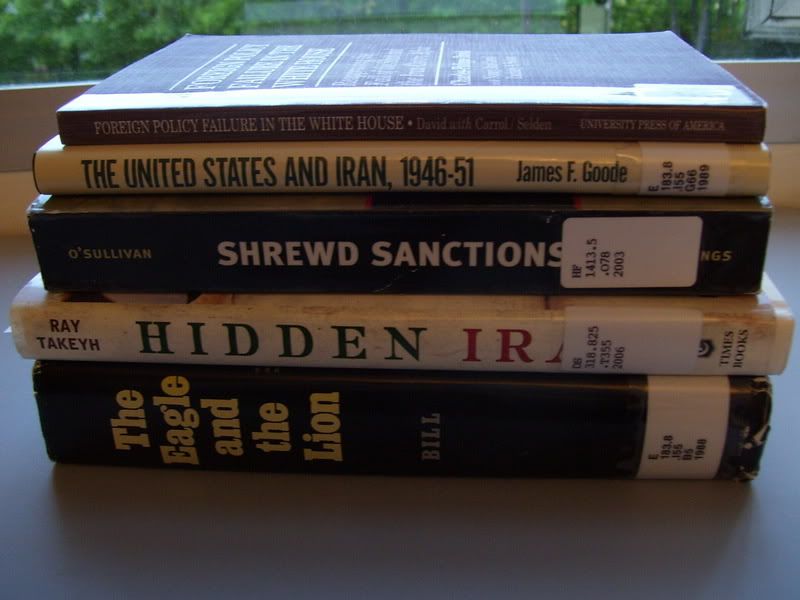 ...completely dominated by the IRI. Hopefully, the SPU librarians will hold strong against the USA PATRIOT act, or I'm toast.
Actually, I'm thinking about doing graduate work in Middle Eastern Studies. Now, I just have to find a school that teaches Farsi and NOT suicide bombing techniques and I'm golden.
PS-- I hate all of you on the semester system who are done with school right now. Hate. You.
Comment! (2) | Recommend! | Categories: Life [t], About Me [t]
A Quick Psychology Lesson
Monday. 5.7.07 8:33 pm
If you've ever taken a psychology class (or read any parenting/animal training books), surer than shit you know all about positive reinforcement. Maybe if you're really cool, you remember reinforcement schedules. I forgive you if you don't.
Positive reinforcement is a powerful behavior-shaping tool. Basically, if someone does something you want them to keep doing, you reward them (but they pretty much have to do it of their own volition, this isn't bribing, folks). If you REALLY want someone to keep doing something, you put them on a variable reinforcement schedule, which means you don't reward them every time they do something, but rather in an inconsistant and unpredictable manner. This is how many compulsive behaviors (like gambling) and superstitions are established.
Of course, you have to figure out the appropriate reward, right? Lot's of people feel rewarded by money or pysical sensation, but me, I am almost exclusively motivated by attention. Hence, I love getting e-mails and comments on my pictures and blogs... maybe a little too much. Since I never know when I'm going to get an e-mail, I check as often as I possibly can. When its a slow week, I'll find myself checking less often, but as soon as the drought breaks, I'm back to checking several times whenever I'm in my room or at my desk at work.
Yesterday evening, I was getting a crazy number of e-mails (pretty much all of them stupid, but hey, an e-mail is an e-mail), to the point that I could not fall asleep because I was thinking about how much I wanted to check my e-mail.
Are you crazy like me? What is your reward?
Comment! (3) | Recommend! (1) | Categories: About Me [t]
I would be a terrible President...
Sunday. 5.6.07 5:43 pm
... because I like to surround myself with people who tell me what I want to hear.
I had lunch with my parents today so we could talk a little about what I'm going to do next year, living situation wise. They had some advice, but mostly they just want me to eliminate trying to move off-campus. And, of course, they won't even entertain the idea of me having a male roommate.
What's kind of scary to me is how unwilling I am to look at other housing options besides moving in with Matt. I
know
it's a really, really, bad idea on so many levels, so why can't I just say so and move on? What is my problem?
I think I would feel better saying no if at least his girlfriend thought it was a bad idea too, but nooo, she seems to be al for it! I don't know if she's trying to be supportive or if shes really that naive, but there's no way
I'd
let my boyfriend shack up with some chick unless they were related... Maybe I'll talk with her and see if I can figure out what's going through her head...
But how do you even start that conversation?
"I'm starting to think that moving in with your boyfriend is a bad idea."
"Really, why?"
Bam. There you go. I can't put my finger on exactly why living with a guy is a bad idea, except for potential sexual tension, which I feel perfectly able to handle. Oh, and that I don't have my chief financial backers' (read: parents) blessing.
Maybe I'm just making this all too big in my head. Maybe "no" really is more simple than I think...
Anyway, Im done trying to figure this all out. I'm going to take a nap :D
**UPDATE**
After taking a nap, working out, and taking a bath, all failed attempts to clear my head, I return to my computer to find a comment from Matt on
crappy Myspace
.
"So are we set in september as far as rooming? Sure thing? Let me know.
-Matt. "
AHHH!! I decided to call him right then and there and rip off the bandaid. I am not a smooth person, but I think I managed to get off the hook fairly cleanly. However, instantly upon pressing the end button, a big huge wave of regret washed over me and I nearly called him right back to change my mind. Oh my gosh, I still feel like shit, and I have no clue why! I think it's my keen people pleasing instinct. Logically, I know he's not going to stop talking to me
just
because I dont want to be his roommate, but I sort of feel like I really let him down or something. I feel like this is exactly what my best friend did to me!
Oh well! Now I have a new problem-- where the hell am I going to live next year?? More drama to come, I'm sure.
Comment! (2) | Recommend! | Categories: Life [t], About Me [t], Family [t]
Saturday. 5.5.07 10:06 pm
Do you want to hear a really bad idea? A really exceedingly bad idea?
Ok, then listen to this first.
My best friend is one of the flakiest people I know. This kind of leads me to wonder why she is my best friend in the first place... but that is a subject for another time. Anyway, we were going to move in together next year to save money, since our schools are fairly close to one another, but she couldn't (or didn't want to) commit. Alright, I shouldn't blame her. I was, in fact, putting on a lot of pressure, and I'm not surprised that she cracked. Either way, we will not be getting an apartment together.
Since I'm going to be a senior, I don't really want to live in the dorms anymore, nor do I want to be placed with random people in an on-campus apartment, which means I need to find a roommate, right?
Enter my friend Matt, who will be moving to Seattle next fall, and who will also be needing a roommate.
He suggests we find a place together. I accept.
Here's where we get to the bad idea part.
I have a big, huge, ridiculously inappropriate crush on dear Matthew...
...inappropriate because he kind of happens to have a girlfriend...
...who actually kind of happened to have introduced the two of us...
...because she would kind of happen to be a good friend of mine.
Yeah. Reeeaaally bad idea.
Matt+ gf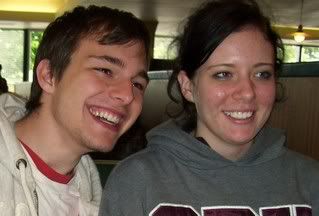 Matt+ me
How glad I am that none of the aforementioned people have Nutang... ah hahahaha! Now I can actually find some sanity!
Comment! (2) | Recommend! | Categories: Life [t]