Friday. 9.10.04 7:12 am
Plainly i'm bored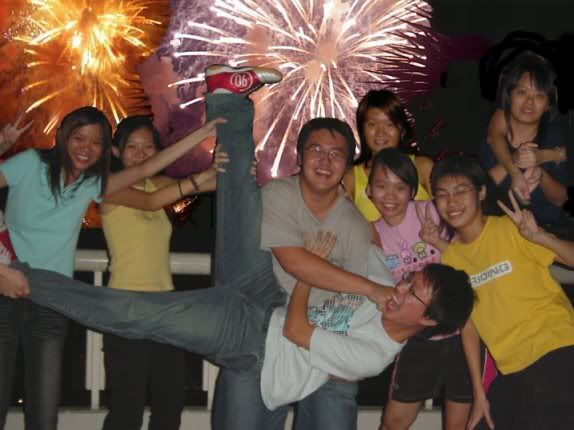 was supposed to study today. broke my date with my fren coz i din feel too good. thinking back, this week has been pretty slack. din get to do the things i set out to do cept for the sentosa outing. FIA studied halfway, CF din manage to touch, din swim laps tho visited the pool a couple of times. din do BD at all. coz my mates not ard. quite lost in the marketing phase. haiz.
my place is in a mess, my notes are somewhere in the infernal realm. my headache's killing mi. i can't concentrate, meaning i can't study.din go sch either.
suffered injustice first thing this morning, throughly bad mood. even the bottle of coke i bought is against mi. think i devoted at least an hr trying to open the freaking bottle and now its still unopened. can anyone open it fer mi? geez
Comment! (0) | Recommend!
Thursday. 9.9.04 10:18 am
no longer see nor feel the compulsion to blog. i'm not gonna blog abt my work, with dismal sales. I'm not gonna mention the spate of continuous coincidences, like out of the 2 sales pple i got to know. 1 is my sec sch senior and the other's gf is my poly dipolma senior. Nor the v quirky twist where by the ger who took over mi was my sec schmate. I'm not gonna talk abt the great day at sentosa today. not abt the amt of junk food and the indulgance of alcohol (my pt of view) and ice cream. not abt our tans. not abt how great it is in the water. not abt how difficient sentosa is of cute guys, but has alot of cute little gers. not abt how lifen ate 2 servings of dinner, much encouraged rare occurance. I'm not stating here the freaky incident when we hid in a corner with kiddy toys, at harbour front centre and got spooked. so much so we left the shopping centre and started screaming down the escalator. i'm not gonna be telling u i'm looking forward to our next big event- horror movie marathon cum girly night in. so yes, scat!
Comment! (0) | Recommend!