Muffy is going to have to read this sometime
Thursday, March 13, 2008
I'm keeping a record of this conversation.
Comment! (5) | Recommend!
Thursday, March 13, 2008
Today was, again, a nothing-happened-that-would-interest-you day. :|
Um.... I ate some chocolate chip banana bread for breakfast... I warmed it up and the chocolate was all melty. :D
You know that feeling when you've lost a tooth and there's the empty space and the gum there feels all funny and like... tender? Yeah... it feels kinda like that in the back of my mouth where that damn wisdom tooth is ripping its way out of my gums. Except it hurts and kinda tastes like blood sometimes. :/
The sub in Lit. kept saying "Scantron" as "scranton". I couldn't stop laughing... And it's weird, because if you think about it, it's not actually that funny. But I still couldn't stop laughing whenever he said "In a minute I'm going to pass out the scrantons..."
Cthulhu in a jar. Convenient. :P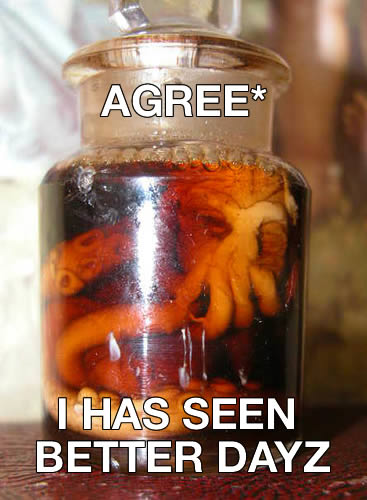 You should click this
Comment! (4) | Recommend!
I'm astounded by his astuteness
Wednesday, March 12, 2008
(The title drips with sarcasm)
Yesterday I found a bag of toast on the floor of my brother's room.
The idea of... bagging... toast.... just seems odd to me.
I was thinking about the word 'calcitrant' yesterday. I wrote it down so I wouldn't forget it.
Guess which part my brother wrote.
Today was a bit longer. Two hours and fifty minutes.
Last night I hardly slept. My arms were burning with this itch and I had no idea where it had come from. I ended up putting an icepack in my pillowcase and wrapping my arms around it... didn't work that well though. :/
I can't beat the
lihc
in
KoL
and it's severely frustrating me. >:(
Comment! (3) | Recommend!
Two hours and ten minutes of school
Tuesday, March 11, 2008
Yes, that was what I had to live through today.
My Lit. teacher gave me a science fiction book to read for my research project, since none of the ones on the list interested me. It's called
The Left Hand of Darkness
, by Ursula K. Le Guin.
Huh. Apparently,
according to Wikipedia
, it's feminist science fiction. :S
.... DAMMIT. No movie. Or video game, for that matter. >:(
I'm having a bit of difficulty reading this book. Normally I encounter little to no difficulty in reading. This I guess, can be included in the "little" part of that statement.
She doesn't use... commas... a lot... I don't know. It makes it hard for me. But that's not quite it. Usually I can immediately picture everything I read. But not with this. It's just words on a page with some vague, not wholly formed imagery.
Gah.
I didn't see Alice today at all. :0 I would've met her at her locker, like normal, but I was detained in the library, since they had to procure the aforementioned book for me. :/
Ah well. It's not like it's the end of the world. I suppose it would be if Angie suddenly lost all TV and internet access, though. :P She said that if that ever happened she'd probably kill herself. I guess books are no substitute for
(Sorry, I don't find this that funny. It was just the shortest clip I could find that was relevant)
What the hell kind of ad is this? :S
"Is Your Guy A Misogynist?
How To Tell If He Is A Woman Hater. The Latest Hot Topics!
LifeScript.com"
Comment! (1) | Recommend!
Today, I sleep, tomorrow, I sleep some more
Monday, March 10, 2008
Holy crap, how times have changed
Sunday, March 9, 2008
HOW did I pick up the wrong one?
Sunday, March 9, 2008
Ugh, somehow I got semi-sweet morsels instead of butterscotch morsels. :/
You know, I really could've sworn I grabbed the right one.
The concert was... interesting. It was worship music, which didn't exactly thrill me, but the sound was alright. That place has good acoustics.
Halfway through, someone fainted. We heard this "THUMP" and everyone started looking around to see what had happened. When there was a pause a bit later you could hear all the whispers and murmurs from the audience members. And then the paramedics came in....
They finished it all, though. Professional-like.
I wonder if you have to learn Latin to sing in those things? A lot of those songs were in Latin.... I wanna learn Latin... but not because I want to sing. I detest singing. Just another one of the many things I utterly fail at....
There was this one song where the whole thing was just "which was the son of so and so, which was the son of so and so, etc. etc. etc." It was.... long. But mildly entertaining because of some of the names. Like "Elmodam." Or "Joanna" (as a guy's name; and it wasn't a typo). Or "Salmon" (I kid you not, I had to stifle my laughter).
The winner (at least for the text part) was Booz. Yes, Booz. My mom thought it was a typo. I just laughed. Turns out they pronounce it as "Bo-ose" though. :| Funny value is slightly less because of that.
I have no pictures for you from it because I didn't bring my camera.
Oh, and my mom got a ticket because we parked in the wrong parking lot, even though there were no signs or any warnings at all indicating that we couldn't park there.
Stupid colleges/universities. >:(
The phrase "I'm writing my autobiography" is redundant.
Comment! (3) | Recommend!
Saturday, March 8, 2008
I let the birds run around on the floor today.
I also practiced my picture-taking skills. Although I can't say I improved much.
Here, Romeo (left) and Cici (right) refuse to let me get a facial shot.
Perching on the chairs.
Standing tall.
The floor is filthy.
Black and white makes everything look artsy.
Romeo is pretty plump compared to Cici and Starburst.
Yeah... they weren't really in a "do something cool for the camera" mood.
Retro sepia.
Cici profile.
The background lighting kinda phases everything out.
Uh... watched One Hour Photo this morning. Interesting movie. I wish I could've seen the whole thing though. Maybe I'll get it from the library, like my dad suggested.
Concert is tonight. :|
Comment! (2) | Recommend!