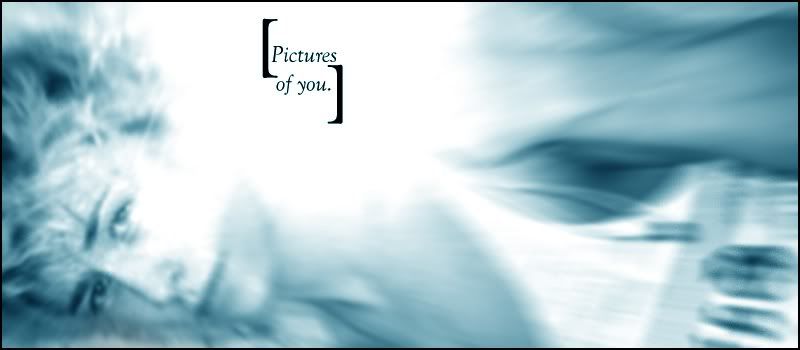 Spring Semester 2010:

* Teaching: Fundamentals of Microbiology - MW 12:00-2:40p
Medical Microbiology - TR 2:00-3:15p
Colloquium in Cell and Molecular Biology - R 3:30-4:30p
Thesis Research - Identification of T Cell Subsets and Immune Response in Colon Cancer Using Immunofluorescence - FOREVER AND EVER

Or rather, entries from the old journal, as it were...

-

An open letter to the College.

(August 27, 2006)

-

Untitled.

(July 16, 2006)

-

Haunted (Part One)

(May 29, 2006)

-

Are we growing up, or just going down?

(May 3, 2006)

-

I had a dream...

(March 19, 2006)

-

...

(March 14, 2006)

-

Enjoy it while it lasts.

(September 12, 2005)

-

Scene: 3:27 AM.

(September 3, 2005)

-

Untitled.

(July 26, 2005)

Psst... if you're looking for the academic writings I used to have here, head to my Reading Room.

Since June 2006...

- A Heartbreaking Work of Staggering Genius by Dave Eggers
- High Fidelity by Nick Hornby
- Travesties by Tom Stoppard
- The Way of the Shaman by Michael Harner
- The Tao of Pooh by Benjamin Hoff
- Nervous Conditions by Tsitsi Dangarembga
- The History Boys by Alan Bennett
- The Dark Child by Camara Laye
- Movie-Made America by Robert Sklar
- Diary by Chuck Palahniuk
- Rant: An Oral Biography of Buster Casey by Chuck Palahniuk
- Galapagos by Kurt Vonnegut
- The Dead Emcee Scrolls by Saul Williams [61.3%]
- Atonement by Ian McEwan
- Junk Science: An Overdue Indictment of Government, Industry, and Faith Groups that Twist Science for Their Own Gain by Dan Agin, Ph.D. [64.4%]
- So Yesterday by Scott Westerfield
- Lucky Wander Boy by D.B. Weiss
- The Things They Carried by Tim O'Brien
- Doctor Who: The Key to Time: A Year-by-Year Record by Peter Haining
- Why Buffy Matters: The Art of Buffy the Vampire Slayer by Rhonda Wilcox
- When You Are Engulfed in Flames by David Sedaris
- The Road by Cormac McCarthy
- 1984 by George Orwell [18.8%]
- Nick and Norah's Infinite Playlist by Rachel Cohn and David Levithan
- Intuition by Allegra Goodman
- V for Vendetta by Alan Moore and David Lloyd (Yes, I realize it's a graphic novel but it still fucking counts!)

Monday, February 9, 2009 @ 7:46 am

I was going to go to school early today, and I still might end up doing it (I'm totally on the fence right now), but I'm tired as fuck. And I think it's really unfair to feel that way after 7+ hours of sleep.

Comment! (2) | Recommend!

An open letter to my type-A friends.

Monday, February 9, 2009

Dear Type A Friends,

While in recent years I have been building up to a point where I can now honestly say that I work hard, my idea of relaxation does not always involve playing hard. Sometimes, after a long, hard days' work, all I want to do is lie on my couch and space out in front of the TV until I fall asleep.

Please do not try to guilt me into going out for a wild night on the town when I get into those moods; it takes my last ounce of strength to restrain myself from telling you to fuck off, and I need that strength to be able to pour myself into bed and sleep the stress away.

If that makes me lame, I don't care. I'd rather be lame and relaxed than drunk and more tired the next day. I don't know how you do it, and quite frankly I don't care how, or that you even can...because I can't. At least, not all the time.

Leave me alone for a while and maybe tomorrow I'll come out and play.

Love,

Me, the Type B

P.S. I've come to terms with the fact that I'm closer to 30 than I am to 18. It wasn't easy. Maybe one day, you will, too.

Comment! (2) | Recommend!

Saturday, February 7, 2009 @ 9:04 am

Looking at my schedule for the next week, I am beginning to regret going out last night. I just woke up 10 minutes ago and I'm tired and I need to get to lab and work on stuff and really, I could have used those 5 or so hours that I was out for something more constructive, like finishing writing my quiz, or, you know, SLEEPING.

Comment! (3) | Recommend!

Thursday, February 5, 2009 @ 12:42 am

So my sister called me today to thank me for all the help and advice I gave her for her science project. Apparently, she got 1st place in the school science fair and now she is advancing to the district-wide science fair. I'm so happy for her because my mom tends to compare her to me academically all the time and it's nice that she is apparently holding her own. (Recently, she also got 2nd place in the school spelling bee, so she's on a roll!)

Comment! (3) | Recommend!

Wednesday, February 4, 2009 @ 10:43 am

Sometimes, I wish you could get a Ph.D. in Knowing Lots of Random Shit.

Oh, wait. I think that's called a Ph.D. in one of the humanities...

Comment! (1) | Recommend!

Tuesday, February 3, 2009 @ 3:25 am

It's so wrong when there's a lot of work that's due within the first month of the semester. I am so completely fucked for the next two weeks. We're talking every orifice, here.

Is it two weeks from now yet? Respite for a weary mind and wizened soul?

EDIT:

What makes things infinitely worse is that, lately, every few days, I feel really shitty. Like, I'll get home, have a little mini-fever and general lethargy, so I go to sleep early. Then I wake up an panic because things that should have been done, aren't. I think it's a stress-/anxiety-related thing for sure.

Comment! (2) | Recommend!

Monday, February 2, 2009 @ 5:09 am

That would be the study of fungi, for the uninitiated.

So it's 5:10 in the morning (no, I didn't stay up all night... I actually passed out early on my couch so I had about 6.5 hours of sleep!), I'm working on the lecture for the fungi lab, and I'm having fun sifting through the image search results on Google looking for the nastiest-ass images of things like

oral thrush

and

Athlete's foot

... both things caused by different pathogenic fungi!

I was thinking about including a picture of candidiasis vulvovaginitis in the lecture, but I figured that might be too much... haha!

I can't wait for topics with more diseases!

Comment! (3) | Recommend!

Sunday, February 1, 2009 @ 12:10 pm

It's Sunday--alright, Super Bowl Sunday--but I can't seem to bring myself to care enough about either team to indulge in watching it. I don't even think the commercials will be worth it this year anyway, in the face of the recession. I

will

, however, watch the special 1-hour

Office

after the Super Bowl.

Before all of that, I will be working on my lectures for the next week, and writing scholarship essays, and doing research for the paper my advisor wants me to write, and of course doing regular homework, too...

The first week of teaching went well. My class seems to be one of the good ones. They're relatively well-behaved, they listen to me, they aren't noisy or disruptive when doing their lab exercises... thank fucking god.

On Thursday, the class was learning how to use the bright field microscopes. I was walking around the lab, visiting each table to see if they needed help. I got to the back table where this girl sits, and she went "I think they try to spell things out on these slides!"

I looked at her quizzically and asked her what she meant.

"Like, there's

writing

or something on here!"

She was extremely pleased with herself because she thought she noticed something before the rest of the class did. So I took a look at her microscope, and before I even looked through the eyepiece, I noticed her objective was aimed right at the labeled part of the slide, on which was written the name of the sample...

I died a little inside.

Comment! (3) | Recommend!