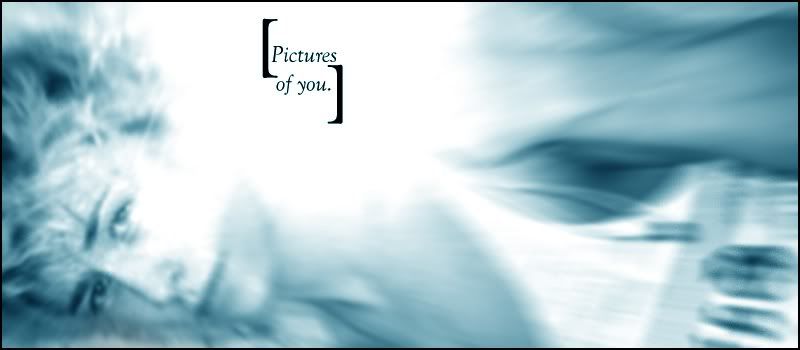 Spring Semester 2010:

* Teaching: Fundamentals of Microbiology - MW 12:00-2:40p
Medical Microbiology - TR 2:00-3:15p
Colloquium in Cell and Molecular Biology - R 3:30-4:30p
Thesis Research - Identification of T Cell Subsets and Immune Response in Colon Cancer Using Immunofluorescence - FOREVER AND EVER

Or rather, entries from the old journal, as it were...

-

An open letter to the College.

(August 27, 2006)

-

Untitled.

(July 16, 2006)

-

Haunted (Part One)

(May 29, 2006)

-

Are we growing up, or just going down?

(May 3, 2006)

-

I had a dream...

(March 19, 2006)

-

...

(March 14, 2006)

-

Enjoy it while it lasts.

(September 12, 2005)

-

Scene: 3:27 AM.

(September 3, 2005)

-

Untitled.

(July 26, 2005)

Psst... if you're looking for the academic writings I used to have here, head to my Reading Room.

Since June 2006...

- A Heartbreaking Work of Staggering Genius by Dave Eggers
- High Fidelity by Nick Hornby
- Travesties by Tom Stoppard
- The Way of the Shaman by Michael Harner
- The Tao of Pooh by Benjamin Hoff
- Nervous Conditions by Tsitsi Dangarembga
- The History Boys by Alan Bennett
- The Dark Child by Camara Laye
- Movie-Made America by Robert Sklar
- Diary by Chuck Palahniuk
- Rant: An Oral Biography of Buster Casey by Chuck Palahniuk
- Galapagos by Kurt Vonnegut
- The Dead Emcee Scrolls by Saul Williams [61.3%]
- Atonement by Ian McEwan
- Junk Science: An Overdue Indictment of Government, Industry, and Faith Groups that Twist Science for Their Own Gain by Dan Agin, Ph.D. [64.4%]
- So Yesterday by Scott Westerfield
- Lucky Wander Boy by D.B. Weiss
- The Things They Carried by Tim O'Brien
- Doctor Who: The Key to Time: A Year-by-Year Record by Peter Haining
- Why Buffy Matters: The Art of Buffy the Vampire Slayer by Rhonda Wilcox
- When You Are Engulfed in Flames by David Sedaris
- The Road by Cormac McCarthy
- 1984 by George Orwell [18.8%]
- Nick and Norah's Infinite Playlist by Rachel Cohn and David Levithan
- Intuition by Allegra Goodman
- V for Vendetta by Alan Moore and David Lloyd (Yes, I realize it's a graphic novel but it still fucking counts!)

Wednesday, February 18, 2009 @ 2:50 pm

Anything that makes mention of the Drake equation in lyrical form gets a thumbs up from me...

Plus... CARL SAGAN!

Working at NASA was fun.

Comment! (1) | Recommend!

Wednesday, February 18, 2009 @ 6:49 am

I'm not going to lie: it kinda pissed me off yesterday when two of my fellow TAs told me that I take teaching "way too seriously" just because I stress out over constructing my slides for lecture and about how well my class does on exams etc., etc., etc.

What's

not

serious about being a TA? These people we're educating are the future nurses/physical therapists/nutritionists/food scientists (etc.) of America, and we're supposed to take that lightly? I'm not supposed to take it seriously when my class doesn't understand something on my lecture? I'm not supposed to take it seriously when I feel like their critical thinking skills are crap? One day, if you're lying in a hospital bed, and you get an incompetent nurse trying to make some sort of decision regarding your life and s/he can't because s/he doesn't have any critical thinking skills, you might wish you took it seriously back then.

Sometimes I wonder how many people take the TA position just because it pays pretty well as a part-time job. I would not be surprised if, for the majority of TAs at this school, the money is the sole motivation for teaching these undergrads. It would explain what I overheard as I was walking down a hallway in the bio building: "God, I ALWAYS get the WORST TAs!"

They're bad because they don't give a shit about whether or not you learn what they say.

I, on the other hand, can't do that in good conscience.

I think it's a goddamn shame that TAs who teach another section of my class think I take teaching "too seriously." Maybe they should start doing the same.

Comment! (2) | Recommend!

Monday, February 16, 2009 @ 8:20 pm

I've done so much today that I won't even attempt to say what.

What I will say is that I found out from my thesis advisor that I have

much

higher GRE scores across all three subscores--verbal, quantitiative, and analytical--on the order of like 20 or so percentile points than the three potential Ph.D. candidates she is interviewing on Wednesday.

Maybe I'll transfer into the SDSU/UCSD joint Ph.D. program after all...

Comment! (2) | Recommend!

Monday, February 16, 2009 @ 2:32 am

Why do I do this? I fucked up majorly in the writing-this-paper-and-turning-it-in-on-time department (though may I point out that this time I had legitimate reasons for putting this off--if there is such a thing) and now it's 2:35 in the morning and I'm 3/5 done and I was supposed to turn it in yesterday to my thesis advisor but I obviously haven't yet.

Today, when I e-mail this paper in, I will be lying through my teeth about how I mistyped her e-mail address and didn't notice that it bounced back until this morning when I checked my e-mail again. Honesty is the best policy, right? Well, I don't very much feel like being honest right now because I feel bad for having asked to turn this paper in late to begin with. It's my own damn fault. I got bogged down by everything BUT this paper and now I'm paying dearly for it.

I'd better find some way to make it up to karma for being a blatant liar before it finds me and kicks my ass. Maybe I won't be such a hard-ass when I grade my students' lab manuals... (After that last quiz--with a stunning average of 27.55/40--they'll need all the points they can get.)

Comment! (1) | Recommend!

Excerpts from Microbiology, Vol. 1

Friday, February 13, 2009 @ 6:34 am

Question:

Where is

Candida albicans

normally found?

Student's answer: The mouth, the gut, and the

female vagina.

As opposed to... the male vagina?

Comment! (2) | Recommend!

This will be the day that I die.

Thursday, February 12, 2009 @ 10:37 pm

Today or tomorrow. I don't know which.

Maybe even Saturday.

If I make it to Monday, I'm bringing my fun flask to lab...!

Comment! (1) | Recommend!

Thursday, February 12, 2009 @ 8:40 am

If that guy in immuno class doesn't shut the fuck up today, I am going to flip my shit.

Newsflash, asshole: you're a douche. Stop "asking questions" that are really thinly-veiled attempts to impress the professor with your (self-perceived) vast oceans of knowledge. In reality, you sound like a tool; you also really sound like you don't know what the fuck you're talking about, even if you take on an affected voice like you think you do.

Stop taking up everyone's class time with your annoying interjections and let the man lecture. You can blow the professor on your own time.

Comment! (4) | Recommend!

Wednesday, February 11, 2009 @ 7:56 pm

Of course, being February 10 yesterday, I went through all of my old pictures and completely emo'd out for about an hour and a half before depressing myself so much that I went to sleep abnormally early.

WORST. WEEK. EVER.

Comment! (3) | Recommend!