I will be so glad when Valentines Day is over!
Wednesday. 2.13.08 8:41 am
I am not too big on this holiday...I don't believe in love--the kind that is soul shaking...in reality, it is soul shattering. That kind of love will rip your heart into many pieces and guys nowdays only want one thing from women--sex. Once they get it, they are gone.
I have never had a good relationship--but I have been close to loving someone. I would have even taken a bullet for this guy--but he rejected me. In fact, most of the guys I have liked rejected me or treated me like I was some sort of monster. So I don't want to see all the happy couples mooning about being in love just to break up next week. Fuck that.
Sorry if I am depressing..but sometimes reality can be very depressing. I will be hiding out tomorrow after school with my nose in a good book. For me, love sucks so I choose not to believe in it.
Comment! (3) | Recommend!
The art of Jackie Cooper, an artist who supports Art4TheHomeless
Monday. 2.11.08 1:25 pm
Jackie Cooper lives in Oxford Alabama, and has been into the arts since she was a child. She took art appreciation class in college and began to paint as a hobby at that time. She has never had any formal training and doesn't consider herself a professional, she just loves doing it and really that's all that counts. She is usually inspired by things around her or events that are happenening at the moment. She has had an exhibit in the Talladega Art Museum in Talladega, AL and sold a couple to local restaurants in the area as well.
These following images have been donated to the Art4TheHomeless and the sales will go to benefit homeless shelters in Alabama. To inquire about the prices of the art, just leave a comment and I will get back to you!
SCORNED
REOCCURANCE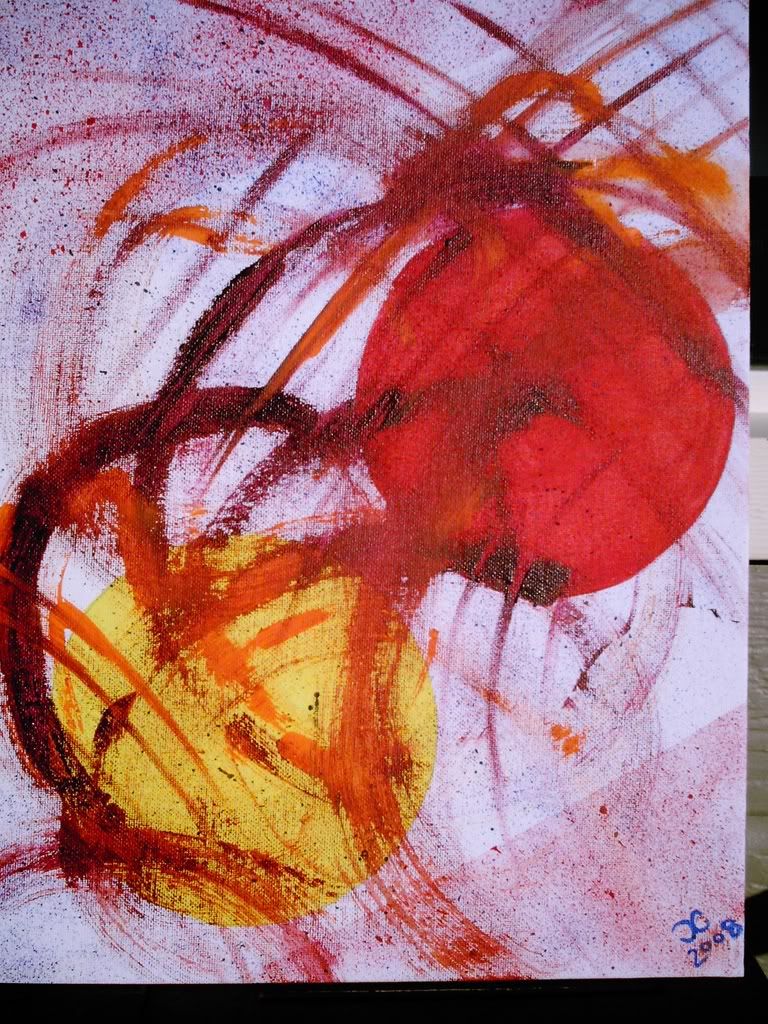 UNTITLED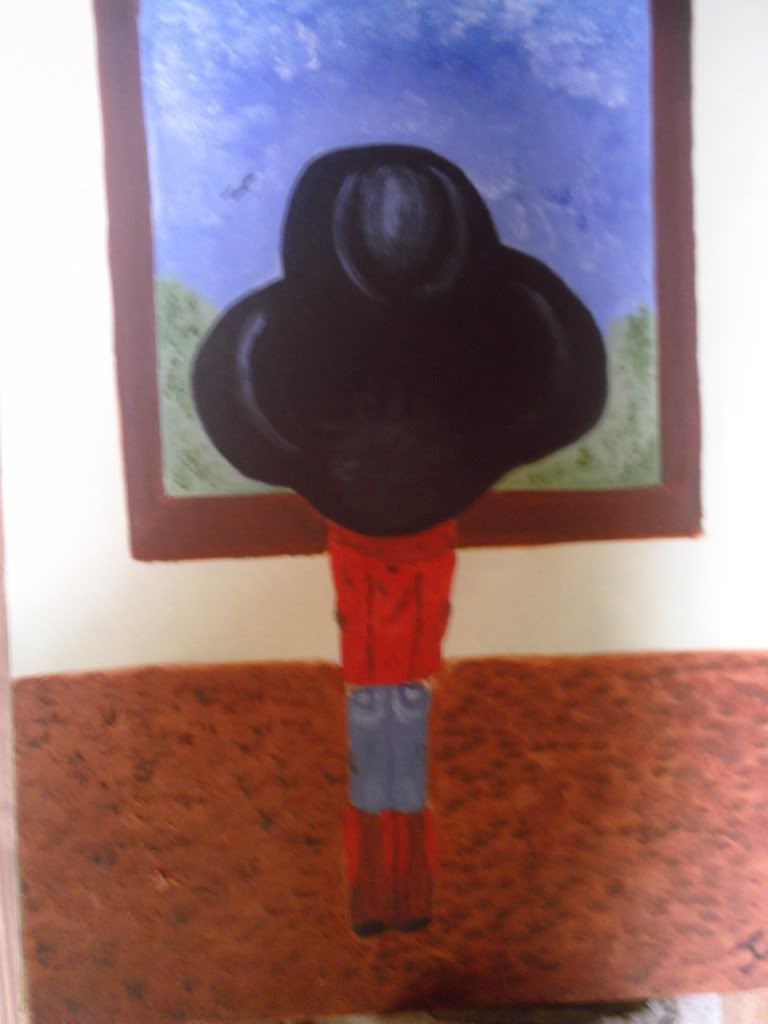 DREAM RINGS
Comment! (3) | Recommend!
Sunday. 2.10.08 10:30 pm
These are my two newest pieces. The first one is called "Got My Drink and My 2 Step" It is a Mardi Gras themed painting. The second one really doesn't have a name yet and the image can speak for itself. Enjoy!
Comment! (2) | Recommend!
Thursday. 2.7.08 9:40 am
I got an email on myspace from someone in Los Angeles and he told me about his church's visual arts program called Mosaic which is trying to build a relationship with a homeless shelter in downtown L. A. and will give art classes to the homeless. The name of the church is calle Mosaic and they use art as a medium to communicate the message of hope and love more effectively. I totally love this idea! It's awesome! You can visit the church at http://mosaic.org go check it out!
Also, I found this really cool art while riding the train to school this morning! It was on the window--graffitti--and I took the picture, which also reflected a guy sitting across and an ad by him along with the Ashby train station outsite. The photo is really cool!
Comment! (5) | Recommend!
Homeless Links are not in order as I thought
Wednesday. 2.6.08 2:49 pm
I am using Blogrolling for the homeless shelter links to the right--and I thought I had them in order but they are not. I have them organized to be, but for some reason blogroling doesn't want to work with me so it will do for now until I can actually get time to re do all the links again. Quick and easy way to find a shelter in YOUR state is
to hit CTRL+F and type in your state
--each state has astericks in front and that particular link links to the HUD website for that state.
Comment! (2) | Recommend!
Wandered all over Atlanta on Saturday
Monday. 2.4.08 9:24 am
I went to Decatur, Candler Park and Inman Park areas just looking at art and trying to find a place to sell my art--to benefit shelters of course. I did meet some really cool people who said they would drop by here and check it out. I haven't been painting much--mostly making my own jewelry--a new gift that I am discovering. I am pretty good at wrapping beads and stuff in silver and copper wire. I came out with some nifty looking things--unique jewelry that no one else has :)
My favorite artist, Darude has a new album out called "Label This" It totally rocks you got to get it. I don't think its out in the States yet, but its out in Europe. I emailed him and told him that I loved his song, "Dreams" its so soothing and melodious. You can check out his site for more info: http://www.darude.com
Comment! (0) | Recommend!
Wednesday. 1.30.08 8:08 pm
I found out last week that I have been accepted into the Savannah College of Art and Design!! And I have a job interview with the State of Georgia, Dept. of Transportation for a recptionist position so pray for me everyone! I need this job-- so I can pay for school!
Comment! (2) | Recommend!
Homeless Shelter of the Month Award for January 2008 goes to:
Sunday. 1.27.08 2:49 pm
The Gospel Rescue Mission operating from Tucson, AZ!!!
Their Mission is to : "To become the most effective life changing ministry in Tucson that serves the homeless and needy by providing for their spiritual, physical, emotional, and mental wholeness through the power of Jesus Christ."
The programs that the shelter currently holds are the Men's Center where homeless men can receive emergency services of meals, shelter beds, clothing, showers, personal care items, and case management every day of the year. Meals for the homeless include dinner and breakfast.
The Women and Children's Center provide women and their children emergency services of meals, shelter beds, clothing, showers, personal care items, and case management every day of the year. Meals for the homeless shelter guests include dinner and breakfast.
In addition to the physical needs of each man, woman, and child, the shelter also provides for their spiritual needs. A chapel service follows the evening meal. Various churches, individuals, or mission staff members present a Christian message of salvation and hope. Individual spiritual counseling and prayer is available to give to the homeless.
Donations:
Do you have an old or used cell phone that you no longer need? Donate it to the shelter and they will be able to receive a financial donation from a recycler!
5 to 25 Fund
Women & Children's Center Expansion Fund
The Gospel Rescue Mission has purchased a transitional house for women and children.
You can donate in the following ways:
Send a gift to the Gospel Rescue Mission at 326 W. 28th Street Tucson, AZ 85713
Monthly Pledge Gift may be up to 36 months. If you would like to make a monthly pledge gift please contact Business Office 520-740-1501 ext. 207
Though, Art4TheHomeless currently has no money right now, when I do get the money from my next art sale, The Gospel Rescue Mission will be one of the first shelters to receive a donation!
You can check out the Gospel Rescue Mission at http://grmtucson.com
Comment! (6) | Recommend!