Saturday, August 2, 2008
I really hate how shallow my pockets are.
Or the designer who decided to sew the full pockets on some shorts I was thinking about buying shut.
Anyway.
I'm feeling kind of tired because I tried to go to bed early last night but I ended up staying awake until maybe one or one thirty, and I set my alarm for nine so I could possibly go to the farmer's market. When I actually asked my mom this morning though, she said they were going to the flea market. So I basically wasted time I could've spent sleeping getting irritated at my brother because he was too lazy to look at the buttons on the remote while he was changing the channel and he kept switching back and forth when I was watching something.
He keeps asking me about getting a Nutang, and I keep telling him there's no way in hell I'd ever let him have an invite code. I get too much of him as it is, I don't need him in one of the few places that's still brother-free.
Robots in Disguise
I just thought that was amusing. :P
Right now I'm keeping myself out of boredom by looking up clips of things I've watched before...
Classic. :)
Comment! (11) | Recommend!
So I was thinking about getting a job...
Saturday, August 2, 2008
And then I printed one out for Hot Topic because they had a "Now Hiring" sign...
But then my mom asked me if I really wanted a job dealing with people. And... no, I don't, really.
I mean, face to face, I'm terrified of people. I can't make eye contact or speak normally with strangers unless I'm in a very specific mood, or if people I know are around.
Sometimes when I go to Bath and Bodyworks people think I work there and ask me for help, and that's okay, but my mom is there...
So yeah, I'm kind of worried now. :/
I've never filled out an application before and I don't know how to do it. I mean, it seems like it should be obvious, because there are boxes for everything, but I don't know my social security number or how to verify that I'm allowed to work in the U.S. and all this other stuff looks straightforward at first and then gets so confusing and I just can't...
I wish this wasn't so hard.
---
And I need a work permit too? Great. So I can't even try looking until school starts. :|
---
My default Away message...
Somewhere over the rainbow
The grass is greener on the other side
And Skittles taste like lemon drops
As they fall from the sky like rain
The leprechauns are always stashing their gold
In the most obvious places-
Usually the bank or under their mattresses
If you find any
Remember to recycle
Comment! (8) | Recommend!
Friday, August 1, 2008
Sometimes I wish I was an internet celebrity. Then I could have a wishlist and people would actually buy stuff for me. :D
Unfortunately I don't really have any of the things that make an internet celebrity. I'm not a camwhore, and I don't have a webcam; I have no flash skills, and I don't have Flash, either; I didn't do something outrageous that spread across the web like wildfire; and I have no interesting talents, so to speak.
The picture above has nothing to do with anything, I just thought it was funny.
I think I'm just going to stop saying "no IMs yet," because I'll have to type it out too much. If I ever get messaged, I'll say something, maybe...
Comment! (3) | Recommend!
Friday, August 1, 2008
Only a few more weeks until school starts! :0
I'm not sure whether I'm relieved or concerned.
On the one hand, I hate spending time with my family. (My mom in particular, if I spend too long around her she starts handing out chores like there's the rest of eternity to complete them)
On the other hand, I don't spend much time with my friends outside of school. Or at least it seems that way. :/ I haven't seen Alice all summer.
I was playing The Sims 2 until maybe 1:20. As in, oh, I dunno, until about forty minutes ago. It seems like I get these little temporary addictions. As soon as I don't play it for maybe three days I'll lose interest again and then I'll forget all my stuff. :(
Aerys (yes, I did name him after the Fire & Ice character, so what) is almost done with college and he wants to marry off six of his future kids. I've never had that lifetime want before... it would take a lot of playing to achieve it. Bleh. This is why I always pick Romance, I can deal with romance. At least in Sim land. It doesn't take a whole lot of time and usually they just want to woohoo with twenty people.
[Also he's attracted to this woman named... something... that never showers. It's kind of weird... Like, he thinks about her and holds his nose and makes a grossed out sound, then he goes over and wants to make out with her. Confusing!]
The Popularity aspiration or whatever it's called has been picked for exactly one of my Sims. I tried it once and found out that it was freakishly difficult for me, so I haven't touched it since... You'd think it'd be easier than Romance, but somehow it's not. :S
Ummm so yeah I guess I've rambled enough about my game.
[Still no IMs, but it didn't depress me until Varsha and Angie were sitting in the room with me, staring at the computer to see if anything popped up. :/]
I ate too much today. I am going to acquire a fatness.
Also I would've laughed very hard at this if it were not three thirty in the morning.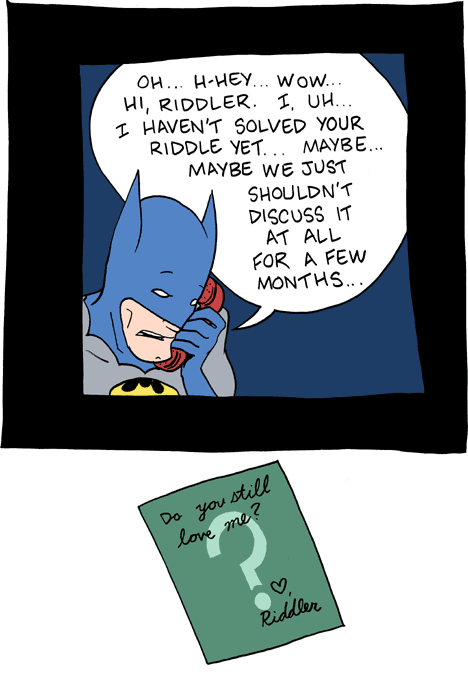 Comment! (7) | Recommend!
Thursday, July 31, 2008
I never saw this episode of Powerpuff Girls...
The cartoons they used to have were a lot better than the stuff these days. Like My Gym Partner's a Monkey? Lame. And George of the Jungle? Terrible.
.... I got spam... from myself... :S
Comment! (11) | Recommend!
The mall, some pictures [2nd password]
Wednesday, July 30, 2008
This title is amazing, you just can't tell
Tuesday, July 29, 2008
Listening to:
Gizmode by Zombie Nation
I feel like playing The Sims 2, which I haven't touched in a while.
The problem is that usually I just create a new character, make them have an affair with an old character, and leave. (Yes, I know it's terrible. Terribly fun!)
I've really got to stop making everyone have a romance aspiration. :|
Also I'm kind of hungry but I feel like there's nothing to eat. I had some Joe's Os with milk, but that was kind of eh. (They taste very rice-y to me and I still can't figure out why)
Thinking about food so greasy that the oil sloshes through the chinks between your teeth and dribbles down your chin, and it's grossing me out. Also now I kind of want to brush my teeth....
There is a possibility that I will write a better entry later, but it's just a possibility.
I wish I had Nightlife instead of Open for Business. Business sucks!
Also, yay for Zombie Nation. :)
For Halloween I am not seriously considering dressing up as a giant traffic cone.
Comment! (7) | Recommend!
Monday, July 28, 2008
(I don't expect any sympathy from Dilated, who has taken much offense to my saying "eh" in reference to his beloved Texas)
Walked a lot today. At least, the most I've walked in about a month.
I met Varsha at the park, but took some pictures there beforehand.
One of the swings was gone. :S
Only a chain remains...
There were several squirrels creeping around in the grass, eating who knows what.
Well, this one wasn't in the grass, but y'know.
The Silicon Valley, where people throw monitors into dry creeks.
Varsha was looking at the rest of the junk before I took the picture.
I'm not exactly sure how the parts got where they did, it's like the thing exploded.
A chair, some sofa cushions, and two Seaworld cards under the bridge.
Varsha and the twenty CDs she found at the library.
Actually twenty two, 'cause some of them were double cases.
Hehe.
Also, here's a picture of this little melon my mom got at the farmer's market.
It tasted like a cantaloupe but was green so... cantadew?
Comment! (10) | Recommend!