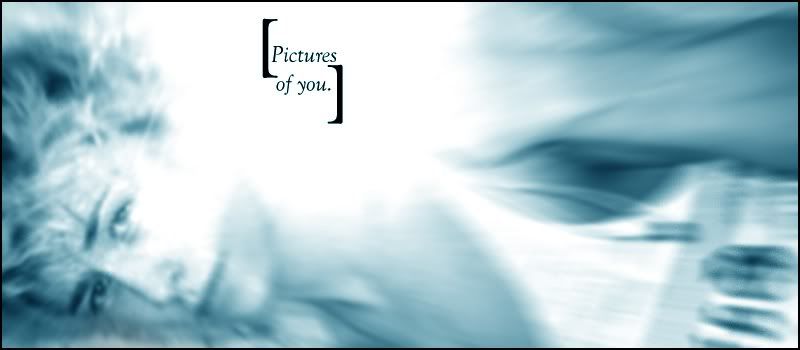 Spring Semester 2010:

* Teaching: Fundamentals of Microbiology - MW 12:00-2:40p
Medical Microbiology - TR 2:00-3:15p
Colloquium in Cell and Molecular Biology - R 3:30-4:30p
Thesis Research - Identification of T Cell Subsets and Immune Response in Colon Cancer Using Immunofluorescence - FOREVER AND EVER

Or rather, entries from the old journal, as it were...

-

An open letter to the College.

(August 27, 2006)

-

Untitled.

(July 16, 2006)

-

Haunted (Part One)

(May 29, 2006)

-

Are we growing up, or just going down?

(May 3, 2006)

-

I had a dream...

(March 19, 2006)

-

...

(March 14, 2006)

-

Enjoy it while it lasts.

(September 12, 2005)

-

Scene: 3:27 AM.

(September 3, 2005)

-

Untitled.

(July 26, 2005)

Psst... if you're looking for the academic writings I used to have here, head to my Reading Room.

Since June 2006...

- A Heartbreaking Work of Staggering Genius by Dave Eggers
- High Fidelity by Nick Hornby
- Travesties by Tom Stoppard
- The Way of the Shaman by Michael Harner
- The Tao of Pooh by Benjamin Hoff
- Nervous Conditions by Tsitsi Dangarembga
- The History Boys by Alan Bennett
- The Dark Child by Camara Laye
- Movie-Made America by Robert Sklar
- Diary by Chuck Palahniuk
- Rant: An Oral Biography of Buster Casey by Chuck Palahniuk
- Galapagos by Kurt Vonnegut
- The Dead Emcee Scrolls by Saul Williams [61.3%]
- Atonement by Ian McEwan
- Junk Science: An Overdue Indictment of Government, Industry, and Faith Groups that Twist Science for Their Own Gain by Dan Agin, Ph.D. [64.4%]
- So Yesterday by Scott Westerfield
- Lucky Wander Boy by D.B. Weiss
- The Things They Carried by Tim O'Brien
- Doctor Who: The Key to Time: A Year-by-Year Record by Peter Haining
- Why Buffy Matters: The Art of Buffy the Vampire Slayer by Rhonda Wilcox
- When You Are Engulfed in Flames by David Sedaris
- The Road by Cormac McCarthy
- 1984 by George Orwell [18.8%]
- Nick and Norah's Infinite Playlist by Rachel Cohn and David Levithan
- Intuition by Allegra Goodman
- V for Vendetta by Alan Moore and David Lloyd (Yes, I realize it's a graphic novel but it still fucking counts!)

Thursday, March 5, 2009 @ 8:24 pm

I refuse to flip through about 30 CDs full of pictures of tumor slides looking for the one that contains the ones I need to count CD8+ T cells for. I am downloading every last one of those godforsaken pictures onto my external HD so that the next few months will go just a bit more smoothly.

Not a lot more smoothly. Just a bit.

Comment! (3) | Recommend!

Wednesday, March 4, 2009 @ 8:21 am

I'm quickly becoming one of those people I hate: someone who forgets important things like birthdays because they are "too busy."

I've done that like three times so far this year and I feel like an absolute shit.

I need to set up a birthday calendar.

Comment! (5) | Recommend!

Frustrations with my past-self.

Tuesday, March 3, 2009 @ 9:15 am

I wish it could be 6 years ago and I could be back at Pomona being the mo-bio whiz-kid that I seem to be (or perhaps more aptly, perceive myself to be) today.

But then maybe I wouldn't be the person I am today who is so incredibly resilient to adversity and tolerant of failure (because nobody can do everything perfectly every single time)

that I am today

.

Time travel paradoxes never end well.

EDIT:

The morning after a scarce night's sleep is never a good time to update. Damn you, faulty faculty with English! Damn you!

Comment! (2) | Recommend!

Monday, March 2, 2009 @ 8:29 am

Whoever lives above me is either an elephant or they're just really angry every time they take a step.

Comment! (4) | Recommend!

I keep an emergency pack of cigs around for weeks like this.

Sunday, March 1, 2009 @ 12:10 pm

When the nicotine hits my brain, my mind speeds up so much that the world, by comparison, slows down.

Ironically, it is when I am choking back toxic fumes that I am allowed one moment of reprieve to just... breathe.

I think next weekend should be the first time in a while that I won't have to go into overdrive with the work. What is "a while" anyway? Does six weeks still fit into that category?

Comment! (1) | Recommend!

Saturday, February 28, 2009 @ 6:43 am

I sat down for nearly 2 hours with my advisor talking about my master's thesis. We talked all about the different avenues of research I can pursue. I know for sure I will be finishing up staining the colon cancer slides, hopefully by October/November so that I can present at a small CSU-wide conference in January. That alone will be a lot of work, but I've got three undergrads that will be working under my direction. The overwhelming part comes after this part of the project is squared away. There are about three different ways I can proceed after all of the staining is done... and all of them are really awesome, which really complicates everything! I'm torn. I wish that one, or better yet,

TWO

of the possible options SUCKED so it would make the decision a lot easier...

The upside is that she is anticipating that--once the statistical analysis is complete (done by one of our collaborators at the School of Public Health--there is no way I will be able to do the stats by myself!!!) on the stained tumor slides--we will end up publishing, with me as a co-first (along with the other grad student who did the other half of the tumor slides).

Argh! So overwhelmed! But also so excited!

Comment! (2) | Recommend!

Thursday, February 26, 2009 @ 8:55 pm

I was invited to attend a prospective Ph.D. student forum because of my academic performance, I triumphed over immunology, I efficiently got my class to finish the lab exercise a full 40 minutes before our scheduled ending time, and I'm apparently the only person in my lab that can make a certain immunohistochemistry staining procedure to work.

Today, I win.

And this is neither here nor there... or maybe it is but it's just too small to see:

Comment! (3) | Recommend!

Tuesday, February 24, 2009 @ 8:44 pm

I saw Dave in the restroom today and I nearly pissed myself from sheer giddiness. This was, of course, after I had actually taken a piss (out of biological necessity). I don't know why I like him; by all accounts he isn't really my type (by which I mean he's

older

than me), so this one has left me scratching my head a little bit. It might be his youthful good looks.

This bothers me because it's obvious to me and Jenny that Nick is totally in love with him. Psh, as if labcest is allowed! I almost ended up in that lab, though, so I wonder if I might have been exactly where Nick is at this point: sandwiched between common sense ("Don't dip your nib in company ink!") and delusion ("But the ink is so fucking HOT!")

During 610 the other day, Nick apparently kept trying to make conversation with me. Or so Danielle says. I tend to vacillate between apathy and abject hostility towards him. I know I shouldn't be like that--he's new here and he probably doesn't really have any good friends yet, and judging from Dave's lukewarm reactions to him, maybe he needs one. I should be a better person and get over these feelings and just be nice. It's not like Dave would

ever

reciprocate any sort of feeling other than plain amicability... and we aren't even at that point yet. No, no... we haven't even been formally introduced. And here I am, pining away and holding it against Nick for merely being in the same lab as Dave and

possibly

most definitely being interested in him...

Man, I thought I was over this juvenile shit when I came into graduate school. But no. I had to go and find myself a distraction like this, and believe me, this is probably the worst time for me to be distracted.

I sound like a rambling idiot. That's my cue to abruptly cut this short.

Comment! (2) | Recommend!