Friday. 1.26.07 2:25 am
It's only about 30 minutes into Friday and I'm still up. Gregory decided that he wanted to get up, so I got up. I tried to feed him, but I don't think things are going as they should be. This breastfeeding thing is a lot harder than I thought. I go to the lactation specialist at the hospital and we watch him latch and everything is going fine. He has a great latch and I know he's eating as he should be...but it still hurts. The pain is excruciating! It shouldn't sting and burn when he feeds. Breastfeeding is supposed to be painless and a time to bond with my son...instead I dread each and every feeding because of the horrible pain it causes. I think I may need to call the lactation specialist again and possibly schedule another appointment because it's extremely discouraging. I want to breastfeed, but I want to do it without any pain as it should be.
But yeah...you guys don't want to hear about that.
Gregory has a doctor's appointment today. He's going to have his second PKU test, so I'm sure he's going to be in a wonderful mood after that appointment. I mean, getting your heel pricked and blood drawn probably isn't very comfortable. That is at 1:15pm and then we'll probably do some running around while we're out in that area (go to Sam's Club...maybe).
My mom is flying back to Seattle on Monday. I don't want her to go, but I know she has to. She's basically been with me since January 10th and I missed the time that I used to see her every day. Makes me think how much I truly miss her...and then she'll be gone again :( She'll come visit me more often and vice versa now that Gregory is here. I think she's going to drive out here in April or so with my aunt. I'll be flying back to Seattle in July for our family get-together. Granted, when I leave, I won't get paid for it...so hopefully we'll be stable enough to where I will be able to do that.
Enough about family though...
Do any of you remember a while back when I was talking about credit cards and attorneys? Well, all of my credit cards had gone to attorney's to collect the balance (don't get credit cards if you cannot pay them off right away...I made a mistake and screwed my credit up...don't do that to yourself). My mom had helped me out with one attorney a few months ago and they immediately offered a settlement amount and we paid that off.
I got a collection notice from attorney #2. I spoke with him on the phone and all that I was telling him that I wanted to pay, but I couldn't pay a lot a month because of circumstances (being pregnant, basically being a single parent, yada yada)...he was a dick about it and basically tried to sue me anyway and stated that I was being summoned to court and I needed to be there to accept the summons. This was right before my mom came out here, so I mean, someone was at the apartment at all times because I had my baby shortly there after and we've been at home ever since then. No one came to summon me to court and no one served me with any papers. They call me again a few days ago telling me that my court date was February 1st and that they needed to collect their money. I'm like "What the fuck??" I never got served with anything stating my court date. I asked him how it was fair that I was going to go to court on February 1st and I didn't even know my court date. He feeds me this line of bullshit about how they would follow-up with the person serving the papers and they would know if I got my papers or not. OH, in the mean time...I had been speaking with this one guy who I could only refer to as "Mr. Block" and he seriously did not have a first name. I called the phone system and looked for his name in the directory and it was Mr. Block in the directory. Anyway, he conveniently no longer works for the attorney now...and failed to inform the new person that I was giving birth to a baby and I was not at home...ASSHOLES! Regardless, we paid the amount in full (I'm going to pay my mom off of her credit card)...and I'm done with them.
Attorney #3...I called them today. I didn't even say anything about settling the amount at all. She immediately offers a settlement amount almost $1000 less than my original balance with them.
I'm sitting here thinking after all that, why did attorney #2 not offer a settlement? Is attorney #2 legit after all this bullshit that they put me through? To be honest, I don't think attorney #2 even had a court date and I honestly don't think they were serving me with any papers. I think they were trying to scare me into paying them the entire amount or something. I specifically told them that I wanted to pay the balance in full and that I needed to wait for my mom to get into town and I told that ass that I was having my baby...I guess having a medical condition doesn't matter to these jerks collecting money. Ugh...
Okay, I'm done with my rant...
AND, I think this entry is long enough...
Comment! (5) | Recommend!
Wednesday. 1.24.07 3:51 pm
I never realized how bored I am when I am not working...
Not that taking care of a baby is boring (believe me, there's TONS of stuff to do), but at the same time, I sort of miss working. Gives me purpose in life, I suppose...
Ugh...and then I don't want to go back to work either!
Oh well, not much to say at the moment...have a great day folks!
Comment! (7) | Recommend!
Sunday. 1.21.07 10:35 am
and I essentially only have a week left before I have to go back to work. This really sucks :( I want more time to spend with my new baby, but money doesn't allow for time to spend with your kids. You can't have a good life with your kids if you don't have any money and I have to work to make money, so I'm not spending any time with my son...it's a horrible Catch 22. I HATE IT!
If only I was rich and could be at home all the time and do all that, but he'll be thrust into daycare or something at such a young age. Ugh...I hate myself.
Anyway, I don't want to go on my depression filled rant here about why I can't stay home with him all the time. It makes me depressed just thinking about it...
Other things depress me too, but I don't really want to go into those things either. If you really want to know about them, you can private message me...but I won't subject everyone to it.
Comment! (9) | Recommend!
Thursday. 1.18.07 1:30 pm
Sorry I've been so slack on responding like I normally do...and posting entries as I usually do. New babies make for new responsibilities and I can't always get on the computer like I used to. I've found that he's one of those baby that LOVES to cuddle. He'll fall asleep and want to sit on my shoulder the whole time. Granted, I don't mind...but it doesn't exactly leave me with two free hands.
Thanks to all of those that commented on the entry with the photos. Your comments are appreciated :) Makes us feel SPECIAL!!!
He had his first doctor's appointment yesterday and they said that he was perfect. He's a little jaundiced, but that's normal. As long as he's not neon yellow or something, he's good to go. He's been pooping yellow, so pretty soon here he'll be getting his normal pinky color. He decided to be a little fireman yesterday though at his appointment. They told us to undress him so we did and noticed he had a poopy diaper. Changed that and went and put him on the scale and he peed ALL OVER the wall. She said that was normal (because little boys just go when they want to) and then we took him back over to the table to put his diaper back on and then he peed all over my arm and my shirt and on Brian. He just had to hit everyone. He seemed extremely satisfied after that too. He was all happy and content even though he had been very fussy before then. Oh well...
Anyway, here is some more pictures (because, I take TONS every day)...
Here he is in his bouncer...he does look quite content. He's not bouncing in it yet (of course), but he does like to lay in there and sleep sometimes.
Here he is this morning...he really enjoys being on his tummy. Even got him doing a big open yawny mouth (OR, he could have been rooting...but he does this all the time even when he's not hungry)
Here's Gregory with his dad...Brian looks extremely tired, but I'm not sure if he is or not. We know Gregory's tired because he's sleeping :)
Comment! (10) | Recommend! (1)
Monday. 1.15.07 10:47 am
Here's what ya'll have been waiting for...now he gets to make his first Internet debut!
right after he was born and after his bath
getting weighed...as you can see, this was not fun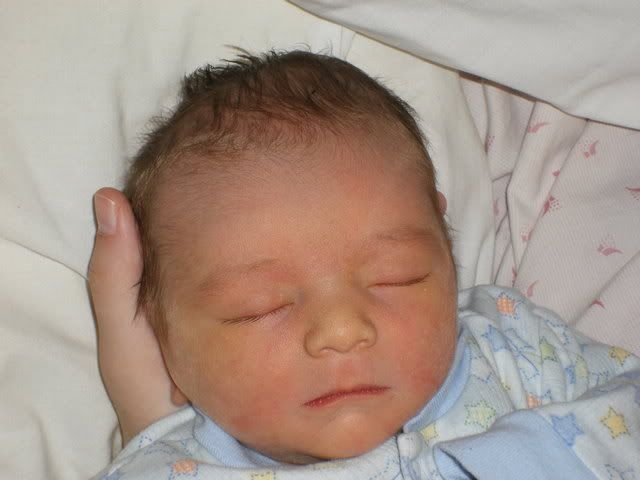 sleeping...what he does best
more sleeping
I'll post more later when I get more time.
Comment! (32) | Recommend! (21)
Sunday. 1.14.07 4:58 am
This whole baby thing is just so scary. It makes me think that I'm doing something wrong and all that :(
When he was born, he must have been really stressed out because he had to poop right before he came out (which is usually a sign that the baby is in some sort of stress) and not to mention, they think that I had some sort of infection as I was in labor forever and had quit actively dilating at 9cm (you need to be 10cm to deliver). I must have been stuck at that marker for 4 or 5 hours. I think he just wanted to come out, but I couldn't get him to.
THEN, we were having so many problems trying to regulate his body heat. He kept having his temperature taken and he'd be under the normal range...so they'd put him under the warmer for a while to get his body heat up and he'd be okay. Then his temperature would go below normal again. They ended up running some blood tests on him to see if anything was wrong, but his white blood cell count came back normal and everything was just fine. They were thinking that maybe our room was a bit too cold for him and he was having trouble adjusting.
NOW, he's up in the nursery. I fed him before they were going take him up there anyway to do all his tests (the hearing tests and all that...they said it would take an hour). Right when they were coming to pick him up, he started to spit up pretty bad and we thought it was because he just had to burp, so we patted him and thought everything was okay. The nurse just came back in the room not too long ago and said that he'd been pretty much throwing up all his food that I just fed him and he was having a lot of trouble breathing. They're going to clear out his stomach I guess and see if that helps. She says that it's very common and that a lot of the time, babies will swallow the amniotic fluid and all that before they come out and it gets stuck in their stomach and that it's okay. All I can think of is that it was my fault he started spitting up his food in the first place. She says that it isn't, but I can't help but get this feeling.
All of this and we're still not even at home yet. I mean, if all this happens when I'm at home too, I won't have a nurse to come and rescue my baby. It's just all too scary to me!
Tomorrow (or later on today, however you want to look at it since it's so early), he's going to get a circumcision (and probably not be very happy with us when he's done with that) and hopefully, if things are going smoothly, we'll get to go home from the hospital tomorrow. Me, I'll be discharged...but my worst fear is that with all the random problems little Gregory's been having, they won't let me take him home! I'd be very sad then...I hope it doesn't happen...I really do hope that it doesn't happen that way...
Comment! (9) | Recommend!
Explanation of my absence...
Saturday. 1.13.07 9:51 pm
It's because I was having my baby.
I went into labor Friday morning about 2am and I didn't call the doctor until about 5am and he told me to go to labor and delivery. We got there at about 5:30am and they checked me...told me to walk around the hospital for an hour and they'd check me again. After I did all that walking, I was another centimeter dilated, so they decided to keep me because I was obviously in labor or pretty darn close. I was admitted to the hospital at about 6:30am. UNFORTUNATELY, I didn't end up having my baby until 10:15pm that same day! It wasn't exactly a short labor to say the least...
I'm still in the hospital at this moment and I'm getting to go home tomorrow, so that will be different. I'll be able to post pictures tomorrow when I get home.
BUT, here's his stats if anyone is interested.
name: Gregory Vance
weight: 7 pounds, 14 ounces
length: 21 3/4 inches long
birthday: January 12, 2007
BUT, he's sitting in his little basket being fussy right now. We're thinking he doesn't like his mittens since he is in the process of ripping them off right now. I want him to wear his mittens because he's already scratched his face up good!
I'll post more later with pictures...
Comment! (8) | Recommend!
Wednesday. 1.10.07 7:01 pm
Done with my doctor appointment...
To be honest, I felt like crap before I went to the doctor...after the appointment, I wasn't crampy or nothing. The crappy thing, he had to do an exam...so normally, I'd be not so feeling good after that, but eh...
I guess I'm 1.5cm dilated (I suppose I've been spelling that wrong the whole time) and 75% effaced...the baby's head is really low, so the doctor predicts the baby will be born before next week. Usually when you're 100%, you're completely thinned out and labor is ready to begin. Since the baby's head is so low and I'm almost completely effaced, it will be soon. I've been having contractions and I've been having other signs that labor is near, so...ahh!!! It's so scary!!!
The doctor said that if I haven't had my baby by next week that we would plan a date to be induced next week because he's going out of town on Friday and he wants to make sure that he's there to deliver my baby. That's so cool...a doctor that will definitely be there to deliver is a-okay in my book :)
SO, I can pretty much guarantee that there will be a baby born by Thursday of next week...NOW, that's REALLY scary!!!
Anyway...enough baby talk. Going to go out to eat with Brian before we go and pick Melissa up and head on out to the airport to get my mom :) She'll be here in about 2 hours! I'm excited!!!!!!!!
Comment! (8) | Recommend!