Monday. 5.12.08 10:12 pm
i have come to realize it is completely pointless..... its like saying oo look these ppl are my so called friends because i have their pictures dislplayed on my page..
and people actually get mad when u take them off because u havent talk to them in like forever. grrrrrrrrrr
my stepdad made soupy mash potatoes today :/ they sucked but if u added some cheese it was like potatoe cheese soup lol.
~<3~
Comment! (0) | Recommend!
Saturday. 5.10.08 11:29 pm
hellllllllllo popppppet
:] well hello everyone hope you are having a good weekend
i went to see iron man tonight XD it was good really good i was suprised i liked it i thought it was going to be a mostly boy movie but no it was good.
but anyway it was me and my brother and his gf and another boy that went. well i knew the other boy like me his name is michael but anyway i really dont like him in that way. why u may ask well hes shorter than me..... ok i know its shallow but i cant stand that.... and also hes not very serious and really immature... hes also 18 wich isnt a prob but he should be a bit more mature.. so now tomorrow i have to tell him i only think of him as a friend..
well anyway what happend was me my brother and his gf got to the movies ate dinner and went to get our tickets... i got my ticket and was standing around waiting for my brother and michael to buy their tickets well michael comes up to me and is like "here u go i got u a ticket" and i was like "oh im sorry i already got a ticket" so he had to go exchange the ticket he got me to get his money back. man i felt so bad.. then we get in the theatre and we sat like this
me ,brothers gf, brother, michael
and then michael was all "im going to get a drink" comes back and sits down next to me!! i was like crap!!!! it really sucked because he had on wayyyyy to much colgne or w/e and my eyes started watering and i got a head ache by the end of the movie ugh it was really sucky.......... but good thing was the movie was pretty kick butt :]
o and i also got my hair cut :] i like it alot. welp thats all for now
nighto
Comment! (1) | Recommend!
Thursday. 5.8.08 8:31 pm
ok first off i am not trying to put down anyones religion and im not trying to convert you... so please when u read this DO NOT get all defensive unless you can back it up with a logical and resonable answer ok here we go... i will also try to supply interenet links to prove my point..
k so my mom and i had a talk yesterday about religion... i was feeling a little down and slightly depressed and i asked her "mom how do u know we are believing in the right thing" (im christian). she looked and me and said "kendal look at it this way... i would rather believe that there is a better place for us then this world and go through life with hope than go through life without any hope and no idea what will happen to me after i die." And i started thinking about it and it really made me think.
Atheist thinking
http://www.atheistfoundation.org.au/whatis.htm
"Definitions in Dictionaries vary but "disbelief in God (or gods)" is a good explanation of Atheism." (paragraph 2)
"We accept that the blink that is our life was nothing before and will not continue after our time." (paragraph 13)
buddhism
http://www.ibps-sweden.com/eng/buddhism/belifes.htm
"Buddhists view death as exiting one realm of existence and entering another. The cycle of rebirth into countless lives continues until final enlightenment and Nirvana occurs. Rebirth is not the same as reincarnation, as Buddhists do not perceive an eternal soul, which migrates to a new physical form. Rather, the body and mind are continually changing death is merely another change. While body and mind are impermanent, they are also interrelated throughout time and space. Every voluntary action produced by one's body, speech, and mind will have consequences, either in the current life or a future one."
The Atheist way of thinking to me is so depressing.. u have nothing to look forward to then the 80 or so years u live and if u lucky maybe 90 years......
And the buddhism way of thinking just is scary..... how do u know if u did enought to get to the point of nirvana and what if u rebirth as a bug or something.. and it says " Rather, the body and mind are continually changing death is merely another change. While body and mind are impermanent, they are also interrelated throughout time and space. " so you pretty much you lose your body and mind when u rebirth........ that would suck. how would u know how close you are getting to nirvana.. "Nirvana, however, is perfectly free from the Three Poisons (ignorance, anger, and greed), and is therefore outside of the realms of existence. It is often said that Nirvana is the ultimate goal of Buddhists."
so you go through countless lives just to be free of ignorance anger and greed! man i dont think that that is worth the risk of being rebirthed as a ant or something and getting stepped on.
Christian belief
http://geneva.rutgers.edu/src/christianity/major.html
"Christians believe in one God, who created the universe and all that is in it. All believe that this God is active in history, guiding and teaching his people."
"Christians believe that God created human beings to live eternally in fellowship with him"
ok sounds pretty good.. nice cheery hopeful... there are also many different things christians believe in... why because people start throwing their opinions into the bible and make there own "branch" of christianity....... I believe in the king james bible and only the king james bible it is the most accurate oldest and untouched version of the original bible we have. plus most everything people have changed they mark in italics. I also do not believe in the trinity... if u can find the word trinity in the king james bible then we will talk :].
ok so if u read this kudos to you :] hope it was interesting!
i also know i only covered a couple of religions sorry but i dont have hours to type everything i would like to put......... if u would like to contradict me make sure u have something to back it up...
Comment! (3) | Recommend!
Wednesday. 5.7.08 10:27 pm
mmmmk so here are the photos from my trip to charleston.....
these are photos of houses... charleston has some really amazing house and they all look victorian styled and they are absolutely gorgeous!!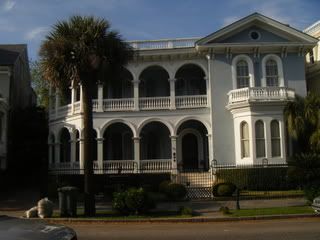 I have a ton of pictures of houses but i figured i wont bore u too much :p
ok this picture is actually of an old theater in charleston and guess what its the theatre from the notebook!!! u know the scene where they lay down in the road and the theatre hahah yep this is it
these pictures are of battery park and the memorial to the soldiers that fought at fort sumptry.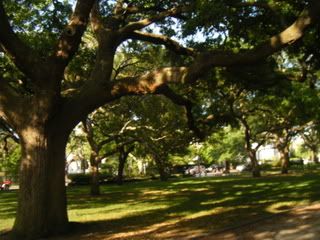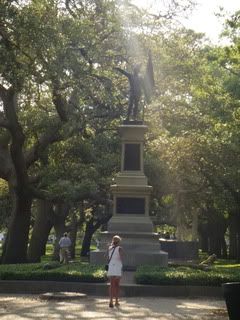 and here are some of the churches in charleston :]
and a really cool old grave yard.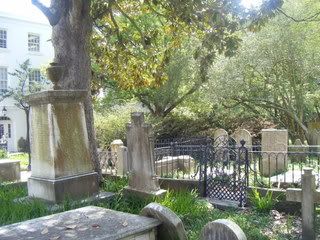 welp there are my pics hope u enjoy :]
Comment! (3) | Recommend!
Tuesday. 5.6.08 10:20 pm
i did not abandon you ppls on nutang!!!!!!!!!!!!!!!!!!!!!!!!! stevie i have not broken my promise!!!!!!!!! okay so here is whats up...................
(photos posted by tomorrow at the latest sorry!!!!!!)
1 i had an amazing time at charleston and pics are above :] absolutely beautiful weather and amazing sights!!!
2 we had this huge thing at our school were there were threats against ppl written in the bathroom and something was suppose to happen friday (nothing did) but there was like the entire police department at school and only half the students came to school :p me of course being one that went........
3 my dog is burying her bone under my pillow grrrrrrrrrrrrrrrrrrrrrrrrrr h/o
4 ok back..... o and two guys like me ( not the one i like of course) and both of them are named michael lol pretty funny huh............
5 I HAD TO TALK TO MY PRINCIPAL YESTERDAY!!!!!!!!!!!! yeah i know me who never gets in trouble i got in trouble....... and u know what i cant even brag about it and act all bada$$ because i got in trouble over (get this) reading a book in class phssssssssssssss yeah i know it was frickin rediculous............ my principal just told me not to read in that class anymore hahahha stupid spanish teacher.
anyways i will now apply myself to commenting everyone who has been so generous to me :]
im getting highly frustrated with photobucket it will not upload my photos grrrrrrrrrrrrrrrrrrrrrrrrrrrrrrrrrrrrrrrrrrrrrrrrrrrrrrrrrrrrrrrrrrrrrrrrrrrrrrrr
ok thats alright ill work on them tomorrow ugh welp ppls nighto :]
Comment! (2) | Recommend!
Friday. 4.25.08 1:45 am
leaving in exactly six hours to go down to charlestown...... i will comment all your blogs when i return :] and i will try to take pictures........ plus fireworks saturday night woot woot :] everybody have an awesome weekend.
Comment! (5) | Recommend!