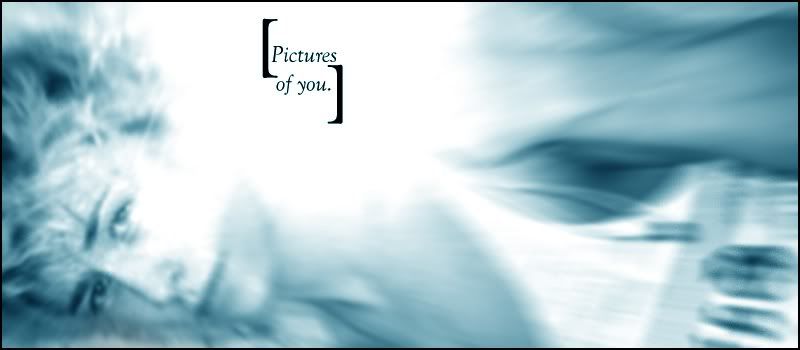 Spring Semester 2010:

* Teaching: Fundamentals of Microbiology - MW 12:00-2:40p
Medical Microbiology - TR 2:00-3:15p
Colloquium in Cell and Molecular Biology - R 3:30-4:30p
Thesis Research - Identification of T Cell Subsets and Immune Response in Colon Cancer Using Immunofluorescence - FOREVER AND EVER

Or rather, entries from the old journal, as it were...

-

An open letter to the College.

(August 27, 2006)

-

Untitled.

(July 16, 2006)

-

Haunted (Part One)

(May 29, 2006)

-

Are we growing up, or just going down?

(May 3, 2006)

-

I had a dream...

(March 19, 2006)

-

...

(March 14, 2006)

-

Enjoy it while it lasts.

(September 12, 2005)

-

Scene: 3:27 AM.

(September 3, 2005)

-

Untitled.

(July 26, 2005)

Psst... if you're looking for the academic writings I used to have here, head to my Reading Room.

Since June 2006...

- A Heartbreaking Work of Staggering Genius by Dave Eggers
- High Fidelity by Nick Hornby
- Travesties by Tom Stoppard
- The Way of the Shaman by Michael Harner
- The Tao of Pooh by Benjamin Hoff
- Nervous Conditions by Tsitsi Dangarembga
- The History Boys by Alan Bennett
- The Dark Child by Camara Laye
- Movie-Made America by Robert Sklar
- Diary by Chuck Palahniuk
- Rant: An Oral Biography of Buster Casey by Chuck Palahniuk
- Galapagos by Kurt Vonnegut
- The Dead Emcee Scrolls by Saul Williams [61.3%]
- Atonement by Ian McEwan
- Junk Science: An Overdue Indictment of Government, Industry, and Faith Groups that Twist Science for Their Own Gain by Dan Agin, Ph.D. [64.4%]
- So Yesterday by Scott Westerfield
- Lucky Wander Boy by D.B. Weiss
- The Things They Carried by Tim O'Brien
- Doctor Who: The Key to Time: A Year-by-Year Record by Peter Haining
- Why Buffy Matters: The Art of Buffy the Vampire Slayer by Rhonda Wilcox
- When You Are Engulfed in Flames by David Sedaris
- The Road by Cormac McCarthy
- 1984 by George Orwell [18.8%]
- Nick and Norah's Infinite Playlist by Rachel Cohn and David Levithan
- Intuition by Allegra Goodman
- V for Vendetta by Alan Moore and David Lloyd (Yes, I realize it's a graphic novel but it still fucking counts!)

Sunday, March 22, 2009 @ 3:29 pm

Saturday, March 14, 2009 @ 10:08 am

But I will never admit it to anyone at school. Not at all.

What I'm most afraid of is that maybe they're all wrong (and by extension, I'm wrong as well). And if they're all wrong then I've just spent a few weeks fretting over nothing. And if I spent all that time fussing over this entire thing, then I'd feel embarrassed and a little silly

(and I guess now a little heartbroken)

.

I feel like it would just confirm all my worst fears about myself: that I'm fundamentally not boyfriend material for x, y, and z reasons (take your pick for x, y, and z--there's plenty to choose from)... and that I'm going to end up living alone in a house that's too big with four cats. (And on that second point, I'm pretty much half-way there...)

I just find it so hard to believe that someone might be interested at all.

I'm making this out to be so much more than it is, most likely. Listen up, kids: this is why you should not live inside of your own head for extended periods of time. But given my past experiences with this sort of thing, I'm not going to put myself out on the line because I'll just get completely and utterly crushed.

But it looks like either way I'll end up that way.

I need to stop thinking about this. I'm such a fucking loser.

Don't tell anyone, but...

...I'm really looking forward to working on this presentation with him. Just so I can read him better.

Comment! (0) | Recommend!

This is a frustrated-Ranor post that will only be revealed after Nutang fixes itself.

Tuesday, March 10, 2009 @ 7:32 pm

Everything was going relatively well today until I called our collaborator's lab at UCSD this afternoon and found out that I won't be able to use their microscope because it's pretty fucked up... and someone over there is under the impression that I am the reason it is that way. So now, we're scope-less for who knows how long until they can fix it and until they retrain themselves on how to use it because apparently for a lab that owns a pretty fancy microscope, not many people know how to use it well enough to give outsiders (like me) guidance on how to operate it without breaking it. But I swear to God the damn thing was broken when I used it... but of course in science the outsider always gets the blame for malfunctioning equipment.

This completely throws a wrench in our workflow, and while there are plenty of other things to be done, there may be a serious rate-limiting step in trying to get time on the scope again. If this persists for even a month, we may be pretty fucked work-wise. While it's not impossible to still have the data in a presentable form by the time the end of the year rolls around, it can possibly take a lot of time and perseverance to get over this not-so-little roadblock.

What I'm most torn up about is the fact that someone over there is placing the blame squarely on me.

FML.

To add insult to injury, I just found out today that my presentation partner for the next rounds of presentations in my Molecular Basis of Disease class is none other than Nick. It seems like the universe is conspiring to put us into close proximity ALL THE TIME: today, for example, I was stuck in the elevator with him AGAIN. But I was civil this time around. I have to be. Our grades depend on it.

Who knows? Maybe I'll end up liking the kid by the end of this experience. Or at least, maybe I'll end up tolerating him to the point where I am no longer a dick to him, even at a subconscious level.

Argh. I am so not doing any work tonight. I'm frustrated and I want nothing more than to eat pound cake and Nutella. All. Night. Long.

Comment! (0) | Recommend!

Once more unto the breach, dear friends...

Tuesday, March 10, 2009 @ 2:15 am

Once again my inability to accurately predict how long something will take me to do has caused me to stay up way too late. If only I had the foresight to do this earlier...

Oh wait, I

did

have that flash of inspiration, but in my infinite stupidity, I decided not to act on it.

FML.

Comment! (0) | Recommend!

Monday, March 9, 2009 @ 7:38 pm

I was stuck alone in the elevator with Nick again. He tried to make smalltalk and I engaged him because I hate to think of myself as an asshole (which, don't get me wrong, I'm sure I am sometimes).

Jenny's theory is that we're going to end up fucking by the end of the semester. Sorry, J, I don't think that's gonna happen. Even if he does want to engage in a little

ménage-à-trois

action with both me

and

Dave, the answer is still

non

(regardless of how much the idea of Dave and me in

any

adult situation turns me on).

Comment! (2) | Recommend!

Saturday, March 7, 2009 @ 5:39 pm

Since I woke up today at 10:30, I have alternated between doing work for about 3 hours and napping for 2. After my last nap, I think I may be ready to take on the shitshow that is my apartment.

On second thought, I think I'll sleep some more.

Comment! (1) | Recommend!

Friday, March 6, 2009 @ 3:37 pm

Sometimes I think we spend a lot of our time looking at the world through a convex mirror: only a small portion of the image is blown way out of proportion and everything else just fades into the background; we're too busy focusing on a few things that we fail to recognize the reality of the world around us. Not that being focused on something is inherently bad, but we just miss out on a lot because of it.

EDIT:

A non sequitur:

Comment! (1) | Recommend!

Friday, March 6, 2009 @ 7:49 am

Jo's PI was lecturing in a class and told them that sleeping for 2 weeks straight for only 6 hours causes a cognitive decline equivalent to pulling two all-nighters in a row. No wonder I feel generally more competent these days: I don't accumulate nearly as much sleep debt as I used to.

Comment! (2) | Recommend!