Friday. 2.2.07 12:42 pm
Since Brian and I now have our money combined into my checking account, I can check to see what things are being bought and whatnot...
Brian's been out drinking 3 times this week. He went out on the 29th, the 30th, and again last night. One of those nights, he lied about it...he told me he was over at his friend's house modifying his xbox (which I believe)...but I mean, he was over there for hours and he said that it was a major pain in the ass to mod and that's what was taking so long. He's modded a bajillion xboxes before and I thought it was strange that it was taking him so long...LOW AND BEHOLD...I check the bank account, and there's a charge from the damn Old Chicago.
He comes home at 1am and then goes to bed...
Me, I've been at home all day with the baby. I give him all my time and attention (to the point I get no sleep, NADA...I can't even take a shower!). It just pisses me off that he could go out and then specifically lie to me about it...yet use the damn bank card so I can see where he went. The fact that he also went there the day after that...and then again last night, it fucking pisses me off.
I mean, we're trying to save money here and he's out having drinks every fucking night! Hell, you'd think spending time with your son and giving your girlfriend a break (who's been up and down, feeding, changing diapers, occupying the baby all day - on top of cleaning up Brian's messes for the most part...fixing dinner, doing the laundry, etc.) would be more of a priority...BUT...I guess not.
Seriously, I don't think he's grown up one bit since our son has arrived. I guess I have a taste of what it's like to be a single parent taking care of two kids...grr...
Comment! (11) | Recommend! (1)
Thursday. 2.1.07 8:13 pm
You know, when you get the items on your credit report cleared up the amount of junk mail involving credit card applications roll into your mailbox. Seriously, this past week, I've gotten at least 10 credit card applications! That's ridiculous! Where's the shredder when you need it...seriously!
I went and ordered my free credit report and credit score to see how much it has improved since we cleared up some stuff, but now I have to wait 10 business days for my "secret code" to come in the mail. Ugh...why can't they just tell me now? I guess I understand why they do this, but it doesn't help me when I want to see it now versus later...oh well.
Anyway, I'm going to go eat some licorice and maybe heat up some leftovers and eat dinner before my little munchkin wakes up. He drank 4 ounces this last feeding (which is a lot for him...he usually only takes about 2.5 to 3 ounces...and here he ate this huge meal)...he may be knocked out for a while...lol
EDIT: Oh yeah, in my haste to go make myself some leftovers from the refrigerator, I forgot to mention that Brian has been getting lots of calls from people about jobs. I'm sort of excited for him, but I mean, this has happened before and nothing has changed...so I'm not even going to get excited until I can see that it may be fruitful. So far, some guy from IBM had called him 3 times this morning (and he was sleeping...didn't pick up...NOT GOOD) and he's been talking to people at Lockheed Martin...SO...we'll see *crossing fingers*
If he gets a good (fantastic job - making twice as much as I do with him alone or at least what me and Brian make combined), I may be able to stay at home with Gregory and possibly just have a part time job :) NO BABYSITTERS is what that means...I HOPE I HOPE I HOPE!
Comment! (8) | Recommend!
Wednesday. 1.31.07 7:00 pm
I Love the 70's is on...version 2 (which I have not seen)...
I don't know what it is about those shows that I absolutely adore and I can't get enough of them. I need to watch them...I like the I Love the 80's series better because of all the stuff in the 80's that I do remember from my childhood and whatnot. I so wasn't alive in the 70's, so it doesn't hit as close to home as all of the 80's stuff does.
I can't believe tomorrow is February...and on Friday, Gregory will be 3 weeks old! It's just NUTS! The time really does fly by...AND, speaking of time...I have to contact my work tomorrow (not only to talk to the HR lady, but to see about figuring out a feasible work schedule). I figured I would wait until after end of the month because we're always so busy around end of the month. I'm going to attempt to see if I can go back to work at some point next week...as we need the money :( I wish money were no object!
Anyway...happy early February (15 days until Valentine's Day - I had a teacher that celebrated Un-Valentine's Day - I'll explain later)...
Here's some Gregory pictures (okay, I'm a little obsessed with posting photos of him...but he's seriously so cute, I can't help but share!)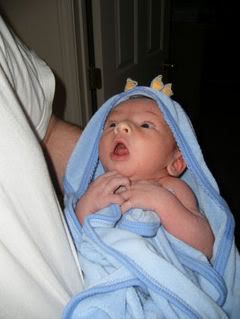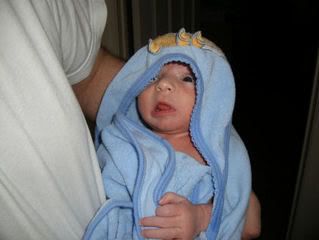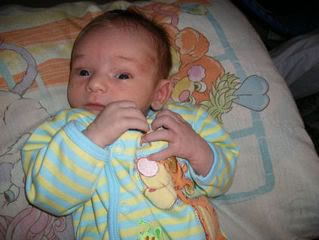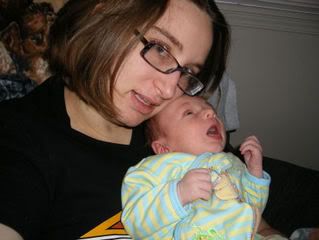 Comment! (8) | Recommend!
Tuesday. 1.30.07 10:12 pm
I'm excited for my best friend (I have two best friends...not to be confused...my Washington best friend [Mellanie] and my Colorado best friend [Melissa]) and Mellanie called me today to let me know that she's going to be getting married!
She initially called and stated that she wanted me to save the date (January 19, 2008) and I thought she was going to come out to Colorado to visit me or something...but then she's like "No, you're coming here," and I was really confused. THEN, she told me she was getting married and she wants me to be her maid of honor!
I've never been in a wedding before and it excites me that she wants me to be her maid of honor. Then at the same time, I can't help but feel jealous. It's like I'll never get married or anything...she did bring up the fact that I got to have a beautiful baby boy before she did, but I can't help but thing I was doing everything out of order. Should I have gotten married before I had a baby? Do I even need to get married now? Ugh...so confused!
I should seriously be taking a nap right now, but all I can think about is how Mellanie is getting married. Don't get me wrong, I'm very happy for her and I wish her the best...but at the same time, I wish it were me :(
OH WELL...
I am thinking about getting professional pictures done (since he's so cute...and I know someone can take better pictures than I ever could). Someone got me a subscription (I don't know who) to Parenting Magazine and there were coupons for the JC Penney photo studio and I was amazed at all the different options they have for photos now a days and I figured those would be perfect. They have such cute layouts for Valentine's Day, but I'm not sure if he'll be old enough by then. I sort of want him to be old enough to where he can smile...and hold his head up and whatnot. Maybe sometime in March or even for Easter in April or something.
Anyways, since I'm talking about photos, I figure I should post at least one of me and Gregory (since I rarely post photos of myself)...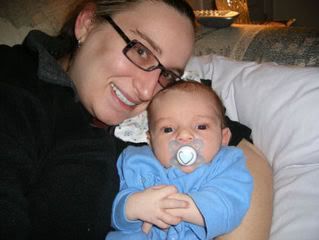 here's me sporting my double chin...I didn't want one of Greg with the pacifier in his mouth, but oh well...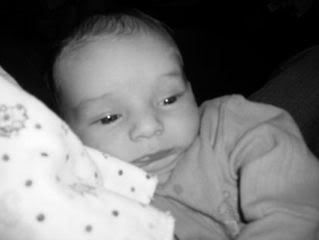 like mother, like son...here's Greg sporting his double chin...hehe
here's a yawning boy...
OKAY, I'm getting tired now...I think I'm going to take a nap.
Comment! (6) | Recommend!
Monday. 1.29.07 1:54 pm
My mom is going back to Seattle today...we're leaving for the airport in about 2 and a half hours.
Mom (Grandma Sue) holding Gregory
You never realize how much you miss and adore your parents until you're away from them for a long time and then they come and help you. If my mom wasn't here for the past two and a half weeks or so, I don't know if I would have been able to cope with having a new baby. She helped me out SO much and I am going to miss her being here.
I'm already planning my vacation to go back home to see her and the rest of my family with Gregory in tow in July. We do a big family get together camping trip in the summer (on my mom's side of the family), so we're going to go home for that. Granted, we don't necessarily camp out like you would think with the whole camping thing, but it's all about being with family. We camp out in tents in my aunt's front yard (or sometimes, my other aunt's back yard) and we have fire pits and we sit around and barbecue and all that. It's just nice being with family...and I can't wait to show them all Gregory.
My mom and my aunt are going to drive out to Denver in April. I am hoping that the weather isn't too horrible going over the mountains and they'll make it here. They've got to drive over at least 2 mountain ranges that I can think of (The Cascades and The Rockies) and you know how the snow goes up in the mountains.
Anyway...I'm going to go sit in the living room and enjoy my silence at the moment (as Gregory is sleeping) and maybe I'll be back later.
I'll leave you with some pictures...
Gregory...thinking REALLY hard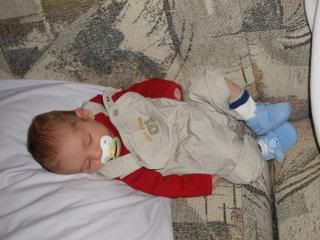 Gregory sleeping pretty well right before we left to go to Chili's last night to eat dinner with "Auntie" Melissa!
Comment! (9) | Recommend!
Sunday. 1.28.07 12:06 am
I'm sort of addicted to this website again (
okcupid
)...and I'm wondering if it's a bad thing. Granted, it's a dating site of sorts...but it's also a site for making friends and whatnot. You can take tests too on there. Here's one that I took (take it if you're interested)...The link to the test is at the very bottom of the results. They've got lots of fun, interesting test/quizzes that I like better than other sites.

Pushover - ISFJ

40% Extraversion, 20% Intuition, 46% Thinking, 66% Judging


Hah. Nice one. How does it feel to know that you're barely unique? Of all the personality types you could have had, you ended up with the most common in all of America. In a group of 100 Americans, 12.8 of them will be just like you.



I bet you feel sorry for that one person missing 20% of his body. I bet you want to help him out, don't you? Cause that's what you like to do, isn't it? Help people. You don't want to save the world. You just want to help people out.



Sound pretty good so far? Sorry, but you're just plain pathetic. You let people walk all over you all the time, because everyone knows that you just can't say "no." When you get time, email me your contact details. It's always good to know where I can find another helping hand.



What the hell is your problem? GET A LIFE! Stop cleaning other people's houses and go out and have a bit of fun every now and then. Sure, you feel responsible for doing what needs to be done, but sometimes it's just not you who needs to do it.



You're dependable, predictable and practicaaaaaaaaaaaaaaaaaaaaaaaaaaaaaaaaaaaaaaaaaaaaaaaaaaa...



Whoops, that was me falling asleep on the keyboard. You're just not the most fun person. I wouldn't worry too much about it. You can go hang out with your other 12.8 mates, helping out at the soup kitchen together. Woohoo!



*****************



If you want to learn more about your personality type in a slightly less negative way, check out this.



*****************



The other personality types are as follows...


Loner - Introverted Sensing Feeling Perceiving

Criminal - Introverted Sensing Thinking Perceiving

Borefest - Introverted Sensing Thinking Judging

Almost Perfect - Introverted iNtuitive Feeling Perceiving

Freak - Introverted iNtuitive Feeling Judging

Loser - Introverted iNtuitive Thinking Perceiving

Crackpot - Introverted iNtuitive Thinking Judging


Clown - Extraverted Sensing Feeling Perceiving

Sap - Extraverted Sensing Feeling Judging

Commander - Extraverted Sensing Thinking Perceiving

Do Gooder - Extraverted Sensing Thinking Judging

Scumbag - Extraverted iNtuitive Feeling Perceiving

Busybody - Extraverted iNtuitive Feeling Judging

Prick - Extraverted iNtuitive Thinking Perceiving

Dictator - Extraverted iNtuitive Thinking Judging



This test tracked 4 variables. How the score compared to the other people's:
| | |
| --- | --- |
| | Higher than 36% on Extraversion |
| | Higher than 1% on Intuition |
| | Higher than 34% on Thinking |
| | Higher than 82% on Judging |
Comment! (6) | Recommend!
Friday. 1.26.07 11:01 pm
My mom and I were snapping pictures of Gregory since he was being calm this evening and I took this one and we laughed for about 10 minutes because we thought it was funny.
I don't know if you guys think it's funny...but it seems like he's making evil plans to take over the world!
Here he is being innocent...so he's not all that evil.
**EDIT**
If you saw my post before I fixed it, I put BB code for the image links and they weren't showing up.
Comment! (11) | Recommend!
Friday. 1.26.07 7:07 pm
Gregory's appointment went fantastic today. He's perfect the doctor says! I already knew that, but it's nice that the doctor thinks so too. At his first appointment, he had lost 6 ounces (normal weight loss of newborns) so he was 7 pounds 8 ounces (that's what I weighed when I was born)...today's appointment, he was back up to 7 pounds 13 ounces! The breastfeeding is working because he's gaining weight...yay!
He's also not yellow anymore, so his minor jaundicing is going away (thanks to the yellow poo) and everything is peachy keen! He had to have his heel pricked today and he wasn't very happy after that happened, but he won't have anymore shots until his 2 month appointment (which is his next appointment).
ANYWAY, other than that...nothing exciting happened. If you're bored, take my test to see how well you know me.
Comment! (5) | Recommend!