Wednesday. 7.4.07 5:50 pm
Sometimes she is called the Innocent. Other times she is called the Beautiful Soul or the Pure Heart. She is the Brave Warrior's other half. She is a beloved archetype.
I speak of Penelope, Andromakhe, and Cleopatra. She is strong, capable, but above all, faithful. Can you see her yet?
What if I called her an Army Wife.
Lately her image has been following me around everywhere. On Monday, I watched "We Were Soldiers," which is a great movie, punctuated by sad scenes of weeping women who have just learned that their men will not be returning home.
The next day, after work, I come home, turn on the TV, and there's a black and white about a bunch of Air Force officers and their wives on a base in Japan during the Korean War. Now I realize this film was made in the sixties, but I could hardly believe it when one of the vetran wives intimates to a newcomer:
"There's hardly any quarreling here... Our motto is 'keep 'em happy, because you don't know if they'll be back."'
No. You know what? That's not how it works.
I'm probably going to ruffle some feathers here, especially since it's the fourth of July, but soldiers are not special. I've dated my share of them, and
almost married one
. They are grunts. Whether they are "good people" is dependent upon their personality and actions, not their service status.
Even so, I can't come up with a single culture that doesn't revere the Warrior, and by proxy, the Innocent. Watch the news sometime. When they want to effect your sentiment about the "military action" in Iraq, they use the Innocent.
When they want you to hate the war, she's a crying widow.
When they want you to love the war, she's a proud matriarch, full of hope.
Ok, maybe none of this makes any sense, but it's a very raw sentiment of mine.
Comment! (1) | Recommend! | Categories: Life [t], Politics [t], Personal Philosophies [t]
Tuesday. 7.3.07 10:49 pm
There is officially too much good stuff in my house. Before my parents left, they purchased two pints of ice cream, a box of vanilla Jojos, and container of gingersnaps, not to mention that they had made chocolate chip cookies. They took none of this stuff with them. For my part, I bought a box of Slim Fast snack bars and a 78% cacao bar last week. Yesterday, my best friend dropped off a Cadbury bar from her boyfriend's last apology offering.
Now, I am supposed to be on a "diet"... how do you imagine that's going? Especially, since I just bought that jar of Nutella, and two more chocolate bars this evening. Who want's to bet that I'll be 200 lbs by Friday?
Today was an interesting day. I work two sets of lessons on Tuesdays, but I have a five hour gap in between, so I decided I'd stop by my financial planner's office on the way home from work and put some more money in my mutual fund.
Now, let me tell you something that I definately did not know before: puting money in your mutual fund is not like putting money in your checking account. I was expecting to go up to the receptionist, hand her a check, exchange some nice words, and leave. That is apparently not how things go down.
Instead, I walk up to the lady, tell her my name, and start to spell my surname when she coos, "Ooooh, so
you're
Heidi. My, but I don't believe we've met. I'm Lorna. Come back and speak to Kerry [financial planner] a moment. I imagine he'll want to meet you."
I had not stepped foot inside this office since I was twelve, when I first decided I wanted a mutual fund. Dan was our financial planner then, not that I would have been able to tell him apart from this guy. Usually, my dad just takes in checks for my account when he goes to talk about one of his, as he is my financial custodian.
Anyway, Mr. Financial Planner sits me down and shuts the door. I am quite afraid. Is he going to yell at me about not contributing more to my account? Try and make me open a new one? Confront me about that one time in third grade when I peed my pants?
Rather, he tells me a few technical things about where he plans to put my money, and proceeds to interrogate me about my life. How are my parents? Where do I work? How do I like SPU (yes, he knew where I was going to school, and my year)? What major had I selected?
This is where things get very interesting. I tell Mr. Financial Planner that I'm a political science major, and that I plan to work for the State Department. Apparently, his brother is a recently-retired career diplomat, which is what I want to be. For the next ten to fifteen minutes, he decided to become my career advisor.
"Taking the foreign service exam is like applying to Harvard," he said, "For every one-hundred people that apply, they only have five spots. All one-hundred people can be well-qualified, but in the end, they only have
five spots
."
From there, he proceeded to lecture me about how it would be a better plan to get some work experiece first, since I'm only going to be 20 when I graduate, anyway, especially if I can get a job with the CIA or DEA and transfer into the State Department.
As pissed as I was that he was basically telling me that I was not up for the challenge of pursuing my dream, my way, he was totally spot-on. I loved talking to, or at least listening to, someone who understands my area of passion. Plus, if i work for the CIA for a while, I can probably get my grad school tuition paid for, or at least reimbursed. Yay!
Ok, so new life plan:
Graduate from SPU, get some contacts in the CIA
Get grad degree in Middle Eastern Studies, emphasis on Persia, while working for the CIA.
Transfer into the State Department when my contract is up.
Proceed to take over the world.
Oh, and somewhere in there, have some kids and raise chickens.
Yep. It's all gonna work out. Just you wait. Better suck up to me now.
For tomorrow's special, Independence Day Extravaganza, blog-- what would you like to hear about?
Your choices are:
A) Life in the Ghetto
B) Army Wives in the Media (and how I almost became one)
C) Why I don't Blog about Politics
Or, since you all seemed to take such and interest in my shopping list yesterday:
D) Adventures in Cooking
kz! Let me know! I'm off to watch Platoon.
Comment! (4) | Recommend!
Monday. 7.2.07 10:03 pm
This morning, my mom, dad, little brother, and laptop all piled in the car and headed off to lovely Lake Chelan, WA-- a nice three hour drive from where we live. I finished work just in time to pass them on our street. Yes, it's true. They've really left me to my own devices for four nights.
Actually, I'm not so worried about my devices. They work pretty well. I can cook and clean and wipe my own ass and stuff. I'm just worried that I'll start to get bored and lonely. I never had that problem at school, because there was almost always someone around somewhere, plus I had the whole city of Seattle to satiate my mind and body.
Current Plan: Keep Busy. Level of Difficulty: low to moderate.
Actually, I have lots of unpacking and cleaning to do, but who wants to do that all day? The trick, I've found, is to make events out of simple things. For example: my drive home from work tomorrow could be filled with any number of errands, and I could spend part of the day learning a new recipe to make for dinner.
For the evenings, I plan on holding my own little film festival of all the war movies I've wanted to watch and never had the time for. Tonight-- either We Were Soldiers, or Platoon. I'll probably head to Blockbuster and pick up Full Metal Jacket after work on Wednesday. Hey, then I'd be by the Pho place I like! Maybe I should invite someone to lunch... See how the days just fill up.
The other thing I've been thinging about is possibly meeting up with Vexing Ex. After all, if he can booty call me at 1am on a Sunday, I can booty call him at a reasonable hour on a weekday, right? Eh, bad idea.
Shopping List:
Perrier
Mango
Avocado
Nutella
Comment! (3) | Recommend! | Categories: Life [t]
Monday. 7.2.07 5:01 am
Well NuTang, it's 2am here in the West, and I have foregone my bed, dragging blankie and bear into the house to see if I don't fare better on the couch. I don't think I will, though. There are just too many things to think about.
For one thing, my family is going on vacation without me tomorrow, and my laptop will be going with them. It's like my comp is going to preschool for the first time. I'm worried she'll catch a cold, or that somebody won't be nice to her, and she'll never be the same again. I have trust issues anyway.
It's also not a great feeling that I will be going without high-speed Internet for five days. And I won't have my iTunes account. And I won't have most of my pictures to play with. And I won't have The Sims 2. Oh Christ, what have I gotten myself into.
Oh well, I will have a car while they're gone, and a whole house to myself. Maybe I'll invite Flakey BFF and her brother over. That's what I did last summer when my parents left me for three days. We went down to the pool with their little sister and her little friend, then we made dinner together and pretended to be a nice, nuclear family. I think all future families should have two moms and a dad.
It's going to be so weird though, because I will be all by myself on the fourth. I could just invite myself to somebody's BBQ, but the truth is I really don't care. Independence Day isn't a big deal to me. I'm not proud of this country, or it's heritage. Don't get me wrong, I love the freedoms I have here, and I realize that I could not find them anywhere else in the world. But you don't have to like something to apreciate it's value, in my mind.
Put simply, I pay all of my taxes, I try to live Green, and I vote, which is more than many
proud
Americans do. I don't owe this country or government any other damn thing.
Ironicly, I am a political science major, and I will probably be working for the US government in a few years. Add to that, I have the Gov't Employee's Healthcare. Hey Uncle Sam, your dental package SUCKS.
But you know what else? I'm a walking contradiction anyway. So there. Look at my teddy.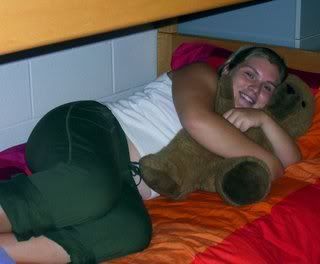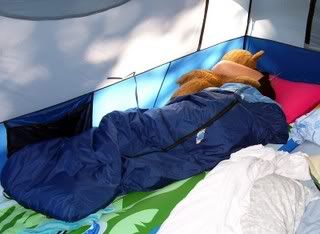 Comment! (2) | Recommend! | Categories: Life [t], About Me [t], Family [t]
Friday. 6.29.07 7:42 pm
Maybe it's a Seattleite thing, but few things make me happier than a good rainshower. Not just a mist, or a drizzle, but big fat drops. The way it sounds, the way it feels, even the way rain smells just puts me in a better state of mind.
I was thinking about that today, sitting in my car in the driveway, as it poured down all around me. Good summer rain. The kind that creeps up on you in a gentle shower and then turns into a downpour, forcing you to go find shelter for a few minutes until it eases up. You never know where you'll be stuck, or who you'll get stuck with.
It never lasts long though. This one only took about 10 minutes to pass. Now I should go back to doing productive things, but I'll have a nice spring in my step for the rest of the day.
Take a minute next time it rains, go outside under the eaves of your house, and just take it all in.
Comment! (5) | Recommend! | Categories: About Me [t]
Thursday. 6.28.07 11:58 pm
... when the person you want to tell something to is the one person you absolutely cannot tell.
Flakey BFF happens to have a younger brother, and when I stopped by her house today, I was remined of how hot he happens to have become. We don't usually talk much, but we hooked up on New Year's.
I was actually able to tell Flakey BFF about that particular incident, but there is no way I could tell her that I still consider jumping his bones every time I come over. That would just be awkward.
Today was tough, becuase he was all sweaty and shirtless from playing basketball. We talked about next year at school and I was reminded that he is seriously smart as well. Oh dear... I
am
in trouble...
Comment! (1) | Recommend! | Categories: Life [t]