Sunday. 12.26.04 7:21 am
I'm really really happy today!
I found my Nightmare Before Christmas Coffin Handphone Pouch! and my friend bought it for mi! yea man! finally! was trying to get it a few days ago but couldn't find it. but think stock just came in today. "sha lala~ its so nice to be happy~ sha lala~"
Also got a pocket watch. looks kind of antique-ish but its not. altho i think its really cool!
Just to elaborate on the lady boss is really neow part. guess what she tried to pass off as a xmas present?
1
small packet of FAMILY size m&m wrapped in the shop's wrapping paper and the shop's white labeling sticker. PLZ lor~! arbo u dun give not so bad. u wanna give also dun give 1 tiny packet consisting of 5 to 7 m&m lor. geez
also got a pair of silver earrings from my long haired chiobu colleague. saw her super meng nan bf. shuai~ look like allan wu, the first triple 9 ger's hubby. but i still prefer my LJS guy. lol
another spunky colleague made some choc tidbits for everyone~ its delish!
got a furry soft toy bookmark
seashell earrings and tiger eye pendent
300 piece forever frens jigsaw puzzle
lots of chocs and candy and lots of fun this fantabulous xmas!
what me and my sec sch frens did.. talking cock and catching up with each other
Oringal idea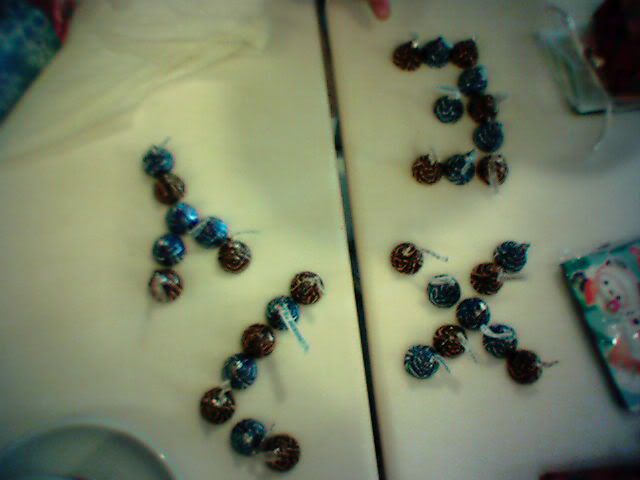 my itchy hands cum finance poisoning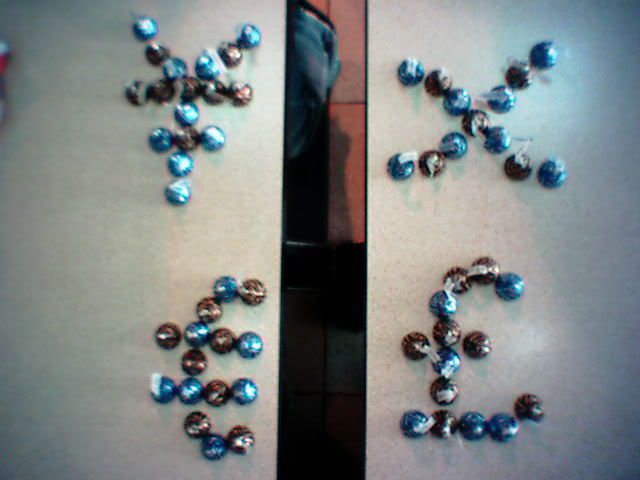 and this is US!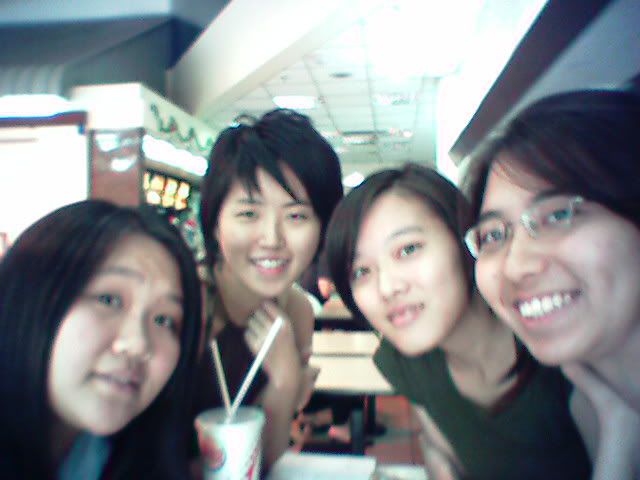 yes they are all demure ladies and i am the chu lu one. bah
Comment! (0) | Recommend!
Saturday. 12.25.04 9:19 am
I know everyone is waiting VERY eagerly for the Xmas report. muahaha!
To start off, i was late. really quite late. supposed to meet T and amy and aud at 12.30. ended up i woke up at 11.30. reached jPTat 1.30. Jpt coz we gotta pick up the logcake and turkey.
Loaded everything and everyone into T's car and and off we went to geylang. to BUY BBQ FOOD. there's this interesting bbq specialty wholesaler there. they prepare everything, marinated chix wings, sambal stingrays, marinated prawns, charcoal, ice. hotdogs.etc. prices are actually pretty reasonable. You might even say cheap. load everything into car and sped off to T's house to deposit the wet food. slacked a bit and den loaded ourselves 3rd time into his car and picked up Janna and Jaime at bedok interchange and patronised YF's property. Bought more prawns, cuttlefish, soft drinks, candy, tidbits, fruits, etc
Reached T's place abt 5+. Kok Hong, Kian Seng already in the house. Unpacked all the barang barang and due to lack of more entertaining things to do. actually i was happily watching saiyuki on AXN, but kenna scolded for monopolising the TV. we started to play monopoly. eh.. pun not intended. pt of interest, Jaime keep getting jailed and by the time she got out. left 3 property in the market. lol! also, (for lack of better word), i was pretty much controlling the trains. 1k per ride. heheh. si kok hong wun sell mi his 1 train station. offered 7k for it. when cost is 2k he also wun sell. sadded.
started the fire around 7, after Thiam Hock, Kevin, Ellse (new character in the story) and zhi han eventually trickled in. watching Date with a Vampire 3 vcd in T's bedroom while the guys slog over the pit. I trust the guys. they din take very long to get teh fire roaring.
Everyone proceeded to stuff themselves. endless stream of delish food from 7pm to 12+am. amy food IC, everything is cooked.
Andrew Lim came by, chit chat talk cock, eat food, gossip, listen to his forays in the stock market. basically enjoying ourselves. somehow, we slipped into calling andrew by name to him. he din really mind. FT lecturers are cool. O, Andrew made an unwise decision. he lent Joan his car keys. Joan was supposed to take his car for a spin. but no one interested to go with her. after a long while. Joan came back. blushing bright red and trying very hard not to laugh. she did not take the supposed drive. apparently, she saw stuff that she should not see! shall not tarnish Andrew's reputation here. that was the funniest joke of the night man! Andrew was a lil bit blushing and staring daggers at Joan! he left soon after, time was about 10++.
aud, joan, jana were trying to make choc fondue. w/o yours truely. actually, i melted the choc le. but they thot it was not done yet, coz they saw jana stirring it, they actually heated it up somemore. which destroyed the choc. Told them the way to save it. but after seeing what they did, i've got no guts to eat it.
Kenneth Tai came by also, soon after Andrew left. He got lost in the myriad of lanes around T's place. K Tai brought his family! His wife and 2 daughters! cute sia his daughters. very innocent. unfortunately almost kenna corrupted by Jaime, teaching them mahjong~ lol! Trying to pry lecturer gossip from Ktai but din succeed. haiz. mission fail. Bickering with Ktai most of the night, coz he keep saying he only rem naughty and talkative students. den he say he rem mi! bleh! they left just half hour b4 12. hehe, i just hope they din get stomachache from eating the cuttlefish i promunced cooked. Ktai had quite a bit.
Yuan Feng came by with a huge plate of those Party Sushi Set! and quite a few of which i like! i was gianing the party sushi sets whenever i walk past~ Lurrve Yf that nite! Really nice of YF to coem by, deliver the sushi and left soon after for another party. he din eat much also. coz he was actually sick earlier in the day.
nearing 12, the gers started mixing Absolut vodka and coke in plastic cups. actually tasted really horrid. i din drink any. heng sia. anyways, due to that. there was a lagging effect. it was past 12 when everything was ready and we popped the party poppers, ate the log cake etc~
after 12 there was still food. but not many has the stomach for it anymore. so we din do the turkey.
gathered everyone at T's dining table, gathered all the presents under the tree and exchanged prezzies! this one, gotta wait till joan's photos come out. no way i can describe it.
bathed and went to slp soon after. T's hse like chalet sia. lol. mi and joan hogged his bed and slp since we gotta work the next day. of coz, din slp much. kok hong and KS on one side playing PS. Thiam Hock watching Vampire 3 VCD on the other. HOW TO SLP??? geez.. NOISY!
K.O ard 4+/5am and woke up at 7+. with lion's mane. bathed, changed, blah blah and left T's place abt 9+. Bringing all the gers with mi. heheh. Unfortunately for teh guys, i din realise that they were waiting for us to eat turkey. no one slept till 5++/6 that day. aud/amy/ huizi/john took the guest room. i guess all the gers KOed.
ok. rounding off. i meet up with my sec sch frens. at yishun, ate breakfast, exchanged presents. went to work. chalked up total 1.3k sales and total sales for the day was 1.7k. heheh~ was so busy, i din even get to finish my dinner and tio OT. everytime one! i always tio one! geez! and there is no OT pay! its the standard rate. and i'm not sure they will give or not. geezzzzz!
too tired to cont now. tml, the xmas presents issue! the lady boss really neow~!
Comment! (0) | Recommend!