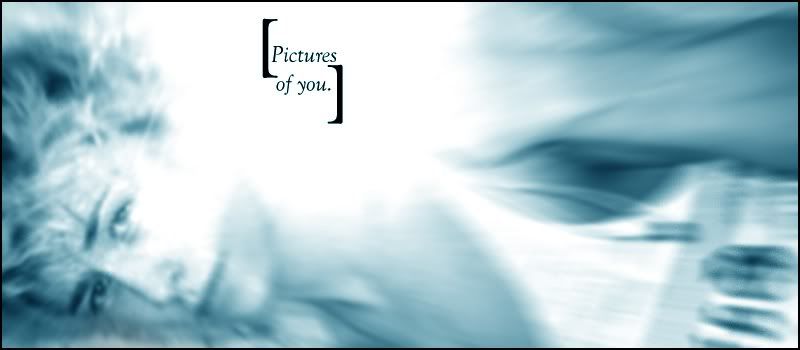 Spring Semester 2010:

* Teaching: Fundamentals of Microbiology - MW 12:00-2:40p
Medical Microbiology - TR 2:00-3:15p
Colloquium in Cell and Molecular Biology - R 3:30-4:30p
Thesis Research - Identification of T Cell Subsets and Immune Response in Colon Cancer Using Immunofluorescence - FOREVER AND EVER

Or rather, entries from the old journal, as it were...

-

An open letter to the College.

(August 27, 2006)

-

Untitled.

(July 16, 2006)

-

Haunted (Part One)

(May 29, 2006)

-

Are we growing up, or just going down?

(May 3, 2006)

-

I had a dream...

(March 19, 2006)

-

...

(March 14, 2006)

-

Enjoy it while it lasts.

(September 12, 2005)

-

Scene: 3:27 AM.

(September 3, 2005)

-

Untitled.

(July 26, 2005)

Psst... if you're looking for the academic writings I used to have here, head to my Reading Room.

Since June 2006...

- A Heartbreaking Work of Staggering Genius by Dave Eggers
- High Fidelity by Nick Hornby
- Travesties by Tom Stoppard
- The Way of the Shaman by Michael Harner
- The Tao of Pooh by Benjamin Hoff
- Nervous Conditions by Tsitsi Dangarembga
- The History Boys by Alan Bennett
- The Dark Child by Camara Laye
- Movie-Made America by Robert Sklar
- Diary by Chuck Palahniuk
- Rant: An Oral Biography of Buster Casey by Chuck Palahniuk
- Galapagos by Kurt Vonnegut
- The Dead Emcee Scrolls by Saul Williams [61.3%]
- Atonement by Ian McEwan
- Junk Science: An Overdue Indictment of Government, Industry, and Faith Groups that Twist Science for Their Own Gain by Dan Agin, Ph.D. [64.4%]
- So Yesterday by Scott Westerfield
- Lucky Wander Boy by D.B. Weiss
- The Things They Carried by Tim O'Brien
- Doctor Who: The Key to Time: A Year-by-Year Record by Peter Haining
- Why Buffy Matters: The Art of Buffy the Vampire Slayer by Rhonda Wilcox
- When You Are Engulfed in Flames by David Sedaris
- The Road by Cormac McCarthy
- 1984 by George Orwell [18.8%]
- Nick and Norah's Infinite Playlist by Rachel Cohn and David Levithan
- Intuition by Allegra Goodman
- V for Vendetta by Alan Moore and David Lloyd (Yes, I realize it's a graphic novel but it still fucking counts!)

Another night, another dream.

Friday, March 27, 2009 @ 12:36 am

But always you.

I asked Nick to come to Jenny's party tomorrow night. If he really was interested in me, he wouldn't have hesitated to come. Instead:

Thats nice of u, but she personally didnt invite me so i wouldnt feel right

I elaborated that Jenny asked me to tell him about it, and he said he'll think about it. So I told Jenny to make sure to invite him personally tomorrow or he might not show.

Every time I think more about my situation, the more I convince myself that I'm just being a dork. It seems so elementary to me at times that he doesn't like me in that way and that I'm just misinterpreting everything he does/says. And then I turn the introspective lens on myself even more and go through all of my many insecurities about how I look and act and pretty soon I'm focusing on the fact that I'm just not that attractive anyway you slice it...

Why would I even think he liked me back?

Whatever. I'm going tomorrow and if he's not there, if he doesn't want to see me... then I'll just deal with it.

With a bottle of wine.

And my friends. But mostly with a bottle of wine. Or two.

Comment! (3) | Recommend!

The Text Message Chronicles, Vol. 1

Thursday, March 26, 2009

ME:

Does it feel strange to not be thinking about the presentation anymore? I got home and actually felt lost as to what to do...

NICK:

That is what weed is for lol

I love this boy.

Comment! (2) | Recommend!

The presentation is over!

Wednesday, March 25, 2009 @ 7:06 pm

And we kicked so much ass. Or so said my PI and pretty much everyone we saw on the way out.

But now I find myself looking for something to preoccupy me.

And... I don't really have a reason to dress up anymore because we're not gonna meet for the presentation anymore.

So... empty.

Oh, well.

I'll just have to hang out with him the normal way from now on. Let the scheming begin.

Comment! (1) | Recommend!

Wednesday, March 25, 2009 @ 8:35 am

Tuesday, March 24, 2009 @ 10:42 pm

I fail at flirting.

But, I win at instilling confidence into my presentation partner with my explanations and background information.

All in all, an okay day.

Afterthought:

Apparently, the fourth floor gays have a collective consciousness. Me, Dave, and Nick showed up at school today all wearing plaid. We were the only ones on the floor wearing plaid shirts and every time we passed each other in the halls I had to laugh to myself. Jenny, though not a gay male, was sad to have missed the memo. (She felt very left out.)

Comment! (1) | Recommend!

At present, I am present to present.

Tuesday, March 24, 2009 @ 7:55 am

Well... I would be if I could do these slides for the background material.

So homeboy and I met up yesterday (after a few long days of giddy anticipation) to discuss how we want to divide the presentation. Somehow, I feel I got the short end of the deal, but that's okay I guess--the paper we're presenting

does

fit into my field of (supposed) expertise. What this leaves me with is the tricky stuff: all the background material (that isn't really part of the paper). Nick is going to present the figures in the paper... but I hope that's enough to keep our graders happy re: equitable division of work.

We are going to meet again today for a possibly-long, not-so-steamy nocturnal encounter to put together our pieces and draw up the conclusion slides together. Right. Well, we would... if I could just get this crap done first.

Luckily, I think my lab will run short today (or so my co-TAs report) and I will have time to scrounge together more information to cram onto slides. It would be simpler if I did this on my own (I

hate

working with others on things like this), but then again, this is prime Nick-reading time so I will suck it up and take it like a man (no sexual pun intended).

I wonder how long it will be before I can come back home... Plus side, once we're finished, we're finished! I should then have time to clean up my apartment for my high school friend's arrival tomorrow evening!

So this week shouldn't be a

total

drag after all.

Comment! (1) | Recommend!

Monday, March 23, 2009 @ 1:35 pm

I don't care how cute and adorably damaged you are, you are NOT allowed to call me up while I am sleeping off a cold and send me into panic mode because you misread something on the syllabus, the misinterpretation of which freaked me the fuck out.

I wanted to punch him in his face and then nurse him back to his regular cute self.

Comment! (8) | Recommend! (1)

Monday, March 23, 2009 @ 12:20 am

So I text him before I take off from the airport in SJ and tell him that I'll see him tomorrow... unless I die first (referencing the fact that I'm sick). The boy, being as comforting as a prison cell in Siberia, texts me back:

"It's really windy here."

Thanks, Nick. Way to make the airplane passenger feel secure about his homecoming. "See you tomorrow, oh, unless some freak of nature gust of wind catches your plane at precisely the right angle to toss it about such that your pilot loses all control of the airplane and you die a horribleflamingcrashing death!"

Facepalm.

I'm safe at home now, btw. I can't wait for tomorrow!

Comment! (4) | Recommend!