Saturday. 2.24.07 6:26 pm
My mom got crafty and went through the photo albums and found photos of me and compared them to known photos of Gregory and what came from it was very interesting.
Gregory and I are very alike...we make/made some of the same expressions. My mom even put a picture of my dad in there and we both look like my dad. We looked at pictures of my brother and doesn't look anything like any of us, so I know it's not just a fluke...I guess I know who I look like...AND, I feel like sharing...
Sorry if they're so big...but I wanted to make sure you could see them.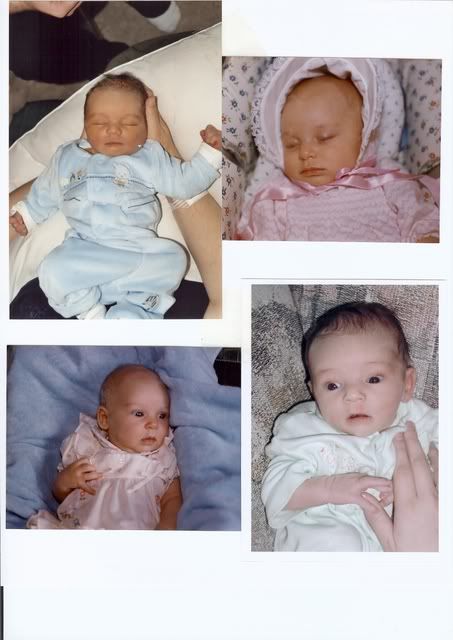 The top left is Gregory sleeping...the top right is me sleeping...we look similar except that I'm balder than crap! - the bottom left is me staring about, bottom right is Gregory staring about...
The top left is me with a blank look on my face, top right is Gregory with a smirk on his face - center left is Gregory sitting on the couch, center right is me sitting in my car seat...we both sort of have the double chin going on - bottom left is me staring with that blank look that Gregory has mastered, right bottom is that blank look that Gregory gets...on Gregory!
Top left, Gregory smiling in his bouncy chair...top right is me laying on the bed - bottom left is Gregory laying on the bed and bottom right is me sitting in something - the black and white one in the middle is my dad as a baby (circa 1952 or so)
There ya go...enjoy the photos. I love looking at baby photos of me...how I've changed is just amazing! I'm sure I'll look at Gregory just the same.
Comment! (3) | Recommend!
Friday. 2.23.07 6:24 pm
I've just got this weekend left to spend with my parents and then it's back to Denver on Monday. Not excited, but I knew it was coming...have to make the most of it.
Today, I went to
Sweet Kitty
, which is a store with anime and TONS of Sanrio stuff. I miss it so much being in Denver and not being able to go to it...and today, I found out that they now have a website! They ship abroad and internationally, so now I don't have to wait to go to Seattle to come and get stuff. I'm looking at these things called "Charm-It's" and they sort of look cool...I wish I would have spent more time looking around in there, but, ya know...I WAS HUNGRY! I had to go to Jack-in-the-Box...we don't have those in Denver.
Now, I'm at home...family will probably come visit and my grandma (on my dad's side) should be coming back from California on Sunday, so she'll want to see Gregory. I am thinking we're going to have a busy weekend this weekend.
I'm hoping that at some point, Gregory will be zonked enough to sleep for a few hours...then we can go out to the hot tub :) YAY HOT TUBS!!!
Comment! (6) | Recommend! (1)
Tuesday. 2.20.07 5:29 pm
Well, I made it to Seattle on Friday. My plane was an hour late...so, that was even better. Thank God Gregory was fantastic on the airplane, so it wasn't horrible.
I thought I was so good and had everything packed...BUT, I forgot to pack a burp rag...and of course, right in the airport while we were waiting, Gregory spit up BIG TIME. It was like Exorcist proportions...all down his shirt, down his neck, everywhere...poor thing...I had to wipe him off with a baby wipe and then we had to go into the bathroom and get his diaper changed and have me wipe him off some.
He slept for the most part on the plane and all was well...handled the car ride to get my brother in the U-District (by the University of Washington) also very well...then we drove home. The rest of the day went peachy...
Saturday, we drove up to Lynnwood to try on the bridesmaid dress for my friend's wedding next January. It fit just fine...hopefully I lose weight by then and it will fit even better.
Sunday, went to my grandpa's and he cried the whole time we were there. I don't know if he didn't like the house or what...but it was horrible.
Yesterday, we went to my grandma's and he was fantastic. Hardly cried the whole time we were there...nice to see everyone.
Today, Erita just woke him up barking at the UPS man and he is having a hard time going back to sleep...grr...dogs...
Anyway, will update later when I have more time. As of now, I have no time...haha
Comment! (6) | Recommend!
Friday. 2.16.07 12:12 am
and I probably won't be commenting too often here for the next week or so.
I already have a bunch of stuff planned while being in Washington, so we'll see if I get to relax any. Saturday, I'm not sure if I'm going to go try and on bridesmaid dresses with Mellanie or not as they want to do it in Lynnwood and Everett and that would be a long drive for little Gregory from where my parents live (in Renton). With traffic going through Bellevue up 405 and all of that, it would be a good hour and a half drive, and I'm sure he'll wake up or get fussy at some point in there.
Saturday evening, we're going to my grandparent's house in Seattle (they live in Burien/White Center...not the best of neighborhoods). I've not seen them in a long time and they somewhat abandoned our family for about 5 to 10 years or so back when I was in middle/high school. Last time I saw my grandpa, we were at his sister-in-law's funeral (my dad's aunt)...and that was a few years back.
Monday, we're going to go surprise my grandma and bring Gregory there and meet my aunt. She's coming up from Rochester and we're coming from Renton. My grandma lives in Puyallup (which is about the half-way point)...she doesn't know I'm coming, so it'll be fun for her. My other aunt will probably come over too.
After that, rest and relaxation...maybe...my mom will probably want to be all in the grandma mode and do her thing (which I will let her do...lol)...
Anyway, here's Gregory smiling (not a huge grin, but enough of a smile that I think he's smiling)...
Comment! (4) | Recommend!
Wednesday. 2.14.07 8:01 pm
I'll be packing my suitcase tonight because I probably won't have time to do it tomorrow. Since Brian's working, little Gregory will have me devoted attention all morning and then I have that party thing tomorrow night...SO, tonight is the night to get everything done.
Brian's making dinner right now...and earlier, we snapped pictures of little Gregory in a new outfit I bought (my intentions were to have his pictures in them, but eh...the snow dictated my day and I didn't want to take him out in the freezing weather)...
ENJOY!
Comment! (6) | Recommend!
Wednesday. 2.14.07 1:04 am
Well, I thought we were going to Brian's parent's house for dinner tonight which was all fine and dandy, but I guess it was all one big surprise!
We went over there and it was actually to drop Gregory off and Brian and I had a nice dinner (which I found out only on the way to dinner). We went to P.F. Chang's and it was yummy. I've never eaten there before, but I'd eat there again. Their crab cheese wontons were to die for! I had the Kung Pao Scallops and it was way too spicy for my liking. The banana egg roll things we had for dessert were TASTY!
But, went to pick Greg up and he had been perfectly fine the whole evening. I guess he barely cried...which is a good thing :)
Anyway, speak of the devil...he's waking up. I'm thinking about getting his pictures taken tomorrow at
Kiddie Kandids
and that way I'll have something to take to my mum when I go back to Seattle...I think she'll be surprised :)
In other news...I was trying to do my taxes and I can't help think that I'm doing them wrong. The Federal return seems fine, but the Colorado state tax isn't meshing well with me. Last year, I got about $300 back on my Colorado return...this year, it is telling me I owe $651! I did not change a damn thing on my W-4, so I do not understand why I would all of a sudden owe so much money...I am seriously considering going to a tax person and having them prepare my taxes because this is bogus...grr...I hate taxes!
Comment! (4) | Recommend!
Tuesday. 2.13.07 11:29 am
I'm getting Gregory started on the history as soon as possible.
Before I sat down here at the computer, I had him on the couch and I was changing his diaper (OMG...it was bad) and he was very content after that, so I left him laying on the couch. He's watching The History Channel (since I was watching it) and he's actually looking at the screen and not fussing...hehe...I will make him book smart, I tell you! There will be no computer nerd besides his dad...he will be like me! I'm gonna get him to read at an early age and teach him to love books and value the liberal arts!
But yeah...I've got a doctor's appointment today with my OB/GYN. It was supposed to be next week, but I'll be in Seattle next week, so that's not going to work. I'm not exactly looking forward to my appointment, but eh...as stated a bajillion times before, I like my doctor, so I don't mind going. I'm assuming we'll talk about birth control and all that at this appointment and I can't take birth control (as they thought I had a stroke - after a bunch of tests - turns out I just had a bad migraine they could track going through my brain as it made these stroke-like symptoms), so I'm not sure what he'll suggest. I suppose I could get an IUD, but I am not so keen on that idea. I think I'll just go with what I was doing before...nothing...lol. It proved successful for at least 6 years, so I think I'll take my chances...and if it happens again, little Gregory will have a sibling! BUT, ya know, abstinence is the best protection and I can say I've been practicing that for quite some time now...lol
OKAY, too much information for all y'all.
After that, going to stop by my work and see if Gregory's little foot prints are enough information for the corporate office to add him onto my insurance. I think it should be as I sure as hell didn't go steal some little baby's footprints to forge this document.
After that...going to go to Brian's parent's house for dinner. I hope we're not going to stay long as Gregory's going to be out ALL DAY and I don't feel like keeping him out any longer than he has to be.
I've got to do laundry and clean-up the house before I leave on Friday. I need to pack the suitcase still...I'll have to do that today or tomorrow as Thursday, I'm dropping Gregory off at his grandparent's house (crossing my fingers that they DO NOT DRINK and Gregory sleeps the whole time) and going to a friend's party. I'm not staying long as I want to get to the airport at about 4:30am on Friday to make sure I get enough time to get through security with all the extra precautions and enough time to calm Gregory before we get on the plane...her party starts at 7:00pm and I'm gonna carpool with Melissa since Brian is working until 10:00pm...I'll just have him take my car to work so he can pick up Gregory...OR, I'll just have his mom come over here and watch him. I'll have to talk to Brian about it.
Anyway, Gregory's fussing, so I must go...
Comment! (5) | Recommend!
Monday. 2.12.07 9:47 pm
was uneventful...
Greg's been sleeping here for an hour or so (PRAISE THE LORD), so I've had a little bit of down time. Granted, he was up most of the day which is a wonderful thing. I don't know what I'll do when he actually goes to bed all night. I have this habit of checking him multiple times because he's still sleeping and I want to make sure he's breathing. I don't know if it's just me or not, but I'm deathly afraid I'm going to put him to sleep and then I'll check him later and he'll be dead. It's morbid, I know, but I can't help it...makes me want to love him more and more when we're together and he's awake.
AND, speaking of awake...he's awake...
I was going to say that Brian got me a Nintendo DS Lite for V-Day, but I got sidetracked...
Comment! (6) | Recommend!