Doing my laundry in Mexico
Monday. 3.5.07 12:35 am
I had so many loads of laundry to do today. I cant believe how many loads I did and that was not even everything. I still had clothes that could not fit in my basket. I think I spent 15 dollars to wash and dry all my clothes.
While I was taking my clothes out of the dryer I could not help but to notice that all the channels on the tv's were set to mexican programs. I mean even GODZILLA was in fricken spanish. I felt like I was washing my clothes in Mexico!
Comment! (8) | Recommend! | Categories: changbang [t], laundry [t], mexico [t], bloglog [t], nutang [t], blogger [t], godzilla [t]
Sunday. 3.4.07 10:48 pm
I had a ton of laundry to do and I did not think I had enough soap. So as I entered the grocery store I saw the little girl scouts selling cookies. I remember when my daughter was a girl scout. I sold cookies too. Did I buy a box from these little girls??
Nope. I bought two boxes!! I bought two boxes of thin mints. I put them in the freezer and eat them cold. They are the BEST that way..
Hoorah for the GSA!!
Comment! (8) | Recommend! | Categories: girl scouts of america [t], cookies [t]
Is it the FLU or is it my diet??
Sunday. 3.4.07 11:31 am
Lately I have been trying to lose weight. I have been exercising and going to the gym. I have been hitting the weights and treadmill. I read the calories I am burning and so forth but on the scale my weight is NOT changing. I dont get it. I am lifting too. I have not checked my measurements to see if I am losing inches along with maintaining the same weight.
I dont eat that much but when I do I have been taking this thing called "lean cort". I had a big mac and I know it has a lot of calories in it so I took the lean cort with it. I thought I got food poisoning because I had the runs that night and the next morning. I dont know if I really had food poisoning or if that is how the lean cort is suppose to work. Once my stomach calmed down I had a breakfast sandwhich. I mean you could only imagine how hungry I was. I took another lean cort with that sandwich. No diarea but I feel like I want to throw up and cramps in my stomach and so forth.
I dont know if I have the stomach flu or if it is the lean cort. Anyone have any suggestions????
Comment! (8) | Recommend! | Categories: lean cort [t], diet [t], health [t], [t]
I so fricken HATE survivor this season!!!
Saturday. 3.3.07 10:32 pm
The Ravu tribe is totally starving.. no food, no water... nothing!! the other tribe has EVERYTHING! They have food, water, shelter, toilet, bed and utensils. I am soooo pissed. I cant stand to see those people starving! Their clothes are falling off their bodies because they are just starving! They cant win any challenges because they have no energy, no strength they cant even make saliva.
I now HATE this show!
Comment! (1) | Recommend! | Categories: survivor [t], fiji [t], [t]
Saturday. 3.3.07 4:37 pm

SEASON 6
4:00 - 5:00
Ok, this episode was the WORST episode of my entire life!!! I was so confused and it was sooooo super boring. Nothing really happened in this episode. There was no killing, no espinage, no torture and no hostage!!! I could not stay awake. What are the producers thinking???????
Comment! (1) | Recommend! | Categories: jack bauer [t], 24 [t], season [t]
Saturday. 3.3.07 9:10 am
After talking with some people who are "experts" on Las Vegas I have decided to go with Aladdin. Right now it is being remodeled. By the time I go in April, the remodeling should be done. That sounds really good. I hear the food at Aladdin is also better than the Flamingo. The Flamingo is one of the first hotels if not the first hotel in Vegas built on the strip. It has never been remodeled so that was kind of a downer for me. I also just found out that Aladdin has a spa that has massage therapy, facials and they even do teeth whitening!!!
Here are some shots of the Aladdin:
Comment! (5) | Recommend! | Categories: las vegas [t], hotels [t], aladdin [t]
Friday. 3.2.07 10:06 pm
Gay, Straight, or Taken
I am not feeling well. I am actually feeling kind of dizzy from the sinus infection and I am just sooooo sleepy. So I am at home in bed watching episodes of Gay, Straight, or Taken. It is SUCH a funny show. You guys have to watch it. The youtube vids do this show no justice. If you watch it I bet YOU could not tell which was which. I know I cant !!
About the Show
Mondays at 8 pm et/pt
You can't help but notice that cute guy at the gym, in the bar or around the neighborhood. You smile at each other. And all you're thinking is one question...
Is he gay, straight or taken? Well, now you can find out how your intuition measures up by watching this new kind of dating game. It's a dating game with a twist like no other.
One woman meets three men for a series of dates and then must decide who is gay, who is straight and who is taken. She has to select the one straight, single man in the trio in order to win a luxurious dream getaway for her and this available bachelor. If she makes the wrong call, the man she incorrectly chooses gets her prize instead!
Think you can figure out who's who? Play along and find out! As you observe this woman spending time with the guys one-on-one and in a group, you can test your guydar with an online scorecard. Or grab your phone and text us the name of the guy you think is straight and single.
Comment! (3) | Recommend! | Categories: blog [t], blogspot [t], nutang [t], youtube [t], gay [t], straight [t], taken [t], lifetime [t]
Friday. 3.2.07 6:35 pm
So many things are running through my head right now. I guess that is because I am so busy. The scholarship deadline passed and so now I have to find a home for everyones transcript. I think I am doing well right now at keeping things under control. I have a temporary worker that started yesterday and she is such a blessing....
Tonight is friday and I feel like I actually have a night to relax. I called up my friend Hiroko. She is my nee-san. I miss her alot and so we are going to hang out tonight. She seemed pretty happy to see me.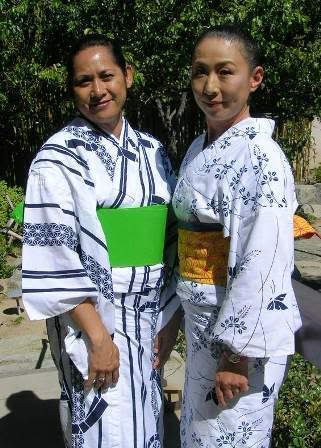 Hope I can just relax and get over my cold.
Comment! (3) | Recommend! | Categories: kkama67 [t], friday [t]