Let's applaude the City of Atlanta for helping the homeless
Monday. 9.15.08 3:37 pm
Atlanta has this law--you cannot beg. I totally agree with it. I have lived on the streets and I didn't beg but I got the help I needed. The City of Atlanta is doing its part. They have inserted parking meters--well they look like parking meters, but they are actually donation meters for people who feel compelled to help panhandlers. What will happen to the money in the meter is this: it will go to shelters and other organizations that help the homeless.
The City of Atlanta needs to be applauded! If every city did this, people would be more inclined to help the needy without feeling guilty for saying no to a panhandler.
Comment! (0) | Recommend!
Thursday. 9.11.08 6:55 pm
I am suffering from a broken heart. I broke up with my boyfriend because we just clashed. I mean, I am not gonna sit around and let the dude ask others out when he never even asked ME out and then he denied saying that to me. After he said it in front of my mom and one of her friends. Then he had the nerve to tell me that I have them under my control so they will do whatever I say. Then he says he is sick and that I could have helped him by doing yoga with him and encouraging him to study--I did that when I had time. Umm I was living on the streets, working part time, and doing my art4thehomeless stuff. So when I had to work was when he wanted me to hang out or whatever. He tried to get me to not go to work--wasn't happening. He also told his friends that I was abusing him...I never once hit him but I did cuss him out when he told me he asked another girl out. She refused because she was married by the way. I did myself a favor, though myself doesn't quite yet realize it. I wish him well, just as he says he wishes me well. Whatever. I am so through dating. No more for me. I will be single until I die. That kind of love does not exist in the real world--a lesson that I have learned the hard way.
Oh yea, he though it was funny that we were living on the streets--well he blamed Prozac. It's the pill's fault! The pill killed the lady in the green room with the candlestick! I saw it!
Comment! (3) | Recommend!
New art4thehomeless zine up!
Tuesday. 9.2.08 1:28 pm
I got the new site up and have added a Featured Poet and a Featured Musician whose song you will hear when you visit the site. I also have three Feature Artists who are Marc Doutherd, Weshon Hornsby, and Stacy Lynch! Also, be sure check out my advertiser's sites and comment on their stuff. AND I also have a page dedicated to you for your self expression: it has a chatbox on it so drop by and leave a comment on the chatbox!
Of course, I have not forgotten the homeless services--I featured some local ones that are SafeHouse Atlanta and also The Homeless Voice, and the feature shelter is Mercy Housing and Shelter from Hartford, CT!
So here is the link for you to check it out! http://art4thehomelesszine.tripod.com
Comment! (0) | Recommend!
Miracles are stalking me!
Friday. 8.29.08 2:03 pm
I am so grateful to God for he has hounded me with miracles! My boss paid my rent for a week and just when it was up my mother finally got her disability check and we are paid up for the month!!!! We are off the streets. And I am more than on a mission here. I am gonna do whatever it takes to get art4thehomeless out there. The new zine will be published on the first of September and even has a section for poetry. I am also planning to include musicians as well, but that is still in the planning stages.
Not only have my coworkes shown me support, some have given me money, which I am planning to repay them and of course, told them that whenever they need me to do something artistic for them whether its jewelry making or painting, I will do it for free. One of the supervisors gave us food when he found out we were on the streets. One of my coworkers who gave me money got into a car wreck. Her name is Kelsea, and I am only telling you because I want you to lift her up in prayer. She is physically fine, but car accidents are financially messy. So wil you join me in praying for her?
It is a good feeling that I am stable and secure. I thank God everyday for each day and for my health. And of course, for my mission--to help not just the homeless, but the organizations that help the homeless.
I also want to take a moment to remember the victims of Katrina. Today is the three year anniversary and I hope and pray that Gustav doesn't go straigh to the Gulf Coast.
Comment! (6) | Recommend!
Wednesday. 8.20.08 6:32 pm
My boss found out that my mother and I were on the streets and paid our rent for a week. He also said that he would make sure that I would get enough hours to not only pay the rent, but pay him back as well though I haven't been working since Sunday....I hope I do get to work tomorrow! I am still working on the ezine and am changing the look for the September edition.
Now onto more positive issues, I would like to thank the churches that helped us over the weekend. Shaw Temple A.M.E. Zion Church from Smyrna, GA and Turner Monumental Church of Atlanta, GA fed us and helped us while we were out there over the weekend. So did the Salvation Army and SafeHouse outreach. Google them if you want to and help them. Let's all help those who help each other. This is my American Dream.
Comment! (3) | Recommend!
Friday. 8.15.08 1:18 pm
If you wanna promote me, just let me know! Here is what the ribbon looks like: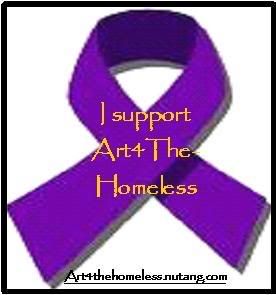 Comment! (1) | Recommend!
Thursday. 8.14.08 4:41 pm
I am glad I have a job, though it is not enough to pay my rent. My mother and I are on the streets, though I am trying to stay positive. I am focusing on work, and Art4TheHomeless. In fact, the new webzine is up for the next editon!
Due to the amount of folks wanting to help, I am upping the ad-space from 4 to 6 after September 1st.
You can see it at
http://art4thehomeless.nutang.com
Comment! (1) | Recommend!
Wednesday. 7.30.08 12:25 pm
The first issue is out! The feature Homeless Shelter is Atlanta's own Union Mission and of course, I have the feature artists and my advertisers who are: Joanna Ballard and The Spotted Olive ( feature) and then there's Top Cat, Johanne, Dennis Baer and Weshon Hornsby.
I personally want to thank all of you who submitted art and advertising! Due to the amount of people, I have changed the amount of featured artists from 2 to 3 starting the second issue. On the website, the site navigation is on the top in small pring--well its small on this computer LOL, but I did aim for the biggest font possible.
In the second issue, Marc Doutherd, Johanne Jakobsen, and Richard Hubal will be the feature artists and we will have ads from The Spotted Olive, Joanna Ballard, Stacy Lynch, and Maria G.
http://art4thehomelesszine.tripod.com/
Comment! (3) | Recommend!