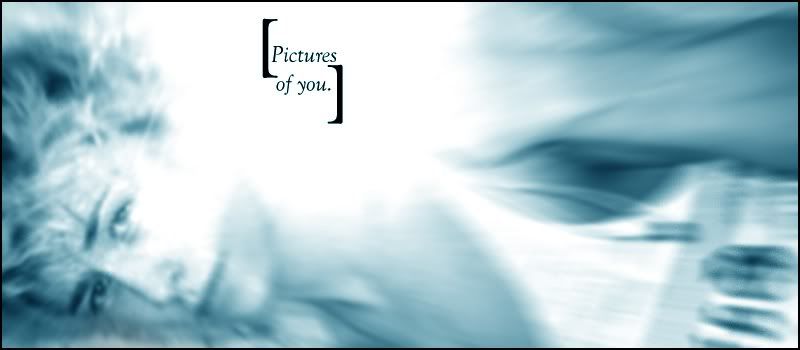 Spring Semester 2010:

* Teaching: Fundamentals of Microbiology - MW 12:00-2:40p
Medical Microbiology - TR 2:00-3:15p
Colloquium in Cell and Molecular Biology - R 3:30-4:30p
Thesis Research - Identification of T Cell Subsets and Immune Response in Colon Cancer Using Immunofluorescence - FOREVER AND EVER

Or rather, entries from the old journal, as it were...

-

An open letter to the College.

(August 27, 2006)

-

Untitled.

(July 16, 2006)

-

Haunted (Part One)

(May 29, 2006)

-

Are we growing up, or just going down?

(May 3, 2006)

-

I had a dream...

(March 19, 2006)

-

...

(March 14, 2006)

-

Enjoy it while it lasts.

(September 12, 2005)

-

Scene: 3:27 AM.

(September 3, 2005)

-

Untitled.

(July 26, 2005)

Psst... if you're looking for the academic writings I used to have here, head to my Reading Room.

Since June 2006...

- A Heartbreaking Work of Staggering Genius by Dave Eggers
- High Fidelity by Nick Hornby
- Travesties by Tom Stoppard
- The Way of the Shaman by Michael Harner
- The Tao of Pooh by Benjamin Hoff
- Nervous Conditions by Tsitsi Dangarembga
- The History Boys by Alan Bennett
- The Dark Child by Camara Laye
- Movie-Made America by Robert Sklar
- Diary by Chuck Palahniuk
- Rant: An Oral Biography of Buster Casey by Chuck Palahniuk
- Galapagos by Kurt Vonnegut
- The Dead Emcee Scrolls by Saul Williams [61.3%]
- Atonement by Ian McEwan
- Junk Science: An Overdue Indictment of Government, Industry, and Faith Groups that Twist Science for Their Own Gain by Dan Agin, Ph.D. [64.4%]
- So Yesterday by Scott Westerfield
- Lucky Wander Boy by D.B. Weiss
- The Things They Carried by Tim O'Brien
- Doctor Who: The Key to Time: A Year-by-Year Record by Peter Haining
- Why Buffy Matters: The Art of Buffy the Vampire Slayer by Rhonda Wilcox
- When You Are Engulfed in Flames by David Sedaris
- The Road by Cormac McCarthy
- 1984 by George Orwell [18.8%]
- Nick and Norah's Infinite Playlist by Rachel Cohn and David Levithan
- Intuition by Allegra Goodman
- V for Vendetta by Alan Moore and David Lloyd (Yes, I realize it's a graphic novel but it still fucking counts!)

In case anyone was curious as to what this guy I keep talking about looks like...

Friday, April 10, 2009 @ 1:33 am

"I like you so much better when you're naked."

Thursday, April 9, 2009 @ 12:32 am

Operation: Most Productive Week Ever is shaping up to be pretty productive... but not the MOST productive I've ever been. Oh, well.

Today, my friend Jo was in the area for work so we had lunch. The pizza was AWESOME... except that we ordered one with garlic and red onions so our breath was very much NOT awesome. This is problematic on Mondays and Wednesdays in particular when I have class with Nick. There is scarcely anything less attractive than horrible breath, so Jo gave me three Listerine thin strips, which I took one after the other, before chewing on minty gum for the next couple of hours straight. (I went through at least 6 sticks of gum...)

Lucky for me, the breath issue got resolved, especially since Nick decided to sit next to me today. He was extra fidgety today. Sometimes, he twitches. I know this; I have studied his mannerisms. But the boy could NOT sit still today. AT ALL. I'd like to think it's because of me, and because I don't feel like having another emo-breakdown like I did a few days ago, I will. We kept contacting each other throughout the two presentations in that class, partially due to his me-induced ataxia, and partially because I kept leaning towards him. Sometimes, I'd catch him kinda giving me a sideways glance, and I made no effort to hide the fact that I was concentrating more on his body than I was on the presentations. After class, we took the elevator up together along with another classmate. While we all talked on the elevator, and we all got off at the same floor, as we parted, he specifically said goodbye to ME, not that other chick. I love it when he says my name.

My friends are planning to go to a karaoke place this Friday. I'm going to invite him to come along. Even if homeboy doesn't like to sing, I know he likes to drink... and you can't karaoke sober. That's just madness. I hope he comes. I've got a song or two planned specifically for that instance.

Anyway. Sleep.

OH.

HERE'S THE SONG I'M REFERENCING IN MY SUBJECT LINE.

(I would have embedded it, but it's been disabled.) I've been listening to/singing loudly with/unabashedly dancing to this song in lab a lot lately. Good times.

Comment! (2) | Recommend!

Monday, April 6, 2009 @ 8:32 am

So what's it gonna take, silver shadow believer?

After all the angst I was feeling over the last entry, I went to bed and everything melted away. It's Monday--the beginning of the week, a week pregnant with possibility. I'm looking forward to being the best person I can be--in school, in flirting, and in general. I'm going to take this week and kick it in the ass super hard. Yeah, that's right week: I'm after you!

Manic Monday tonight? Well, Jenny and Dani probably aren't going to make it, but I'll go out if someone in particular wants to go with me. Otherwise, there's always Friday--karaoke time! Booze and singing... what can go wrong?

This is my week, I can taste it!

Comment! (2) | Recommend!

Monday, April 6, 2009 @ 1:08 am

Here's the deal: it's the end of the semester, the next six weeks will pretty much be hell. There's one glimmer of hope in the pit of despair, and believe me--I'll be holding onto that like nobody's business.

The marriage/family thing came up again during my trip home for Spring Break. I am not thrilled. My cousin's wife just had a baby so we spent some time in the hospital this week. My mom would not shut up. To make matters worse, my older cousin on my dad's side just recently had a baby and got married, and it looks like my younger cousin is going to move in with his girlfriend, sparking rumors of a possible marriage sometime in the future.

I can use the grad school excuse for a few more years, but the time will come when they'll start pressing the issue more actively. Again, I am not thrilled. Isn't it enough that I'm the most successful kid this family's ever seen so far (love life excluded)?

Oh, right. Then there's the whole gay thing. Oops. Lots of bridges to cross... OR BURN! LOL, I hope it isn't that dramatic, but man... I am not happy being in the "start a family" crosshairs AT FUCKING ALL.

Best not to think about it for as long as I can...

Comment! (3) | Recommend!

Buzzing with anticipation.

Saturday, April 4, 2009 @ 8:40 pm

I'm probably the only person who will admit that he wants Spring Break to be over.

Once it's over, I can go back to San Diego.

This is exciting for obvious reasons.

Comment! (1) | Recommend!

Thursday, April 2, 2009 @ 7:56 pm

Things are definitely looking up.

I just need to psych myself up to ask him out sometime before the semester ends. I think it won't be as bad as I tend to think things will be.

Comment! (3) | Recommend!

Thursday, April 2, 2009 @ 9:48 am

Everything I know I learned from TV. [EDIT]

Tuesday, March 31, 2009 @ 4:22 pm

I went outside to have a smoke. Of course, I brought my keys with me--the building is locked because it's a holiday. But what did I go ahead and do?

I called Nick up to "rescue" me from being locked out of the building. The boy came down right away and let me in.

Of course, as we were walking together, the keys were jingling in my pocket... oops.

Who says you can't learn things from watching TV?

EDIT: Random photo because I'm bored...



Comment! (7) | Recommend!