Tuesday. 8.7.07 1:31 pm
when the two lame-brained boys in her house refuse to get out of bed and play with her on her morning off?
Play King of Fighters '98, I guess. It's free for a few more days on GameTap right now. One of my middle school best friends and I used to have super huge crushes on KOF characters. Did you know these little arcade dudes each have their own elaborate backstory, and that some even have movies? Like the Fatal Fury team. Oh my gosh. Talk about a franchise. I used to have it bad for Terry Bogard.
Haha, anyway. Check it out if you have a spare minute. I'm not really that much of a gamer, and I like it a lot.
Comment! (2) | Recommend!
Monday. 8.6.07 5:15 pm
Wow, I looked back and read my last entry. It makes absolutely no sense, because I was in a hurry to finish it before Matt walked in and got curious about what I was doing. Pretty much, my Matt-free moments (that are also work-free) are few and far between. Not so good for someone who serious values her alone time.
A few things we have done in the past week:
*Spend a total of two and a half hours at the Department of Licensing (eventually got Matt's Washington Driver's license).
(See Gallery)
*Have a BBQ with my parents, Matt's GF, BFF, BFF's sister, and BFF's cousin.
(See Gallery)
*Have a seriously emo photo shoot at the best local hang out.
(See Gallery)
*Wax Matt's eyebrows.
*Stay up really late surfing the Internet and talking.
*Drive around a lot.
A few things we have not done:
*Make out
*Have sex
*Get tatooed
#3 might change
Comment! (2) | Recommend!
The Adventures of Matt and Heidi
Saturday. 8.4.07 1:46 am
So... wow... Matt has been here just over 24 hours, and I honestly can't tell whether I'm having the best or worst time of my life.
It feels like being married. Only, without the sex. Oh, and without the love. Either we're together, or we know exactly where the other person is. Despite the fact that I am seriously tired, I am waiting up for him. Oh... here he is now. And now we are communicating. Dear God... this is strange.
Comment! (2) | Recommend!
Thursday. 8.2.07 1:28 am
Matt is still not here. Boo.
Yes, he was supposed to be here on Monday, but he loaned his car to a friend, so he is staying in Olympia, WA for a few days. Maybe he will come tomorrow. Maybe Friday. Maybe never.
But that's sort of the kind of guy he is. Always on his own schedule. Hopefully, he matures out of that.
Well, I guess that just means I get more time to clean!
Comment! (3) | Recommend!
Matt is going to be here in four hours
Monday. 7.30.07 5:37 pm
And I am terrified. I knew this situation was all sounding too easy. Then again, I may be freaking out about my chickens before they hatch. I just don't know. But in the past two days, I've heard three things that lead me to think this will not be a smooth ride.
Conversation 1, between me and my mom in the car:
Mom: So, what's Matt going to do for food while he's here?
Me: I'm going to take him grocery shopping when he gets here tomorrow. He said he'd like to buy us some things too, so you might want to make a short list.
Mom: Hmm.
*Meanwhile, I'm thinking about how broke I know Matt is, and how his buying groceries for us could impact the speed at which he is able to move out. PS-- My parents have two major pet peeves in life: people using their computer, and people going in our fridge. I must remember to tell Matt these things.*
Conversation 2, between me and Matt on the phone:
Matt: So I have a question, it's kind of a funny one.
Me: Ok... what's up?
Matt: Well, did I tell you about the bus job?
Me: Bus job?
Matt: Yeah, working on buses, you know, for King County. I'd make like $15 an hour.
Me: (thinking that this is not the job he told me about) No, you didn't tell me about it.
Matt: Well, [the owner of the garage I thought I was going to work for] told me he doesn't have a position anymore. So, I'm going to interview with Metro, but I wanted to kow if you knew of any other jobs in Seattle. I want to make sure I'm covered, just in case.
*Shit. Shit. The only reason I felt ok asking if he could stay with us is I thought he would have a job right away. I knew I shouldn't have believed him. This is the guy, after all, that was trying to sell educational books door-to-door.*
Coversation 3, between my dad and my brother, overheard by me:
Dad: So, buddy, we're going to be having a friend stay at our house for a couple of days. His name is Matt.
Brother: [grunt].
*Shit. Shit. Shit. Shit. Shit. I told my mom he would be with us for a couple of
weeks
!!! Did this message fail to get relayed properly to my dad? or is he just simplifying the information for my brother's sake?? AHHH!!!! I don't want to have to kick Matt out!*
If this were just my house, I wouldn't care how long Matt stayed, or whether he ate my food, or touched my stuff. Actually, I probably would, but it would be easier to set boundaries because it would just be the two of us. But he's staying in my family's house, which means I'm going to have to confront him on behalf of three other people and everyone is going to get pissed at ME!
Am I paranoid? Yes, probably. Am I still right? Definately.
Comment! (1) | Recommend!
Sunday. 7.29.07 9:26 pm
This afternoon, I had the great pleasure of attending a youth performance of Hair.
I was truely moved. Like laughing, crying, bleeding-heart moved. Maybe that's just a little bit of PMS, but I'd like to think it was the brilliant honesty of the musical itself, and the whole-hearted enthusiasm of the young actors. Now I really want to see it again, to see if I can actually figure out the plot.
Speaking of hair, my gorgeous blonde strands are now red.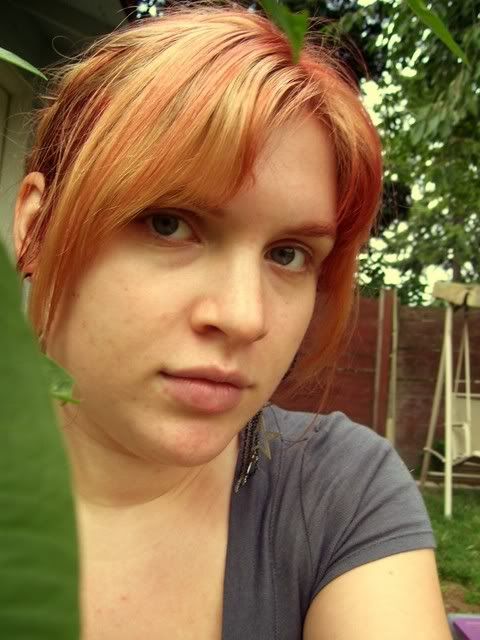 Well, mostly.
Comment! (4) | Recommend!