Lean Cuisine- the new wasted expense!
Thursday. 10.9.08 10:15 am
The latest of Jim's idiocy...
He had his best friend over last night while I was at work. They got KFC for dinner. I told him not to get me anything- I'm too sick for that stuff. I bought myself a lean cuisine meal after work. I spent a whole $2.50 on it. I got home and left it on the counter to stick in the microwave. He comes in the bedroom where I'm sprawled out in pain on the bed (I'll get to that in a minute). He says "who's meal is that on the counter?" Well, duh moron, it's mine. "Well I saved you KFC- potatos and corn" Well I told you not to, I can't eat greasy shit right now. Then he started screaming at me, telling me it was a wasted expense and I needed to take it back. Umm, okay? Are you freaking kidding me? I told him to choke on his spit while he slept and left the room.
Now onto the pain. Oh my god am I sick. I woke up on Monday with a slight tummy ache and thought nothing of it. Thought maybe it was leftovers from drinking on Saturday/Sunday morning. As the day progressed, it turned to cramps and just general yuckiness. By Tuesday morning I was throwing up and could barely move. Yesterday I had my Gyno appointment at 830, and survived that. I was still throwing up and felt like I was going to die. I went to Target to get my birth controll filled and pick up a few things (I'm in love with Target... makes me happy) and I got a pregnancy test to rule out pregnancy. It was negatory, thank fucking god. I laid around for about 2 hours and then went outside and helped store some things for the winter (like Liz's table/chairs, wagon, etc) and still felt crappy. Went to work anyway, because I need the money. I was folding the boys denim wall and doubled over in pain, and ran to the bathroom to throw up. Of course the women's was occupied so I just went in the mens. God I felt like crap the entire night, but I made it. I got home and my back was killing me, so I just laid in bed, and asked Jim to rub my back for me. After our fight he halfheartedly rubbed my back. didn't even help any. It's still a little painful, but whatever.
I woke up this morning with a full out cold. Not just a little stuffiness, I mean I almost can't breathe and my throat hurts a bit. I feel like I'll fall over if someone doesn't prop me against a wall. Argh! I hate being sick, I really do.
At least I better get this out of my system by the 7th =) I'm so thrilled, only 29 more days until I see my love!
At work tonight employees get a free logo shirt. I really hope it's a long sleeved one. I hear it's orange though.. meh. I'm not an orange person, but whatever, it's free! I did end up buying this fabulously adorable shirt last night with MY own money from MY new bank account =) I saw it at a glance and it's just so cutesy I had to get it.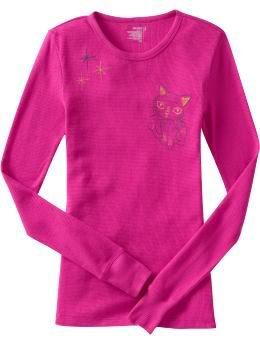 It's a kitty on the one side with stars on the other side. I can't wait to wear it tonight with some jeans and cute sneakers!
I guess I should end this. It got a lot longer than I expected.
Love you babe <3
Comment! (10) | Recommend!
Worst *Fword* Birthday Ever
Tuesday. 10.7.08 9:18 am
No flowers, dinner out, or even a card. We always go out to dinner on my birthday to Uno's. Nope, nothing. He had his MOTHER cook for us. Wow, way to step up to the plate and try to save the marriage that's already gone downhill.
Sorry if I sound selfish, I just think I fucking deserve something for all the shit I endure with him.
One of my friends wants to take me out for a birthday lunch to our fave chinese place today. I told Jim... and I'm not allowed to go. He said "You're already going out tomorrow" Yeah, because going to the gynocologist is a TON of fun in itself. I'm so pissed off. I can't wait to leave his ass
Plus one of my wisdom teeth are popping through, so I'm going to have to have it removed in the near future. And I woke up with a sore throat/stuffy nose. Gah can the beginning of this month get any worse?
af9auda8uijfknadkcnv;j aofuaf
At least there's only a month left until I get to go see my Chris <3. I'm so excited =) Especially since we get to celebrate our birthdays a little late, but together <3 Love you!!!!!
Comment! (2) | Recommend!
Monday. 10.6.08 9:28 am
Hooray, the big 2-2 is finally here! Well, technically not until 2:41 pm, but I'm still 22 now =)
Lizzy let me sleep until 9 this morning. That's a good thing, as I was up until 4 talking to a certain boy that I reallllly like ;) At least we got more of my DC trip figured out in those like, 4 hours we were talking.
I'm dying to see if the husband will do anything for my birthday tonight when he gets off work. Even taking me to some shoddy restaurant will make me remotely happy.
Not to mention, today's the day we've been together 4 years. yeah, he asked me out on my 18th birthday.. he ruined my birthday for eternity!!!
Thhat is all!
Comment! (2) | Recommend!
Sunday. 10.5.08 9:30 am
Brittany ended up throwing a party last night for us. Oh my god I had such a blast. The party started around 830, and I went home around 130. We both got all pretty and I felt glamorous in my heels and pretty sweater and jeans =) I need to break those babies in again so I can wear them in DC, since flip flops are OUT for the winter. Damn
Only one bad thing happened the entire party, and that was leaving my cellphone unattended around a drunk best friend, with access to everyone's numbers... who would she choose to call? Oh but of course, Chris! I came back outside and heard her on the phone and shrieked at her, but she kept talking. *sigh* I think she left a voicemail, but I'm not sure. Next time I'll remember to keep my phone by my side at all times... So.. SORRY!
When it started raining we went in the garage and played darts. I think I did pretty shitty, except my first throw was almost a bullseye. Then it all went downhill, haha
All in all, it was a buttload of fun with a few of my friends =) Not too much of a hangover, except a headache and some nausea. Oh and the dizziness. Pleh.
I have a ton of pictures, but I'll spare you all the gory details and only show a few
my love and I <3 (plus my gorgeous brown sweater!)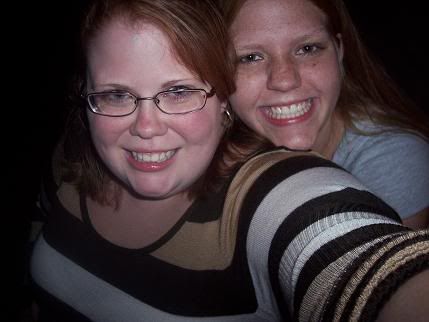 My other friend Chris and I doing jello shots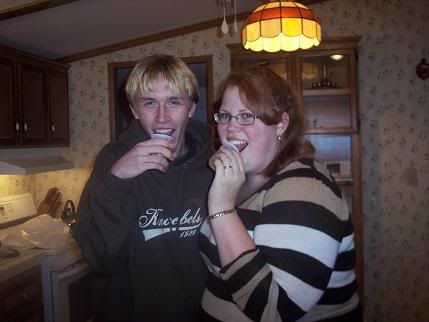 just a random pretty pic of me =)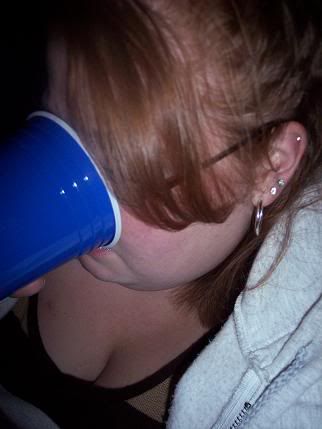 drunk and licking jello off the table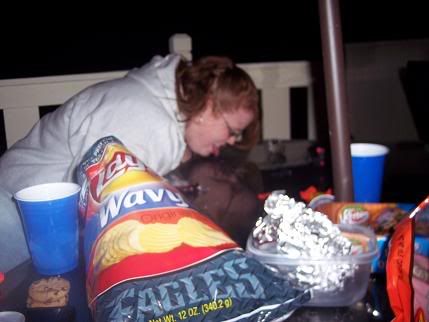 Comment! (4) | Recommend!
Friday. 10.3.08 9:00 am
watching:
The backyardagins
listening to:
David Archuleta- Crush
mood:
so tired
Though he doesn't know it yet... I spent $14.92 on 2 shirts last night, with my own cash (that I had left from my little stash). Old Navy is having a killer deal this weekend, with 1,492 items in the store being only $14.92, or 2 for, etc.
Well employees were allowed to buy 2 items for $14.92 last night. Meaning buy one get one free. I have been eyeing this sweater since it came out. I wanted it. I would just touch it everytime I worked and caress it to my cheek, that's how much I loved it. It was $30. I couldn't justify that, even with my discount. GUess what was on the $14.92 list??? MY SWEATER!!! Meaning I could buy 2 of them for only $14.92!!! I ended up only buying one of them, and another zip up hoodie because I'm a nerd and don't wear coats in the winter- just big sweatshirts. Normal price for both items was $30 each... and instead of paying $60, I paid a measly $15. I'm extatic with my deals, and mostly my new sweater. It feels like cashmere, but it's not. Fine with me =)
I think it's perfect for a date in DC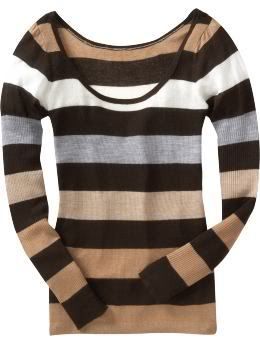 Onto other things.. I went and opend my own account yesterday before I jetted to work. I'm going to talk to the manger tonight and have my paycheck split between the 2 accounts. Even $30 per pay period is better than nothing, and it's a small enough amount that HOPEFULLY he won't figure it out. I was talking to one of my managers last night and I just broke down.. I guess she went through something similar and left her ex when her daughter was just 6 months old. Now she's happily married for 19 years and they have a son together and he legally adopted her daughter. Gives me hope that it's not impossible.
I work again tonight because someone had a wedding to go to, so she gave me her shift. Yay! I haven't really worked with my good friend Jennifer in awhile. Sure we hung out Monday, but working together is more fun in a way because we can incorporate our enjoyable code words =) Maybe I'll do a short grocery shopping after work and pilfer my weekly $25 for my DC trip. Nice thing is now I dont' have to keep my money in a hidden envelope this time, haha. I'll just use my new bank account =)
Saturday I might be going out with a few friends for my birthday. Not sure yet, but we'll see how mother nature goes. I have to go to the OBGYN on Wednesday. Happy late Bday gift to me! Hopefully she'll give me an idea on how to skip mother nature for November. Or at least make it later. I'm sure she can, she's a doctor, and they're good at that stuff =)
Sunday I might possibly be working an overnight shift (from 6pm to 130am) to shift the store around and make room for the new winter collections. I hope I get to, that'd be a nice excuse to sleep late on my birthday, which is Monday =) 3 whole days away. The big 2-2 baby! Makes me sad kind of, but I'm glad to leave my 21st year behind. It was a shitty year to say the least. The only good thing was from Mid July until now <3
Anyhoo I must go. I guess I need a breast reduction because Liz pointed at my boobs and said "they're big and stinky" Thanks kid... you had no problem with them when they fed you for a few months!
Love you muchly Christopher <3
Comment! (9) | Recommend!
Tuesday. 9.30.08 8:49 pm
That we'd have an EXTREMELY huge blowup fight today. It was a long time comming.
What did I get yelled at for this time you may wonder? I bought 2 shirts that cost a total of $12. Wooop de doo. It wouldn't have been so bad if his MOTHER didn't get involved. Yeah, she's standing there yelling at me for 'spending the money when you didn't need that shirt' So that was an enjoyable fight. I keep telling him I want a divorce, but he doesn't believe me. He told me to get out, and I went to take Liz and he said No, she stays here. Sooooooooo sadly I can't leave.
Oh and the kicker? He clipped my debit card. Uhh bastard, that's a joint account. If you're gonna do that give me half, cuz half of the money is mine.
Anyway, other than the fighting nothing's been going on except a high decline in hours at work. I'm going to get a 2nd job. Not sure where or what, but I'm going to. I'm hoping some daytime office job a few days a week to give Liz a daycare experience so she gets interaction with kids her age.
Speaking of Liz and interaction.. the disney store by us closed down a few months ago and they sold everything at a nice clearance. I bought Liz this Giselle doll from the movie Enchanted. This thing is as big as she is, and she found it today buried in her toybox. She's been carying it around all day, feeding it, sharing toys with it, talking to it, and making her dance with her and play with toys. I guess liz has a friend. yeah, it's time for her to make some real people friends lol
Not to mention I was in the bathroom brushing my teeth after dinner when she was running up and down the hall screaming "Super maaaaaaaaaaaaaaaan" and running like crazy. She keeps me giggling all day long, I swear.
And I'm sure if you read Chris's blog you'll know I'm going to DC in 6 weeks. I'm so excited to spend a weekend with him again =) I was cooking dinner tonight when I glanced at the calendar and saw it'd been a month since we'd been together. Plus the douche was playing a sad song and had it cranked up loud, so the tears fell. I couldn't help it. I poured a glass of wine and just sulked for awhile while I made spanish rice.. which of course Jim doesn't like so I had to make a seperate meal for him. I should have just smacked him in the face with the pan (thanks for the idea Chris, I'll be sure to do that next time ;) ) I'm just thrilled and 6 weeks can't fly by fast enough. They did last time, so I'm sure they will this time too <3
Anyway, I guess I should go. Lizzy's ready for bed and I'm ready to relax and veg out in front of the TV or something
Love you so much Chris <3333
Comment! (12) | Recommend!