martes, 16 de febrero, 2009
A couple of weeks ago I attended
the Brooklyn Taco Experiment
. I just
had
to go, on pretense on that awesome title alone. Tacos aren't for everyone, but they are for me!
I had to buy tickets in order to enter the venue to eat over thirty (mini) tacos, but I didn't mind because (1) TACOS and (2) part of the proceeds went to ovarian cancer research -_-
Some tacos were good and some tacos were bad, but it was a fun time and I just wanted to do a taco entry.
23:00
Comment! (4) | Recommend! | Categories: tacos [t], food [t], brooklyn [t]
sábado, 13 de febrero, 2010
It only took almost two months, but I finally got my desktop back! WOW that didn't take a long time AT ALL.
In retrospect, buying a laptop (no matter how busted it was [and is]) definitely slowed down the progress of getting my computer back. A few weeks ago I was finally getting reeeeeeeeally tired of the limited capacity and resources my current laptop provides, and so I finally got around to trying to back up the rest of my files and stuff. Now to partition the HD and
finally
install Linux (my original plan two years ago).
I better go soon, I MUST wash my raggedy hair tonight, for I can't do it tomorrow. (It's Chinese New Year time!)
P.S. Monaaaaaaaaaaaaay
18:04
Comment! (0) | Recommend! | Categories: lunar new year [t], vd [t], computer [t]
domingo, 27 de diciembre, 2009
MY COMPUTER DIED!!!!
I have Vista (yeah, I know) and on Christmas Eve, it just stopped booting properly, so now I'm in the process of backing up my files before doing anything else. Will it be done by the time I wake up? (It's about
500 gigs
1TB worth of data.
Edit
: Decided to back up my second hard drive too... this means sleep for me as it chugs along to the finish line.)
It took a few days, because I had to go out and buy an external hard drive (which was on my computer-related to-buy list) and I was using my busted laptop for my regular scurrilous internet activities, but now I'm finished and can get started. Hopefully, my desktop will be back by New Year's?
02:47
Comment! (0) | Recommend! | Categories: dead [t], computer [t]
domingo, 8 de noviembre, 2009
Yes, well regarding the
previous entry
, I'm amazed at how fast my nails grow, since last week I was able to cut the nail from the top and could dig out the rest of the debris. The cut was was quite deep as opposed to where the nail would originally end... maybe 3mm of the nail bed exposed. My afflicted nail ended up with a very wide "V" shape. And, the only reason I did it was because the nail plate didn't look to be attached to the matrix over the gruesome scene of OMG THERE'S A SCAB IN THE MIDDLE OF THE NAIL BED.
I think because it's damaged, it'll forever be like this... Just right now, I checked out my nail to see how it was doing; I ended up applying a bit of pressure and the keratin LIFTED AWAY FROM THE SKIN. Ugh... just... well, the gross area is actually quite small, and I could always paint the polish over it, and I'll always have a story to gross out all my progeny. Yay?
10:02
Comment! (5) | Recommend! | Categories: gross [t]
Not for the faint of heart
jueves, 8 de octubre, 2009
Gross gross gross gross.
Okay, some kind of material -- I don't even know what it's called, but it's from the metal magnetic clasp of my bag -- somehow dug its way into my nail as I was closing it up. It didn't really hurt at first, but then I kind of squeezed it to see if blood would come and OMG IT HURT LIKE A MOFO!!!!!!!!
So this thing was stuck in there and I thought, "You know, maybe it's blood! Maybe some foreign material ISN'T stuck in nail bed?" I tried to cut away at the nail, but it's hard when IT IS IN THE MIDDLE OF THE NAIL. I went to sleep and when I woke up it still hurt.
The pain came in waves throughout the day, maybe as my nail was growing over it? I don't know. So I decided to take a needle and my smallest nail clippers, rubbed isopropyl alcohol over everything and just slowly chipped away at it. It was basically one long (silent) scream session punctuated by the occasional joy at seeing the material come out bit by bit. After like four hours most of the stuff is out... the important part is that the pain has lessened
considerably
... like 75%. There's no longer any throbbing random pain that happened even if I was just sitting there doing nothing that involved fingers. I think most of the hurting now is just having the bit of nail bed in the open like that.
Sigh. I'm still gonna try to get the rest of the crap out tomorrow. Ugh.
01:55
Comment! (7) | Recommend! | Categories: gross [t]
It's been a long time coming
sábado, 26 de septiembre, 2009
Been pretty busy lately... to those who commented on my last entry: sorry for commenting back so late! Oh and the guy Robert Pattinson is grinding on is the singer Prince! LOL @
Nuttz
, who incorrectly guessed that Prince was in the
Twilight
movies. Though he is a bit eccentric-looking, so I could understand. And there's still Bella's monster fetus to come, so who knows.
So I pretty much think there's some kind of prostitution ring going on down the block from me. I don't have definitive proof; in fact, I have little circumstantial evidence, if that.
Here's what "evidence" I have:
It's a massage parlor.
That doesn't necessarily mean anything, but it's not the greatest vote of confidence. Down the block the other way, a hair salon was recently shut down due to unlicensed massages (and prostitution).


It only serves men.
This might not be entirely true, but the fact of the matter is that they have a middle-aged woman passing fliers or holding a big advertisement, who only targets men. I've walked by dozens of times and nearly half of that she is trying to convince males to get a massage or personally leading them to the door, which is only a few yards away from her "post." The other half of the time, she's just standing there like she's searching (for customers?). Which is all the more suspicious to me because some places explicitly state "women only" (at least, I'm pretty sure they mean women clients only, not women masseuses only?).


It has fishy advertising.
Or lack thereof. The signs basically let you know you can get a massage here, but beyond that? Not much. Other places have a list of types of massages that are offered along with pricing. I mean, I learnt that the main point of businesses are to attract as many customers as possible, UNLESS YOU DON'T WANT TO BECAUSE OF THE PROSTITUTION.
Uhm, that's pretty much it. I haven't been up there personally, so this is all conjecture. Oh and the business is new, it used to be a dental office.
Edit
: Just checked my pps because of the strange, unfamiliar number, and it turned out I got 25pps because I was in the top ten most popular! Huh????
14:17
Comment! (8) | Recommend! | Categories: nyc [t]
lunes, 3 de agosto, 2009
The Sun is Trying to Kill Me
sábado, 27 de junio, 2009
This shirt is kind of perfect for me: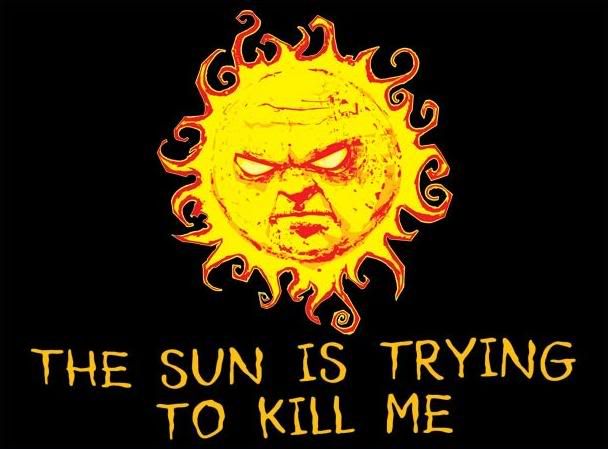 I wouldn't buy it though... it's black! Who wears a black shirt in the sun? Someone with a death wish. And although I know the Sun's trying to kill me, I won't let him have an advantage!
14:00
Comment! (5) | Recommend! | Categories: funny [t], t-shirts [t], die summer die [t]