Sunday, July 8, 2007
I went to see a doctor, correction a doctor not a shrink, today because i was sick for a week: flu and dry throat and higher body temperature last week and my right head is stuff with mucus.
The doctor is killing me. I explained what is wrong with me ... and he kept on asking me what IS wrong with me...
Case 1
Me: I can't open my mouth because I got muscle spasm in my jaw...
Dr. Please open your mouth bigger ... [he puts in an ice cream stick into my mouth]
Case 2
Me: My temperature went a little higher last Thursday or Friday ...
Dr: Do you have any fever?
Case 3
Me: My head is stuff with mucus for the whole morning ...
Dr. You have any flu?
Geez... Correction: I need to see a shrink.
Comment! (5) | Recommend!
Spider spins a dream for ...
Friday, July 6, 2007
My workmate asked me to interpret her dream in Chinese terms... I mean like if you see a black cat jumping on a coffin it means the dead will be risen something like that.
She said her hand was bitten off by a spider and her hand regenerated. She didn't feel pain but was horrified. After telling me this, she asked if I know any significance of these signs. You know what I told her?
YOU SHOULD BUY EMPAT EKOR [Lotto/ 4 digits]
Well you know the Chinese always like buying those 4 digits at those shoddy shops after spotting car number plates that are involved in some accidents ... Well who knows if she was meant to buy 4 D and she could strike but she won't because she's a Malay. I told her she could always count on me to buy. XD.
I was of course just joking.
I even told her that she should think of lengchai [handsome guy] kissing her instead thinking of bugs ...
Well I have dreamed of a shark biting me, as if bugs would hurt me.
Comment! (3) | Recommend!
Thursday. 7.5.07 8:53 am
Yesterday was Heroes Finale in Malaysia. Yea the long awaited finale ...
Guess what? The future caused by Peter exploding has been changed to Nathan taking Peter to explode in outer space. It was sad. Claire was about to shoot Peter but Nathan came in the nick of time and stopped Claire.
Nathan: The future can be changed ... I Love You, Peter
Peter: I Love You too ...
And off they flew. Err ... the I Love U really sound gayish in these 2 guys conversation ...
But I would love to know who is scarier than Sylar. Molly Walker, Linderman's tracker, said there is only one person she cannot track because he doesn't want to be seen. In fact, Molly is afraid of him when she said "He can see me".
Woah .. that blew me off. Imagine someone looking at your direction when you are trying to peep on that person. Oh reminded me of Johan from Monster anime.
Sylar was really stabbed by Hiro just like that: Hiro running into him with a katana and tada he was stabbed and lying on the floor. Huh? But poor Hiro. He got himself travelled to Kensei era??
In short ... When is the second season goin to air in Malaysia???
Oh, I have a few book reviews in my writings section. Haven't really sought it out but feel free to browse.
Comment! (5) | Recommend!
Naruto Spoiler Ch. 360: DIE! SASUKE!!! DIE DIE DIE!!!
Monday. 7.2.07 11:37 am
I was mad all morning. No idea why. Maybe it's because I didn't have a good night sleep. All night long I could hear my stomach rumbling. No idea why. Maybe ate too much ice cream yesterday.
But you know what? I got almost so happy when reading Naruto chapter 360, where Deidara is showing his best artwork. And I almost went BANZAI in the office because I seriously want to see Sasuke dies and then I somehow read a part where Sasuke's being dissolved like iodine evaporating ...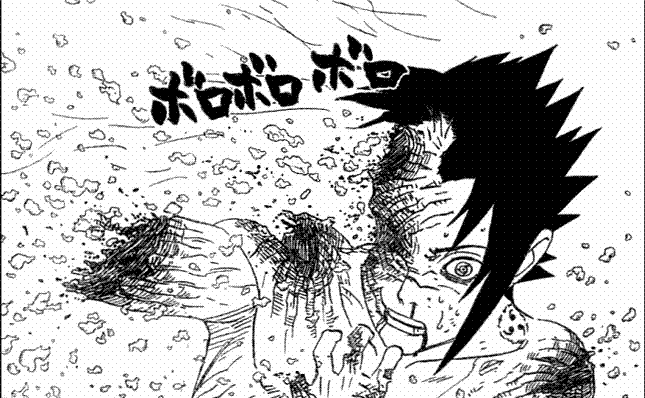 And I went YES YES YES with my right hand in a ball of fist and repeating Yes Yes in my head and heart. Deep inside my heart, it says "Don't be happy too soon" ...
Right how true it is. When Deidara went "HAHAHA... Victory is Mine" the cocky kid appeared behind Deidara ... my heart went on a roller coaster. In this fight, I really want to see Deidara winning. I really thought Deidara is going to be busted for good this time ...
and then TADA ... Deidara is alive!!!!!! Yes yes yes .... YES YES YES!!!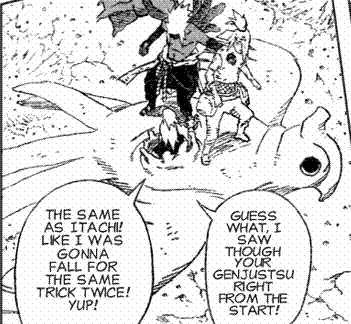 DEIDARA !!! GO AND KICK SASUKE'S A** FOR GOOD!!!!!
Comment! (2) | Recommend!
Sunday, July 1, 2007
i met up my sister's friend yesterday and ... my god... a devil. he just loves talking - it's not like i'm not talkative as well but i talk with sense- and he doesn't have senses... he just makes joke out of everything. my sister said he seemed to be trying to impress me. yea i think so too because he kept on showing me his grin while we were talking and i just think he's trying to hard. no point... i don't flirt and i feel like telling him he should cosplay as a vampire because he has a potential mouth with a set of vampire teeth but too bad he's not tall and doesn't fit the requirements ... like tall, fair and handsome. he's just the opposite. i think my sister will be laughing her head off if she's read this. and i'm sure she did.
he said being able to see ghost/ spirits is a gift of god and god amongs god. i think he said something like that. being able to see them, i don't think it's a gift but an ability. when i was younger, i was very afraid of being exposed to them. imagine, they disturb you when you are trying to sleep. they know you were not asleep so they would make all kinds of noise to scare you. i ran out of the room and lied to my mum that i felt like waking up early every morning. they even did that to me when i shared room with my mum. i thought they won't dare to do so. how wrong was i. but hey he sang me to sleep ...
my mum didn't understand why i didn't like her always going out for her activities every night because i was scared to be alone at home. i have always felt something at home. i turned on all the lights at home but i still feel something wrong. i turned on the tv to have some noise at home .. oh radio doesn't work. i could not share this with them because mum said "the more I said, the more I get scared." see who's talking.
sometimes, i saw shadows not mine in the house, doorways, school, etc. worse thing is my own house, my shelter, my protection. but it turned out to be the worse place i want to be alone. i feel more stressful when i was at home, alone.
they talked to me when i was 4-5 years old. they talked to me in my head ... and a guy visited me. strange. i saw him again many years ago. oh i only see shadows ... not their face.
though i can't see them anymore, i could feel their presence whether i like it or not. i can feel if 'someone' is there or watching me. they don't talk to me now. but i could see them with remote viewing. err... don't want to relive what i saw during college.
is it a gift or a curse or a god among gods? this, i need to press god for an answer. if i want to be god among gods, then please grant me powers as Sylar from Heroes has minusing eating brains.
Comment! (2) | Recommend!
Friday, June 29, 2007
Miss Paris Hilton's handsome face has been splashing all media as the cover page since her jail released. Even Mix fm deejays were talking about her and commenting how life is so unfair - someone been driving with suspended license but yet she got more famous because of her mischief? And I read somewhere that she could get $1 million from a TV station if she lets them to be the first media to interview her after her released.
A picture of her released in the Utusan actually got me thinking about her. A picture was showing an Asian man full with emotions - happy mixed with relieve like someone he has missed so much just show up-was recording her walking down the invisible aisle in front of him. There was even a broad smile on his face. And yea, hands flying up into the air just to show support to Hilton. But his expression caught my breathe in the throat.
Why would a person show such expression for a spoiled rich brat who got everything she wanted with a snap of a finger? Why for a person who admitted that "she pretended to be dumb" but later she realised "it was not cute to be 'dumb'". Why her? Why for a person who committed some stupid offense? Because she's "cute and dumb" or beautiful or what?
I cannot understand that person's expression.
And then I don't know why suddenly my inner self just strike the idea what if she's some kind of champion for human's happiness? Like humanitarian or environment. What if she was released because her actions fighting for people's happiness was recognized?
What would be my reaction? Would I like her? Would I respect her from the bottom of my heart? Would that guy give the same expression?
I don't know.
But I'm sure she would be loved and treasured by all if she's just like what my inner self thought.
Comment! (3) | Recommend!