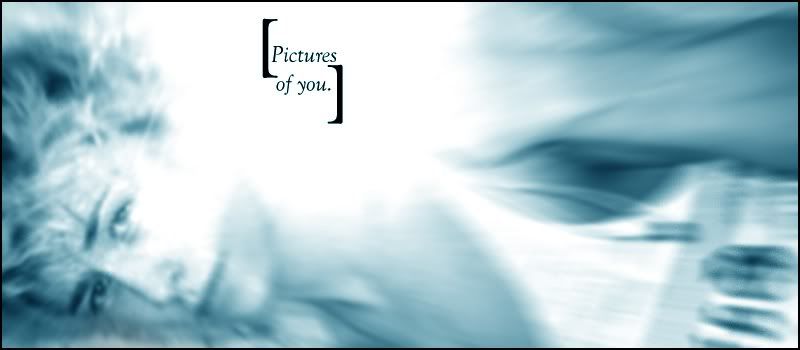 Spring Semester 2010:

* Teaching: Fundamentals of Microbiology - MW 12:00-2:40p
Medical Microbiology - TR 2:00-3:15p
Colloquium in Cell and Molecular Biology - R 3:30-4:30p
Thesis Research - Identification of T Cell Subsets and Immune Response in Colon Cancer Using Immunofluorescence - FOREVER AND EVER

Or rather, entries from the old journal, as it were...

-

An open letter to the College.

(August 27, 2006)

-

Untitled.

(July 16, 2006)

-

Haunted (Part One)

(May 29, 2006)

-

Are we growing up, or just going down?

(May 3, 2006)

-

I had a dream...

(March 19, 2006)

-

...

(March 14, 2006)

-

Enjoy it while it lasts.

(September 12, 2005)

-

Scene: 3:27 AM.

(September 3, 2005)

-

Untitled.

(July 26, 2005)

Psst... if you're looking for the academic writings I used to have here, head to my Reading Room.

Since June 2006...

- A Heartbreaking Work of Staggering Genius by Dave Eggers
- High Fidelity by Nick Hornby
- Travesties by Tom Stoppard
- The Way of the Shaman by Michael Harner
- The Tao of Pooh by Benjamin Hoff
- Nervous Conditions by Tsitsi Dangarembga
- The History Boys by Alan Bennett
- The Dark Child by Camara Laye
- Movie-Made America by Robert Sklar
- Diary by Chuck Palahniuk
- Rant: An Oral Biography of Buster Casey by Chuck Palahniuk
- Galapagos by Kurt Vonnegut
- The Dead Emcee Scrolls by Saul Williams [61.3%]
- Atonement by Ian McEwan
- Junk Science: An Overdue Indictment of Government, Industry, and Faith Groups that Twist Science for Their Own Gain by Dan Agin, Ph.D. [64.4%]
- So Yesterday by Scott Westerfield
- Lucky Wander Boy by D.B. Weiss
- The Things They Carried by Tim O'Brien
- Doctor Who: The Key to Time: A Year-by-Year Record by Peter Haining
- Why Buffy Matters: The Art of Buffy the Vampire Slayer by Rhonda Wilcox
- When You Are Engulfed in Flames by David Sedaris
- The Road by Cormac McCarthy
- 1984 by George Orwell [18.8%]
- Nick and Norah's Infinite Playlist by Rachel Cohn and David Levithan
- Intuition by Allegra Goodman
- V for Vendetta by Alan Moore and David Lloyd (Yes, I realize it's a graphic novel but it still fucking counts!)

Monday, April 20, 2009 @ 12:09 am

Cleaning my apartment has become such a gargantuan task that not even a whole weekend was enough to square everything away. I shit you not: I have been putting this off for like a month. Alright, that makes me sound like a giant slob, and I promise to any potential suitors that I am normally not. Well, not anymore. (Nothing really compares to that kiwi incident sophomore year in undergrad, does it

Z

?) But lately--and by lately, I mean in the last year or so--I've become pretty anal about cleaning. But hey, sometimes life gets in the way, and when your home becomes pretty much a place to sleep when you're not in class/in lab/out illegally drinking by a bonfire at the beach, then keeping it clean goes by the wayside a little.

I did manage to get a lot done, though, I swear. I haven't seen this much floor in months, and I actually managed to get most of my laundry done before running out of quarters. And not only did I wash everything (bedsheets included!), I also folded everything and even ironed out my shirts. (And let me tell you--ironing is a bitch!) I also put everything away in their proper places (rather than in a pile by my bed) and I got started on the kitchen (in which I have not cooked in nearly a month). So all in all, I'm making good progress. By the end of the week, I should have a presentable place again... I'm even planning to break out the vacuum eventually! Then when next week rolls around (Week of Hell #9389583), I won't have any excuse to not do all my work.

The goal here is to have my apartment ready for the end of the semester... I think I want to throw a party to celebrate the end of my first year of graduate school. Alright, that's what I'm going to

call

it, but really it's just a thinly-veiled excuse to get Nick in my apartment with a bunch of alcohol, haha.

Since I tend to get really bored of doing any one task for long periods of time, I even got myself to get ahead on my school work. Normally, by this time, I would just be beginning to read the stuff assigned for my class tomorrow... but I got that done. Reading review articles on the molecular pathology of Alzheimer's disease? Check, bitches. And I discovered a great way to get through those very dense papers, too! Today was an absolutely beautiful day: sunny, warm, gentle breeze blowing... too beautiful to spend it all cooped up indoors. So what I did was I broke out some beer (alright, a whole six-pack) and sat on my balcony while reading the articles. And you know what? It was great. I got buzzed fairly quickly because I haven't had time to do the groceries and thus haven't eaten all day, save for a couple slices of stale bread. (Breakfast/lunch/dinner of champions!) Plus, I understood everything I read, so I found that balance between being comfortably buzzed and still being able comprehend everything. It made the paper-reading a lot more manageable.

Also got a ton of grading done. It's that time of the semester when there are all sorts of assignments for my micro students, which of course means there's a crapload of stuff to grade. A giant checkmark for that shit, too! There was just an insane amount of productivity this weekend, and I don't know where it came from. Maybe I was still hopped up on adrenaline from all the work before. I hope this next week doesn't kill my productivity with its lack of stuff due. I'll just have to keep busy, I guess. Plenty to do.

Alright. I'm going to bed. I think I want to wake up a little early tomorrow to get some more cleaning done and then I'll go off to university for a very long Monday. Monday means class with Nick. I'm looking forward to it.

Holy fuck, this entry was really long and boring. A thousand apologies if you made it this far!

Good fucking night!

P.S. Look what I found on Facebook:

Comment! (1) | Recommend!

Friday, April 17, 2009 @ 8:03 pm

Well, it's been a long, stressful week, but I actually finally have time to breathe a little this weekend before heading back into stress mode. The week has seen me pulling several all nighters... in a row... and let me just say that I can't wait for the semester to end!

But today, at my TA meeting, I felt a twinge of sadness for the semester to end. While everyone was complaining about their classes--and how they do all these things wrong, or how they have criers in the class (you know, the ones who actually physically cry about ANYTHING and EVERYTHING), or how they get impolite e-mails or get bitched out by their students--I sat back silently and smiled. My class this semester has been AWESOME. And I don't know if it's because they respect me as a person and as a teacher, or if it's because I somehow ended up with all the nice kids, but I'm betting it's a combination of both. I hope I'm just as lucky next year with my students.

On the Nick front, I was honestly too busy this week to deal with his Katy Perry "Hot and Cold" bullshit. I still like him, but I still can't tell if he feels the same way. I suppose it will all be revealed at some point... but I'm impatient! I want to knoooooow noooooow! But I guess I'll just have to wait. It's the last month in the semester and I need to power through some shit first, and I guess he does too. Oh, well. Once the work is over for all of us, I'll invite him to Manic Mondays with my crew and we can get our gay on. No excuses.

Comment! (3) | Recommend!

Thursday, April 16, 2009 @ 5:20 am

P.S. These lab reports are going SO... FREAKIN'... SLOWLY. Someone put me out of my misery... or save me from the massive amount of grading I have to do in the next few hours.

Comment! (2) | Recommend!

Bleeding into my other life.

Wednesday, April 15, 2009 @ 9:42 am

I am usually good at keeping my personal life and my professional life (i.e. teaching life) separate, but yesterday when I was writing the quiz, I couldn't resist letting them overlap just a tiny bit. I was making up names of fictional

Streptococcus

species, and named one after myself (

S. basai

), named a few after bands/artists I had been listening to recently (

S. carrabbai, S. ladygagai, S. yeahyeahyeahsi,

and

S. kooksi

), and finally named one after

him

.

The students were smart enough to figure out most of the references, but I had one ask me where

S. camii

came from. With a resigned sigh and with scarcely 2 hours of sleep impairing my judgment, I blurted out that I named it after my "flaky bastardfuck dickface friend" who "probably deserves to have a bacterium named after him."

Way to keep things separate, my man.

The moral of the story: get sleep. It helps with the self-editing process.

Comment! (4) | Recommend!

Monday, April 13, 2009 @ 9:45 pm

My heart hurts. Do you think it exploded inside of me?

Maybe not, but it damn sure tried.

Comment! (3) | Recommend!

Sunday, April 12, 2009 @ 2:16 pm

It is not really a good idea to chug a good portion (3/4) of a bottle of wine until it is empty. It leads to strange things, like rapid intoxication and texting boys you like, which is rarely a good combo.

I swear, if he doesn't know I like him yet, he's a bigger dumbass than I am, hahaha...

Comment! (4) | Recommend!

Saturday, April 11, 2009 @ 10:22 am

I called him up yesterday to invite him to karaoke. At first, he didn't answer, so I left him a message. He called back a little later, saying he'd love to hang out after he did something with his parents in La Jolla. I put on my A-game clothes and headed over to J's house for dinner. Of course I didn't eat much; I never eat anymore. I'm too stressed, too nervous, too excited, too busy to eat.(If you never noticed, take time to marvel at your body's amazing stress responses. Your physiology is pretty awesome.)

Right before we rolled over to the karaoke place, he texted me saying that he was sorry he couldn't make it. But "next time for sure" he'd come out. Of course I was bummed, but this weekend is too full of work to not enjoy myself on a Friday night, so I went anyway. I had an amazing time. Admittedly, it would have been more amazing and more fun if he had come. And I told him that.

What makes me a little scared is that he isn't interested. The signposts point in two opposite directions, and I don't know which one leads me to him. But I'm not going to let it disturb me. I can't. I elect to remain optimistic about everything and not get dragged down by my self-doubts. It's this new thing I'm trying out, and let me tell you: for the most part, it works like a charm. On Monday, when I totally emo'd out to the point of crying, I made a conscious decision that I need to change my attitude towards things like this, or else I'll ALWAYS end up trashed in the end. It doesn't mean that I won't be a little sad or disappointed when things don't go my way... but I need to take control of how I feel in order to make it through intact. There used to be a time when I would completely fall apart after something like this, which admittedly is an overreaction--but it was the only way I knew how to deal. What are these years of experience and supposed-growth for if not to make me a better person?

So. It's a little late in the year for resolutions, but there it is. Four months late and I have something to build towards in my personal life.

Anyway, I told him I'd call him if anything came up tonight. Here's to hoping, and to not breaking down if everything doesn't go out according to my plans!

Comment! (0) | Recommend!

Friday, April 10, 2009 @ 11:34 am

How stupid is it?
I can't talk about it
I gotta sing about it
And make a record of my heart
How stupid is it?
Won't you gimme a minute?
Just come up to me
And say hello to my heart
How stupid is it?
For all I know you want me too
And maybe you just don't know what to do
Or maybe you're scared to say: "I'm falling for you"

I wish I could get my head out of the sand
'Cause I think we'd make a good team
And you would keep my fingernails clean
But that's just a stupid dream that I won't realize
'Cause I can't even look in your eyes without shakin' and I ain't fakin'
I'll bring home the turkey if you bring home the bacon

I'm a lot like you so please--hello, I'm here, I'm waiting
I think I'd be good for you and you'd be good for me

P.S.

The password for the last entry, if you're interested, is "muyguapo" (sans quotation marks).

Comment! (1) | Recommend!