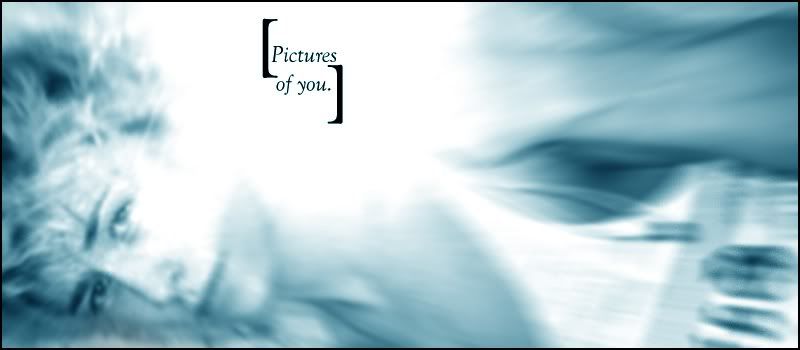 Spring Semester 2010:

* Teaching: Fundamentals of Microbiology - MW 12:00-2:40p
Medical Microbiology - TR 2:00-3:15p
Colloquium in Cell and Molecular Biology - R 3:30-4:30p
Thesis Research - Identification of T Cell Subsets and Immune Response in Colon Cancer Using Immunofluorescence - FOREVER AND EVER

Or rather, entries from the old journal, as it were...

-

An open letter to the College.

(August 27, 2006)

-

Untitled.

(July 16, 2006)

-

Haunted (Part One)

(May 29, 2006)

-

Are we growing up, or just going down?

(May 3, 2006)

-

I had a dream...

(March 19, 2006)

-

...

(March 14, 2006)

-

Enjoy it while it lasts.

(September 12, 2005)

-

Scene: 3:27 AM.

(September 3, 2005)

-

Untitled.

(July 26, 2005)

Psst... if you're looking for the academic writings I used to have here, head to my Reading Room.

Since June 2006...

- A Heartbreaking Work of Staggering Genius by Dave Eggers
- High Fidelity by Nick Hornby
- Travesties by Tom Stoppard
- The Way of the Shaman by Michael Harner
- The Tao of Pooh by Benjamin Hoff
- Nervous Conditions by Tsitsi Dangarembga
- The History Boys by Alan Bennett
- The Dark Child by Camara Laye
- Movie-Made America by Robert Sklar
- Diary by Chuck Palahniuk
- Rant: An Oral Biography of Buster Casey by Chuck Palahniuk
- Galapagos by Kurt Vonnegut
- The Dead Emcee Scrolls by Saul Williams [61.3%]
- Atonement by Ian McEwan
- Junk Science: An Overdue Indictment of Government, Industry, and Faith Groups that Twist Science for Their Own Gain by Dan Agin, Ph.D. [64.4%]
- So Yesterday by Scott Westerfield
- Lucky Wander Boy by D.B. Weiss
- The Things They Carried by Tim O'Brien
- Doctor Who: The Key to Time: A Year-by-Year Record by Peter Haining
- Why Buffy Matters: The Art of Buffy the Vampire Slayer by Rhonda Wilcox
- When You Are Engulfed in Flames by David Sedaris
- The Road by Cormac McCarthy
- 1984 by George Orwell [18.8%]
- Nick and Norah's Infinite Playlist by Rachel Cohn and David Levithan
- Intuition by Allegra Goodman
- V for Vendetta by Alan Moore and David Lloyd (Yes, I realize it's a graphic novel but it still fucking counts!)

Tuesday, April 28, 2009 @ 9:51 am

With regards to a

previous entry

, I guess I emo out too quickly, particularly after drinking (which, by the way, was a nervous reaction induced in me by his presence). There really was no cause for all that alarm and self-doubt. I woke up the very next morning and re-evaluated the events from the night before. Why the hell would he offer to do any of those things if he isn't at least a little bit interested? He's a little awkward, so it's not like he would make that effort to be that sweet to me if he just wanted to be friends. I mean,

I

wouldn't, haha...

LOL, that makes me sound like an asshole.

Whatever. It's time to kick this shit into high gear. Optimism engines engaged; full speed ahead!

I wish I could say the same about all this crap I have to do for classes, though...

Comment! (3) | Recommend!

Monday, April 27, 2009 @ 9:28 pm

First off, that "news" traveled fast through my group of friends. It's actually sort of funny. I saw Wes in the hallway today and he said hey, so I said hey back... and then he started laughing. I go, "Why are you laughing?" The guy goes, "Oh, nothin'," then disappears into his lab.

Nothin'. Right.

Hahaha...

Anyway, it's amazing how even thinking that someone might think you're hot makes you re-evaluate yourself. For the first time in... forever... I looked in the mirror and thought, "Damn, I am cute." And usually, when I say that, I am being over-the-top facetious because I don't really think that. But a few minutes ago, I actually liked what I saw.

I think that shit's crazy!

Comment! (2) | Recommend!

Sunday, April 26, 2009 @ 10:00 pm

This is how rumors get started:

I stopped at a street corner to check a text I received on my phone on my way to my car. Nick pulled up alongside me and rolled his window down. "Do you need a ride somewhere?"

At this point, I'm clearly not inebriated... at least, not to the point where I couldn't drive. So I tell him, "No, I'm just gonna drive back home." So he starts to pull away, but then I think to myself,

You fuckin' retard! Get in the car with him!

So I call out to him, "Nick! Waitwaitwait...!" He stops and goes, "Yeah?" So I ask, "Can you actually take me back to my apartment?" He says sure and I get in.

What I didn't realize, in my tunnel vision at that point in time, was that my friends saw the entire thing. Apparently, they saw me get in and started screaming and whooping and making "Ow-OW!" noises and such...

I didn't hear about this until just about 10 minutes ago. Frickin', great. I'm now the slutty streetcorner boy who gets into black Mustangs with boys who drive fast...

So I'm sure I have a lot of explaining/myth-debunking to do when I get to class on Monday. I'm hoping Sergey doesn't launch into big-mouth mode and say anything about it in class while Nick is RIGHT THERE NEXT TO ME. I would probably die.


I did not sleep with this boy. Yet...

Comment! (5) | Recommend!

Sunday, April 26, 2009 @ 1:07 am

I think he's still a little hung up on Dave.

But he did offer to take me out to get cigs.

But he did take me to see his friends to score a gram.

But he did ask me to go smoke with him.

But I don't know...

I think I just want to sleep.

EDIT:

I have to keep thinking everything's cool.


(Click to enlarge.)

Comment! (1) | Recommend!

Friday, April 24, 2009 @ 6:47 pm

I just had a mini-panic attack in the car. My heart started racing (which isn't hard to do when you're hopped up on pseudophedrine) and I started hyperventilating.

What if I'm wrong? What if he doesn't like me? What if I'm just being silly?

All those thoughts (and more) rushed through my drug-addled brain.

Tomorrow...

OMG.

Tomorrow.

I just might die.

Comment! (2) | Recommend!

Woohoo, no more teaching until fall!

Thursday, April 23, 2009 @ 8:13 pm

We still have class--people need to finish up their oral presentations--and I still have to write them a quiz and grade all of the stuff they turned in... but I don't have to give another lecture for another few months!

Today was an interesting day in class. First, one of my students, Austin, decided to give me a massage in an effort to get some extra credit. I told him no, but he started massaging my shoulders anyway. Alright--he was good at it, I'll admit that--but the entire time I had to keep telling him, "No, Austin. No, Austin. No, Austin. Inappropriate." So he stopped after like 20 seconds. Later in the class, Austin decided to ask me who the big-tittied Asian TA was--because he decided that she had a crush on me. That TA is Jenny. And no, she does not have a crush on me. She's just one of my best friends in the program and we hang out together a lot. She knows that I'm not interested, and I know she isn't either. So again, I had to start with the "No, Austin." That kid, I swear... he's a hoot, but sometimes he gives me a headache.

I also got a round of applause for delivering an impassioned speech about how I don't care if their identifications of the unknown organisms are wrong, as long as they can tell me how they came to their conclusions based on their results. Sometimes, in science, it's more about the process and not the end result. This exercise is an example of that. If they perform all the biochemical and physiological tests correctly, and they interpret those results correctly, but they get the actual identification wrong, it might not be their fault. Some of the tests were acting funky this semester anyway--some looked ambiguous in that they could not tell if the test was positive or negative--so it might be the prep room's fault for preparing shitty media. Of course, they could have screwed up, too--maybe they didn't follow aseptic technique, or maybe they mixed up their media, or... something. But assuming everyone did everything correctly, the results they get are what they get--and the subsequent identifications are logically valid, even if wrong. So I told them this--that it is far more important to cultivate critical thinking skills than to get the "right answer" for this exercise... and so they started clapping. It actually touched my heart.

Another thing that warmed me was that a lot of my kids actually honestly thought I was the best TA they'd had. They were shocked to learn that they could nominate their TA for an Outstanding TA of the Year award--something I probably should have told them... or at least, that the department should have told them--because they would have totally written nomination/recommendation letters for me. That makes me happy because I want to be a professor eventually, so it's nice to know that I don't suck balls at teaching... which was one of my greatest fears at the beginning of the semester.

Anyway, no one ever reads these long entries, so I'm cutting it off now.

Can it be Saturday yet? ;)

Comment! (2) | Recommend!

Wednesday, April 22, 2009 @ 8:46 pm

Jenny told me that Nick feels really bad about flaking out on me every time I called him up to hang out, and that he really wants to make it up to me...

Today after class, he asked me if I was going to Jenny's on Saturday night. I told him that yes, I was. Then he told me to call him on Saturday when I get there. As I walked away from him, I just had to get one last jab in:

"Make sure you actually show up this time, eh?"

I looked over my shoulder and saw him smile.

I am so excited that I feel a little sick. It's my nerves.

Comment! (2) | Recommend!

The Text Message Chronicles, Vol. 2

Tuesday, April 21, 2009 @ 1:43 am

A preface: Halfway through class today, we were taught that there is a mutation in the amino acid sequence of a protein called APP that increases risk for Alzheimer's disease. This mutation is called the Swedish double mutation.

After class, Nick and I were walking together to the elevator when he turned to me with a goofy grin on his face. "You know that mutation? The Swedish double?" I looked him in his twinkling brown eyes, not knowing what he was getting at, and tentatively offered a "Yeah...?"

"It sounds like some sort of sexual act."

I started laughing.

About two hours later, while shopping, I decided, on a whim, to text him:

Careful tonight--no Swedish doubles; I hear they're dangerous!

He promptly texted back:

Lol, ya but only if they're done in a back alley downtown

Dirty boy! Did he just text me some innuendo alluding to the act of double anal penetration?

I replied:

Lol!! Most things done in back alleys are, but sometimes they can be fun

I

really

hope he got the hint...

Comment! (4) | Recommend!