Tuesday. 8.10.10 3:20 pm
This past weekend I visited my fiance at the AFB he's stationed in up in northern Florida. It was great to spend time together and watch him and Khloe bond. They love eachother so much :) I can tell when I watch them play around. I love them both more than anything (except Jesus!). They are my world :)
We mostly hung out as a family with his mom during the day. Friday night Tye and I spent some alone time together. It rained like crazy on Saturday. I saw lightening strike a transformer and it exploded with sparks like fireworks. It was pretty cool! We went to the beach on Sunday and Khloe wasn't digging it. She loves bath time and playing in pools, but I think the waves made her uncomfortable. So Tye's mom played with her up in the sand and Tye and I went swiming. There were little fish swimming around us and he swore he could catch one. It was entertaining watching him trying to catch them with his hands lol. The weather got bad and later on we went to one of his friends house. I watched them all play "geometry wars" on the Wii. It's a crazy game!
I wish I didn't have to go.. I miss him so much already. I could get use to living the life style of an army wife :) Taking care of Khloe while he's in class and making dinner for when he's home. Taking care of my man and our kids sounds like an amazing plan to me. Maybe he'll be stationed in Germany and we'll live over seas. Either way, everyday is an adventure with Tye. There's never a dull moment!
Trivia tonight!!! Top Gun needs to step they're game up! We haven't won first place in a couple of weeks. So, We will be Victorious tonight!!!
Comment! (0) | Recommend!
Wednesday. 8.4.10 6:13 pm
Came home today from visiting my grandmother. I left yesterday afternoon with my mom and Khloe and stayed the night. It's funny to think that it was just us 4 ladies. 4 generations spending time together.
Tomorrow is crazy maddness cleaning time. I will also be packing in the process for a weekend trip out of town to see my love. My mother-in-law, Khloe, and I will be leaving friday morning to see Tyler who isn't too far away, but far enough. It's not a 30 minute trip, but it's not out of state. I can't wait to be in his arms again :).
Had court yesterday morning. Things went well.
Not much of an exciting update... but things have been pretty mellow. Till next time!
Comment! (0) | Recommend!
Sunday. 8.1.10 1:12 pm
Click Meh!
So I randomly saw this video and I thought it was hilarious!
Moving on, today the family is going to a friends house to celebrate his birthday. Plus, I get to see my friends newborn little boy :) Then off to church with my buddy! And, only 5 and 1/2 more days untill i get to see my love :) I can't wait to be back in his arms.
Comment! (2) | Recommend!
Saturday. 7.31.10 9:26 am
I seem to have abandon my friend that has stuck with my all these years. The pen and paper, my dear friend. They've never told me I was wrong or shove multiple opinions in my face, they would just listen. However, it might be better to let go of this way of expressing myself to an extent. I'm learning who's really a true friend and who's just fake. It's probably a little more normal to vent to people then just a peice of paper anyway.
Khloe just fell asleep in her bouncy chair. She's so cute :) She is almost crawling. She's so close it's killing me!! Before I know it she'll be taking her first steps. One thing I've realized I want is another little baby. Not right now, but maybe in the next few years. When khloe's 4 or 5. She can help out with her younger sibling and we can be a family. I can't wait to be a family with Tyler.
We were talking about how much we love eachother last night. I couldn't help but laugh and think of how in the past we giggled on the phone and saying "I love you more!". The endless war of fighting over who's love is greater. Now, 7 years later we're still playing the fight. I know one thing for sure, I totally love him more :)
I might swing by the paintball field I use to work at to say hello to old friends. I would love to play again sometime. It's a good way to relieve stress. Nothing like shooting people when your having a bad day.
La la la... Random
Comment! (2) | Recommend!
Friday. 7.30.10 5:44 pm
So... apparently mother is calling off the wedding because things aren't going her way. She's up my ass about Tyler and being a bitch about everything. All because he is planning on making changes in the army. Maybe she should realize that this is my life and my happiness, and just because she can't control it doesn't mean she can try and make me miserable. She can't control Tylers life and make him do what she wants. She can't make me try to change him because there's something about him she doesn't like. I love him for everything he is and I wouldn't change a single thing in his personality. The good and the bad... I love it all.
My mother has done so much for me. When things got bad she gave me a home and she provides for my me. However, she makes it difficult to look at the good aspects of our relationship. She can't just step back and let me do what I need to do. She has to be involved in everything and know everyones business. Not to mention I was going to make a kick-ass dinner tonight, but she had to ruin that too. I don't know what her deal is... but this has to stop.
Plan B - Elope???
Comment! (0) | Recommend!
Mommy dearest is driving me crazy
Friday. 7.30.10 9:30 am
A week is going to drag on FOREVER. I'm going to wait 7 long days for to 3 days of heaven and happiness. Can't wait :)
Went out to Universal's City Walk with my woman last night. Walked around singing and dancing and talking about random things and such. We met up with another friend a little later to see Inception :D It was my second time seeing it and it was still just as awsome. I think Joseph Gordon Levitt was a little hotter too! Good times.
I'm not sure what's on the schedule today. I need to make some phone calls involving the wedding location. Plus I need to talk to Tyler about the reception... We haven't really made a complete plan yet. This was all so spontanious and we have less than 5 months now to plan a wedding. He's not even here which makes things harder. So, it's up to myself and our mothers... >.< My mom is going to drive me insane. For her, we need to have the all the details yesterday. She's pushing me and rushing me and basiclly telling me what I should do and who will be invited. Funny thing that all the invites are going out to her friends that Tyler and I don't even know >.< This is going to be a difficult process, but when is it ever easy? I know my mom is excited and wants to help plan. However, attemps to calm her down and tell her what I want to do have failed.
I know everything will come together in the end. As long as I'm Tyler's wife at the end of the day my dreams will come true :)
Comment! (0) | Recommend!
Tuesday. 7.27.10 8:06 pm
Ever wish you could go back and change something? Taken a different path in life, or made a different choice in a situation? Told someone you loved them when you had the chance?
I have thought of several moments in my life I would change if I could. Things that I would have done and wouldn't have done. Take things back that I've said or wish I had said something to someone. Dated this person instead of that person. I've screwed up many things in my teenage years. What if I did things different?
After pondering on these written images for a few days it hits me. Who would I be today if I changed something in the past? I am who I am today because of the mistakes and choices I've made. Would I go back and change anything knowing this now? Not a chance :)
I like who I am. Why would I risk changing that by wanting to change the past? I know no one can literally go back and change the past, but why want to? Life is awsome. I am young and still have much more to learn, but I am content with where I am and who I am.
Have no regrets
Comment! (0) | Recommend!
Friday. 7.24.10 5:26 pm
At the request of Randomjunk, here are some pictures of my little girl. She is 8 months today.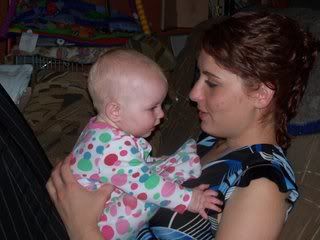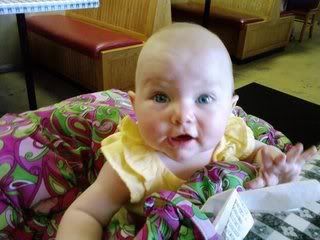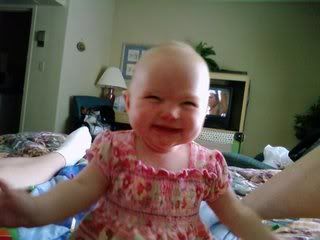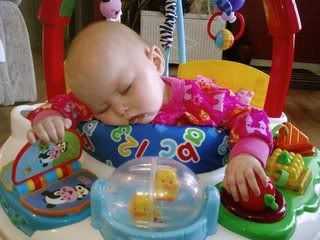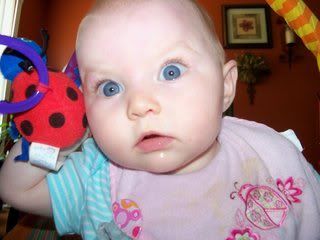 She's so cute :) One thing I find absolutely awsome is Tyler is already a father to her. she says "Dadda!!" all the time. She is usually a little uncomflortable with new people now that she has gotten a little older. However, she took to him with no problems and I can tell she loves him. I love them both with all my heart. We're going to be a kick-ass family :D
Comment! (4) | Recommend!