Wednesday. 10.29.08 11:54 pm
Comment! (0) | Recommend!
Do you want Obama assassinated?
Monday. 10.27.08 11:18 pm
Well, do you? why? Is it because he is black and you are white and are the supreme? What if you were born black and your so called friends who hate blacks would hate you?
Why are you so racist? Why do you think you are better than everyone because you are white? Realistically speaking you ain't white, but more a lighter shade like creme, beige, or otherwise known as caucasian. And black people ain't really black but just different shades of a darker color.
You are a stupid nigger if you think Obama should be assassinated because he's black. Yeah, I said the N word. Yeah, I am white. What are you gonna do about it?
Sometime I feel as if I am surrounded by racist idiots who want to chose stupidity over reality. If you hate people because of the color of one's skin, then, in my humble opinion, you need to be bombed by Al-Quaida. It would serve you right--they hate us because we are Americans. It all boils down to hate.
I hate how stupid and ignorant our country has become. It sickens me. Ugh.
And for you folks who think I am "fucking irritating" then don't read my blog. Use your common sense. If you don't like it here, then don't come here.
Comment! (5) | Recommend!
Sunday. 10.26.08 4:54 pm
Olen uuden kielen opiskeluun, ja halusin vain lähettää vähän jotain sen täältä. Olen ladannut musiikkia ja lauseita osaksi minun soitin ja toivoa oppia tarpeeksi lukemaan ja kirjoittamaan suomeksi ilman kääntäjän pian
Comment! (0) | Recommend!
Friday. 10.24.08 5:30 pm
Renaye sent me a rose!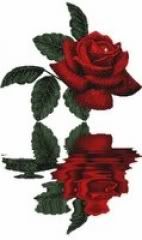 roses are red
leaves are green
girls are like steel
The rules of the award are:
1. The winner can put the logo on her blog.
2. Link the person you received your award from.
3. Nominate at least 7 other blogs.
4. Put links of those blogs on yours
5. Leave a message on the blogs of the girls you've nominated.
Therefore I'm giving the animated rose to:
YoungAtHeart (my mom) http://youngatheart.nutang.com
ATL Music Fan http://atlmuzikfanzinc.nutang.com/
Ikimashokie http://ikimashokie.nutang.com
Chocovani http://chocovani.nutang.com/
Kuri http://kuri.nutang.com/
Cynnie Lee http://cynnielee.nutang.com/
Sylphie http://sylphie.nutang.com/
Comment! (1) | Recommend!
Wednesday. 10.22.08 4:46 pm
Frienship blossomed once upon a time
Blinded to bloody wars ravaging the same garden
We were surrounded by racial divide
Yet it never divided us
It didn't matter that y ou were black
and I am white
What mattered was loyalty, trust, honesty
What mattered was laugher, fun, and joy
I prayed for you when you were suicidal
I hoped for you when you were hopeless
I let you stay with me when you were homeless
I moved away and you stayed
I became who I am and
You became who you are
And to see the divide clearly before us
Friendship ruined by racism
Yeah, you mentioned that I was the only
White friend you had
Yeah, you hinted that you wouldn't have me as a friend
Except for the fact that I was there
When you needed me
You say I changed
I see you have also
What happened to the friendly girl
Where it didn't matter where one was white
and another was black?
What happened to the friendship?
Could you let a little thing like
Skin color change the hue of friendship
Or can I let go of a bitterness that
Threatens to keep me from
Reaching out and becoming another true friend
When you visited, you didn't visit at all
You needed someone to stay with
So you wouldn't have a high hotel bill
Yeah I was busy, but not too busy to
Spend time with a long lost friend
Who was to busy to even notice
Her old friend's distress
You had more important things
Than an old friend who
Hoped for you when you were hopeless
Comment! (6) | Recommend! (2)
Wednesday. 10.22.08 12:15 pm
My ex keeps writing letters to my email, posting replies here, and now has found me on myspace.
Dude, leave me alone. I am not interested in you anymore. You disrespected me and keep on disrespecting me. I don't mind you posting here as long as it is in regards to helping the homeless, but leave ME alone.
I am moving on with my life and am tired of being harassed. I gave you many chances and was very patient with you. I am through being patient. If I have to, I will contact Immigration if you keep on harassing me. Sorry to be so mean, but all I want is to be left alone.
In more clear words
Leave me the fuck alone
Comment!
(1) |
Recommend!
Tuesday. 10.21.08 12:01 pm
Most of yall know that I was on the streets a while back with my mom, and what we overcame together. Anyways, now that we are doing well and have a computer, I told her about Nutang and she wanted to join. So I set up account and just want to invite you all to check her out and give her a warm welcome.
http://youngatheart.nutang.com
yeah, that's my mom.
Comment! (0) | Recommend!
"You are homeless and have lost your right to vote in this election"
Monday. 10.20.08 8:49 am
I saw it on CNN this morning that Republicans are trying to disqualify people who have lost their homes to forclosure from voting. It's in Michigan so if you are from Michigan, and have lost your home due to forclosure, YOU HAVE RIGHTS!
These Republicans who are trying to have you disqualified, in my humble opinion, need to be shot.
The Homeless Network is here just for you. You need to know your rights and there are agencies like Project Connect in Atlanta that will help you secure your right to vote. Just because you are homeless doesn't mean you are no longer American. You still have rights.
It's in the news that people are having to choose from paying their mortgage or food or meds or whatever other major need they have.
First and foremost, you have to have food otherwise you will starve.
You also have to have shelter.
So which do you choose? Living on the streets or having a home but going hungry?
There is help for you. Check out The Homeless Network for shelter directories if you need shelter or check the food pantry directory on the Homeless Resource Page.
Art4TheHomeless is here to give you that helping hand.
Comment! (5) | Recommend!