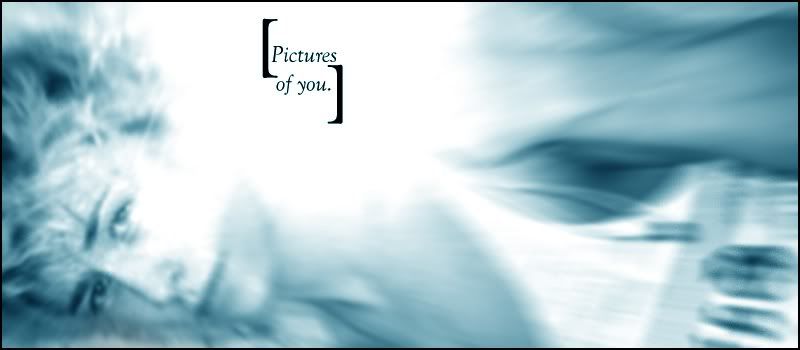 Spring Semester 2010:

* Teaching: Fundamentals of Microbiology - MW 12:00-2:40p
Medical Microbiology - TR 2:00-3:15p
Colloquium in Cell and Molecular Biology - R 3:30-4:30p
Thesis Research - Identification of T Cell Subsets and Immune Response in Colon Cancer Using Immunofluorescence - FOREVER AND EVER

Or rather, entries from the old journal, as it were...

-

An open letter to the College.

(August 27, 2006)

-

Untitled.

(July 16, 2006)

-

Haunted (Part One)

(May 29, 2006)

-

Are we growing up, or just going down?

(May 3, 2006)

-

I had a dream...

(March 19, 2006)

-

...

(March 14, 2006)

-

Enjoy it while it lasts.

(September 12, 2005)

-

Scene: 3:27 AM.

(September 3, 2005)

-

Untitled.

(July 26, 2005)

Psst... if you're looking for the academic writings I used to have here, head to my Reading Room.

Since June 2006...

- A Heartbreaking Work of Staggering Genius by Dave Eggers
- High Fidelity by Nick Hornby
- Travesties by Tom Stoppard
- The Way of the Shaman by Michael Harner
- The Tao of Pooh by Benjamin Hoff
- Nervous Conditions by Tsitsi Dangarembga
- The History Boys by Alan Bennett
- The Dark Child by Camara Laye
- Movie-Made America by Robert Sklar
- Diary by Chuck Palahniuk
- Rant: An Oral Biography of Buster Casey by Chuck Palahniuk
- Galapagos by Kurt Vonnegut
- The Dead Emcee Scrolls by Saul Williams [61.3%]
- Atonement by Ian McEwan
- Junk Science: An Overdue Indictment of Government, Industry, and Faith Groups that Twist Science for Their Own Gain by Dan Agin, Ph.D. [64.4%]
- So Yesterday by Scott Westerfield
- Lucky Wander Boy by D.B. Weiss
- The Things They Carried by Tim O'Brien
- Doctor Who: The Key to Time: A Year-by-Year Record by Peter Haining
- Why Buffy Matters: The Art of Buffy the Vampire Slayer by Rhonda Wilcox
- When You Are Engulfed in Flames by David Sedaris
- The Road by Cormac McCarthy
- 1984 by George Orwell [18.8%]
- Nick and Norah's Infinite Playlist by Rachel Cohn and David Levithan
- Intuition by Allegra Goodman
- V for Vendetta by Alan Moore and David Lloyd (Yes, I realize it's a graphic novel but it still fucking counts!)

Long story short... [EDIT]

Wednesday, May 6, 2009 @ 11:39 pm

...I might be going to Vegas this weekend. With Nicholas in tow.

EDIT:

He can't go, which means my obligation to Jenny (per our agreement) to go is nullified. I would have considered going if I wouldn't have had to drive up to Vegas by myself... Oh, well. I have things to work on anyway. Would've been impossible otherwise.

Comment! (3) | Recommend!

Tuesday, May 5, 2009 @ 7:48 pm

I

finally

got my new laptop. It's not flashy, but it's super-light and fast and powerful and that's what matters to me.

Staying in tonight. I initially invited Nick out tonight, then the plans fell through, and I had to break it to him. He seemed like he was eager to go out even though he had a ton of stuff to do tonight for his part-time job. He thanked me for inviting him and told me that we're

definitely

going to hang out

sometime

this week. (Hopefully more than once.)

Little victories.

Comment! (3) | Recommend!

If it looks like a sombrero...

Tuesday, May 5, 2009 @ 10:02 am

...you're ready to fiesta.

This is advice suitable not only for the proper application of prophylactic devices onto the phallus.

Might go out tonight. It's not like I have anything to do tomorrow, so yeah. Maybe I'll try to get Nicholas to come along.

Oh, Nicholas. Why does every scenario I run in my head inevitably lead to my own heartbreak? Why can't I just enjoy every moment for what it is and try not to let my overactive, over-planning mind ruin it for me? This is how I get into trouble; this is how I hit rock bottom.

An active brain is good for so many things. Love isn't one of them.

Comment! (0) | Recommend!

Monday, you can fall apart...

Monday, May 4, 2009 @ 8:42 am

I feel like I kinda hit rock bottom this past weekend, so there's nowhere to go but up.

It's Monday. It's the start of a new week. I'm going to make this one a great one, and I'm going to make myself the best I can be.

And nothing--not my advisor expressing disappointment at my presentation, not Nicholas acting hot and cold, not the amount of grading I have to do this week--nothing is going to drag me down!

Comment! (3) | Recommend!

Friday, May 1, 2009 @ 5:15 pm

Well, most of it. And I don't want to talk about why right now.

The good: Nick was genuinely concerned about me today. He's bringing me a bottle of vodka; I'm bringing him my liver, and possibly my heart.

EDIT:

Last night was... well it was awesome, up until the end, when I asked Nick for a ride home and he kinda was an asshole about it. I didn't quite know how to react, so after he left I emo'd out (not just about him, but about all the other shit too) and vomited out my insides. There was no way all of that was food; I've been barely eating these days. I'm sure some of that emesis was my heart.

I occasionally stopped breathing while the world was spinning around me. I thought I was going to die. At that moment in time, with all the emotions from the darkest recesses of my mind rushing out and encircling me, I thought that death might be a gift of mercy.

I texted him this morning--against my better judgment--saying I was sorry for putting him in an awkward position like that. He got back to me apologizing that he thought he came off as a bit of a prick, but he had a lot of fun last night. In a fit of naked and brutal honesty, I told him that it kinda caught me off guard and I didn't know how to react to his prickishness. Maybe I shouldn't have done that. I don't know.

My head hurts and I'm going into lab to atone for all of my academic sins.

Comment! (4) | Recommend!

Thursday, April 30, 2009 @ 10:18 pm

Thursday, April 30, 2009 @ 8:08 am

And most definitely not in the good way.

This presentation is going to kill me. Well, I should be more specific. Not the presentation for immunology--that one's fine. I'm talking about this presentation I have for a class that's taught by my advisor.

Did I spend too much time thinking about Nick yesterday... or the entire week so far, for that matter? Maybe. I should have started working on this presentation over the weekend, but I didn't.

And now I'm getting

Swedish doubled

.

Again, most definitely not in the good way.

I just need to make it through tonight without sleeping and then somehow muster enough strength to confidently deliver this talk and I'll be good for the rest of the semester...

The semester most definitely needs to be over.

How else am I supposed to wholeheartedly devote my entire life to the pursuits of knowledge and of love when those have to contend with school work?

Comment! (1) | Recommend!

Wednesday, April 29, 2009 @ 6:41 pm

I had originally set out to ask Nick out for a drink tonight, but I never got the time to do it.

In a strange twist of fate, he called me up and asked what I was doing tonight. The boy invited me to his friend's apartment to "just hang out"... but he hasn't asked his friend if it would be cool yet.

Well played, Nicholas... ;)

EDIT

: Well, the good news is that Nicholas has demonstrated a desire to hang out with me; it's not just a situation (anymore) where the responsibility rests squarely on me to do the inviting. The bad news is that he texted me about an hour and a half ago apologizing that the "plans fell through for 2night, sry if i got ur hopes up." I countered with an invitation to grab a beer with me at the bar next door from my apartment. He hasn't replied back.

I'm a little bummed that I won't be seeing him tonight, but overall, this was very encouraging! It seems to me that maybe his friend wasn't okay that Nick asked me to tag along without asking first. But that's his friend's problem, not Nick's, and

definitely

not mine. I don't care if his friend wants to hang out with me or not; Nick does, and that's all that matters.

Comment! (2) | Recommend!