Saturday. 8.28.10 10:15 am
My mom left the ICU this afternoon. They have her on some medication and are going to monitor the next couple of days.
I hope all goes well..
Comment! (0) | Recommend!
Thursday. 8.26.10 10:34 pm
Mom's in the hospital.. again.
She failed to tell us she's hasn't been feeling well the past couple of weeks, and last night practically blacked out in a bathroom stall at TGI Fridays. She has very low blood pressure and other health problems. And, due to being severly dehydrated from being sick for so long, she "bottomed out" (As we like to call it). We had to call for paramedics to transport her to the hospital. She is fine and hopefully will return home soon. Damn blood pressure x.x Thanks to her mines low too. If I stand up too fast from sitting or laying for a while, I'll black out. Ugh... Gotta love health problems!
Had my make over with my woman :) It was fun!! Not what I expected but, I won a prize! lol It was a little make-up bag. The foundation the gave me made me look pale!!! Other than that you can barely tell I'm wearing make-up lol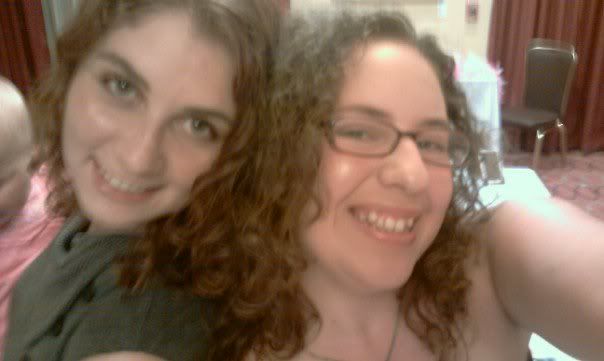 Baby-daddy had a sceduled visitation for this Saturday and canceled... Whatever lol
My love is coming to visit next weekend. He's bringing a friend and were taking him to Disney lol
I was accepted by Disney's "web interview" and have to schdedule an interview at their casting center. Woot!
I think that's about it... yeah
Later Nutangers :)
Comment! (3) | Recommend!
Changing plans, Disney, and FREE MAKEOVER!
Tuesday. 8.24.10 9:09 am
So plans so far have been changing like crazy.
Why wait till November to get legally married? Lets do it ASAP! Tomorrow morning I'm gonna head down to the court house to get Information (and paperwork if possible) to get this party started. I'm excited :) I don't have to move up there right away but we both know Khloe will have medical coverage and Tye will be making a few extra bucks for himself and to save.
In other news, Disney sent me an email saying they were interested in my application!!!!! THANK GOD!!!! This doesn't mean I'm hired but, atleast I've got my foot in the door. I have to do a "Web Interview", and if they like that I get to have an interview with an actual live person. I need this job. If I do I get awsome benefits, more free Disney access, and Seasonal!! When I move up and live with Tye I can switch to seasonal. As long as I work a couple days a year I have the job for as long as I want!
My best friend has invited me to go with her to a Mary Kay party. A consultant is going to be give us and a few other girls free makeovers for her portfolio. This is SO BANGIN!! Shes going to take before make-up and after make-up pictures of us. I've never had a makeover like this before. It's gonna be awsome!! I'm mostly excited about watching how she applies what make-up the right way. lol
I'm turning into such a girl x.x
Comment! (4) | Recommend!
Sunday. 8.22.10 9:20 am
I honestly thought the time we sepent apart would change things. The fact that now I have a daughter would give me a new respect and understanding. I thought things would be better...
My mother refuses to let me grow up. I understand I'm her little girl and stuff.. but this is just getting ridiculous. She has to make all of my disicions for me, and won't let me do anything on my own. I can't change Khloe's diaper in a public restroom without her following me. She will try to change her for me thinking I can't do it. If were going somewhere together in my car and it's raining, she won't let me drive because she doesn't think I'm a good enough driver. Today a friend I havn't seen in a few years wants to hang out. But, I can't see him because my mom is forcing me to go to someones birthday party that I don't even know... Seriously?
After living on my own for a while I found my independance. I've realized that I can stand up for myself and do things on my own now. I have a higher self-esteem and acctually believe in myself for the first time in my life. But, now I'm treated like I'm completely incompetent of anything. I know I'm still young and have a lot to learn, but that doesn't mean I don't know anything. I've grown up a lot in the past year. She doesn't want to see that...
I can't wait to be with my love. I can be free without someone trying to live my life for me. Just me and my family :)
Comment! (2) | Recommend!
Who knew going left field would potentially be this awsome
Friday. 8.20.10 9:22 am
Change of plans....
Tye and I have set the date to get married on December 21st. However, it has become a stress on both families due to the lack of funds. I spoke to Tyes mom last night and she had a plan that sounded awsome! Instead of having a wedding that will not live up to our "dream wedding", let's put the ceremony on hold. We can file the paper work to be legally married and finally live together as a family. Later down the road when everyone is more finacially stable and settled we can start planning a kickass wedding.
Tyes mom also told me she has extra "points" on her time shares that need to be used before the year is out. SO, she's offering to give us a mini honeymoon in December to New York for a few days. We could even stay in the same Hilton hotel next to Time Square we did years ago on a vacation. She offered to get us plane tickets but, Tye wants to make it a road trip. I totally agree. Road trips with him are so much fun!!!
These plans are totally left field... but I really hope they work out. It will still be nice to have a ceremony, but I don't need it now.
Going to pick up my dress Saturday. :) When I first tried dresses on I didn't really get emotional at all. I just knew which dress was "the one" and that's that. But, this time I think it'll be different. I'm not just trying a some show dress that a million other girls have worn, I'm putting on MY dress. The dress I'm going to wear when I marry my love. :) I can't wait.
Comment! (0) | Recommend!
PLEASE tell me this is a joke
Wednesday. 8.18.10 9:07 pm
So... my love told me this evening he's not going to be able to come visit in a few weeks. Which mean's the next time I will see him will be some time in November...
Apparently the army is having a day where they're gathering all of the soilders to have a BBQ and get to know eachother... What?! And, it's manditory?? That doesn't even sound realistic. SO, I'm hoping to God someone is deciding to play a little trick. Whether I'm gullible enough to believe it or not I still havn't decided.. He had me on speaker phone with his friends and they were saying the same thing.
I just highly doubt the army is going to take the time to set up a giant BBQ and, force every soilder to attend the event. All to get everyone to know eachother better... I'm sure the officers and whoever have something better to do on the 4 day weekend.
I'm just praying to God someone is making a retarded joke. If this were all true, it's the stupidest thing ever and a waste of money. Which is why I don't really believe it. So, either the Army is doing something stupid, or Tyler is plotting something...
I guess I'll have to wait and see!
Comment! (4) | Recommend!
Tuesday. 8.17.10 9:21 am
This morning is quiet. Khloe is content playing with her toys and everyone is asleep. The silence makes my thoughts loud and clear. I've been overwhelmed by this unrecognizable feeling. After seeing my love this weekend it impacted both of us. It wasn't a normal good-bye. We were just silently staring at the ground. We're not going to see eachother for another 3 weeks. This isn't how it use to be. I told him "It's funny how when I was afraid to say I love you we were together everyday. But, now that I've told you I love you we're apart.."
I'm falling apart. I need him
Comment! (1) | Recommend!
Monday. 8.16.10 8:02 am
So... This past weekend was crazy.
Saturday morning I got a call from the visitation people telling me baby-daddy decided to randomly show up. He wanted to see Khloe without giving me any warning. I had plans Saturday with Khloe, and I'm not putting my life on hold so he can show up whenever he wants.
I left shortly after the ordeal, and picked up my woman to go swimming at her cousins house. We had a blast! Randomly, that late afternoon and friend decides he wants to go to Disney.
Next thing you know were walking around Magic Kingdom. We all walked around for a while and had fun. At about 10:00 Khloe was drained. So we all raced out of the park before the fireworks started to beat the crowd. At about 10:30 I called Tyler to say hello and talk. I told him about my crazy day and asked him how his went. His response was "Come to Old Town and find out.
What?! I was shocked and at first didn't believe him. When I got to Old Town and there he was. We embraced and shared a kiss. I felt like I was dreaming. We hung out there for a little while, and then shortly parted. He went off with a friend and I went home to put Khloe to bed. I met up with him at his house around 1am. We just chilled and talked. Nothing fancy, just like the old days. We eventually passed out on the living room couch around 4am.
The next day we showed and got ready to head back to my hse. My oldest sister was coming over with her 4 kids to hang out. Tye and I ended up passing out for a few hours. Khloe was occupied with relatives and friends and having a good time. After our nap Tye played with Khloe. It's amazing how she remembers him. She smiles and doesn't mind him holding her. He makes her laugh non-stop when he tickles her and just plays. I love my family :)
Eventually he had to head back to Eglin. It was a difficult depart for us. I already miss him so much... I can't wait untill we are together again :)
We have to stay strong untill then...
Comment! (0) | Recommend!