Sunday. 8.28.05 1:00 am
hrm... apparently my blog seems to be a treasure trove of info for rabid females whu r checking up on pple. not the first time this happen somemore. geez
spent the entire sat day at a broking hse, will incl pictures of my colleagues later. when the mail finally comes thru.
waiting for ages already.. sianz
~*~*~*~*~*~*~
drum roll..... introducing~ my COLLEAGUES~! (btw tied my hair.. neater ya?)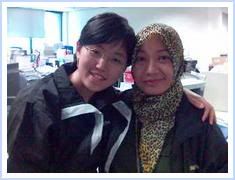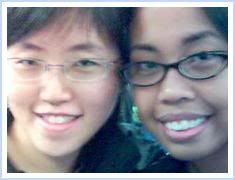 trying to capture his ID pix.. damn big diff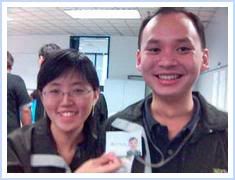 got somemore lah... but i lazy to do liao.. so thats it for now~~
Comment! (3) | Recommend!
Friday. 8.19.05 10:17 am
went GK Goh, now known as CIMB GK, today. was dispatched to the risk management dept to provide IT support for this new system SGX will be implementing to maintain trading and clients accounts.
very trumatized by the questions they asked.
further trumatized by my colleague.
Help~~~~~~~~!
on other news
Your Ideal Relationship is Casual Dating

Maybe you're looking for love...
But mostly you're looking for fun.
You could get serious with the right person.
For now, though, you're enjoying playing the field.
How You Life Your Life

You seem to be straight forward, but you keep a lot inside.

You're laid back and chill, but sometimes you care too much about what others think.

Your friends tend to be a as quirky as you are - which is saying a lot!

Some of your past dreams have disappointed you, but you don't let it get you down.
Your Hidden Talent
You are both very knowledgeable and creative.
You tend to be full of new ideas and potential - big potential.
Ideas like yours could change the world, if you build them.
As long as you don't stop working on your dreams, you'll get there.
Comment! (0) | Recommend!