Thursday, May 26, 2011
My afternoon thus far has been spent watching birds hump things. The title has nothing to do with furries.
Oh baby!
I had a dream the other night that I was standing on one of those floor spots in video games that has spikes moving up and down in it, and the spikes punched through my feet. I could feel the metal, warmed by my bodyheat, sliding through my right foot. It felt like I had been sucking on a spoon... except... in my foot. There was a big hole going through where the spike had been, and I looked at the raw edges of it. I wasn't bleeding, really, but it hurt a lot.
Last night I dreamt I looked into my budgies' cage and saw Starburst. One of the perches was going through her head, where her eye sockets would have been. The sockets weren't big enough, so whoever put the perch through had to really push it, and her head was stretched around the plastic. Besides her body hanging off of it, the perch was pretty normal. This all happened on the first floor of this guy's five story house. While I was getting upset over Starburst the cops came and were arresting him at the party he was having. I don't know what he did.
My dreams lately have been kind of on the disturbing side.
Comment! (4) | Recommend!
Sunday, May 22, 2011
Some of today's
Postsecret
offerings are in code. I figured out that this one
says
"I SPENT TEN
YEARS
WRITING A
BOOK I CAN'T
GET ANYONE
TO READ -
IT'S SORT OF
A 580 PAGE
SUICIDE
NOTE."
Not sure what this one says, since I don't have a smartphone.
Had to look up the Pigpen Cipher for this.
"I'M AN EXPERT AT HIDING THE FACT I MAY HAVE A MENTAL ILLNESS...
I'M RUNNING OUT OF PLACES TO HIDE"
And... I can't read Braille.
Puzzles are fun, even if the secret message is really sad.
Comment! (6) | Recommend!
Saturday, May 21, 2011
Okay, I have closed off my poetry blog to the public. The deadline has passed, and I decided to submit Chronic and an untitled one.
I went to the Maker Faire today. We spent... oh, probably six or seven hours there. Possibly a little more. It was pretty cool! Also, I saw ES Guy there... that was... unexpected. I was standing with my mom and two of my cousins on the grass near the food court area and I heard someone say my name. I looked to the left and... there he was. He introduced me to his friend, whose name I didn't catch, and I introduced him to my mom. My mom introduced herself to him anyway... Guess she didn't hear me say "this is my mom."
It was... kind of weird to see him. Didn't get sucked into a lengthy conversation or anything though, so that was fine. I hope he didn't tell his friend anything to the effect of "oh man she TOTALLY has the hots for me."
There were a lot of steampunk people there. I've never seen so many older people dressed like that. X| It was... kind of strange. Cool, I guess, but just a little odd.
I'm pretty tired, but here are some pictures I've taken over the past... like... month.
Some junk mail people think my mom's name is Ha, so this card came out sounding really sarcastic and full of disdain.
The duck with a ridiculous number of ducklings. There are only... fourteen in this picture, I think, but we counted eighteen total.
I don't think I even need to comment on this.
Why, it's a squirrel!
This was a sign at the Maker Faire. It was next to this ride that's powered by pedaling...
The Tesla stage. Pretty awesome! The show itself was kind of lackluster, because all they did was ask people to stand in the cage while the music played and the lightning uh... danced around. This guy danced though, so that was nice.
I got some nifty armwarmers!
See, I'm making something of an effort to add color to my wardrobe.
Also got this monitor mirror for free from one of the booths.
Here's a closeup...
Now I can see the far corner of my room without turning around! Oh happy day!
My mom and I got our body composition analyzed by some GE machines that were in the Health section. The results paper I got says I need to lose twelve pounds. :/ I'm within the healthy BMI range, but apparently I'm fat. Well, I guess I kind of suspected it. It's sort of depressing to have a medical instrument tell you that, though. -Sigh-
It also told me my minimum daily caloric intake is 1221 calories. So basically I eat too much like, every day. Yay. I feel like a disgusting pig. X|
Comment! (3) | Recommend!
Excerpts from a larger scheme [DP]
Tuesday, May 17, 2011
Monday, May 16, 2011
I've been adding comics to the KtB module lately, in case anybody is excessively bored and wants to kill several hours/days.
I found Beeserker today. Pretty awesome.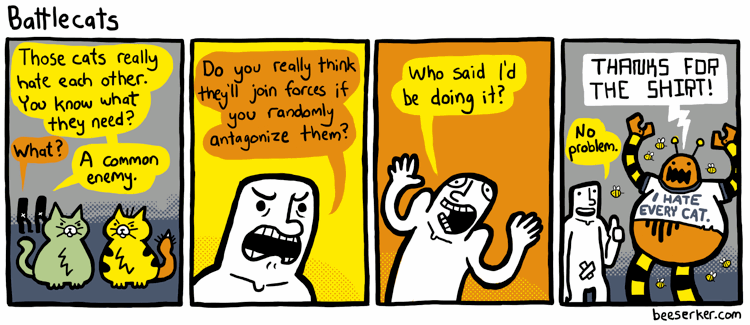 So basically I'm really really enjoying this comic. I recommend it 100%.
Also I had a dream last night that I was molested. Yeah, not too good there. :| It wasn't like, hardcore heavy duty molestation or anything, but it was enough to get me to start screaming in the dream and running away from the dude.
Comment! (4) | Recommend!
Sunday, May 15, 2011
---------------------->
I would still appreciate help from anybody who's willing to look over some of my poetry/writings and tell me which piece(s) they like or give me some constructive criticism. Leave a comment and I'll send you a note with the URL.
<----------------------
Yesterday I was wearing a dress, and we went to this produce market that usually has good deals on stuff. All of the Mexican male employees talked to me... Not in like, a conversation way, but just comments as they walked by. For instance, one guy was mopping or sweeping or something and said "excuse me... thank you" then turned around, grinned at me, and said "SANK YOU!"
So that was weird.
Another one passed by me and waved and said hello. When we left, one looked up (he was bending over and arranging something) and said goodbye.
Nothing really crazy, like they were all hitting on me or anything. I just thought it was interesting since they didn't talk to anybody else near me. Then again, I was just wandering around carrying a bag of zucchini while my mom picked out stuff, so maybe they thought I needed help.
OR MAYBE IT WAS A SUGGESTIVE BAG OF ZUCCHINI, OH HO HO. Gee I sure hope not.
On Thursday I was wearing my yeti hat, and I told ES Guy it was supposed to look like it was eating my head. There was some stuff that was said then that might have involved monsters or cannibalism, and he said "as long as I don't get bitten" or... something like that. I replied "don't worry, biting is reserved for people I know better," with a slight smile on my face.
Oops. I've got a case of the accidental flirting pretty bad. Alice thinks I was being suggestive and implying that I wanted to get to know him better so that I could bite him.
I really hope he didn't interpret it that way.
Comment! (2) | Recommend!
Oh brain, you silly ol' thing
Saturday, May 14, 2011
I had a dream that I was looking at the things people had written in chalk on the underside of some green metal shelves. There was a check taped to one part with the name "Dennis Sawdix" on it. At first I thought it was an odd name, and then I realized what it said and started laughing.
Dreamt a LOT last night. Mostly I just remember incomplete fragments though, so I won't go into detail.
--->--->--->--->--->--->--->--->
I'm still asking for people to look over my poetry! The submission deadline for the literary magazine is May 20th, so it's sort of urgent. Just let me know if you wouldn't mind looking over some things, maybe giving me a few comments, and I'll send you a note with the URL of the page.
If nothing else, I'll probably submit Scene Outside a Beaten Up Red Truck. People seem to like that one. I've just been holding back on doing that because a girl in the literary magazine course was also in my poetry class, and I know she'd recognize the piece if I submitted it. If I submitted other works alongside it, it would identify them all as mine to her, and I would really prefer for nobody to know who the writer is when they're judging my pieces.
Comment! (4) | Recommend!
Wednesday, May 11, 2011
I want to submit something to the school literary magazine, but I'm not sure which pieces would be of any interest. Also, I'd like to get some outside opinions before I make any decisions...
(I work on the literary magazine, but we judge submissions anonymously, so the other students could be totally ruthless when viewing my stuff...)
If you're interested in giving me opinions, let me know in the comments or on AIM or something.
---Edit---
For clarification purposes, I'm asking you to look over some of my poems. I didn't realize how completely vague I was before. X| You can just tell me if you like anything in particular or stuff like that. Nothing complicated.
Comment! (3) | Recommend!