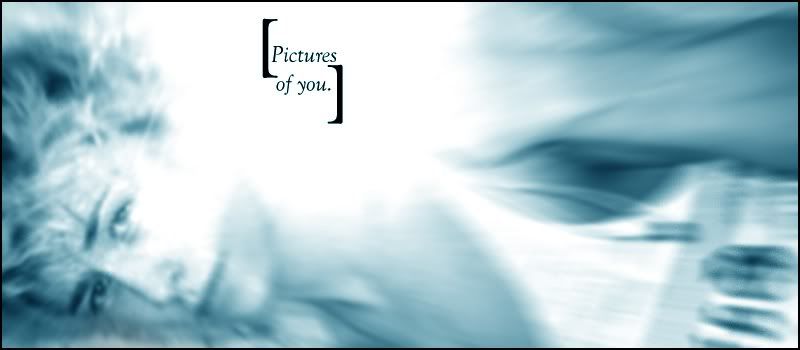 Spring Semester 2010:

* Teaching: Fundamentals of Microbiology - MW 12:00-2:40p
Medical Microbiology - TR 2:00-3:15p
Colloquium in Cell and Molecular Biology - R 3:30-4:30p
Thesis Research - Identification of T Cell Subsets and Immune Response in Colon Cancer Using Immunofluorescence - FOREVER AND EVER

Or rather, entries from the old journal, as it were...

-

An open letter to the College.

(August 27, 2006)

-

Untitled.

(July 16, 2006)

-

Haunted (Part One)

(May 29, 2006)

-

Are we growing up, or just going down?

(May 3, 2006)

-

I had a dream...

(March 19, 2006)

-

...

(March 14, 2006)

-

Enjoy it while it lasts.

(September 12, 2005)

-

Scene: 3:27 AM.

(September 3, 2005)

-

Untitled.

(July 26, 2005)

Psst... if you're looking for the academic writings I used to have here, head to my Reading Room.

Since June 2006...

- A Heartbreaking Work of Staggering Genius by Dave Eggers
- High Fidelity by Nick Hornby
- Travesties by Tom Stoppard
- The Way of the Shaman by Michael Harner
- The Tao of Pooh by Benjamin Hoff
- Nervous Conditions by Tsitsi Dangarembga
- The History Boys by Alan Bennett
- The Dark Child by Camara Laye
- Movie-Made America by Robert Sklar
- Diary by Chuck Palahniuk
- Rant: An Oral Biography of Buster Casey by Chuck Palahniuk
- Galapagos by Kurt Vonnegut
- The Dead Emcee Scrolls by Saul Williams [61.3%]
- Atonement by Ian McEwan
- Junk Science: An Overdue Indictment of Government, Industry, and Faith Groups that Twist Science for Their Own Gain by Dan Agin, Ph.D. [64.4%]
- So Yesterday by Scott Westerfield
- Lucky Wander Boy by D.B. Weiss
- The Things They Carried by Tim O'Brien
- Doctor Who: The Key to Time: A Year-by-Year Record by Peter Haining
- Why Buffy Matters: The Art of Buffy the Vampire Slayer by Rhonda Wilcox
- When You Are Engulfed in Flames by David Sedaris
- The Road by Cormac McCarthy
- 1984 by George Orwell [18.8%]
- Nick and Norah's Infinite Playlist by Rachel Cohn and David Levithan
- Intuition by Allegra Goodman
- V for Vendetta by Alan Moore and David Lloyd (Yes, I realize it's a graphic novel but it still fucking counts!)

Stop me before I do it again. [EDIT]

Thursday, May 14, 2009 @ 1:06 am

Drinking on an empty stomach = texting in Spanish. Also, apparently it increases the likelihood of me using "kid" or "kiddo" as a sign of affection. Take this text, for example:

"Toda esta bien esta vez chico. No te preocupas. Nos vemos eventualmente, quizas manana, quizas un poco despues. Buenas noches kiddo."

WTF was I thinking?

EDIT:

I am unusually hungry this morning. There is nothing satisfying about consuming the vast majority of your caloric content in the form of beer.

Comment! (1) | Recommend!

And yes, once again, another manic Monday...

Monday, May 11, 2009 @ 11:33 pm

Got to school and was in a semi-good mood for once. Jenny came to visit me in my lab earlyish in the day. She told me Nick was talking to her and Wes and then she said she had to leave to see me, and he went, "That guy sent me four texts while I was watching a movie." Oops. I just wanted to know if he was in or out for the test kitchen thing at Jo's in Del Mar. I mean, he did say he'd call me up to confirm his presence or absence... and he never did. And by the way, it wasn't four texts: it was two.

Anyway. I proceed to degenerate into a worse mood upon hearing that, thinking he was a little irate with me. Came into our class late, plopped down next to him (the classroom was pretty full but no one was sitting near him). He said he liked my shirt. I then proceeded to apologize for over-texting him. He then apologized to me for "bailing" on Friday night; he felt

really

bad. I don't know how many more of these "I feel bad. No,

I

feel bad!" moments we can have before giving into an urge to passionately make out.

Well, that was my Nick update. He said he's looking forward to the end of next week so he could spend more time hanging out with me. Take that as you will.

I've actually got shit to do, so I'm cutting this off. Nothing else really happened today anyway.

Comment! (1) | Recommend!

Sunday, May 10, 2009 @ 8:49 am

I'm going shopping today! Damn you clothes-that-are-too-big! I'm SO replacing you!

Even if I have to spend $300 to do so...

Comment! (2) | Recommend!

Something is not right with me...

Saturday, May 9, 2009 @ 8:45 pm

Saturday, May 9, 2009 @ 2:20 pm

I feel like I should apologize to all my friends that I've been burdening with my heavy load of self-confidence issues, especially with regards to how I view myself with Nick. I'm manic and I panic, and I feel like I have to talk about these things even when they don't want to hear about it. I feel some of their patience waning, and I feel myself becoming boring and repetitive because I can't get past this stuff.

No one wants to really hang out with me anymore because of it and so I'm the cause of my own isolation. In situations like that, I desperately send out feelers, but I can't help but notice that all of those feelers relate back to the topic that isolated me in the first place. This entire process makes me feel like I'm a seed trying to root itself in rock. That doesn't really work, does it?

I miss all my Pomona friends because they put up with that shit. They are my soil, my sunshine, my rain, my windbreak. I feel like I can grow strong and tall when I'm around them, but here, I feel like everyone's just waiting for me to fail, just so they don't have to hear about this anymore. Truth be told, I wish I didn't want to talk about it anymore. Fuck, I even wish sometimes that I would fucking fail with some sort of certainty just so I could move on. But I can't help it. These are new feelings, a foreign situation, and of course it had to crop up without my support system. Riding phonelines and e-mail mediated discourse just isn't the same as being able to plop down on someone's couch and spill my guts... possibly while watching something incredibly trashy like

Maury

. But I don't have that now. And I think I may have taken it for granted when I did.

Ugh, I hate myself right now.

So.

Fucking.

Much.

Shit,

I

wouldn't even date me.

Comment! (1) | Recommend!

Saturday, May 9, 2009 @ 11:40 am

I am so fucked over and it's because I can't stop fucking thinking about him and his stupid face.

I just hope it isn't too late or else I'm out a shitload of money.

All mixed up in the wash, hot water bleeding our colors...

Comment! (0) | Recommend!

Friday, May 8, 2009 @ 9:53 am

My entries have been a little one-sided recently, so I thought I'd put some things up about Nick that I find undesirable.

- His hot-n-cold bullshit.

- His bad habit of biting skin around his fingernails.

- His bad habit of taking things out of my hands without asking.

- His romanticism with regards to blow.

- His mumbling voice over the phone.

- His inability to keep up the conversation--over pretty much any medium.

- His surprising ability to switch over from being sweet to being a total dick in like 1 second flat.

Comment! (0) | Recommend!

Friday, May 8, 2009 @ 10:38 pm

Ranor did a great job explaining things and showing how they may be incorporated in our everyday lives. He was always more than willing to help and answer questions. His enthusiasm made coming to class fun. He wasn't like some of the TAs I've had before who treat the students as inferiors. He was eager for us to learn the material.

Honestly, our TA was really great. He was well-informed on almost every topic we discussed. He knew how to relate to his students in a way that allowed us to understand him as well as respect him (but still have a little fun too).

I think Ranor did a good job connecting with the students. He was always very friendly and made the experience of microbiology very enjoyable.

Ranor was a perfect example of what a TA should be like. Ranor was very good at not only presenting the slides through Powerpoint, but he was also very good at explaining the complex material further, so all students could understand it. He was always available to students for questions and concerns. I feel because of him I learned more than I ever thought I would learn in a class like this. (I took this class before and the first time, I was intimidated and almost scared of my TA. With Ranor, he related to the students but was still able to get the materials across clearly.)

He is the best TA I have ever had in all of my science classes.

Ranor was very prepared with pre-lecture slides and explanations of what we were supposed to learn to do in every lab. Ranor was also a hella cool person to teach the class. We laughed every lab and he let us make nicknames (ex. "Rain" haha) for him. How many TAs do that? He also was so good that we didn't know it was his first year until he told us during lab one time.

He connected with the students well and it also seemed as though he has done this before.

Showed that he really cared.

I'm going to miss these kids next semester! My friend Jenny (not wing-woman Jenny--another Jenny) told me that she heard people outside the lab talking about how they hate this part of the semester, especially when they have to say goodbye to a TA they liked so much. I'm getting the warm fuzzies inside!

Hearing things like this from my students further confirms to me that I want to work towards being a professor. I thought about whoring out to industry, and maybe I still will, but I want to be able to teach a class at least once a semester even if I do. I know academic jobs are hard to come by these days, and I'll probably be underpaid for the rest of my life if I stay in academia, but I like doing this. I like that feeling when someone understands something for the first time.

This also gives me a much-needed confidence boost. It's not news I tend to emo-out sometimes, especially when certain boys are concerned. But you know what? I don't need to do that all that much, dammit! I'm an awesome person, I'm good at lots of things, and I don't need to worry about being perfect all the time. I shouldn't need external validation to feel good about myself--especially when it comes to my academic performance and when it comes to Nicholas... but I think until I get to that point (and I'm trying to work towards it dammit!), things like this will help me get by.

:)

Comment! (2) | Recommend!