Lovely Roses for Lovely Ladies
Friday, October 24, 2008
I was recently given a rose by
Serene
.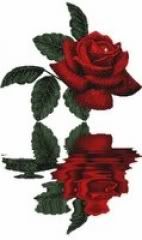 roses are red
leaves are green
girls are like steel
The rules of the award are:
1. The winner can put the logo on her blog.
2. Link the person you received your award from.
3. Nominate at least 7 other blogs.
4. Put links of those blogs on yours
5. Leave a message on the blogs of the girls you've nominated.
Therefore I'm giving the animated rose to:
Jolenesiah
Nuttz
Art4TheHomeless
Alexisng
Katrina
Silver-dot-
Crz4manga
*Sorry this award is only for girls.
Comment! (8) | Recommend!
Monday, October 20, 2008
I wanted to write something but somehow my heart aches too much to replay the incident that I want to transfer into the blog. But I just want to share with you all that don't just dream of something; don't think of "if only"; don't envy other's people's success. Please remember to have faith in yourself and please bring out the courage in yourself to achieve the wonderful dream you have.
Please please don't ever tell yourself "if only you have this and this I will be successful like the others." Rome is not built in a day. Please don't console yourself that other people are successful because they are lucky because luck doesn't come to people who don't take action.
"When you clearly envision the outcome of victory, engrave it upon your heart, and are firmly convinced that you will attain it, your brain makes every effort to realize the mental image you have created. And then, through your unceasing efforts, that victory is finally made a reality." -Daisaku Ikeda-
'If you summon your courage to challenge something, you'll never be left with regret. How sad it is to spend your life wishing, "If only I'd had a little more courage." Whatever the outcome may be, the important thing is to step forward on the path that you believe is right.' -Daisaku Ikeda-
Comment! (14) | Recommend!
McDonald is giving discount
Sunday, October 19, 2008
Weird title huh? Yea but I have been given discounts at McDonald for unknown reasons. It all happened since last Friday. I was craving for some ice cream and I bought McDonald's McFlurry Oreo. It's cost RM5.50 and it should be at least RM5.75 after tax. And surprisingly I was charged RM4.10. I went gaga. I asked the cashier twice about the price and he nodded. Ok fine. I paid. And when I started to feast on my ice cream... I felt something missing... oh well.. I should have known that my McFlurry was lacking oreo bits. The vanilla ice cream 'outcoloured' the oreo bits and thus I was not satisfied of my dessert. So I complaint to the cashier to ask for a refund. The cashier is a very nice guy. Before I could ask for my refund after I told him bout the few bits of oreo, he immediately made a new one for me and he added extra ice cream. But still not enough of oreo bits. Because I have not even finished my ice cream, I just gave that ice cream to my vocal teacher. Thankfully I was still in the same building as her. If not, I would really need to finish two ice cream and that would definitely give me diarrhoea.
So in conclusion, I got 2 McFlurry, which is RM5.50 each, for the price of RM4.10.
That was only the first scenario. The second scenario happened just now after my dinner. My mother and I ordered Chocotop sundae at McDonald. The cashier calculated the total price was RM1.25. I went gag again. I told her that the price was a mistake. How could 2 sundae cost RM1.25? Even a normal sundae costs RM1.20. So the cashier went panic and asked the manager to correct the price. Geez. Maybe I should not have told her the correction. I would then get another big discount for ice creams.
Comment! (12) | Recommend!
Thursday, October 16, 2008
You often hear "If only I have some superpowers." Yea, some superpowers. You think you are a potential member of X-men? Welcome to my world.
Well you see. If you use your precognition to save the world like Hiro in Heroes series, I use mine to buy
empat ekor
(lottery in Malay). Ah. Yes. Very. Accurate. Except I can't see which lotto company to buy from! So I bought a number which I 'saw' at one of the lotto companies and err... the number came out but not from the company I bought. It was another company!!
Gog oh god. Are you telling me to refine my gift?
Comment! (13) | Recommend!
Which floor would you like to go?
Wednesday, October 15, 2008
I find it hard to swallow this truth: Everyone is my friend but I am not everyone's friend. What I mean is I treat everyone as my friend like how you treat your best friend but at certain times I am not treated the same... and sometimes I even feel that I am not even treated as a friend. You could say I'm unhappy because I'm left out in circles and such but that is not the insecurity I feel. I feel disappointed of my own judgment that I thought I could find a friend in you.
Comment! (14) | Recommend!
Tuesday, October 14, 2008
A colleague of mine was telling me that he doesn't like showering in the office because the toilet will 'flood'. Yes, the shower cubicle 'floods' when you turn on the shower high volume and the outlet is just too small for the water to rush down the hole. So what do you do? Just reduce the shower volume right? No? I'm stupid for giving that answer?
I was telling that to my colleague and he's complaining that it won't be fun taking shower then. I got no idea if showering is fun or not but all I was thinking is how to reduce my water usage. I even told my colleague to turn the shower off when you are applying the soap; if not, just reduce the volume. I could tell you he won't be happy with my answer if I told him face to face. But have you ever thought of the future of water in this country?
Comment! (7) | Recommend!