The fabled eight hour workday
Thursday, June 2, 2011
I remember in history class, which I never much liked, we learned about how hard workers fought for the eight hour workday.
Thinking back to that... they used to work what, twelve to sixteen hours? Something like that daily? Probably more, actually? My estimates are probably pretty conservative, and I'm too tired/lazy to open a new tab to Google it.
I'm in a better mood than I was yesterday, but I'm still tired. I've been tired for the past... I dunno, four or five days. For a reason I can't quite identify, I've also had a lingering headache for two or three of those days. Blah.
Today I spent fourteen hours at school. :( My day went thusly:
8:15 - 9:20 AM: Astronomy
-Walked over to the Environmental Science Center while it was drizzling
9:whatever - 12:15 PM: Read my Astronomy textbook until ES Guy showed up, then talked about various things with him. We discussed money and its symbolism and significance in our society, date rape, our respective horoscopes, and books...
-Walked to Oceanography
12:20 - 1:15 PM: Oceanography. We talked about coastlines and watched a beach get built up in a wave tank. It was creepy.
1:20 - 3:05 PM: Anthropology. We had a test today, which asked us to... name family relationships... it had sort of a family tree, with each member designated by a shape (and all the shapes were numbered), and we had to write down how each member was related to Ego, or the point of reference in this case. Apparently we were supposed to write stuff like "cousin" and "mother" and "sister" I guess? I was worried it wasn't supposed to be that easy. X|
3:whatever - 3:50 PM: Spent wandering around, looking up the lyrics for "This Is My Life" by Shirley Bassey, and reading Time magazine in the library.
4 - 10 PM: Optional meeting for the school literary magazine. First we voted on art submissions, then around 6 PM we started wrapping that up and moved to another area on campus to discuss and vote on poetry/fiction/creative nonfiction. Originally I had planned to leave at 8, but... yeah. That didn't happen.
If fourteen hours of being at school makes me this tired, I hate to think of how I would have fared during the industrial revolution.
Considering my heritage though, I doubt I would have been working in a factory. I might have been raising children/taking care of household matters/sewing clothes for extra income... It's possible my feet would have been bound (ew).
Well my life would have sucked either way. Apparently one of my female ancestors, before she moved to Hawaii to be with her arranged husband, had bound feet (they weren't poor, so they could afford to bind the feet of the females) and a number designation rather than a name. She fell into a well and was stuck down there for a few days before she managed to get out. Nobody came looking for her because nobody cared. My dad couldn't remember if someone eventually discovered her and rescued her or if she somehow climbed out despite her physical handicap (pain for beauty...).
That incident is possibly what turned her life around. Once in Hawaii, she was an extremely hard worker. She would make a jacket or other article of clothing every day to bring in an extra twenty five to fifty cents. All her life she was terrified of being sent back to China, so she saved up the money she made so that if her husband ever said they were having financial troubles and that he would have to send her back, she could pull out her stash to show him that things were actually okay and he could keep her there.
Oh, I also found out recently that I'm probably not actually full Cantonese. There's most likely some Mandarin on my mom's side. Of course, I don't care either way, since I dislike China regardless, but it was sort of a surprise since I've been under the impression that I was pure Cantonese my entire life.
So yeah, there's a little peek into my roots.
Comment! (11) | Recommend!
Well, I didn't stab anybody
Tuesday, May 31, 2011
The oceanography test I took today turned out to be less horrifically difficult than I was anticipating. Still, there are answers I'm uncertain about.
After class I discussed some of the questions with Alice. Perhaps a mistake on my part...
When you disagree with her on something academic like this, or even sometimes things that are abstract, she has this way of talking that gives the impression that she's angry at you for being so stupid. It's a mixture of condescension and... impatience, I guess. Like she's impatient with you because you're wasting her time with your stupidity and your ignorance.
I don't think she realizes how she comes off. Sometimes I feel like she sees the world in black and white; that everything is categorized into "I'm right" and "you're wrong." I know it's not like that though. She acknowledges that people have their own opinions, and that varying states of truth and right-ness exist.
Still, her tone implies otherwise.
Perhaps I'm reading into this too much. Regardless, I've faced the same contemptuous, condescending, "this is how things work, I can't believe I have to explain this to you" tone time after time, and I always feel the same way about it.
She uses it when she thinks I don't understand something, or that I'm doing something wrong. For instance, when I said I didn't want my children to play needlessly violent video games, she went on this long tirade about how I'll be depriving them and how they'll be ridiculed at school. The whole time, she assumed I was talking about middle school aged kids, when I meant elementary schoolers. She'll interpret things a certain way and then rant about them, implicitly accusing me of ignorance or naiveté when she decides that my train of thought, as she believes she understands it, is objectionable.
A lot of people who interact with us together remark that it's amazing we can be friends when we're so different. I often wonder myself how it's possible.
On the subject of child rearing:
I don't want to spoil my children, so I don't plan on buying them bunches of things they don't need.
-She interprets this as me treating them like we live in a third world country and depriving them of happiness.
In my own experience, children are easily influenced by media, but are unlikely to realize it. (I almost stabbed my uncle with a fork because I saw Shirley Temple do it to a bad guy in a video) For this reason, I don't want my kids to be exposed to violent video games/movies until they have good enough judgement to not copy behaviors that could really harm someone. (I didn't really understand that certain things would actually hurt people when I was younger)
-She interpreted this as me being overprotective and a helicopter parent, and ranted for a very long time about how I was going to shelter my kids so much that they would be incapable of doing anything... And then I said "ELEMENTARY SCHOOLERS?" and she said "ohhh, I thought you meant like, middle school kids" and laughed.
I know that various factors have contributed to me having a short temper as of late, but I'm really tired of feeling like I'm being talked down to and like my opinion isn't being respected. It feels like we're not just on different pages, but on different pages of different books. I'm frustrated and tired, and sometimes I feel like I'm the only one who has problems with our friendship. It seems like all the good feelings I had towards her last year at this time are just gone, replaced by exhaustion and irritability and a modicum of contempt for what I perceive as shallow materialism. She's starting to stand for all these things I hate, all these things I tried to escape from when I went to New York.
Is the problem just me?
Comment! (2) | Recommend!
Monday, May 30, 2011
Hate hate hate hate hate hate hate hate hate hate HATE IT.
I hate subtropical gyres.
I hate currents.
I hate the fricken Gulf Stream.
AAAAAAAAAAAAAAAAAAAAAAAAGHHHHHHHHHHHHHHHHHHHHHH
I DON'T EVEN NEED TO TAKE THIS CLASS, BUT IT'S TOO LATE TO DROP IT.
Be right back, going to go stab the professor repeatedly in the face.
Comment! (3) | Recommend!
Thursday, May 26, 2011
My afternoon thus far has been spent watching birds hump things. The title has nothing to do with furries.
Oh baby!
I had a dream the other night that I was standing on one of those floor spots in video games that has spikes moving up and down in it, and the spikes punched through my feet. I could feel the metal, warmed by my bodyheat, sliding through my right foot. It felt like I had been sucking on a spoon... except... in my foot. There was a big hole going through where the spike had been, and I looked at the raw edges of it. I wasn't bleeding, really, but it hurt a lot.
Last night I dreamt I looked into my budgies' cage and saw Starburst. One of the perches was going through her head, where her eye sockets would have been. The sockets weren't big enough, so whoever put the perch through had to really push it, and her head was stretched around the plastic. Besides her body hanging off of it, the perch was pretty normal. This all happened on the first floor of this guy's five story house. While I was getting upset over Starburst the cops came and were arresting him at the party he was having. I don't know what he did.
My dreams lately have been kind of on the disturbing side.
Comment! (4) | Recommend!
Sunday, May 22, 2011
Some of today's
Postsecret
offerings are in code. I figured out that this one
says
"I SPENT TEN
YEARS
WRITING A
BOOK I CAN'T
GET ANYONE
TO READ -
IT'S SORT OF
A 580 PAGE
SUICIDE
NOTE."
Not sure what this one says, since I don't have a smartphone.
Had to look up the Pigpen Cipher for this.
"I'M AN EXPERT AT HIDING THE FACT I MAY HAVE A MENTAL ILLNESS...
I'M RUNNING OUT OF PLACES TO HIDE"
And... I can't read Braille.
Puzzles are fun, even if the secret message is really sad.
Comment! (6) | Recommend!
Saturday, May 21, 2011
Okay, I have closed off my poetry blog to the public. The deadline has passed, and I decided to submit Chronic and an untitled one.
I went to the Maker Faire today. We spent... oh, probably six or seven hours there. Possibly a little more. It was pretty cool! Also, I saw ES Guy there... that was... unexpected. I was standing with my mom and two of my cousins on the grass near the food court area and I heard someone say my name. I looked to the left and... there he was. He introduced me to his friend, whose name I didn't catch, and I introduced him to my mom. My mom introduced herself to him anyway... Guess she didn't hear me say "this is my mom."
It was... kind of weird to see him. Didn't get sucked into a lengthy conversation or anything though, so that was fine. I hope he didn't tell his friend anything to the effect of "oh man she TOTALLY has the hots for me."
There were a lot of steampunk people there. I've never seen so many older people dressed like that. X| It was... kind of strange. Cool, I guess, but just a little odd.
I'm pretty tired, but here are some pictures I've taken over the past... like... month.
Some junk mail people think my mom's name is Ha, so this card came out sounding really sarcastic and full of disdain.
The duck with a ridiculous number of ducklings. There are only... fourteen in this picture, I think, but we counted eighteen total.
I don't think I even need to comment on this.
Why, it's a squirrel!
This was a sign at the Maker Faire. It was next to this ride that's powered by pedaling...
The Tesla stage. Pretty awesome! The show itself was kind of lackluster, because all they did was ask people to stand in the cage while the music played and the lightning uh... danced around. This guy danced though, so that was nice.
I got some nifty armwarmers!
See, I'm making something of an effort to add color to my wardrobe.
Also got this monitor mirror for free from one of the booths.
Here's a closeup...
Now I can see the far corner of my room without turning around! Oh happy day!
My mom and I got our body composition analyzed by some GE machines that were in the Health section. The results paper I got says I need to lose twelve pounds. :/ I'm within the healthy BMI range, but apparently I'm fat. Well, I guess I kind of suspected it. It's sort of depressing to have a medical instrument tell you that, though. -Sigh-
It also told me my minimum daily caloric intake is 1221 calories. So basically I eat too much like, every day. Yay. I feel like a disgusting pig. X|
Comment! (3) | Recommend!
Excerpts from a larger scheme [DP]
Tuesday, May 17, 2011
Monday, May 16, 2011
I've been adding comics to the KtB module lately, in case anybody is excessively bored and wants to kill several hours/days.
I found Beeserker today. Pretty awesome.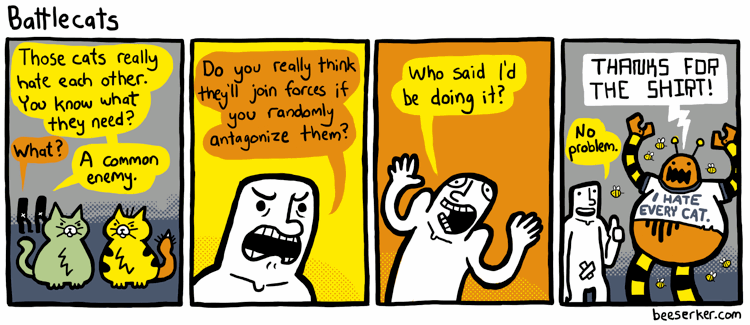 So basically I'm really really enjoying this comic. I recommend it 100%.
Also I had a dream last night that I was molested. Yeah, not too good there. :| It wasn't like, hardcore heavy duty molestation or anything, but it was enough to get me to start screaming in the dream and running away from the dude.
Comment! (4) | Recommend!