Out of the blue I decided to join
nanowrimo
. I can't wait to reach 50k words. I'm trying to write a horror story but somehow I'm now writing something funny calling Tomohisa Yamashita (a very popular Japanese artist and singer from NEWS an Johny Entertainment) an ugly duckling. Yes it's indeed a horrifying insult name!
Anyway, do you guy have any terrifying, horrifying or spooky experience? Like have you met any supernatural incident before?
Please share with me!
Comment! (7) | Recommend!
Nothing much to be happy about but I'm feeling happy today to be able to meet up with friends and enoy food with them. I was able to meet up 3 of my friends within today. And yay! We got to eat food!!
The only thing somehow that can satisfy me is food!
Comment! (7) | Recommend!
Success and Failure in Life is all determined by ATTITUDE.
Comment! (18) | Recommend!
Lovely Roses for Lovely Ladies
I was recently given a rose by
Serene
.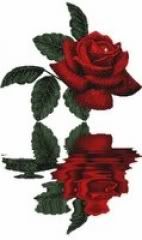 roses are red
leaves are green
girls are like steel
The rules of the award are:
1. The winner can put the logo on her blog.
2. Link the person you received your award from.
3. Nominate at least 7 other blogs.
4. Put links of those blogs on yours
5. Leave a message on the blogs of the girls you've nominated.
Therefore I'm giving the animated rose to:
Jolenesiah
Nuttz
Art4TheHomeless
Alexisng
Katrina
Silver-dot-
Crz4manga
*Sorry this award is only for girls.
Comment! (8) | Recommend!
I wanted to write something but somehow my heart aches too much to replay the incident that I want to transfer into the blog. But I just want to share with you all that don't just dream of something; don't think of "if only"; don't envy other's people's success. Please remember to have faith in yourself and please bring out the courage in yourself to achieve the wonderful dream you have.
Please please don't ever tell yourself "if only you have this and this I will be successful like the others." Rome is not built in a day. Please don't console yourself that other people are successful because they are lucky because luck doesn't come to people who don't take action.
"When you clearly envision the outcome of victory, engrave it upon your heart, and are firmly convinced that you will attain it, your brain makes every effort to realize the mental image you have created. And then, through your unceasing efforts, that victory is finally made a reality." -Daisaku Ikeda-
'If you summon your courage to challenge something, you'll never be left with regret. How sad it is to spend your life wishing, "If only I'd had a little more courage." Whatever the outcome may be, the important thing is to step forward on the path that you believe is right.' -Daisaku Ikeda-
Comment! (14) | Recommend!