Sunday. 1.24.16 12:48 pm
Those FB quotes ring some truth. As I get older, I prefer staying at home than spending the night outside. I just want my sleep and some quiet night to rest my mind.
Like today, I am spending my night watching One Punch Man. The internet is not lagging at midnight, yay!
Comment! (0) | Recommend!
Monday. 1.18.16 7:32 am
Cough sucks. I am not able to eat anything cold.
It's been a long time I had a cold. This is all because I didn't manage to keep myself hydrated last weekend. I should have just ordered lots of mineral water to quench myself but I was afraid of finding toilet.
Aww...
Dilemma = making myself sick.
Geez.
I went to see 3 doctors earlier and my condition was not even improved. And then I visited my usual doctor and my cough had lessen so much with just one dose! I could further heal not until I accidentally drank chicken broth. Ahhh.. there goes my medicine!
And now luckily mum has the medicine I need to strengthen my lungs. I better recover soon because Chinese New Year is just around the corner!
Comment! (0) | Recommend!
Monday. 1.4.16 7:12 pm
It's a sad movie. The Werewolf Boy, a Korean movie. Simple romance plot with believable acting and right shooting angles. Because of that I find it one of the best movies I have ever seen. Spoilers ahead.
It's about a boy mutated into a werewolf due to some crazy scientist's dream. When the scientist died, his house was rented out to a single-parent family who found the boy.They took care of him and the eldest daughter trained him like a dog due to his display characteristic of a dog. Later, she taught him writing and others.
Other viewers said it's a romance movie. Could be. Looking from other perspectives, it could also be friendship. The eldest daughter doesn't have any friends because she is home-schooled and also she is bored. So when she sees the boy who is of her age, she could be wanting a friend in him, hence the teaching and playing moments together.
She knew he could morph and that is why she kept saying 'Wait' to him at the ending. I can't imagine the alternative ending if he had just waited and not act on instinct.
The crying of both was so heart-wrenching that made me and other views cried. Seriously. I used my sleeve to wipe the tears.
The ending is also heart-wrenching. I was so hoping there could be more scene on them both. Damn, the director leaves that to our imagination. But if we wanna play in our mind, I believe the girl would visit him again or may not.
Damn, replaying the whole movie makes me cry again.
SOB
Comment! (0) | Recommend!
Saturday. 1.2.16 1:25 am
Thursday. 12.31.15 9:51 am
I was kinda down and feeling a little lost these few days. And I made an appointment with a shaman to explore my feelings.
As we were chatting, she was conveying the message that I am not lost. I know what I want to do but I somehow got distracted by other voices. That's why I was down. I suddenly consider the things I wanna do for next year. I suddenly compare my achievements with others and suddenly feel my achievements were not as great as them. As I am typing this, my head is summarising it as 'taking others' beliefs as mine.' I could not agree more. Whenever we try to compare ourselves to others, we are shedding ourselves - we become less of ourselves. If it's positive values, then it's a good thing. But if it's about comparing what I did and what you did and what I did is better than yours, then don't absorb that. That's belittling yourself. Especially if you have been trying to get things done bit by bit.
For a start, acknowledge all the things you have done for the year or in your whole life. And then come up with a plan of what you want to do for the next year. As I mentioned previously in my post, try working backwards. Come up with a plan of activities that you need to do in order to achieve the bigger plan. This is more practical.
I am actually kinda shock when she said 'I can see so much clarity when I am talking to you, you are not lost.' I was expecting she is gonna say I am some kind of lost soul and I was hoping she would just whip me into some meditation to find back my path, after all our session is called Explore Your Path.
And she kept saying 'Be patient'. She added that each individual has different pace of doing things let alone achieving things. Just so I don't be distracted by others.
I have strong guides that are guiding me. It reminds me on articles that sometimes when our heart gives us ideas or simply a thought... they come from our guides. Don't heed them but you are free to decline the ideas. They are gifts not burden.
My friend's words "you can do wonders in a year". I compared mine to hers and I feel threatened. I lied if I said I didn't. It's true in a way I was not threaten when she said of the millions and the assets she had. But I compared myself with her and that's a dishonor to myself. I didn't sit and watch FB all day, although I did on some days, and didn't do anything to improve my life. I am trying to do it everyday. I tried my best in 2015.
2016 is coming in a few more minutes.
I shall just be myself. I shall just continue doing my things. What I am gonna do differently is to observe other's good habit and incorporate to mine. The world is huge. There's a lot of things out there for us to grab. It's enough for all of us, just not our greed.
I shall make my mark in this world too. In my own way. At my own pace. No one can take away the things I want to do. Only my mind can distract.
The shaman continued to say 'life is a journey.' Things happened for a reason. Keep doing the things I want to do and I will be at my destination.
Go on, renaye. Fear is just an illusion. Fear cannot control me if I don't allow it.
God bless us all the while.
Happy New Year, peeps.
Comment! (0) | Recommend!
Monday. 12.28.15 12:40 am
Well I finished watching one of Yamapi's series titled From 5 to 9. Yes, I am gonna talk about it again..
Yamapi is so handsome in the series... please look at me... bwahha.. What I am attracted the most is his hair as a monk. Very nice and stylish. If only my hair can stay nicely like that too.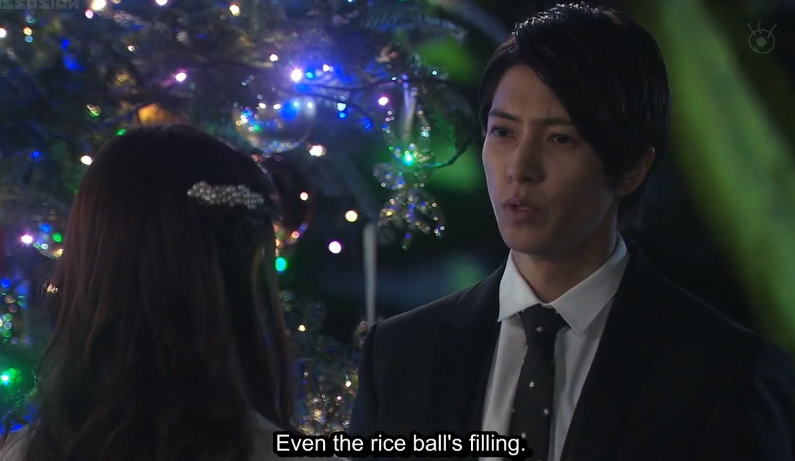 The hairstyle in this scene is not great. Makes it kinda flat. I was expecting the hairstyle to be the same as the monk-style. Damn... It's not bringing out the handsomeness in him. It just makes him look like a kid!
Anyways... he is so handsome.... ahh...
Comment! (0) | Recommend!