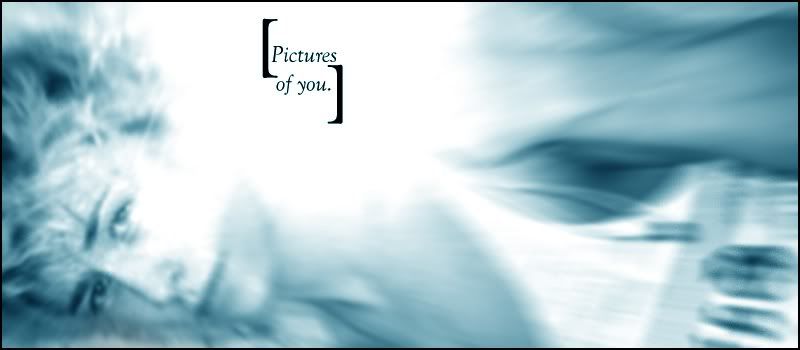 Spring Semester 2010:

* Teaching: Fundamentals of Microbiology - MW 12:00-2:40p
Medical Microbiology - TR 2:00-3:15p
Colloquium in Cell and Molecular Biology - R 3:30-4:30p
Thesis Research - Identification of T Cell Subsets and Immune Response in Colon Cancer Using Immunofluorescence - FOREVER AND EVER

Or rather, entries from the old journal, as it were...

-

An open letter to the College.

(August 27, 2006)

-

Untitled.

(July 16, 2006)

-

Haunted (Part One)

(May 29, 2006)

-

Are we growing up, or just going down?

(May 3, 2006)

-

I had a dream...

(March 19, 2006)

-

...

(March 14, 2006)

-

Enjoy it while it lasts.

(September 12, 2005)

-

Scene: 3:27 AM.

(September 3, 2005)

-

Untitled.

(July 26, 2005)

Psst... if you're looking for the academic writings I used to have here, head to my Reading Room.

Since June 2006...

- A Heartbreaking Work of Staggering Genius by Dave Eggers
- High Fidelity by Nick Hornby
- Travesties by Tom Stoppard
- The Way of the Shaman by Michael Harner
- The Tao of Pooh by Benjamin Hoff
- Nervous Conditions by Tsitsi Dangarembga
- The History Boys by Alan Bennett
- The Dark Child by Camara Laye
- Movie-Made America by Robert Sklar
- Diary by Chuck Palahniuk
- Rant: An Oral Biography of Buster Casey by Chuck Palahniuk
- Galapagos by Kurt Vonnegut
- The Dead Emcee Scrolls by Saul Williams [61.3%]
- Atonement by Ian McEwan
- Junk Science: An Overdue Indictment of Government, Industry, and Faith Groups that Twist Science for Their Own Gain by Dan Agin, Ph.D. [64.4%]
- So Yesterday by Scott Westerfield
- Lucky Wander Boy by D.B. Weiss
- The Things They Carried by Tim O'Brien
- Doctor Who: The Key to Time: A Year-by-Year Record by Peter Haining
- Why Buffy Matters: The Art of Buffy the Vampire Slayer by Rhonda Wilcox
- When You Are Engulfed in Flames by David Sedaris
- The Road by Cormac McCarthy
- 1984 by George Orwell [18.8%]
- Nick and Norah's Infinite Playlist by Rachel Cohn and David Levithan
- Intuition by Allegra Goodman
- V for Vendetta by Alan Moore and David Lloyd (Yes, I realize it's a graphic novel but it still fucking counts!)

Friday, May 22, 2009 @ 12:50 pm

Agenda for today:

12:00-4:00 - Dick around lab, doing nothing really at all.

4:00-5:00 - Drink wine with my boss.

5:00-?:?? - BBQ/Pool party in La Jolla

Such a long, busy day...


From last night...

Comment! (1) | Recommend!

Wednesday, May 20, 2009 @ 5:29 pm

I just have to finish this damn paper and turn it in by noon, and he just has to take his final at 1:00, and then we're gonna blaze on into the night.

Comment! (0) | Recommend!

Tuesday, May 19, 2009 @ 6:13 pm

His reaction?

Me:

So I just found out that I'm the reason several students in S Korea failed an assignment lol

Nick:

U r officially a white person now lol

Thanks, Nicholas. Yes, everyone: I'm a white person because I manage to screw people over all over the world... and because I might not know English nearly as well as I think I do (despite the fact that it is my native tongue).

Comment! (3) | Recommend!

Step two: Put your junk in that box...

Tuesday, May 19, 2009 @ 8:18 am

And by "junk," I of course mean amplified DNA samples that need to be sequenced.

I saw my friend Krissi yesterday bounding out of the elevator with a cardboard box in her hands. "THESIS IN A BOX!" she shouted at me, as she ran to the impatient FedEx courier.

Step three is obviously having them open the box... and that's the way you do it! "It" meaning getting your thesis lab work done, obviously.

Comment! (1) | Recommend!

Monday, May 18, 2009 @ 1:27 pm

Woke up early today. Well, I planned to wake up early today anyway because I had to proctor the micro final exam, but I woke up earlier than I expected. I had a dream last night about Matthew and I missed him when I woke up.

It's Monday. I should be excited. Nicholas is back from LA, it's the start of a new week, but I got into a funk this morning with that dream. It's crazy how things like that

still

emo me out. It wasn't a bad dream, either. It was just like... all of a sudden, upon awakening, I wanted to see him, to talk to him.

Nicholas made first contact today. He sent me an IM while I was out getting lunch asking, with all the gravity of someone who hasn't seen me for a long time, how life was going. I suppose he picked up on my minor depression today. He signed off before I could respond, so I texted him. I want to share this with him; maybe he can relate. We can share our issues (of which I am sure there are many) and maybe that would help. He would find out eventually anyway--even if we never progress past friendship--so I'm not afraid of telling him what's going on in my head.

As Kelly Clarkson sang, "I know that I've got issues / But you're pretty messed up too."

The worst part about this is that I'm trying to work on my last paper of this year and I can't because my mind is stuck on a loop.

Come on!

Comment! (2) | Recommend!

Sunday, May 17, 2009 @ 8:01 pm

Well, minus the "Beauty" anyway.

The previous few nights I'd been getting like 5 hours of sleep. Yesterday, I woke up at 6:00 so I could get my ass to L.A. It was tons of fun going back to the old alma mater for part of commencement weekend. I randomly ended up running into people I graduated with--including my roomie from Freshman year!--proving what a tight-knit community Pomona was. I talked to some of my old professors. My thesis advisor was really proud of me, saying that she always knew I would be an excellent teacher--because I always loved teaching people other things about techniques and science when I could have been doing other things... like my own lab work or homework or something. It amazes me that she picked up on the fact that I had what it took be a professor or something before I did. Everyone ended up asking if that meant that I was going to apply to Ph.D. programs, and I told them I was. That made them happy.

Afterwards, I went to L.A. to visit an old high school friend. Went up around Hollywood/La Brea/Melrose (I can never tell where one area ends and another begins in Los Angeles!) to eat at Pink's--a veritable institution specializing in hot dogs. While there, I almost called up Nicholas to see if he wanted to come out and meet up for a little bit. Then, I reasoned that this was my day to leave everything about San Diego behind for a little bit, to free myself from all those emotions that led me to feel trapped, stuck. So I ended up not doing anything.

I made my way back down to San Diego late in the afternoon for my friend Krissi's birthday. Stayed out until about 1:00, smoking hookah and even dancing with a belly dancer. Totally fun. When I got home, I crashed. I woke up around 9:00, then at about 9:30 convinced myself to go back to sleep. Then woke up "for real" around 1:00 before going back to bed at around 2:30. Finally

really

woke up around 5:00. I deserved all that sleep, all that time to relax. This semester has been the most frustrating one I have ever had. It was a good semester--I'm still maintaining my grades and I even found someone unexpected to fall head-over-heels for. Or maybe all of that made it a bad semester. I don't know. It was a rollercoaster for sure, and the summer will only see more of that, I'm certain. But would I trade it in for anything else?

Maybe for a little certainty in the Nicholas department... but other than that: I'm glad for these experiences. They should only make me stronger.

Plus, I got cuter. Or at least, I feel cuter. Take that, self-doubt!

Comment! (1) | Recommend!

Saturday, May 16, 2009 @ 7:21 am

I've decided to head up to Claremont and LA for the day.

This spontaneous break-out of San Diego brought to you by an overall shitty week, a fucked-up Friday, and feeling trapped... in this apartment, at school, and in my personal life.

Comment! (1) | Recommend!

All apologies, continued...

Thursday, May 14, 2009 @ 7:28 pm

He was having a bad day today. He looked so sad and defeated that I had to give him a hug in the hallway. Then, after I left for the day, the texting (outta control!) began:

Me:

Hope ur day only gets better. Cheer the fuck up!

Nick:

Thank u it did, i have mood swings sry if u came in contact w the hormonal tidal wave

Me:

Hey no prob. Dunno if u noticed but i have those 2 LOL. Glad everything got better 4 u

I fucking love that kid.

Tomorrow's adventure: happy hour at Baja Betty's. Mmm, margaritas. No one can be

that

depressed when there are cheap margs around...

Comment! (3) | Recommend!